Fisher-Price recalls products after infant deaths, TikTok tips for communicators, and Royal Caribbean eliminates vaccination requirements
Also: TripAdvisor and HBO offer Pride travel tips, TikTok reinstates 'intersex' hashtag, and AMC warns investors about meme stock dips.
Hello, communicators:
As more brands launch Pride Month campaigns, those that provide value to the LGBTQ+ community will highlight the lived experiences of their audiences and provide resources that are unique to the brand and its industry.
TripAdvisor has announced a partnership with HBO Max intended to help travelers looking to celebrate Pride locate where and when events are happening across the U.S. In addition to promoting a slew of Pride-focused programing on HBO Max, the partnership will include The Pride Guide, a content hub on TripAdvisor that will highlight positive LGBTQ+ travel experiences.
"We know Pride this year will continue to look and feel different from years past, given the pandemic. Still, there are lots of ways people can still experience Pride in their local communities and we want to showcase and celebrate these amazing moments and events," Christine Maguire, vice president, global media business, TripAdvisor, said in a press release. "That's what is so exciting about the partnership with HBO Max—we can combine useful and relevant travel guidance for the LGBTQIA+ community with curated movies and shows that help educate and bring Pride to life for viewers."
The words "useful" and "relevant" highlight the fact that this partnership provides actual value to the LGBTQ+ audience, something that many Pride campaigns struggle to offer.
Fisher-Price emphasizes education in product recalls after infant deaths
Fisher-Price has announced the recalls of its 4-in-1 Rock 'n Glide Soothers and 2-in-1 Soothe 'n Play Gliders in a joint statement with the Consumer Product Safety Commission (CPSC) following the deaths of four infants who were placed on their backs unrestrained in the Rock 'n Glide Soother before being later found on their stomachs.
"There is nothing more important to Fisher-Price than the safety of our products and the trust that families put in us," said Chuck Scothon, general manager of Fisher-Price.  "These incidents are indeed heart-breaking.  We are committed to educating parents and caregivers on the safe use of all of our products, including the importance of following all warnings and instructions to ensure the health and safety of babies and children."
Why it matters:
While Fisher-Price is in a position that no childcare brand, nor any brand, hopes itself to find itself in, the "acknowledge, align, assure" protocol for constructing a crisis statement stands the test of time. Fisher-Price first acknowledges the sorrow of the families who have lost children, then aligns with customers (parents and caregivers) around a shared goal (the safe use of all their products). Take note that using a crisis or tragedy as an educational opportunity is often a win-win approach that not only assures stakeholders you are committed to meaningful change, but also repositions your brand as a resource for best practices moving forward.
---
MEASURED THOUGHTS
An infographic by ZenBusiness offers several statistics that explain why content creators should use TikTok, supported by statistics such as the fact that 69% of American teens use the platform and 39.3% American Internet users are projected to be active on the platform by 2024.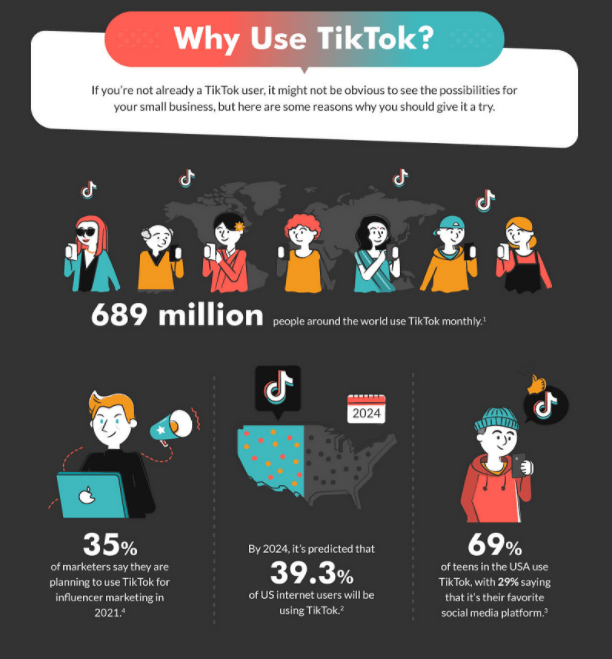 This infographic and its content tips serve as a reminder that TikTok campaigns can benefit from your involvement crafting language and copy with your marketing team. From designing hashtag challenges that raise brand awareness to creating tutorials that showcase your products' benefits, these various content types all benefit from a communicator's knack for creating punchy copy in a language that gets audiences to respond.
Check out the full study here.
---
TACTICALLY SPEAKING
AMC has warned meme stock investors of the dangers that can come from buying in to the company in a filing with the Securities and Exchange Commission, emphasizing that the fluctuating boom of its stock prices does not accurately reflect the state of the theater chain's operations.
"We believe that the recent volatility and our current market prices reflect market and trading dynamics unrelated to our underlying business, or macro or industry fundamentals, and we do not know how long these dynamics will last," AMC said in the filing. "Under the circumstances, we caution you against investing in our class A common stock, unless you are prepared to incur the risk of losing all or a substantial portion of your investment."
AMC's filing came soon after the company launched a benefits program for its investors, suggesting that the theater chain is using a short-term boom to make long-term commitments to its investors. Take note that providing value to your stakeholders can sometimes involve messaging that goes against your company's immediate best interests but builds goodwill and trust in the long run.
---
RAGAN'S 2021 BENCHMARK REPORT
Ragan has released its annual Communications Benchmark Report, an exclusive study from Ragan's Communications Leadership Council that analyzes the major trends in the profession over the last year.
During that time, comms pros have been called on to develop and distribute messages on new policies that affect internal and external stakeholders alike. Their role has become more essential as they helped keep their organizations focused and moving forward. They've seen their access to the C-suite increase throughout 2020, and they forged important new alliances with peers in other departments, including HR, finance and workplace wellness.
Culled from more than 750 respondents, the 32-page report is available in its entirety exclusively to members of the Communications Leadership Council.
Download your copy of the exclusive Benchmark Survey Executive Summary today and get a crucial competitive advantage that will fuel your success for 2021 and beyond.
---
SOCIAL BUZZ
TikTok has said that the temporary removal of the #intersex hashtag on its platform was a mistake after a prominent intersex activist noticed the hashtag wasn't working when they couldn't search for the term or tag their own posts. The incident highlights a trend of activist TikTok users expressing frustration about the lack of transparency regarding the platform's content moderation policies and list of banned words.
"My community is erased with a scalpel, and with words and linguistics," says [activist Pidgeon] Pagonis, "but this time they're literally erasing the word."

TikTok tells The Verge that in both of the instances Pagonis noticed, the tag had been removed by mistake and was subsequently restored. But because there was no public statement about the accidental removal, Pagonis and others were left to speculate about whether it was being intentionally censored.
Amid news that TikTok was planning to launch a series of celebrity videos as part of its Intersex Joy campaign, the platform's failure to issue timely communications to one of its most active communities underscores the need to monitor your most socially engaged users and monitor the terms that they use most often to catch a potential crisis before those users escalate the matter to media outlets.
---
COMMUNICATIONS WEEK
Ragan is delighted to add industry event and thought leadership brand Communications Week to our portfolio. You can read the full press release here.
"We are reimagining Communications Week as a year-round endeavor," says Ragan Communications CEO Diane Schwartz. "The rollout will begin next month with thought-provoking content on the future of communications on Commsweek.com, Ragan.com and PRDaily.com, culminating with a weeklong series in November that will feature conferences, networking events, workshops, webinars and more."
The flagship event for 2021 will take place Nov. 15-19. Stay tuned for updates on the many opportunities and offerings that will help communicators connect, learn and celebrate their achievements later this year.
Royal Caribbean says it won't require passenger vaccinations
Royal Caribbean International has announced that it will no longer require passengers to be vaccinated before boarding its cruise ships. This announcement is a course reversal from the company's prior statements and protocols submitted to the CDC last month that it would require all passengers over the age of 18 to be vaccinated.
"Guests are strongly recommended to set sail fully vaccinated, if they are eligible," the company said in a statement. "Those who are unvaccinated or unable to verify vaccination will be required to undergo testing and follow other protocols, which will be announced at a later date."

The about-face is an apparent submission to Gov. Ron DeSantis, who has insisted that there will be no exception made for cruise companies to a newly passed Florida law that fines companies $5,000 each time they ask a patron to provide proof of vaccination.

"Our intention is to comply with all federal, state and local laws," [Lyan Sierra-Caro, a spokesperson for Royal Caribbean International] said via email.
Royal Caribbean took a substantial reputational hit on Twitter:
Mark my words. Governor Ron DeSantis just created an upcoming 5th wave with Royal Caribbean in Florida. Cruises will now not require vaccination verification. Welcome to super spreading ships that head into other ports and bring Covid in/out. Welcome to the future 5th wave

— ♻️🇺🇸 Christopher Zullo (@ChrisJZullo) June 5, 2021
Royal Caribbean is opening up cruises with vaccinations optional. I guess they're trying to make another floating petri dish, since it worked so well last time….

— Amy Lynn ✡️🐿️ (@AmyAThatcher) June 5, 2021
What it means:
Royal Caribbean's decision to submit to pressure from Gov. DeSantis brings to a head the tough position that the entire cruise industry finds itself in as cruise lines are pressured to appease partners with conflicting goals. Contrasted with Carnival's recent statements suggesting passengers will need to be vaccinated and Norwegian Cruise Line's threat to not sail from Florida at all, Royal Caribbean's decision paints the brand as the least mindful of passenger safety compared to its industry competitors.
When an incoming regulation requires your entire industry to respond with policy, take note there's nothing wrong with sitting back to wait and see how your competitors respond before crafting your messaging. This will allow your company to act from an informed position based on the sentiment analysis of your competitor's announcement.
---
CONFERENCE ALERT
Communicators face a crossroads this year as they anticipate markets recovering and workplaces reopening. Their work crafting a flexible crisis plan and mindful messaging that ensures your brand or organization is ready to handle any future unforeseen situation smoothly will be essential.
Join us at Ragan's Crisis Communications Conference on June 10  to learn timely strategies to help you reimagine your approach to crisis communications, mobilize internal and external stakeholders to be your megaphone and foster goodwill—and make fresh plans for unforeseen obstacles that may arise.
Learn powerful insights and approaches from speakers at organizations including Carnival Cruise Line, KFC, IBM, Amtrak, Mastercard and more.
---
SOUNDING BOARD
What's that return to the office timeline looking like, PR pros and communicators?
What's that return to the office timeline looking like, PR pros and communicators? If your workplace has another plan, let us know in the comments. #DailyScoop

— PR Daily (@PRDaily) June 7, 2021
Let us know how your office plans have changed with the season in the comments below and by tagging #DailyScoop!
COMMENT