How employers can foster clarity and confidence in return-to-office plans
As the companies look to bring their workers back to the office, communications will play a crucial role.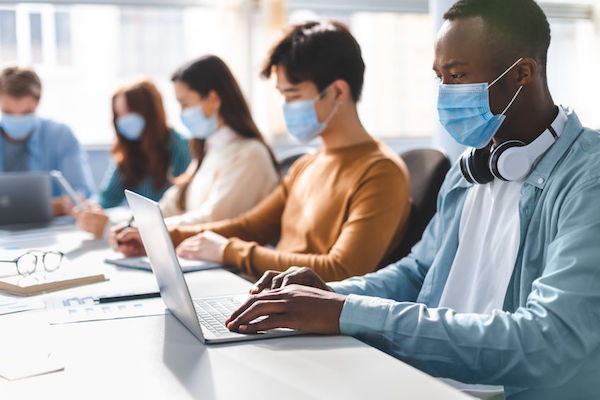 With an increasing number of Americans getting vaccinated and many cities easing their social distancing guidelines, more businesses are announcing plans for employees to return to the office.
Some companies are even accelerating their plans. Uber, as reported by NPR, has moved up its back-to-the-office plan from Sept. 13, 2021 to April 3, on a voluntary basis. According to the article, "the ride-share company said only up to 20% of employees can opt to work from the office."
But are we ready? When I read the NPR article on Uber's plans, my anxiety started building. What will returning to the office be like? How do we return to the office in a safe manner? It seems I am not alone in these worries. The New York Times recently reported on this emotional impact in the article "Returning to the Office Sparks Anxiety and Dread for Some."
Employees want and need to understand what returning to the office will look like, what the expectations are, and how they can stay safe. For example, many employees may have such questions as:
Has my company updated its cleaning procedures/frequencies?
Will I be expected to be masked and will my employer be providing masks?
How will my employer modify workspaces to minimize contact?
Will my employer be conducting health screenings?
Companies can help address these questions and alleviate employee anxieties by creating some preparation beforehand and implementing effective internal communication practices. Clear, direct and consistent communication will be crucial in making the return to the office a success for both employers and employees. Outlined below are a few recommendations on how employers can successfully navigate the transition from WFH to in-person work while also instilling confidence and clarity throughout the process.
1. Gather information.
Some organizations are conducting internal surveys to understand employees' perspectives and concerns on coming back into the office environment. After a year or more of working remotely, employees may have moved farther away from the office. Others are continuing to care for school-age children and conduct school remotely from home. So, an employee's decision to start coming into the office is a personal one and can create added stress.
According to Glassdoor's survey of U.S. employees who are working from home due to COVID-19, "nearly 9 in 10 (86%) say they would prefer to continue working from home at least part of the time." Another interesting aspect reflected in PwC's workforce survey of 1,515 US employees illustrated that "employee priorities are shifting on location, benefits and skills."
For employers, understanding your employees' needs and priorities can help inform not only future policies and procedures around returning to the office but also in how employers communicate such plans with their teams.
2. Establish updated policies and procedures.
Employers should work with HR, legal and operations teams to ensure internal alignment on policies on how to minimize risks and potential for exposure within the office environment. Managers should receive training or guidance on these established policies and procedures. For example, will staff who are on site be required to participate in health screenings? Will vaccines be required of returning employees? How will the company manage and mitigate possible exposure at the office?
As detailed in The Wall Street Journal article "Companies Wrestle With Hybrid Work Plans—Awkward Meetings and Midweek Crowding," businesses "are grappling with what new schedules employees should follow, where people should sit in redesigned offices, and how best to prevent employees at home from feeling left out of impromptu office discussions or being passed over for opportunities…"
3. Communicate regularly and often.
Most organizations have increased their internal communication outreach practices since the pandemic began. This has been important as teams are more dispersed and office norms have been disrupted. To help prepare for, adjust to and hopefully thrive with future changes, employers will benefit from upholding these increased internal communication practices. Ideally, outreach can take a variety of forms (e.g., Slack, email, intranet, etc.). Employees need to know where to get information, who to talk to regarding their specific needs/situation and know that their needs regarding safety are being addressed.
MIT Sloan Management Review offers helpful guidance on steps leaders can take "now to make employees feel supported and safe before they resume in-person work."
Are you preparing for your team to come back into to the office? What steps are you taking to ensure it is a success? We've love to hear your input and feedback on your company's experience so far.
Colleen Moffitt is a co-founder of Communiqué PR and co-author of "Strategic Public Relations: 10 Principles to Harness the Power of PR." A version of this article originally appeared on the Communiqué PR blog.
COMMENT