Why your story should be told with 360 video
The technology has never been more affordable, and capturing the full scene is striking. Here are reasons you ought to consider adding it to your toolkit, along with tips for doing so.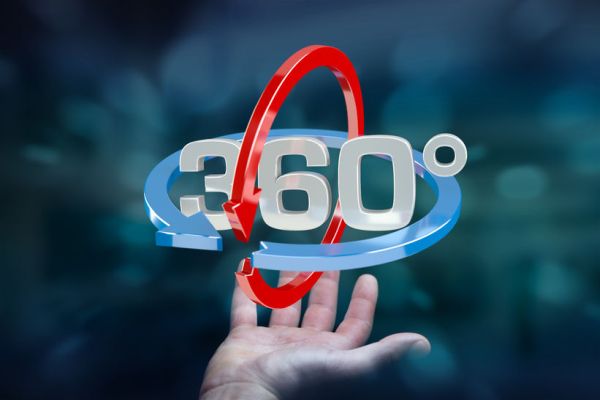 Is your audience getting the full picture?
When our PR firm moved into a beautiful new office space this year, I couldn't wait to share it with the world.
There was just one problem: Our new setting ought to be experienced rather than described or shown. Standard photos and video weren't capturing the scene I wanted to depict.
How could I share our story so people could experience virtually what our team was experiencing in real life?
Inspired by a recent journalism presentation on immersive storytelling, I realized that a 360-video camera was probably the perfect solution. I browsed Amazon for options and settled on a name brand model that cost about $99.
It shoots in 4K, has a microphone and takes photos and videos plus time lapse, live video and HDR landscape images. Like all 360-video cameras, it has two lenses—one in the front and the other in the rear. You can shoot from just one lens for a panoramic-style still image or video—or shoot with both—and the camera's software will stitch the two images together to create a seamless 360° view of your surroundings.
Facebook and YouTube are optimized for 360-video content which means your followers can simply click and drag your images or videos to see in all directions. It's even easier (and cooler) when 360 video content is viewed on a mobile device—you can just tip and turn your handset to navigate. If you're reading this on a mobile phone, see how it works here.
Why produce 360-video content?
Visual storytelling is more important than ever. In the information economy, the scarcest commodity is attention, and visuals are the fastest way to get your message across.
That's because the brain can process visual information in as little as 13 milliseconds. (By comparison, it takes 400 milliseconds to blink an eye.)
Through strategic design, motion graphics and video, today's storytellers can convey a message or create a feeling in their target audience "at a glance"—and a glance might be all you have. Additionally, visual content is highly correlated with recall. An audience exposed only to text or spoken word could recall 10 to 20 percent of the content after three days. With visuals, audience recall rose to an average of 65 percent.
News outlets have embraced 360-video storytelling, too, with The New York Times, Associated Press and others using this technology to immerse their readers and viewers in their reports from the field.
Isn't it time PR pros embraced 360-video content too?
Content ideas for PR pros
Anytime you want your audience to feel or experience something remotely or virtually, 360 videos are a great tool.
Hospitality PR pros can bring prospective guests and journalists right into a property's lobby or immerse them in a nearby visitor attraction. A technology PR team can bring their CES trade show booth to life.
The 360-video camera I use has a livestreaming feature so your team could share a product launch or trade show teaser via Facebook Live and significantly increase engagement. If you're in entertainment PR, this technology is perfect to immerse your audience in a red carpet or festival experience.
This technology is especially exciting for nonprofit visual storytelling. Putting your donors in the environment of the people, places or animals that their philanthropy helps can be incredibly powerful.
If you are considering joining the 360-video revolution, here are some insights:
1. Don't think it's just for photographers.
Don't be afraid to use this technology. I wouldn't call myself a technophile by any stretch of the imagination. I hate reading user manuals and expect my tech to be intuitive to use right out of the box.
2. Learn by doing.
Learn what works and how to get the best images when you're not under pressure or on the clock. Set aside time to play with your new toy. You'll quickly see what each mode can do.
3. Be aware of your thumbs.
Your thumbs and fingers might wind up in your 360-degree shots because the 360-degree view is so wide. To keep your thumbs out of the shot, secure the camera on a slender extendable mount of some kind. A light stand works perfectly. I also purchased a short, lightweight tripod that I can hold in my hand, so it's easy to travel with.
4. Be mindful of motion.
The immersive nature of a moving image can be a bit disorienting. Stabilize your images with a tripod or by moving carefully and smoothly while shooting.
Depending on the camera you're using, it may also have a "stabilize" setting, which automatically corrects shaky or tilted photos and videos. If you're uploading to YouTube to share your footage, you can also toggle YouTube's Auto-Fix or Stabilize Video options in its Effects menu before publishing.
5. Watch your costs.
If you're ready to try a 360-video camera, you can buy one for about the same price as a 164 GB storage card, and you'll probably need both, so budget at least $200. A light stand as a tripod can run you a minimum of $20, and a handheld stabilizer runs from $15 to $500 depending on how fancy you want to get.
Do you have experience using a 360-degree camera? Please share your tips in the comments.
Julie Wright is president and founder of (W)right On Communications. Follow her on Twitter @juliewright. A version of this story originally appeared on the author's blog, (W)right On Target.
(Image via)
COMMENT