3 telltale signs your downsizing has created a diversity desert
Before rushing to help leaders reopen for business, communicators should first check for clues that a talent drought may imperil recovery.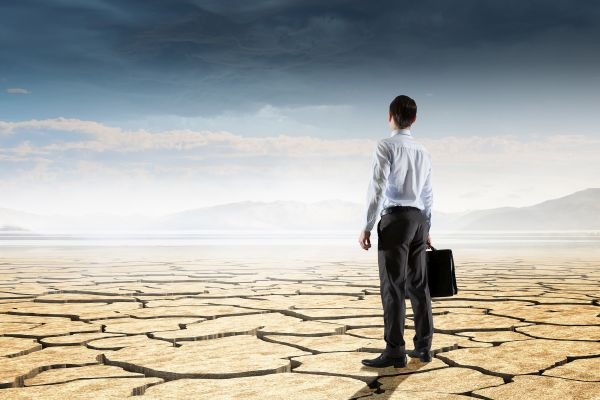 During weeks of lockdown, people have reconsidered the ways they live, work and blend the two in the cozy crucible they call "home." Instead of nurturing a sense of belonging, however, there are troubling signs that employers might be using the pandemic as an excuse to push out certain employees.
It is a painful truth that corporate interventions in an economic crisis often involve downsizing. Staging a recovery in this harsh environment will already be difficult.
Add the invisible force of unconscious bias in decisions to shrink businesses, and what emerges? Diversity deserts.
Before rushing to help leaders reopen for business, communicators should first check for signs that their organization's talent drought might endanger its recovery.
Pandemic panacea: CSR
Fair treatment of the workforce demonstrates a company's respect for social values that matter to loyal customers and other stakeholders. Consider how the public praised manufacturers that avoided closure and shifted operations to make products badly needed in the fight against the spread of COVID-19.
The power of corporate social responsibility (CSR) to stabilize businesses during a crisis is already well established. CSR's halo effect is reinforced in a new study on business resilience measuring the stock prices of 6,000 companies during the first quarter of 2020, published by the Harvard Law School Forum on Corporate Governance.
Public companies that practiced CSR before the pandemic had stocks that performed well, even as the crisis deepened.
The study's researchers looked at five business attributes, including "relations with employees, suppliers, customers, and the communities in which firms operate," and noted that "CSR builds trust with stakeholders, which makes workers, suppliers and customers more amenable to making adjustments to support the business in times of duress."
Crisis reveals core values
With evidence supporting the value of CSR, why would a business compromise stakeholder trust as it downsizes? You have to look inward to understand the contradiction.
For all their good intentions, internal communication programs to rally managers and employees around diversity have never gained a firm foothold. Loading up on a busy schedule of workshops, book clubs, film screenings, and recipe exchanges meant that employee awareness could manage a decent blip on HR surveys. Underrepresented employees, however, could still see that internal efforts did not yield lasting change.
Optics carry clues about inclusive practices and views. Whose profiles are listed on the company website? Which speakers appear on conference panels? Who are the employees named as successors for C-level positions?
Communicators must also delve deeper to learn why a business might be inflicting harm on its own CSR reputation: a legacy of structural inequality that excludes diverse employees.
Structural inequality exists when an organization's code of behavior and cultural traditions reward certain people with benefits while restricting the access of others. Even if more employees from diverse backgrounds are added to the staff roster, institutional bias works to preserve the power and privilege of the advantaged employees.
Companies can only become more inclusive when they begin to dismantle structural inequality.
Outdated rubrics
In issuing pandemic pink slips, however, some business leaders have made decisions based on outdated job rubrics, such those defined by tiers, tenure, and outputs.
Such legacy rules are flawed, not only because they fail to capture meaningful value—but because they also disproportionately affect certain groups of employees.
Communicators can do their part to promote inclusivity by pointing out the harmful effects of downsizing using these attributes:
1. Job and performance tiers.
"We should go ahead and call this a 'shecession,'" said C. Nicole Mason, president and chief executive of the Institute for Women's Policy Research, in a May 9 report by The New York Times. The article contained this stunning point: The single month of job losses in April reversed 10 years of gains by women in the labor market.
Government orders to restrict large gatherings triggered some of the deepest cuts: the retail, leisure and hospitality industries' lower-wage jobs held by women along with African Americans, Latinxs, and other groups vulnerable to discrimination.
Women's jobs can also be labeled as expendable because their life experiences are often devalued. Persistent negative stereotypes about the productivity of nursing mothers pumping breast milk at work and women taking time off to care for an elderly parent, or the commitment of a pregnant employee, find their way into performance reviews. Over time, these women are deemed poor performers whose jobs are eliminated in early rounds of slashing payroll.
2. Tenure.
Prior to the crisis, corporations were only beginning to invest in recruiting underrepresented candidates, including more people of color and nontraditional gender expressions. A "last in, first out" approach to reducing expenses decimates the ranks of newest hires, more likely to be diverse employees.
3. Outputs.
A business in survival mode might consider its owners, investors and creditors as the primary stakeholders. One of its key outputs would be prioritizing positive cash flow to ensure its viability.
How does an individual employee factor into positive cash flow? In zero- to low-growth conditions, businesses turn to cost-cutting. Lowering costs would not only trim wages, but also health insurance premiums and contributions to retirement funds, among employer-sponsored benefits. In this scenario, older employees or those with families may end up on the chopping block because they are participating in more of these types of benefits.
What is the result of downsizing using the wrong metrics? A monoculture, where the smallest investment in people aims to maximize their productivity. But such gains only last a short time, until the business is eventually overwhelmed by debt or nimbler, more innovative peers.
Preserving the oasis of diverse employees will require innovative solutions, such as furloughs, job-sharing and shorter work weeks. By guiding crisis interventions toward keeping a diverse talent pool, communicators can help businesses emerge better prepared to compete in the post-pandemic environment.
Mary C. Buhay is founder and CEO of Buhay Advisors. You can follow her on Twitter @MaryBuhay.
COMMENT