Announcing PR Daily's 2018 Digital PR & Social Media Awards finalists
Congratulations to these honorees.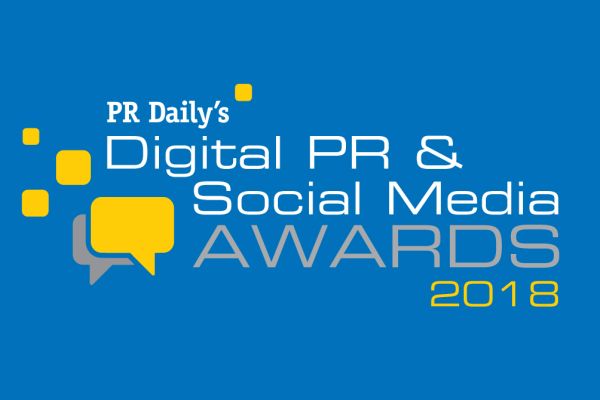 The digital communications and social media industries are always changing. Those who innovate stand out. We searched for the most talented and creative campaigns across a variety of industries. More than 100 organizations shared their success with us. We're excited to announce PR Daily's 2018 Digital PR & Social Media Awards finalists. Stay tuned for our winners announcement in late June.
DIGITAL AND SOCIAL MEDIA ACTIVITY
Blog
Premier Health Now, Premier Health
Cision Blog, Cision
Build Awareness with Ghostwritten Physician Blogs, Aha Media Group with Inova
Ferrovial Content Strategy on Blog, Ferrovial
Transform, Microsoft
Davey Tree Blog, Davey Tree
Contest or Game
#WeAreCisco #LoveWhereYouWork #MayThe4th Contest, Cisco in partnership with NASDAQ
Fan Favorite Song Giveaway: Launching the Special Edition M50xRD Headphones, lotus823 and Audio-Technica
Why I Code, Oracle
ePromos for Good/Giving Tuesday 2018, ePromos Promotional Products/Motivators
Digital Product or Service Launch
Nissan Presents the Bloggin' Mamas Safety Academy, Nissan North America with The Allen Lewis Agency
Live Chat, Stream or Hangout
Noble Energy Livestream of the Greeley Stampede Parade, Noble Energy and CenterTable
Imagine the Future, Dassault Systèmes 3DEXPERIENCE® Forum, Racepoint Global and Dassault Systèmes
WeAreCisco Employees LIVE on Facebook, Cisco
Microsite or Custom Website
A Watershed Moment: Inside Microsoft's Smartest, Greenest Office Yet, Microsoft Story Labs
Microsoft Stories, Microsoft
Path to the Inbox Interactive Game, Return Path
Customer Interconnection Tool, Hawaiian Electric, Hawai'i Electric Light and Maui Electric (The Hawaiian Electric Companies) with Donna Mun
Digital Transformation of Sales, Microsoft
Podcast
Market Boldly Podcast, Katrina Olson Strategic Communications
Martinis & Murder Podcast, Oxygen Media
.future, Microsoft Story Labs
USE OF DIGITAL AND SOCIAL MEDIA FOR…
Brand Awareness
#WeAreCisco #LoveWhereYouWork #MayThe4th Contest, Cisco in partnership with NASDAQ
Zendesk's 10-Year Anniversary Campaign, Zendesk
Australia Food and Wine, Tourism Australia
From Me to We, March Communications and YO Sperm Test
CareSource of Georgia Facebook Page Launch, CareSource
Cause Advocacy
Kiss This 4 MBC, Biosector 2, a Syneos Health company and Novartis Oncology
Toilet Talks, GMMB and PATH
Let's Check In, JPA Health Communications and Center for Eating Disorders at Sheppard Pratt
Speaking Up for Speech Pathologists: Using Digital Storytelling to Spread the Word on Communication Access, Pesel & Carr and Speech Pathology Australia
Anything But Sorry, FCB and Canadian Down Syndrome Society (CDSS)
#LetsTrumpAddiction, CURA Strategies and Advocates for Opioid Recovery
MedAccess PA, MedAccess PA/ WordWrite Communications
Community Engagement
CMO Predictions, PAN Communications
Windsor Court Geofilter Engagement Campaign, DEVENEY and Windsor Court
Coder's Kitchen, Oracle
Ferrovial Content Strategy on Blog, Ferrovial
SEMrush Easter Egg Hunt, SEMrush
ND-LEEF #EagleCam, Notre Dame Research and Notre Dame Linked Experimental Ecosystem Facility (ND-LEEF)
Content Marketing and Brand Journalism
Ferrovial Content Strategy on Blog, Ferrovial
Tourism Australia: Luxury, Tourism Australia
Premier Health Now, Premier Health
BirdDogHR Content Marketing Campaign, RelationEdge Digital Agency and BirdDogHR
Crisis Communications and Reputation Management
Bright Lights Windsor, City of Windsor
Pension for Life, Stiff with Veterans Affairs Canada
Hillsborough County Crisis Communication During Hurricane Irma, Hillsborough County, Florida/Communications & Digital Media
Surviving the Social Storm: Entergy's Response to Hurricane Harvey, Entergy
Event Promotion
Book Launch, Palm Beach: The Essential Guide to America's Legendary Resort Town, DEVENEY and Rick Rose
2018 World Economic Forum–#DavosSquad, Mercer
Amplification, Awareness and Cisco Live Buzz, Cisco Live, Cisco Systems
ChefsGiving: Raising Funds for Those Devastated by Northern California Wildfires, Ellipses Public Relations, Inc. and ChefsGiving
Lucky 13: A Record-Breaking Year for the Richmond Folk Festival, VANCE and Venture Richmond Events
Employee Retention and Recruitment
#WeAreCisco #LoveWhereYouWork #MayThe4th Contest, Cisco in partnership with NASDAQ
Social Media Ambassador Program, VSP Global
Post-Merger Communications Campaign, Dell EMC Education Services Communications Team
Social Ambassador Program, Cisco Digital Marketing at Cisco Systems, Inc.
CAMPAIGNS
Email Marketing Campaign
Mark's Email Marketing 2018, Mark's
Health Care Marketing Campaign
Be Certain, Racepoint Global and Gamma Medica
Jenny's Journey, Premier Health
Kiss This 4 MBC, Biosector 2, a Syneos Health company and Novartis Oncology
Influencer Marketing Campaign
DCTA State Fair of Texas Influencer Marketing Partnership Leads to Contest Success, Denton County Transportation Authority
Influencing the Path-to-Purchase, Women's Marketing x jane iredale
Destiny 2's 2017 Influencer Campaign, Activision and PMK•BNC
Cisco Live—Amplification Through Influencers, Cisco Live, Cisco Systems
Sony Alpha Imaging Collective, Sony Electronics
Media Relations Campaign
SafeWise—"Safest Cities," Clearlink
Destiny 2's 2017 PR Campaign, Activision and PMK•BNC
Multichannel Campaign
Build vs. Buy: You Don't Need To Be an 800lb. Gorilla, Red Lorry Yellow Lorry and Edgeware
Hurricane Harvey Response, VSP Global
Circles, FCB and Levi's
Australia Food and Wine, Tourism Australia
Email University, Return Path
Mark's Well Worn, Mark's and Touché!, Veritas, Brookline
Public Relations Campaign
Destiny 2's 2017 PR Campaign, Activision and PMK*BNC
Social Media Campaign
Jenny's Journey, Premier Health
Dexcom's Call of the Warrior Campaign, Dexcom, Allison+Partners, Marcus Thomas, Mirum
Renewable Natural Gas (RNG), FortisBC
Cisco Live—Amplifying the Customer Experience, Cisco Live, Cisco Systems
Ferrovial Content Strategy on Blog, Ferrovial
DMU Peer-to-Peer Project, De Montfort University Leicester
Specialty Campaign
#GiveAToast, Community Toronto and Canadian Tire
"Live Boldly. Prepare Accordingly." Racepoint Global and Massachusetts Association of Insurance Agents
Animas® Twitter Campaign, Agency 451 and Omnipod
Opioid Awareness: Know the Dangers, Russell Herder and Minnesota Department of Human Services
Nurse Staffing Quiz, AMN Healthcare
LTPA "3 Perfect Days," DEVENEY and Louisiana Travel Promotion Association
Why Article 14, JPA Health Communications and Global Bridges
Viral Campaign
HighSpeedInternet—2017 Outreach, Clearlink
USE OF…
Facebook
Aflac and the Power to Do Good, Aflac
Instagram
#IAmAdvocate, Advocate Health Care
Snapchat
The Zendesk Snapchat Channel, Zendesk
Twitter
Cisco Live—Brand Awareness and Customer Loyalty, Cisco Systems
Video
Efron Brothers "Tested Tough," PMK•BNC and Columbia Sportswear
LEARN GIVE SHARE, Adventist Health Simi Valley
GRAND PRIZE
Digital PR Campaign of the Year
Anything But Sorry, FCB and Canadian Down Syndrome Society (CDSS)
Social Media Campaign of the Year
#WeAreCisco #LoveWhereYouWork #MayThe4th Contest, Cisco in partnership with NASDAQ
China Students Education Support Award, Color, Way of Love, Nippon Paint China
Ferrovial Content Strategy on Blog, Ferrovial
COMMENT