Cloudfare dumps 8chan, Walmart won't bend on guns, and how traditional media leads for decision-makers
Also: HSBC removes chief after just 18 months, why your video didn't take off, the perils of Twitter, and our weekly caption contest.
Good morning PR pros:
One striking way to get people's attention is to show vulnerability.
A Twitter thread making the rounds on Sunday featured users sharing the simple life skills they never managed to acquire—like folding fitted sheets or opening a combination lock.
Yesterday we learned that our landlord (a Stanford-educated engineer) doesn't know how to open a combination lock. And Joel admitted he can't blow up balloons. So now I'm obsessed with knowing what everyone's weird life skill blind spots are.

— Jenée (@jdesmondharris) August 4, 2019
Users shared strange phobias and blind spots in skills, providing a lively, revealing conversation on the platform.
The conversation is a reminder for content creators and brand managers that an authentic look at your shortcomings can be a great icebreaker on social media. Plus, users will respond positively to an organization that can admit it isn't perfect.
How are you turning your weaknesses into strengths?
Here are today's top stories:
Cloudfare severs ties with 8chan site after El Paso shooting
The technology company, which provides security websites including the forum 8chan, has ceased to serve the platform, where multiple shooters have bragged about their planned exploits.
The El Paso incident is far from isolated in its links to 8chan. The message board was also used to announce the mosque massacre in Christchurch, New Zealand, in March and a synagogue shooting in Poway, California, in April.

Fredrick Brennan, who started 8chan in 2013, tweeted about the site, saying it had a "morbid record of success for maximum spread of mass shooting manifestos" and that moderation on the site was "lax to non-existent."
Why it matters: Protecting your reputation should be a top concern for everyone in your boardroom, not just communications pros. As social media and increased transparency have made it easier than ever to learn who a company's clients are, some business partners aren't worth having.
However, make sure your stand is principled. Cloudfare took pains to explain every step of its decision-making process in its announcement.
Related reading:
---
MEAUSURED THOUGHTS
What content is most likely to attract decision-makers to your product or service? A study from Greentarget looked at what captured corporate leaders and in-house counsel when looking for legal news and information or other content to influence a service selection.
Traditional media leads the pack, but social media is crucial, especially LinkedIn.
Walmart holds firm amid calls to cease gun sales
The retailer is refusing to give in to social media pressure to stop selling firearms in its stores after a location in El Paso, Texas, was the site of a mass shooting in which 20 people were killed.
"Our focus has always been on being a responsible seller of firearms," company spokesman Randy Hargrove said in an interview. "We go beyond federal law requiring all customers to pass a background check before purchasing any firearm."
Why you should care: A good crisis response doesn't mean caving to every demand made on social media, but you must be ready to back up your principled stand. Walmart pointed to other safeguards and safety measures it has taken regarding gun sales, including no longer selling "modern sporting rifles." Walmart's spokespeople also made sure to pay proper attention to victims and the grieving community.
Related reading:
---
SOCIAL BUZZ
Neil DeGrasse Tyson, noted astrophysicist and Twitter user, waded into the discussion about gun violence and research after the deadly shootings in El Paso and, just hours later, in Dayton, Ohio.
In the past 48hrs, the USA horrifically lost 34 people to mass shootings.

On average, across any 48hrs, we also lose…

500 to Medical errors
300 to the Flu
250 to Suicide
200 to Car Accidents
40 to Homicide via Handgun

Often our emotions respond more to spectacle than to data.

— Neil deGrasse Tyson (@neiltyson) August 4, 2019
His attempt to provide context for the mass shootings prompted anger from many users.
There are dozens of ways to call out the wrongness of this tweet but the most productive one is to point out that we have mobilized research and funding to significantly reduce many of these harms; but been unwilling to do so for gun violence. https://t.co/2UPFdRULRI

— Jody Avirgan (@jodyavirgan) August 4, 2019
The difference is that mass shootings have never inspired a single effective action to ensure that they never happen again. The equivalent would be if nobody worked on flu vaccines, or effective treatment, despite people needlessly dying from it.

— Katie (@ZiziFothSi) August 4, 2019
Others saw Tyson's post as an attempt to expand the public's knowledge:
I agree that some might see this as him trying to belittle the shootings, but I think he's merely sharing other data that people might not have known about. People are out here making it look like @neiltyson is saying mass shootings aren't that bad. https://t.co/i3eHE1XgCO

— Riley Pochodzay (@riley_pochodzay) August 4, 2019
The incident is a reminder that Twitter is not the platform for nuanced discussion of complex topics—but it is a place to quickly find backlash to an incomplete or out-of-context remark.
HSBC chief out as bank eyes cutting 4,000 jobs
The London-based bank split with CEO John Flint after only 18 months, signaling tough times ahead for the financial group. The bank is facing challenges posed by Brexit and a potential ouster from China's valuable markets. The move comes with a 2% job cut, amounting to some 4,000 positions worldwide.
A statement by HSBC chairman Mark Tucker said, "the board believes a change is needed to meet the challenges that we face and to capture the very significant opportunities before us."
Why it matters: When planning a big shakeup, make sure you have a clear picture of your future goals, or the story will be about the past and what is going poorly for your organization.  You might need to make the leadership change in response to a past event or current weakness, but make sure you share a positive vision of the future for stakeholders and reporters.
Related reading:
---
FROM OUR EXPERTS
You made the perfect video—so why is no one watching? Ragan Consulting Group's Justin Allen shares the four ways your video might have gone awry and how to fix your online content to make sure you attract new viewers.
---
CAPTION THIS GIF
Crisis response can be a thankless job. You might not have the resources you need nor the authority you require, and in the eyes of the social media mob, there is no way to win.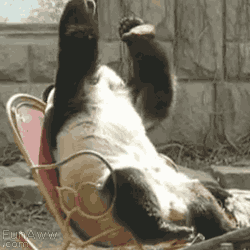 However, there are missteps that can make a crisis so much worse. Caption this GIF with your best crisis response horror scenario, and we will share the best ones in tomorrow's #MorningScoop. Tweet your offering to @PRDaily.
---
(image via)
PR Daily News Feed
Sign up to receive the latest articles from PR Daily directly in your inbox.
COMMENT