Communications leaders commit to accelerate DE&I progress
Signatories to the Diversity Action Alliance agreement promise to report the ethnicity and rank of employees to a confidential database to help benchmark progress on diversity and inclusion.
PR and communications leaders have announced a new initiative to offer accountability when it comes to diversity and inclusion in the field.
The Diversity Action Alliance, a coalition that was founded to push for more diversity in the communications industry, has asked top agencies and corporations to publicly commit to report their diversity numbers and progress on inclusion and equity in the workplace.
The alliance is following the ACT model—and "T" segment demands robust tracking and measurement of what many organizations guard as highly sensitive material. The new partnership hopes to overcome worries about data security and transparency to offer a real benchmark for leaders.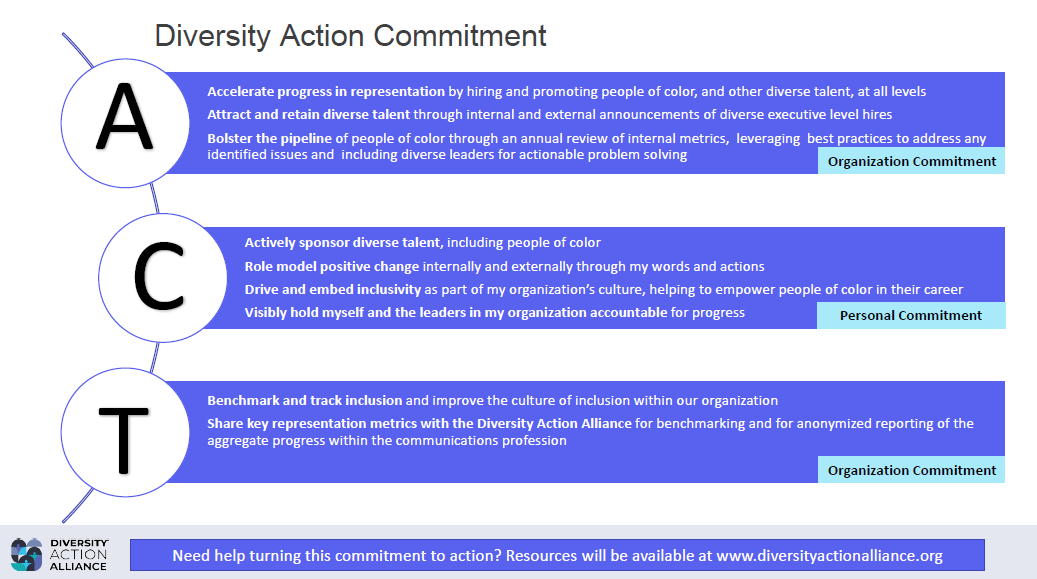 The PR industry has long struggled with improving diversity among its many practitioners and leaders and available public data shows that a there is still an achievement gap despite years of messages about the need for greater diversity.
In 2018, 74% of PR pros were white/non-Hispanic, and only about 7% of pros were Black.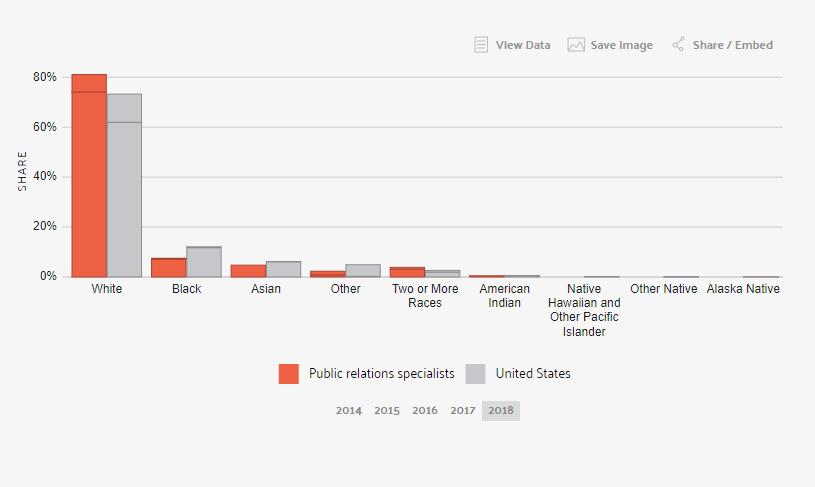 The Alliance hopes to be able to help measure and benchmark progress by collecting a database of employment data for the industry—something members agree to when they sign to join the group. The DAA explains that it will ask members:
What is the ethnicity/race composition of the communication function or agency and what is their level (manager, non-manager, VP and above)?
What is the ethnicity/race composition of the communication function or agency professionals who are promoted annually?
What is the company type, size, industry, geography, and annual revenue?
More than 50 organizations have signed the commitment, including Axis, Accenture, Boeing, LinkedIn, Southwest Airlines, PepsiCo and Levi Strauss. Agency members include Edelman, Weber Shandwick, Ketchum, PepperComm, Golin, Finn Partners, GagenMcdonald, G&S Business Communications, ICF Next, Zeno and more.
Universities that have signed on include the University of Florida, the University of Tennessee-Knoxville and Elon University.
Ragan Communications has also signed the agreement and hopes to use its position as a resource for the industry to further the cause and make the PR field a more welcoming and diverse space.
"The Diversity Action Alliance is a manifestation of the commitment communicators are making to be part of the change they know is necessary and long overdue," says Diane Schwartz, CEO of Ragan Communications. "As we are in the business of helping communicators thrive, I am so excited to be a part of the Ragan brand at this seminal moment and to be held accountable for D&I improvements within our own ranks."
Diversity, equity and inclusion has become a hot topic in recent weeks as the country has struggled to grapple with centuries of oppression and racism that have flared up during the COVID-19 pandemic—notably in the death of George Floyd at the hands of police officers in Minneapolis.
However, diversity—and even more importantly inclusion—has been seen as a business imperative for years. Failing to adequately address issues around race and creating a welcoming environment can have a drastic effect on your workforce. McKinsey shares research that shows how retention is hurt by a perceived lack of inclusion: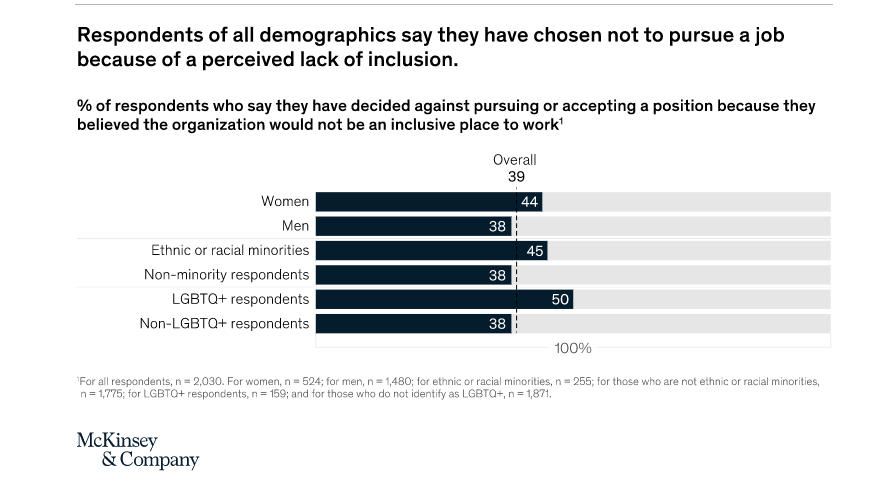 Image courtesy of McKinsey & Co.
These numbers are something the Diversity Action Alliance hopes to change.
To join the alliance, leaders must promise to abide both personally and on behalf of their organizations to commit to making an impact by adopting best practices, championing the cause and tracking the data.
You can sign on, either for your organization or as an individual, here.
And if you're worried about the security of the data being collected? The Alliance says that it plans to keep this sensitive, but critical data as secure as possible.
"Data will be used to set benchmarks and track progress toward goals in the industry. Individual companies will not be identified publicly by name or description in any way, nor will DAA share your data with any other party," the Alliance says in a statement.
"The collected data will be kept on a secured platform for data privacy and security that is ISO 27001 certified, GDPR, and HIPAA Compliant."
COMMENT