Designers apologize to Chinese consumers, 'influencer fraud' cost nearing $1.3 billion, and Universal pulls 'The Hunt' after mass shootings
Also: Quirky risks of working at home, Twitch chief says 'sorry' to a former streamer, and Amazon scores with a guinea-pig-themed café.
Good morning, PR pros:
You probably remember the viral video of a BBC Skype interview gone wrong when the interviewees' kids barge into the room:
According to new research, such missteps are becoming more common. The Society for Human Resource Management reported that almost 70% of organizations allow employees to work from home and that 27% of workers are now full-time telecommuters.
That means there's plenty of fodder for watercooler conversation and general embarrassment.
The Wall Street Journal reported:
Tim Zallmann, a director of engineering at fully remote company GitLab, joined a video call from South Africa when one of his colleagues started pointing vigorously through his laptop screen.

"I turned around and screamed, very loud and very high pitched," Mr. Zallmann said. A monkey was halfway through the window behind him. It retreated, and Mr. Zallmann threw down his laptop, shut the window and secured the perimeter of the rest of the house.
What are your remote working horror stories? Please share with us under the hashtag #MorningScoop. The funnier, the better.
Here are today's top stories:
Versace, Coach and Givenchy apologize to Chinese consumers
Three designers issued mea culpas to consumers in China after backlash over garments that neglected to list Hong Kong and Taiwan as parts of China, instead suggesting they were independent countries.
Donatella Versace apologized through her personal Instagram and Coach tweeted its apology. Givenchy posted an apology on Chinese social media platform Sina Weibo.
— Coach (@Coach) August 12, 2019
"Never have I wanted to disrespect China's National Sovereignty and this is why I wanted to personally apologize for such inaccuracy and for any distress that it might have caused," Versace wrote in her statement.
Why you should care: Thorough research can go a long way in preventing brand blowouts and scrambled apologies. What might look like a simple typo or omission can carry great significance to your audiences, especially on a global scale.
Let this serve as today's reminder to proofread your copy, and then have at least one other communicator review it as well. A few more minutes and an extra set of eyes can spare you major headaches.
Related reading:
---
MEASURED THOUGHTS
A report from Cheq and the University of Baltimore revealed that "influencer fraud"—which includes purchasing followers or creating false online profiles—could cost organizations roughly $1.3 billion in 2019.
In its survey of 800 organizations, marketing agencies and marketing professionals, Cheq estimated that 15% of marketers' advertising costs are lost because of fake influencer numbers and other factors.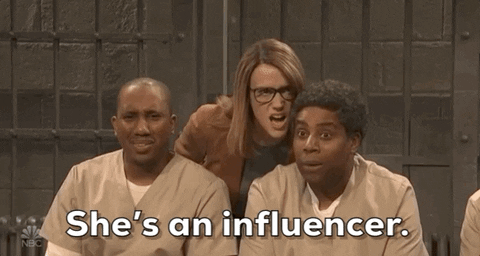 Twitch chief issues mea culpa to a former streamer
Streaming platform Twitch apologized after pornographic videos were included in a list of channel recommendations on professional video game streamer Tyler Blevins' former Twitch channel. Blevins, known as "Ninja," recently moved to the Microsoft-owned streaming platform Mixer.
After Blevins found out about the promoted content, he tweeted an apology to fans:
Disgusted and so sorry. pic.twitter.com/gnUY5Kp52E

— Ninja (@Ninja) August 11, 2019
In a tweet thread, Twitch's chief executive, Emmett Shear, said the pornographic channel was suspended and though it wasn't "our intent," to include it, "It should not have happened":
2/ This helps all streamers as it creates new community connections. However, the lewd content that appeared on the @ninja offline channel page grossly violates our terms of service, and we've permanently suspended the account in question.

— Emmett Shear (@eshear) August 11, 2019
4/ On a more personal note, I apologize want to apologize directly to @ninja that this happened. It wasn't our intent, but it should not have happened. No excuses.

— Emmett Shear (@eshear) August 11, 2019
Why it matters: Brand managers who partner with influencers and content creators across social media platforms must vigilantly research influencers' actions and messages to avoid potential PR crises. Still, influencers must diligently protect their personal brands.
Be upfront and transparent with content creators, lest you anger their communities of actively engaged consumers. Ninja had 14.7 million followers on his Twitch channel and has amassed more than 1.5 million followers on his Mixer channel, which he launched less than two weeks ago.
Related reading:
---
TACTICALLY SPEAKING
Amazon Studios is reveling in the success of "Fleabag," based on the book series by Phoebe Waller-Bridge. The show racked up 11 Emmy nominations as the Amazon adaptation ended.
Now, fans of the show can experience a guinea-pig-themed pop-up café in Los Angeles, complete with the furry creatures (in cages) for visitors to pet.
Three of our favourite things: @Fleabag, coffee and guinea pigs. Hilary's Cafe is now open through Friday in Los Angeles. pic.twitter.com/6RhY4g3NIA

— Amazon Studios (@AmazonStudios) August 7, 2019
Entertainment Weekly reported:
Hilary's has everything one might expect from a guinea pig cafe: pictures of guinea pigs, statues of guinea pigs, and (many) live guinea pigs. Where Fleabag's cafe only boasted one guinea pig (until Hilary makes a friend at the end of season 2), Hilary's has many. With cages artfully lining one wall of the room with their owners standing by, fans can pet a guinea pig while looking at the paraphernalia. It's what Boo would have wanted.
Consider how you can extend the life of a successful campaign with additional content and fan experiences.
Universal Pictures pulls 'The Hunt' release after mass shootings
Following shootings in Ohio and Texas that killed 31 people, the studio has indefinitely canceled the debut of the movie, in which society's elite pay to hunt the poor. Before the decision to cancel its release, Universal halted all marketing efforts.
Universal issued this statement on its website:
While Universal Pictures had already paused the marketing campaign for 'The Hunt,' after thoughtful consideration, the studio has decided to cancel our plans to release the film. We stand by our filmmakers and will continue to distribute films in partnership with bold and visionary creators, like those associated with this satirical social thriller, but we understand that now is not the right time to release this film."
Why it matters: Consider your marketing campaigns through the lens of current events, including how hot-button political and social issues might affect them (and, by extension, your organization's reputation). Be as transparent as possible about your decision-making process.
Though some disagree with Universal's decision, pulling the movie was a wise move to avoid a PR crisis. "In the realm of popular culture, human sensitivity matters, or at least it should," Variety's Owen Gleiberman wrote.
Related reading:
---
SOUNDING BOARD
There's no rest for the weary PR pro, especially in a 24-hour news cycle that demands you stay ahead of the narrative.
Caption this GIF, and we'll share the best in tomorrow's #MorningScoop:
For PR pros, the 24-hour news cycle is relentless. Share your best caption for our weekly GIF Caption Challenge and we'll share the best ones in tomorrow's #MorningScoop. pic.twitter.com/FdKQnICsKd

— PR Daily (@PRDaily) August 12, 2019
---
(image via)
PR Daily News Feed
Sign up to receive the latest articles from PR Daily directly in your inbox.
COMMENT