Dick's, Walmart lauded for announcing rules restricting gun sales
The retailers shared statements promising to self-regulate, and they called on legislators to stiffen weapons regulations. @Dicks tweets, 'thoughts and prayers are not enough.'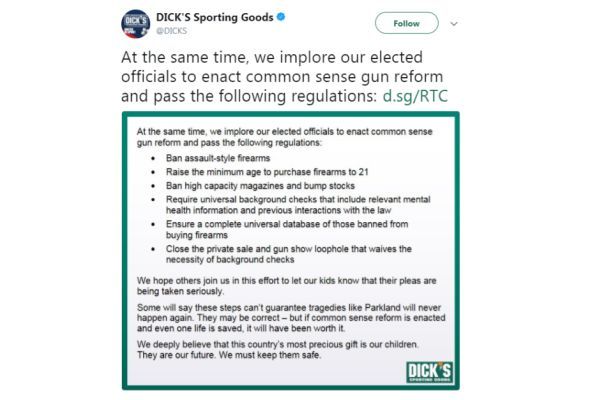 Ending deals for affinity groups is one thing. Restricting product sales is quite another.
The Feb. 14 shooting spree that killed 17 at a Florida high school—and the nationwide outcry that followed—prompted many companies to sever ties with the National Rifle Association.
Two high-profile gun retailers, Dick's Sporting Goods and Walmart, are taking further action.
Dick's announced it would stop selling assault-style weapons, known as "modern sporting rifles," would no longer sell guns to persons younger than 21.
It tweeted the announcement:
We at DICK'S Sporting Goods are deeply disturbed and saddened by the tragic events in Parkland. Our thoughts and prayers are with all of the victims and their loved ones. https://t.co/J4OcB6XJnu pic.twitter.com/WmT50BO7mx

— DICK'S Sporting Goods (@DICKS) February 28, 2018
But thoughts and prayers are not enough. We have to help solve the problem that's in front of us. Gun violence is an epidemic that's taking the lives of too many people, including the brightest hope for the future of America – our kids. https://t.co/J4OcB6XJnu pic.twitter.com/6VoKwJe8tH

— DICK'S Sporting Goods (@DICKS) February 28, 2018
The company kept the focus on fundamental beliefs:
We deeply believe that this country's most precious gift is our children. They are our future. We must keep them safe. Beginning today, DICK'S Sporting Goods is committed to the following: https://t.co/J4OcB6XJnu pic.twitter.com/BaTJ9LaCYe

— DICK'S Sporting Goods (@DICKS) February 28, 2018
The company didn't shy from politics, calling on lawmakers to expedite gun control legislation:
At the same time, we implore our elected officials to enact common sense gun reform and pass the following regulations: https://t.co/J4OcB6XJnu pic.twitter.com/VUuFKkyk6c

— DICK'S Sporting Goods (@DICKS) February 28, 2018
The message stayed on brand for the retailer, which sells sporting equipment for children.
In the press release, Dick's conceded that it had sold the Parkland shooter a weapon—though not the weapon. It also looked at the big picture:
Following all of the rules and laws, we sold a shotgun to the Parkland shooter in November of 2017. It was not the gun, nor type of gun, he used in the shooting. But it could have been.

Clearly this indicates on so many levels that the systems in place are not effective to protect our kids and our citizens.
Gun control advocates applauded the move on Twitter:
Here's one example of something better than thoughts and prayers:
(Bravo, @DICKS) https://t.co/RLsugeWSva

— Kristen Bell (@IMKristenBell) March 1, 2018
Retweet if you love @DICKS!

— Alternative NOAA (@altNOAA) March 1, 2018
Thank you.. to the owners of Walmart and Dicks .. for being good human beings.

— Rosanna Arquette (@RoArquette) March 1, 2018
Others announced plans to boycott the retail chain:
Say Goodbye to @DICKS's Sporting Goods…FOREVER 🤑🤑🤑 https://t.co/9yvqDG6pxm

— Cowboy Kal (@RightWingLawman) March 1, 2018
Some dismissed the move as a PR stunt:
Here's the truth about Dick's Sporting Goods…

I have never seen an AR-15 style rifle on display at @DICKS.

They either don't sell them anyway, or they sell very few.

This was not a statement of principle.

This was just a shameless and obvious attempt at free publicity. pic.twitter.com/MiAhixp5cl

— Mark Pantano (@TheMarkPantano) February 28, 2018
However, the company's leadership stands by its decision.
Asked about the potential for pushback among gun rights advocates, [Dick's Sporting Goods CEO Ed Stack] acknowledged the move "isn't going to make everyone happy. But when we look at what those kids and the parents and the heroes in the school, what they did, our view was: If the kids can be brave enough to organize like this, we can be brave enough to get these [firearms] out of here."

"We're staunch supporters of the Second Amendment," he added. "I'm a gun owner myself. We've just decided that based on what's happened and with these guns, we don't want to be part of this story."
After Dick's announcement, Walmart followed suit with a pledge to stop selling guns and ammunition to anyone under 21.
Walmart, which ended sales of modern sporting rifles such as AR-15s in 2015, has announced that it is raising the minimum age for purchasing firearms and ammunition from 18 to 21. The company notes that it does not sell bump stocks, high-capacity magazines and similar accessories.

Walmart is also removing items from its website "resembling assault-style rifles, including nonlethal airsoft guns and toys" — like the air gun Tamir Rice was playing with when he was shot by a Cleveland police officer who thought the 12-year-old was armed.
The company tweeted the decision:
Building on our 2015 decision to not sell modern sporting rifles, we announced important changes today:

– Raising the age for purchase of firearms and ammunition from 18 to 21 years old
– Removing online items resembling assault-style rifles

See details https://t.co/K7wnc0XEwK

— Walmart (@Walmart) February 28, 2018
Some applauded the move:
#Walmart joins #Dick'sSportingGoods in raising the age for fire arms sales to 21. Baby steps. But thank you from the bottom of my heart.

— Bette Midler (@BetteMidler) March 1, 2018
Others noted that U.S. corporate leaders have been finding their voice to talk about guns:
The CEO of Fed Ex served in Vietnam, now says assault weapons should only be in the hands of military. Dick's… Walmart… FedEx…Corporate leadership finding its conscience this week. Potentially huge development.

— Marianne Williamson (@marwilliamson) March 1, 2018
What do you think of Walmart's and Dick's Sporting Goods' moves, PR Daily readers?
COMMENT