Google Doodle showcases storytelling's importance, Walmart removes drug-using Santa sweaters, and Snapchat tests personalized GIF feature
Also: Video of Amazon driver goes online, types of content to attract new and appeal to current customers, lessons from the Popeyes PR crisis, and more.
Good morning, PR pros:
Google is celebrating the Mexican card game Lotería with an interactive Doodle.
In a blog post, Google Doodle global marketing lead Perla Campos wrote:
A smile instantly comes to my face every time I think of Lotería. I think of being with my extended family in Mexico for the holidays, scattering around my Tia Cruz's house, anxiously waiting for a round to start. I think of us tossing beans at each other in attempts to distract the other from our boards. Most importantly, I think of the laughter, the excitement, and how all the worries of the world melted away as this game brought us together, even if just for a few hours.
So upon being prompted to think of possible interactive Doodles to create for the following year, Lotería almost instantly came to mind. I wondered: If this simple game was so magical and powerful in its original state, how might that be amplified in the digital space? And so the Lotería Doodle was born.
The effort showcases how outstanding storytelling can evoke emotion from readers and viewers, along with how interactive elements can make your stories more accessible and appealing.
How can you make your stories more interactive with target audiences? Share your thoughts under the #MorningScoop hashtag.
Here are today's top stories:
Walmart removes holiday sweater with cocaine-snorting Santa
A third-party seller on Walmart's online marketplace in Canada has a theory about how Santa can deliver all those presents in one night—and it's not safe for work. The sweater featured a Santa image sitting in front of a table with three white lines, which several social media users quickly identified as cocaine.
Wow smh https://t.co/eRrcf4LSBh

— LaTisha Winston (@36reneemax) December 9, 2019
Walmart removed the product and issued a statement to Globalnews.ca:
"These sweaters, sold by a third-party seller on Walmart.ca, do not represent Walmart's values and have no place on our website. We have removed these products from our marketplace. We apologize for any unintended offence this may have caused," a spokesperson told Global News on Saturday.
Why it matters: Amazon also suffered backlash over a third-party vendor selling Christmas ornaments with Auschwitz on them. Both incidents highlight the necessity for monitoring any crowdsourced platform or content—whether it's a third-party marketplace or a contest calling for user-generated content. Quickly instill trust in your consumers by removing offending products (and sellers, if necessary) to show you're on top of what's being said about your brand and what's offered up for sale.
---
FROM THE EXPERTS
Going viral can be both a blessing and a curse. Take Popeyes: Its chicken sandwich catapulted the fast-food chain into social media stardom (and higher revenues) as it started the "chicken sandwich wars," but that virality also led to PR crises as fights broke out across locations. PR pro Evan Nierman offers advice for communicators to prepare for franchise-associated crises. Read his insights here.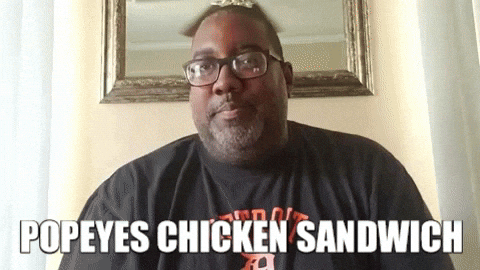 ---
MEASURED THOUGHTS
Not all content is created equal, reveals Walker Sands' The Future of B2B Content 2019 report—especially depending on your business goal. The report revealed that though both website content and social media were top content forms that both attract new customers and engage current customers, search engine optimization is crucial for grabbing newcomers' attention.
In comparison, branded blog posts matter to current consumers, but won't attract new folks to check out your website.   

Snapchat tests 'Cameo' feature to insert yourself into GIFs
Snapchat is working on a feature that can personalize GIFs with your likeness. It's currently being piloted with French and other international users, but Snap told reporters a global release was coming "soon." The tool, called "Cameo," enables users to take a selfie and select a body type. The tool will then incorporate your face into the animation, adding mouth movements.
Here's some images from the new Snapchat Cameo feature.
Looks like it's only available in France right now but it's takes an AR version of your face and lets you apply it to a bunch of different activities.
Sort of a loose deep fake for Snap. Kind of. pic.twitter.com/LDReLqGCRV

— Jeff Higgins – Old Skate Dad (@ItsJeffHiggins) December 8, 2019
Why you should care: Tools such as Cameo can help make your branded content more personal and relatable, especially to younger consumers. It's also another way to peel back the layers of your organization and give your social media followers a peek behind the curtain of what happens in your workplace. Consider test-driving it with an employee.
However, be on the lookout for fake content using your leadership's likenesses. "Deepfakes"—artificially generated videos and GIFs that use a person's face and/or voice to create fake content—should be an element on your social media monitoring checklist, in case you have to respond to any user-generated content and quickly dispel rumors.
---
SOCIAL BUZZ
A Facebook post by an Amazon Prime customer has gone viral with more than 144,000 reactions and more than 358,000 shares across the platform—not to mention headlines. The post, which features videos of an Amazon driver dancing with joy after receiving snacks the customer left out, has delivered kudos to the customer and inspiration for others who promised to do the same during the gift-ordering season.
THIS!❤️❤️ Made my day! I leave goodies out every year. Middletown, Delaware. #AmazonPrimeUpdated:The driver is Karim Earl Reed III – You are bringing millions of people joy! ❤️

Posted by Kathy Ouma on Monday, December 2, 2019
Many Twitter and Instagram users (including news media outlets) have shared the video through their own profiles as well, with some racking up millions of views:
This lady leaves out drinks and snacks for delivery people during the festive period and I can't get over this amazon delivery drivers reaction pic.twitter.com/RBXTsKxyjd

— yasmine (@flowerhunni) December 4, 2019
Often, brand managers are faced with PR crises due to a viral video or social media post, but they can often reap the benefits of excited brand ambassadors who love the organization's employees and brand. Take advantage of moments like these by connecting with the customer and thanking him or her for the story. Don't worry about spreading your marketing messages—the interaction and appreciation of their content will be appreciated by others who see that your social media team is watching and cares.
---
WHAT YOU SAID
We asked where you think PR pros' responsibility lies in fighting fake news and misinformation, especially as trust in both branded content and the news media landscape decreases. Your opinions were split across three "levels" of responsibility. Roughly one-third think PR pros have some responsibility, which you can measure up to by being transparent and truthful in your pitches, press releases and branded content. The same amount (33%) think PR pros' responsibility is paramount and communicators should show consumers how to be savvy readers and viewers of content—whether in publications or on social media platforms.
Twenty-eight percent think PR pros must fight misinformation (a high responsibility to stopping fake news), and only 6% think communicators don't have a responsibility in this battle at all.
Trust in news media and digital content continues to wane as publications and social media platforms battle fake news and misinformation. What's PR's responsibility in this fight?

Share your thoughts below and under #MorningScoop, and we'll feature them in our next roundup.

— PR Daily (@PRDaily) December 6, 2019
---
SOUNDING BOARD
Today's consumers want brands they favor to speak out about sociopolitical issues, but such stands have inherent risks. When should an organization become vocal on potentially divisive subjects (and how much)?
Today's consumers want brands they favor to speak out about sociopolitical issues, but such stands have inherent risks.

When should a company become vocal on potentially divisive subjects (and how much)?

Share insights and examples you love under #MorningScoop.

— PR Daily (@PRDaily) December 9, 2019
Share your insights and the brand examples that inspire you under the hashtag #MorningScoop.
PR Daily News Feed
Sign up to receive the latest articles from PR Daily directly in your inbox.
COMMENT