Infographic: 45 ways Google makes your job easier
PR pros highly value their time and are constantly looking for shortcuts and life-hacks to make their jobs simpler. Here are some helpful Google tools to ease your heavy workload.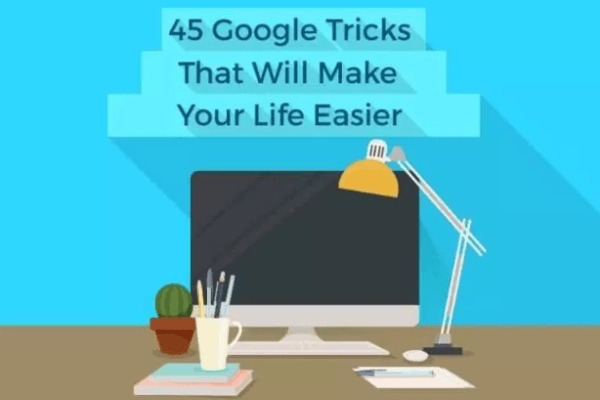 Did you know you can use Google as a timer or stopwatch? What about a calculator?
There are a lot of shortcuts and tricks you can use with Google. Some minor changes to how you search on Google can help you with your productivity and get more done with less effort.
Are you having trouble finding something, but you know the website you saw it on? There's a simple trick for searching on a specific site. Want to find trending discussions on a particular topic? Adding a hashtag to your query can provide that. Looking for a social media post that you saw but can't remember the full details?
Here are 5 ways to use Google to make your life easier:
1. Use double quotes when searching on Google.
By using double quotes ( for example: "productivity tips"), you can get better and more specific results when you search on Google.
2. Search "tip calculator."
When you search for "tip calculator" in Google, you will get a calculator to help you find out how much you should tip.
3. Select your ad settings.
If you go to Google Ad Settings, you can choose what types of ads you want to see.
4. Evade boredom.
If you type in "fun facts" into Google, Google will entertain you with some cool facts that you may not know.
5. Research what others are asking about.
If you use Google Trends, you can explore what terms the world is searching and what searches are trending today.
Hungry for more tips, tricks and shortcuts for using Google better? Check out this infographic below by AllTechShare.com to see how you can improve your productivity using Google.
Matthew Royse is the regional marketing director for Freudenberg IT, a global IT solutions provider. A version of this article originally appeared on his Knowledge Enthusiast blog.

COMMENT
2 Responses to "Infographic: 45 ways Google makes your job easier"
And on your financial goals, without doubt these require achievable goals , a plan and a powerful motivator.

The oldest-known forms of writing were primarily logographic in nature, based on pictographic and ideographic elements. Most writing systems can be broadly divided into three categories: logographic, syllabic and alphabetic (or segmental); however, all three may be found in any given writing system in varying proportions, often making it difficult to categorise a system uniquely.

Communication can often be improved by identifying the appropriate media. Written, verbal or electronic methods, while impersonal, are fast and can be effective. Meetings, interviews and video conferencing require personal, face to face communication and thus interpersonal skills. Telephone and public address systems should be used only where personal communication methods are difficult. Written communication is very often the most suitable and clearest means of communication and can take many forms: memoranda; occasional or annual reports (fundamental in communicating accounting information); forms; notices; house journals and other forms of standard documentation such as rules and procedures, manuals and job descriptions.

Visual communication is a powerful communication media and is often overlooked. Charts, slides, videos or films provide an immediate and clear message. Electronic means of communication are increasingly becoming more relevant. Document imaging, telex, fax, the Internet and e-mail are instantaneous and provide clear and fast communication possibilities. The type of communication and the medium used will depend to a greater or lesser extent on organizational structure. This will in turn be a function of the product or service and its environment. There are many forms of communication within an organization, formal and informal. Generally, in formal organizations information flows through quite clear channels and in defined directions. Traditionally, the direction of the three main information flows is downward, upward and lateral.