Juul reputation's up in smoke, kid-focused videos get 3X the YouTube views, and many PR pros are introverts
Also: Pabst Blue Ribbon blends coffee and booze, presidential seal gaffe highlights image woes, and Arby's will bring meat to Area 51.
Good morning, PR pros:
If your coffee needs more of a kick, Pabst Blue Ribbon might have the answer.
The brewery is debuting "Hard Coffee," which is a drink that contains "Arabica and Robusta coffee beans and rich, creamy American milk," vanilla flavoring and 5% alcohol by volume.
The offering aims to boost slumping beer sales, but it raises the question: What's too far outside the box when you're trying to revive a tired brand?
Here are today's top stories:
Juul under fire for anti-smoking involvement
The e-cigarette company continues to fight an onslaught of negative publicity as two of its executives testified on Capitol Hill this week. The company was accused of altering portions of material from Stanford University's tobacco prevention toolkit, presenting its products to high-school students in a positive light.
Why you should care: Engaging in unethical PR and marketing behaviors will come back to haunt your organization's reputation. Don't be part of the minority of communicators who give the industry a bad name.
Related reading:
---
MEASURED THOUGHTS
Though YouTube requires its users to be at least 13 years old, a recent Pew Research Center study found that videos that either targeted or featured children received three times more views.
The finding underlines the platform's struggles to police content, especially considering the staggering amount uploaded daily. YouTube's 43,770 channels boasting 250,000 subscribers or more uploaded a collective 243,254 videos this year—and 56% were within the first week of 2019.
Topics of videos uploaded by popular YouTube channels during the first week of 2019:
Video games: 18%
Int'l current events or politics: 12%
Sport or fitness: 9%
Music/dance: 9%https://t.co/m5waFCOCgK pic.twitter.com/byiIDYjaR8

— Pew Research Center (@pewresearch) July 26, 2019
Fake presidential seal highlights importance of vetting images
On Thursday, the image of an altered presidential seal—one that replaced the bald eagle with the Russian Imperial eagle, clutching golf clubs instead of arrows—made the rounds online and in headlines. In an apparent oversight, the seal was displayed behind President Donald Trump during his speech for Turning Point USA.
White House officials baffled by doctored presidential seal featuring a Russian eagle clutching a set of golf clubs instead of arrows, @GavinoGaray reports. More: https://t.co/VADFCUmRzU pic.twitter.com/FJZ6XGop95

— Reuters Top News (@Reuters) July 25, 2019
The audiovisual aide responsible was fired, and the spoofed seal's creator, Charles R. Leazott, has received several interview requests and posted an "Ask Me Anything" thread on Reddit.
Why it matters: By not ensuring your visual is correct and free from copyright infringement, you stand to deal with more than egg on your face. When it comes to using visuals, replace the infamous "always be closing" scene in "Glengarry Glen Ross" to "always be certifying":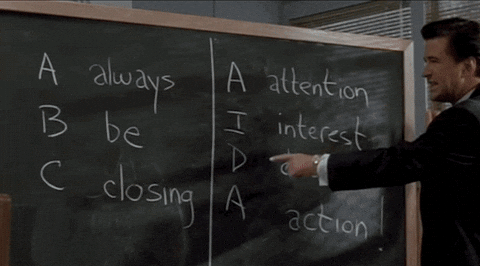 (Image via)
Related reading:
---
SOCIAL BUZZ
Bud Light has already jumped on the viral Area 51 event, and now Arby's is bringing the food. It recently promised to show up with a food truck:
We're going there.
No really, we're going there. #Area51. And we're bringing a special menu. 🛸 pic.twitter.com/Z7V3TgY8fe

— Arby's (@Arbys) July 25, 2019
In a blog post, Arby's promised to serve items from its top-secret menu:
"We can't confirm if there are aliens at Area 51. But, if they do show up, they deserve the best meats on Earth," said Jim Taylor, Chief Marketing Officer of Arby's. "If not, Arby's will still be there serving the planet's best meats to everyone else attending this historic event."
Twitter announces user growth and more revenue
The social media platform, which has risen to prominence as Trump's preferred messaging channel, shows that more users are finding a use for the platform. The site reported that revenue was up 18%, and monetizable users (mDAUs) were up 14%.
Why it matters: As you decide what social media platform to invest in, perhaps you should give Twitter a harder look. Organizations including Cisco have seen great success at creating a year-round community of customers on the platform.
Related reading:
---
WHAT YOU SAID
Yesterday we asked if you were an introvert or an extrovert, with 43% of you striking out as lone wolves. An additional 23% of you said your social prowess depends on the day:
Hey PR pros: Are you introverted or extroverted? #MorningScoop

— Beki Winchel (@bekiweki) July 25, 2019
If the result comes as a surprise, you're not alone. However, introverts can make great PR pros. Check out tips to flourish in the industry and ways introverts make outstanding publicists.
---
SOUNDING BOARD
We want to hear from you!
What's the tool or software that you can't live without?
Tweet your answers to @BekiWeki, and we will share the results in the #MorningScoop on Monday.
---
(Cover image via)
PR Daily News Feed
Sign up to receive the latest articles from PR Daily directly in your inbox.
COMMENT