KFC and DHL respond to the #KFCCrisis
The restaurant group blamed its new supplier after the fast-food chain had to close most of its restaurants in the U.K. and Ireland. KFC is relying on humor, as social media clucks its disdain.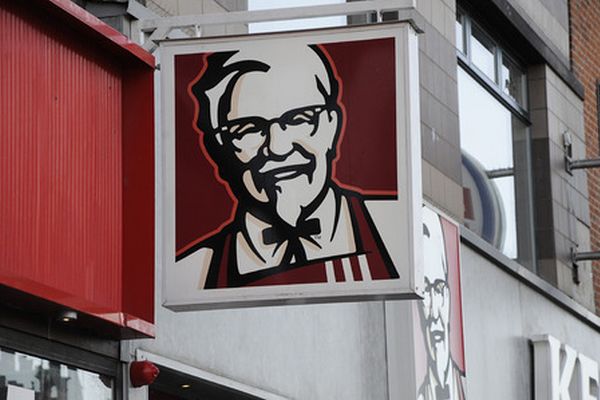 When all you serve is fried chicken—you had better not run out of chicken.
KFC faces a poultry shortage that has closed stores across the U.K. and Ireland, unleashing jokes and dismay on social media and highlighting the dangers of making big changes to a global supply chain.
Although the company has tried to keep it light, critics cry fowl and question the organization's management.
Fast-food fans were in a flutter Monday after most of the 900 KFC outlets in the U.K. and Ireland were forced to close because of a shortage of chicken. The company apologized to customers, blaming "teething problems" with its new delivery partner, DHL.

[…] It said those branches that remained open were operating a limited menu or shortened hours.
The fried chicken chain tried to frame the store closings as a move taken to preserve brand integrity.
"We won't compromise on quality, so no deliveries has meant some of our restaurants are closed, and others are operating a limited menu, or shortened hours," KFC said in a statement.

DHL acknowledged that a number of its deliveries had been "incomplete or delayed" because of "operational issues." The logistics company said it was working with KFC to solve the problem.

KFC switched suppliers from Bidvest Logistics to DHL last Wednesday. Bidvest said that from its perspective, the transition had been "seamless."
The company also seasoned their crisis response with a little humor, creating a web page about the chicken shortage that read, "The chicken crossed the road, just not to our restaurants."
The website include information about what stores were open and promised that other locations were working "flat out" to reopen.
Despite the full-court press from KFC's communications team, the crisis seems far from over.
But even as KFC has been attempting to, ah, wing it, the problem doesn't appear to be getting any better: BBC News reported that more of the chain's outlets closed in the region — a total of 575 out of 900 as of Monday night.

Only a few hundred of KFC's British locations were open Monday, according to the company's website. Restaurants in Republic of Ireland and Northern Ireland "are open as usual," the company says.
Customers appear unwilling to forgive the restaurant for its supply chain woes.
The Washington Post continued:
Some customers aren't happy with the closures.

"So we're going to have to hit a McDonald's up," says a customer who posted a video on YouTube showing a closed location in Manchester, England. "This is s‑‑‑ mate. We like our chicken. You know we like our chicken."
There was some gloating from the former suppliers who had lost out to DHL's new contract:
Real story on #KFCcrisis from GMB. Clucking awful decision 🐔They should reinstate their supply chain and pay staff in full for the time the stores are shut. #BoycottKFC pic.twitter.com/SYKt39Qz9y

— Cerys Hartt (@CerysHartt) February 19, 2018
Meanwhile, customers playfully tweeted out their disappointment that their favorite fried food was unavailable:
The KFC chicken crisis directly affected me yesterday when I was forced to endure the wait at Brixton McDonalds instead of getting a zinger meal. Please respect my privacy at this emotional time.

— Rachel McGrath (@RachelMcGrath) February 19, 2018
I am fully aware there is a #KFCCrisis in the UK… stop sending prayers! I'm trying to fix America and then I will get to you.

JC x

— Jesus Christ (@ResurrectedDude) February 19, 2018
Disaster. Took the Grandkids out to dinner at KFC only to see that it's shut down. Some chicken shortage. Took them to McDonald's but it's not the same. Crying in the bathroom. Can't show weakness in front of them. #KFCCrisis

— Ron Sanderson (@R_Sanderson1952) February 19, 2018
Everyone at KFC right now #KFCcrisis pic.twitter.com/Ar1Po0ggFP

— Gladstone (@TreasuryMog) February 19, 2018
Other brands are seeing mentions in relation to the news story, such as McDonald's and rival chicken chain Nando's.
Just reading about the #KFCCrisis. EVERYONE PROTECT NANDOS AT ALL COSTS.

— Lee Nelson (@RealLeeNelson) February 19, 2018
Some companies were taking advantage of the crisis, welcoming customers craving fried delicacies with open arms:
#KFCCrisis, what #KFCCrisis?
We're here for you.
Wake up to the brand new taste of Lancashire Fried Tripe! #LancashireCalamari pic.twitter.com/5GYHFvpggG

— Tripe Marketing Board (@TripeUK) February 19, 2018
One aspect that remains unanswered is the loss of income that KFC's low-wage employees face:
How do you expect you're loyal staff that are on zero hour contracts to live as you're not paying them?

— marty 🇬🇧 (@martymitch_) February 19, 2018
It's funny, until you remember all of their staff on zero hours contracts won't be paid this week.#KFC https://t.co/AxNKKAgPBl

— James Doleman (@jamesdoleman) February 19, 2018
The backlash isn't just for KFC; shipping company DHL is also getting slammed, with consumers cracking jokes about the delivery service:
I feel sorry for KFC because once I broke my phone and DHL accidentally sent it to France. Twice.

— Scott Bryan (@scottygb) February 20, 2018
If DHL are delivering to KFC restaurants, perhaps the chicken is behind their bins? 🤔😂

— andy o'connor (@andyoconnor7) February 20, 2018
DHL had claimed it would change the supply chain for Britain's fast-food companies. Instead the shipper was left with egg on its face.
In a press release at the time the company said: "DHL is also committed to setting a new industry benchmark by delivering outstanding service to all KFC's restaurants and its consumers."

"We intend to re-write the rule book and create a stock management, distribution"
What do you think of KFC's and DHL's crisis responses, PR Daily readers?
(Image via)
COMMENT