Major brands go pink and share breast cancer survival stories
Marketers are supporting Breast Cancer Awareness Month through a bevy of campaigns aimed at increasing awareness and gathering donations for disease prevention and treatment.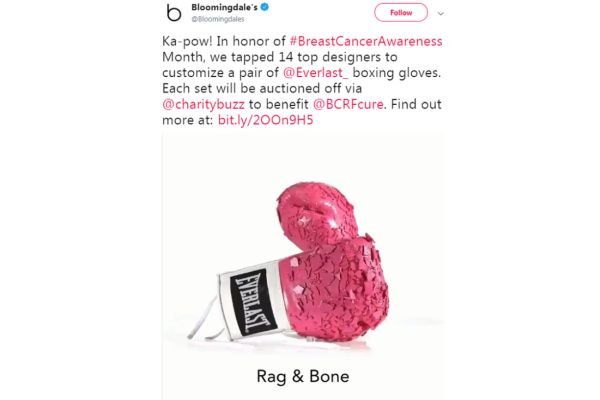 Many organizations are doing their part to support patients and survivors of breast cancer—though some observers question their motives.
October is National Breast Cancer Awareness month—a cause that seems so engrained in our culture and psyches that it's hard to imagine a time when awareness for the disease itself was both rare and minimal.

But without brands, campaigns and organizations that have historically demanded that the public listen, care and get involved, this heightened level of familiarity and conversation surrounding Breast Cancer would be nonexistent.
Hundreds of thousands of people are diagnosed with breast cancer every year. The American Cancer Society estimates that last year, about 252,710 new cases were diagnosed in women. The organization also estimated that about 40,610 women died from it.

More than three million people have a history of it in the United States alone, and the American Cancer Society reports that while black and white women get breast cancer at about the same rate, black women are more likely to die from it.
Here's a look at efforts by several organizations boosting awareness and raising donations to fight the disease.
H&M offers survivor-focused bras
H&M created a line of bras aimed to help breast cancer patients and survivors feel more comfortable.
The Close to My Heart collection was inspired by an H&M employee and breast cancer survivor who struggled to find bras that were functional yet still fashionable.
Shoppers can choose from a fast-drying sports bra, which has a racer back design, or a soft-cup bra which comes in either lace or microfibre – each of which has been created with the requirements of breast cancer survivors in mind and will suit women who have had single or double mastectomies and chosen to wear a breast prosthesis.
H&M will donate 100 percent of the sales from the collection to the American Cancer Society. It's also asking customers to round up the dollar value of in-store purchases and donate that extra amount, and it promised to match those donations up to $25,000.
Delta promotes crews' tales of survival
Delta is sharing its employees' personal stories throughout the month:
In honor of Breast Cancer Awareness Month, we're sharing the stories of the survivors and fighters of our Delta family.

Follow along below to read about these employees and their journeys.

— Delta (@Delta) October 5, 2018
Delta Flight Attendant Ana is a five-year survivor of stage 2B breast cancer. pic.twitter.com/Hh6feIZGOC

— Delta (@Delta) October 5, 2018
"I went through four months of chemo and one month of radiation and a mastectomy. It was a difficult road, but I was able to recover fast and feel better than ever. The Delta team made a difference. The fact I knew my job was waiting for me when I came back was a huge relief."

— Delta (@Delta) October 5, 2018
"I remember posting about my chemo, and a Flight Attendant that I flew with once offered to be with me through all of it. She and her daughter were with me at every appointment."

— Delta (@Delta) October 5, 2018
"She was a survivor, and her daughter is currently fighting breast cancer and making an amazing recovery. She's on her way to being a survivor as well. They have both become real friends of mine. I'm so happy I work for a company that celebrates life."

— Delta (@Delta) October 5, 2018
On Oct. 1, Delta flew its 14th annual breast cancer survivor flight, called "Breast Cancer One," which carried more than 140 employees and 10 customers who had survived their battles with the disease.
In a press release, Delta wrote:
The employee survivors, along with Delta leaders and BCRF executives, were celebrated and honored during a kickoff celebration at Hartsfield–Jackson Atlanta International Airport and as well as an arrival gatehouse celebration at Logan International Airport and a special evening event in Boston.

Since 2005, Delta employees, customers and their friends and families have raised $14.6 million for BCRF, including last year's efforts of $2 million. The collective contributions have funded the vital work of 54 different research projects over the years in the pursuit of eradicating breast cancer.

To further raise awareness and support for breast cancer research, Delta employees will wear pink uniforms and sell pink products, including pink lemonade and pink headsets, on board and in Delta Sky Clubs throughout the month of October.
One of those products is SweetWater 420, which comes in a pink can. The beverage company is donating a portion of the proceeds to breast cancer research:
SweetWater 420 is going pink for Breast Cancer Awareness Month. Purchase a premium beverage or snack on your flight this October and 10% of proceeds will help fund life-saving research. Cheers! pic.twitter.com/WC3WgnFqZi

— Delta (@Delta) October 10, 2018
Bloomingdale's puts up its dukes—with bling
Bloomingdale's partnered with Everlast to auction off 14 bedazzled boxing gloves:
Ka-pow! In honor of #BreastCancerAwareness Month, we tapped 14 top designers to customize a pair of @Everlast_ boxing gloves. Each set will be auctioned off via @charitybuzz to benefit @BCRFcure. Find out more at: https://t.co/UNjwbIjZnC pic.twitter.com/Z0v4CTiqlZ

— Bloomingdale's (@Bloomingdales) October 10, 2018
Elite Daily's Bella Gerard wrote:
To give us something worth bidding on, Bloomingdale's and Everlast have commissioned 14 different designers to go to town on one pair of boxing gloves each. Once crafted and stylized to perfection, the pairs were to then be put up for auction, with all proceeds going to the Breast Cancer Research Foundation (BCRF). The bidding will take place on Charitybuzz, and last from Oct. 1 until the end of the month. It's expected that fans of the designers will shell out the big bucks to own these one-of-a-kind boxing gloves, and after seeing them, I totally get why.
The collection can be seen in the windows of Bloomingdale's 59th Street store in New York City until the end of the auction.
NFL expands campaign to all types of cancer
National Football League players are donning pink uniform elements and cleats, but the NFL partnered with the American Cancer Society to expand its campaign.
Dubbed "The Crucial Catch," the effort covers more than just breast cancer. Consumers can purchase Crucial Catch merchandise, of which all proceeds go to the American Cancer Society. One campaign component is an app that provides cancer prevention information.
When it comes to cancer, the NFL and American Cancer Society know that offense is the best defense. That's why, after nearly a decade of working together to fight breast cancer, we are expanding our efforts to tackle multiple types of cancer and introducing The Defender, a new tool that provides personalized tips on how to reduce your risk of cancer.
The NFL is also featuring videos of players sharing personal stories, such as Detroit Lions player Eli Harold discussing his mom's battle with pancreatic cancer:
Estée Lauder turns to products and hashtags
Estée Lauder launched several initiatives to spread breast cancer awareness and raise donations for research, including naming Elizabeth Hurley as the campaign's global ambassador.
In a press release, Estée Lauder wrote:
To mark the start of Breast Cancer Awareness Month this October, The Estée Lauder Companies' Breast Cancer Campaign is releasing a powerful video series titled, "Seconds Matter." The moment someone is diagnosed with breast cancer is the moment that life changes. Time slows down. These moments are challenging, beautiful and real. The 2018 Breast Cancer Campaign focuses on the concept of time and the effect that breast cancer has from both a personal and universal perspective. In long and short form videos, we see life through the eyes of people faced with breast cancer. The videos are narrated by longtime Global Ambassador for The Campaign Elizabeth Hurley, who states, "Every 19 seconds, somewhere in the world, a woman is diagnosed with breast cancer," and ends with an urgent call-to-action that "It's time to end breast cancer."

Hurley said, "I'm fortunate to witness first-hand the immense impact of The Campaign worldwide. From a woman telling me she got a mammogram because she heard our important message about early detection, to seeing the impact that the research we are funding has on science, patient care and treatment – all bringing us closer to a cure. Advancing breast cancer research and supporting education and medical services has offered hope to so many battling the disease. Breast cancer truly affects us all, and I am so proud to be part of this global movement that continues to bring us hope for a world without breast cancer."
Estée Lauder is getting consumers involved via purchases as well as hashtags on Instagram. Aol reported:
In order to continue charging forward to find a cure and an end to the disease, The Campaign's method of spreading awareness and getting people involved must adapt to the times — this year, it's via Instagram.

This year, for every unique Instagram post accompanied by the hashtags #TimeToEndBreastCancer and #ELCdonates through the month of October, the Estée Lauder Companies will donate $25 to the Breast Cancer Research Foundation up to $26,000 total, in honor of the company's 26th year running.
The company has also tweeted how to get involved:
It's #TimeToEndBreastCancer. Every 19 seconds, somewhere in the world, a woman is diagnosed with breast cancer. Every second counts, learn how you can join @elcompanies in the mission to create a breast cancer-free world. https://t.co/jypvMwu2Ml pic.twitter.com/aiaeCI33nY

— Estée Lauder (@EsteeLauder) October 1, 2018
Breast cancer affects us all & it's time to take action. For each limited-edition Pink Ribbon Collection purchase, we'll donate to the @BCRFcure in support of @elcompanies' Breast Cancer Campaign. https://t.co/NKqDv4XUR7 #TimeToEndBreastCancer #AdvancedNightRepair pic.twitter.com/sOTpBrpNTm

— Estée Lauder (@EsteeLauder) October 2, 2018
There's work to be done, #EsteeBeauties. It's #TimeToEndBreastCancer and @elcompanies' global commitment is stronger than ever. Learn how you can support the mission to create a breast cancer-free world. https://t.co/aHjTyM7Msy pic.twitter.com/vsPzySV7TR

— Estée Lauder (@EsteeLauder) October 3, 2018
How to craft a better campaign
The above are just some of the organizations that have created campaigns to promote breast cancer awareness. Us, Forbes, Insider and Elle published lists of makeup, skincare, clothing, jewelry and accessories that consumers can buy to support research efforts.
In many cases, businesses are offering limited-edition versions of popular products and are pledging all or a portion of the proceeds to breast cancer organizations. Cannabis dispensaries and companies are also offering products, deals and campaigns supporting breast cancer patients, survivors and their families.
Though the plethora of breast cancer awareness campaigns help people to become more involved with donating and supporting the cause as well as increasing medical screenings for the disease, many people are critical of organizations' efforts.
A recent report published by Florida International University's College of Business revealed that many breast cancer survivors want more diversity and authentic action from organizations' campaigns.
The survivors pointed out that current breast cancer-related advertising doesn't really reflect patients' experience. In many cases, images show homogeneous, happy, smiling women who are often young, thin and white. Patients skew a little bit older – the prototypical breast cancer patient is in her 50s, 60s or 70s.

The women surveyed said they wanted to see a more diverse set of images, said Kimberly Taylor, associate professor of marketing and logistics at FIU Business, who conducted the research with Jana Nekesa Knibb, assistant professor of sociology at Community College of Rhode Island.
The study's participants were also skeptical of organizations' involvement in breast cancer awareness efforts being anything more than a PR or marketing move to boost sales and buzz.
FIU wrote:
A major concern shared by study participants was whether brands are truly supporting breast cancer awareness as they claim in marketing campaigns – what exactly is the company doing? How much money are they donating and to what organizations?

"Anyone can pretty much make a pink something," Taylor said. "A basket filled with pink – pens, notebooks, gum and bears – is cute, but how is it helping? They don't want a pink toaster or a pink vacuum cleaner from a company not really doing anything."
How are you talking about Breast Cancer Awareness Month, PR Daily readers?
COMMENT