Mattel's gender-neutral dolls celebrate inclusivity, seniors stereotyped in ads, and eBay and WeWork execs depart
Also: FTC sues Match.com over deceptive marketing, Norwegian Cruise Line ditches plastic bottles, Marshall's (finally!) opens an online store, and more.
Good morning, PR pros:
The Federal Trade Commission has sued Match.com for using fake ads that told consumers someone had "caught their eye"—only to deliver no such profiles once they signed up. "Match's own studies showed that nearly 500,000 people signed up within a day of receiving one of these ads, according to the FTC," Engadget reported.
Match denies the claims and says any messages to that nature were caused by spam accounts—something for which the company still might be held responsible.
As PR and marketing pros fight to attract consumers' attention, what tactics do you consider underhanded or ethically shady? Share your thoughts with us under the hashtag #MorningScoop.
Here are today's top stories:
Mattel debuts gender-neutral dolls
The toymaker's new line of six dolls, which is a nod to "the positive impact of inclusivity," offers consumers the choice of skin tone, clothes and hair:
In our world, dolls are as limitless as the kids who play with them. Introducing #CreatableWorld, a doll line designed to keep labels out and invite everyone in. #AllWelcome

Shop now: https://t.co/UyaYXb0BYf pic.twitter.com/k2tnPDCCiM

— MATTEL (@Mattel) September 25, 2019
Why it matters: PR wisdom says that if you're targeting everyone, you're targeting no one. That's only true of generic messages that aren't tailored to specific audiences and their behaviors, though. Your PR and marketing campaigns—along with your products and services—should welcome a wide and diverse market. This is especially important given that social media can instantly make your message accessible to a global audience.
Related reading:
---
MEASURED THOUGHTS
A recent study by AARP revealed that although 46% of the adult population in the United States is over 50 years old, only 15% of images shared online by brand managers depict that age group.
The images also "exaggerate stereotypical and outdated physical appearance characteristics."
For example, 73% of images showing people over 50 depict them with wrinkles, compared with 15% that show them with smooth skin. Seven in 10 images show this older crowd in isolated situations instead of "actively participating" in the world, and only 13% of images show them in work settings—though people over 50 make up roughly 30% of today's labor force.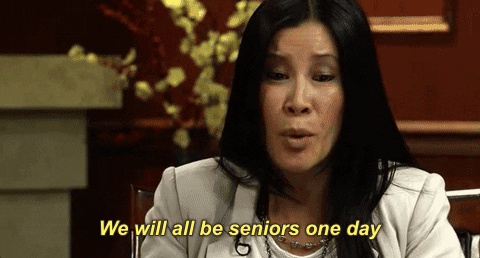 WeWork and eBay execs depart; Juul and Disney Parks appoint new chiefs
 The exodus of corporate executives continued as eBay's chief executive, Devin Wenig, stepped down, citing differences with the company's board of directors:
In the past few weeks it became clear that I was not on the same page as my new Board. Whenever that happens, its best for everyone to turn that page over. It has been an incredible privilege to lead one of the worlds great businesses for the past 8 years.

— Devin Wenig (@devinwenig) September 25, 2019
Following weeks of tense moves and negative press, WeWork parted ways with its co-founder and chief executive, Adam Neumann. After the board ousted Neumann, it delayed its IPO and is reportedly planning for "a few thousand" layoffs, Insider reported.
Juul also appointed a new chief as it pulled more than $100 million in advertising, hoping to stave off the mounting scrutiny and backlash.
Both Disney World and Disneyland appointed new presidents, too. Disney Parks' chairman, Bob Chapek, said this about the tenure of its former president of Disney Parks West: "What could have been a five-year mission turned out to be an 18-month mission."
The departures and appointments have reached record-breaking numbers.
U.S. based companies announced 159 CEO changes in August, 28% higher than the 124 CEO exits in July and the most ever in a month, according to business and executive coaching firm Challenger, Gray & Christmas. Through August, there were 1,009 U.S. CEO departures in 2019, according to Challenger, more than at the same point in 2008 when the economy was embroiled in the financial crisis.
Why you should care: Executive departures can plunge your organization into a reputational crisis, so prepare your holding statements and crisis response strategy well in advance. Make sure that strategy starts with communicating changes to your employees, and remember that simply appointing a new head is not enough to restore stakeholder trust.
Related reading:
---
 TACTICALLY SPEAKING
In a move that might make you wonder why it took until 2019, Marshall's launched an online store:
Best. News. Ever! Shop Marshalls online and save on (even more) surprises. Check us out: https://t.co/6vDqhoWXeA pic.twitter.com/LEfEK7oG6G

— Marshalls (@marshalls) September 24, 2019
It highlights modern brand managers' need to reach consumers in the online media landscape. At this point, your question should not be if you should launch digital marketing and social media campaigns, but rather, what you must do to break through the noise of branded messages already bombarding your audiences.
---
SOCIAL BUZZ
Domino's Pizza in Australia has made waves—and drawn 200+ applicants—with a new job posting on LinkedIn for a "chief garlic bread taste tester."
The job lists qualifications including "never met a carb they didn't like," "has working taste buds" and "has a history of reviewing other people's food choices":
Norwegian Cruise Line drops plastic water bottles
 The third-largest cruise line announced that it's eliminating single-use plastic water bottles and unveiled "Just Water," which is made of mostly paper packaging and touts a sugar-cane cap. The new bottles will help Norwegian cut down on 5 million plastic bottles each year.
 Why it matters: Sustainability isn't just a fad. Rather, it and other values-driven initiatives are becoming increasingly crucial elements to corporate communications and employer branding, especially as more and more consumers put pressure on organizations to take stands on current issues. Embracing sustainability in some form or another might soon become the reason a consumer chooses your organization over your competitor.
Related reading:
---
WHAT YOU SAID
We asked how you're adopting new technology within the next year, and all of you are looking to add new tools and resources to boost your efforts. Eighty-three percent said "some new tools" will be added, while 17% are going all out to invest in systems that can increase productivity (and in some cases, automate PR and marketing functions):
Are you planning to adopt new technology in the coming year? Tell us about your planned investment with the hashtag #MorningScoop.

— PR Daily (@PRDaily) September 25, 2019
---
SOUNDING BOARD
Is your organization's brand something that falls to you as a PR pro—or does it affect you in a different capacity?
In your role as a communications professional, do you have ownership over your corporate brand? Answer our poll below for tomorrow's #MorningScoop!

— PR Daily (@PRDaily) September 26, 2019
Weigh in on our poll, and share your thoughts with us under the hashtag #MorningScoop.
PR Daily News Feed
Sign up to receive the latest articles from PR Daily directly in your inbox.
COMMENT