Nike stoking NFL protest debate with ads featuring Colin Kaepernick
As one of the league's biggest partners, the company and its marketing messages have sparked ire by supporting the ex-quarterback's high-profile denunciation of police brutality.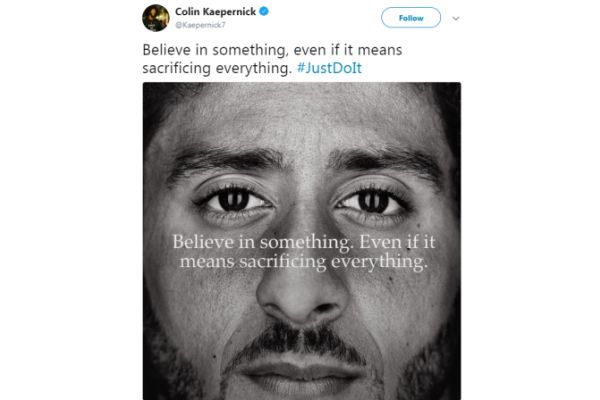 For its 30th anniversary, Nike is speaking out.
The company's new campaign takes a stand on National Football League player protests against police brutality—particularly against blacks—by featuring former San Francisco 49ers quarterback Colin Kaepernick as a prominent face in its marketing messages.
The first advertisement from Nike, one of the league's top partners, debuted Monday afternoon, when Kaepernick tweeted it , assuring that his activism and the protest movement against racism and social injustice he started would continue to loom over one of the country's most powerful sports leagues.
Believe in something, even if it means sacrificing everything. #JustDoIt pic.twitter.com/SRWkMIDdaO

— Colin Kaepernick (@Kaepernick7) September 3, 2018
Both support for and backlash to Nike's campaign grew quickly, with many athletes voicing approval and several consumers posting videos of themselves burning Nike athletic shoes and apparel.
Contrasting tweets such as those shown below by athlete Serena Williams (also featured in Nike's recent campaign) and musician John Rich have also filled Twitter timelines under several trending topics mentioning Nike, including the hashtags #JustDoIt and #BoycottNike:
Especially proud to be a part of the Nike family today. #justdoit pic.twitter.com/GAZtkAIwbk

— Serena Williams (@serenawilliams) September 4, 2018
Our Soundman just cut the Nike swoosh off his socks. Former marine. Get ready @Nike multiply that by the millions. pic.twitter.com/h8kj6RXe7j

— John Rich (@johnrich) September 3, 2018
The fallout was no surprise but Nike may be betting that the upside of a Kaepernick endorsement is worth angering conservative Americans and supporters of President Donald Trump.
Though responses to Nike's campaign have been seen across multiple demographics, the company's marketing bet is a gambit to reach younger consumers.
ESPN's Darren Rovell reported:
"We believe Colin is one of the most inspirational athletes of this generation, who has leveraged the power of sport to help move the world forward," Gino Fisanotti, Nike's vice president of brand for North America, told ESPN.

Other athletes in the "Just Do It" campaign include Odell Beckham Jr., Shaquem Griffin, Lacey Baker, Serena Williams and LeBron James.

"We wanted to energize its meaning and introduce 'Just Do It' to a new generation of athletes," Fisanotti said.

Fisanotti said the new version of the campaign is meant to specifically speak to 15- to 17-year olds.
Nike has also been waiting for this moment to make a splash.
Rovell tweeted that Nike has been paying Kaepernick for the past two years, despite not using him in campaigns until now:
BREAKING: Nike had been paying Colin Kaepernick all along, waiting for the right moment. That moment is now, as he becomes the face of the company's 30th anniversary of the "Just Do It" campaign. pic.twitter.com/uccpDStbq5

— Darren Rovell (@darrenrovell) September 3, 2018
Bleacher Report's Tim Daniels wrote:
Charles Robinson of Yahoo Sports later reported that Kaepernick and Nike agreed to a new contract despite the fact Kaepernick has been with the company since 2011. Robinson added that "interest from other shoe companies" played a part in the new agreement.
The New York Times reported:
Nike will produce new Kaepernick apparel, including a shoe and a T-shirt, and if the merchandise sells well, the value of the deal will rival those of other top N.F.L. players, according to people close to the negotiations who spoke on condition of anonymity because Nike had not formally announced it. Nike will also donate money to Kaepernick's "Know Your Rights" campaign.
Nike's campaign timing is especially striking, given current events surrounding the NFL player protests.
Kaepernick and another former 49ers player, Eric Reid, have not been signed by any of the NFL's 32 teams since their protests spread. Both have filed collusion grievances against NFL owners.

On Thursday, arbitrator Stephen Burbank denied the league's request to dismiss the case, which means he found sufficient evidence for the case to continue and perhaps go to trial.

News of Nike's ad campaign broke just days before the first game of the NFL season on Thursday, when the controversy over pre-game protests could flare anew.
The New York Times reported:
The N.F.L. did not immediately respond to requests for comment. The ad and the campaign, coming a few days before the start of the N.F.L. season on Thursday, is likely to annoy the league's top executives and its owners. On Thursday, Kaepernick won a victory in his grievance against the league when an arbitrator let his case, in which he accuses the league of conspiring to keep him off the field because of his activism, advance.
Nike is no stranger to political and societal hot topics.
Bloomberg reported:
Nike has also shown its willingness to wade into America's culture wars. Just a few weeks after Trump's inauguration last year, the company launched a high-profile "Equality" campaign featuring LeBron James and Serena Williams. The campaign's ambassadors included Ibtihaj Muhammad, a Muslim American fencer who wears a hijab when competing, and transgender triathlete Chris Mosier.
Though a study in January revealed that 66 percent of consumers want organizations to take a stand on political and social issues, Nike's campaign might not greatly affect its bottom line.
Rovell tweeted a poll asking people whether Nike's campaign would make them more or less likely to buy its products. Of nearly 36,000 Twitter users, half said it didn't affect their purchasing decisions:
POLL: Nike's use of Colin Kaepernick today in its just do it ad makes me…

— Darren Rovell (@darrenrovell) September 3, 2018
Bloomberg reported:
"The long-term relationship and a contract that benefits both parties over the next 10 years will likely outweigh any current controversy," said Bloomberg Intelligence analyst Chen Grazutis.
What do you think of Nike's campaign, PR Daily readers?
COMMENT