Online ads have 'oversaturated' consumers, Gucci's straitjackets meet backlash, and Yahoo unveils a new logo
Also: Amtrak blames millennials for dining car's demise, storytelling wisdom from Toyota and Hilton, and why you should combine newsrooms with social media.
Good morning, PR pros:
During Advertising Week New York, Hearst's former chief content officer, Joanna Coles, bluntly told attendees that advertisers were to blame for consumers' aversion to ads. She said: "People hate advertising, they f***ing hate it, and it's all advertising's fault." She later said it was because marketing and advertising pros "oversaturated" consumers.
In reply, Procter & Gamble's chief brand officer, Marc Pritchard, said advertisers must "blend" marketing messages and ads "with filmmaking, journalism, technology, music, comedy and just storytelling."
PR pros should take the advice to heart and focus on outstanding storytelling, original content and brand journalism to get their messages across and break through the noise on cluttered social and digital media platforms.
How are you reaching people and keeping their attention? Share your thoughts with us under the hashtag #MorningScoop.
Here are today's top stories:
Gucci faces backlash over straitjacket designs
The fashion house has had its share of controversies, but a runway model escalated its most recent dustup. During Milan Fashion Week, Gucci used straitjackets—yes, straitjackets—for its theme. As she completed the catwalk, Ayesha Tan Jones held up her palms, on which were written: "Mental health is not fashion":
Jones said, in part: "It is in bad taste for Gucci to use the imagery of straitjackets and outfits alluding to mental patients, while being rolled out on a conveyor belt as if a piece of factory meat."
Why it matters: Embracing the adage "any press is good press" isn't a solid PR tactic—it's a risk. Especially in today's climate where more and more consumers urge organizations to respond to both political and social issues, making a statement shouldn't be tied to a marketing move. Doing so can cheapen your message and erode consumers' trust as they wonder if you're embracing values simply to increase sales.
Related reading:
MEASURED THOUGHTS
According to a new report from Tek Group, many users will continue to an online newsroom after viewing your announcement on social media.
The report suggests having social media integration in your newsroom to make the most of this special relationship between your website and social media channels.
Yahoo redesigns its logo
 Here it is:
The revised color is "Project Purple" and the forward tilt of the "y" and exclamation point are supposed to relay "momentum and excitement," something the company probably wants you to use when you yodel its name. (Yes, it still insists that's the proper pronunciation.)
Why you should care: A new logo might give you headlines, but it won't make you relevant again. In a scathing article via The Verge, Chaim Gartenberg wrote that the logo "practically screams out (in a newly selected hue of purple): 'We still exist and have somehow not imploded like a decayed, hollowed-out husk of a dying oak tree!'"
Especially if your brand is struggling, focus on your offerings and value propositions before worrying about the color of your organization's front door.
Related reading:
---
FROM OUR EXPERTS
Brand managers can boost empathy, showcase their human elements and endear consumers through the stories they tell, but not all stories are created equal.
Toyota used podcasts to show fans behind-the-scenes peeks at its company. Learn more here from Ted Kitterman's story, showcasing lessons learned and tips from Eric Booth, senior manager of external communications for Toyota Motor North America.
Brian Pittman shared how Hilton focused on employees to boost the storytelling about its 100th birthday, featuring insights from the hotel chain's global director of content, Lou Dubois. Read that here.
Amtrak blames millennials for dining car removal
 Amtrak is removing its iconic dining car and replacing it with a "flexible dining service." Peter Wilander, vice president of product development and customer service, told The Washington Post that the change is all about personalizing travelers' options.
Then Wilander said:
 "Some people really like [the dining car] and view it as sort of a nostalgic train experience," Wilander said. "Some people, especially our new millennial customers, don't like it so much. They want more privacy, they don't want to feel uncomfortable sitting next to people" they don't know.
Wilander's statement overshadowed Amtrak's press release, with millennials accusing the company of throwing them under the train.
Amtrak blaming millennials for killing their communal dining car instead of blaming their former airline company CEO for undercutting Amtrak's customers, employees, and service tables is PEAK lying boomer.

For the record, I love the Amtrak dining room.

— Louis Mirante (@louismirante) September 22, 2019
Why it matters: Take responsibility for your organization's decisions and announcements, and cater your messages according to your audience. Don't blame consumers' changing tastes for an underperforming product or service. Also, when you blame everything on millennials, you end up sounding just like this: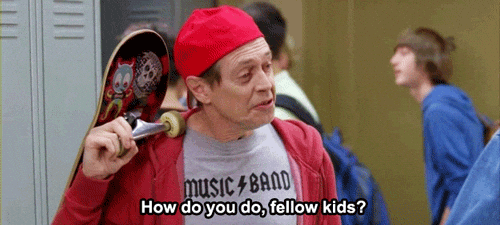 Related reading
---
WHAT YOU SAID
We asked you for the most important element of your holiday marketing strategy, as pumpkin spice hangs in the air and we count down the days to holiday celebrations. More than half of you (59%) said you drive your seasonal marketing with online content, with 22% bolstering your messages with TV and print ad placements:
Time to start thinking about those holiday shoppers. What's the most important part of your holiday season marketing strategy? #morningscoop

— PR Daily (@PRDaily) September 23, 2019
Take Pritchard's words to heart when crafting your online content to give your audience what they want instead of oversaturating them.
---
SOUNDING BOARD
Many experts argue that PR is more than just writing press releases—but how much more? Is the press release still an important tool for your everyday role? Share your thoughts with the hashtag #MorningScoop.
How important is the press release for your efforts? Share your thoughts wit the hashtag #MorningScoop.

— PR Daily (@PRDaily) September 24, 2019
PR Daily News Feed
Sign up to receive the latest articles from PR Daily directly in your inbox.
COMMENT