Papa John's 'Thank you for your anger' ad sparks more backlash
The pizza chain created a video montage of consumers' snark-filled tweets to apologize for the recent PR crisis caused by its founder and former chief. It didn't go over well.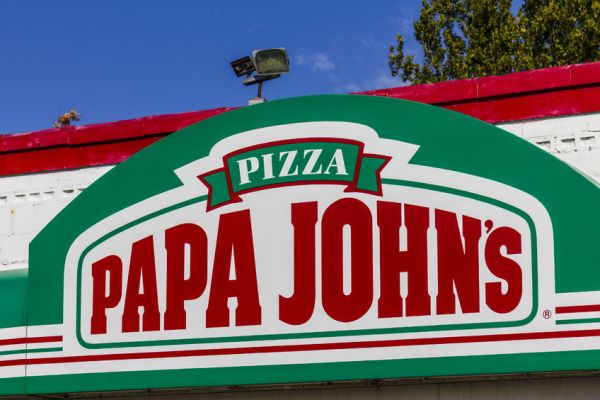 Papa John's is seeking redemption by praising consumers for their backlash.
The pizza chain recently tweeted a video mea culpa in response to its continuing PR crisis involving its founder, John Schnatter, who was ousted as the chain's chief executive and then as its board chairman.
The video, which includes several consumers' tweets lashing out at the company, ends with Papa John's typing, "Thank you for your anger," replacing "anger" with "criticism" and then "honesty."
— Papa John's Pizza (@PapaJohns) August 24, 2018
The pizza chain's chief executive, Steve Ritchie, also penned an open letter to consumers.
We are working to earn back your trust. CEO Steve Ritchie shares an update on our values and progress: https://t.co/dalQM4Grlg

— Papa John's Pizza (@PapaJohns) August 24, 2018
I started my career in the pizza business 25 years ago because pizza brings people together. I found a home at Papa John's where people from all backgrounds work side-by-side every day. Papa John's is 120,000 corporate and franchise team members around the world. We stand for equity, fairness, respect and opportunity. Our most important ingredient is our people.

When I became CEO in January, diversity, equity and inclusion became one of my top priorities. What began as a committee of passionate team members has grown into a company-wide effort to realize our values.
The "company-wide effort" includes forming an advisory group comprised of diversity and inclusion leaders, creating a foundation that makes "a positive impact in communities" and rolling out unconscious bias training.
Corporate office and corporate-owned stores—about 20% of the company's locations—will begin trainings in October. The program, which will include information about unconscious bias and racial and cultural sensitivity, will eventually be available to all company workers.

Papa John's chief executive Steve Ritchie, who has been CEO for just over a year, made the announcement to staff on Friday, according to CNN. Papa John's corporate leadership completed its training two weeks ago, and the company is conducting an internal audit on diversity and inclusion practices.
"We are just getting started and we recognize this is only a beginning," Ritchie wrote in his letter. "On behalf of the 120,000 team members in the Papa John's family, you have my commitment we will always strive for better."
Papa John's social media team used similar language when addressing questions about its plan forward:
Where's the "moving forward" part of the video?

— Christian Cronauer (@CronauerPower) August 24, 2018
Right now, we're reviewing our culture from top to bottom and meeting with our communities to learn how we can be better. We fully intend to earn back your trust through action.

— Papa John's Pizza (@PapaJohns) August 24, 2018
However, not all exchanges were positive:
Saying how you're doing better would be a better strategy. A marketing fluff piece that pretends to show compassion in an extremely amateur way doesn't help anything. If anything you need a new PR agency.

— Stuart Becktell (@StuartBecktell) August 25, 2018
Your trust is important to us, and we're going to earn it. Right now, we're reviewing our culture from top to bottom and meeting with our communities to listen and learn how we can be better. There's a lot to do, and we're going to do it right. More to come.

— Papa John's Pizza (@PapaJohns) August 26, 2018
You make bad pizza, I don't need trust, stop being so dramatic. No one is going to die if you go out if business or become the top pizza chain.

— Stuart Becktell (@StuartBecktell) August 26, 2018
Many Twitter users responded with further criticism and snark in response to Papa John's video:
We hope you can find it in your hearts to try our new Summertime BBQ Pizza.

We are deeply sorry.

— depinto 🌴🌹👌🏽 (@depinto) August 25, 2018
— Sowdermania (@Sowdermania) August 25, 2018
A "sorry for all the racism" would've been nice

— Yes, You're Racist (@YesYoureRacist) August 25, 2018
do i get a discount code for watching the whole thing?

— geofflife (@GeoffLife) August 24, 2018
There wasn't an apology anywhere in there, and you never actually acknowledged what you did wrong or how you're going to fix it, but other than that, a bang up job!

— David Futrelle (@DavidFutrelle) August 25, 2018
but wheres the apology?

— fabian (@feelingsiacidal) August 25, 2018
Did I miss the appology? pic.twitter.com/lFAWDJfGnm

— A.D. (@a_dix83) August 25, 2018
Wanna be better? Start by paying your employees better and providing health care. Care more for your employees.

— Apoc (@Apoc1216) August 25, 2018
Though several complained of the apology falling short of actually saying "sorry" and coming off as insincere, others said Papa John's plan fell short of fixing the problem, using jargon and vague language to pass off the effort.
Inc. contributor Chris Matyszczyk wrote:
It's very much in line with Starbucks' reaction to its own awful incident in Philadelphia when the manager called police on two black men who were simply waiting for a meeting with a third man.

Ritchie had no fence to sit on, even if this strategy makes you think the founder was only part of the problem.

Ritchie had to do something direct and, many would say, he did this reasonably well.

Although the claim that consumer anger is "making us better" would need a little explaining.

Better how, exactly?
Papa John's also has to contend with Schnatter, who recently published a website and accompanying ads taking on the company's leaders. He also lashed out at the chain's recent apology.
Schnatter's spokesman Terry Fahn said the ad was misleading.

"The video produced by the company represents another example of the company attempting to hide the true facts," said Fahn, a strategic communications and crisis management executive for Sitrick. "It omits the avalanche of comments made by customers, employees and others who support John Schnatter and feel that the company is wrong."

Fahn said Schnatter supports diversity, equity and inclusion within Papa John's but remains concerned that the company is acting "improperly."
What do you think of the apology, PR Daily readers?
(Image via)
COMMENT