Pepsi's new catchphrase, TikTok's transparency report, and the best times to post on social media
Also: Amazon employees lash out at company policy restricting climate change protests, secrets to making a splash with Facebook videos, PR pros and lunchtime, and more.
Good morning, PR pros:
A Twitter post asking New Yorkers which seat on the subway is the best has gone viral, prompting many users to jump aboard the trend and tweet their own memes.
All my New Yorkers, which is the best seat? pic.twitter.com/PeAQ7UEdC9

— gabe 🦦 (@gplatinum_) January 1, 2020
All my Parliamentarians, which is the best seat? pic.twitter.com/vBEmbLYPAf

— Phil Gorman (@philbgorman) January 2, 2020
All my NY Theater peeps, which is the best seat? pic.twitter.com/oqZXU8XTIm

— J.R. McGrail 📎 (@JRMcGrail) January 2, 2020
All my Members of Congress, which is the best seat in the House? pic.twitter.com/9ys2bv5QGL

— Josh Jackson (@j0sh_jacks0n) January 2, 2020
All my sandwich eaters, which is the best seat at subway? pic.twitter.com/9LTXog0qD3

— Diego Lopez (@thisdiegolopez) January 1, 2020
Though several organizations have reaped the benefit of mentions from participating Twitter users, convenience store chain Kum & Go didn't leave the moment to chance:
ok my kum & goers, which is the best seat? pic.twitter.com/cCsJ5sU1rB

— Kum & Go (@kumandgo) January 3, 2020
The original tweet and its replies can serve as inspiration for fun (and potentially quirky) questions to ask your followers on social media, sparking both engagement and potential headlines.
Here are today's top stories:
Pepsi offers a new tagline
The soft drink company introduced its first new catchphrase in more than 20 years: "That's what I like." The tagline eschews New Year's resolutions and focuses instead on doing the activities you enjoy (as well as drinking the soft drink of your choice).
The motto was introduced with a series of videos focused on individual consumers:
In a press release, PepsiCo's vice president of marketing, Todd Kaplan, said:
We created this campaign to pay homage to this unapologetic mindset embraced by our most loyal fans, with a music-forward expression to pinpoint the feeling our consumers have when they genuinely enjoy themselves in an uninhibited way.
Why it matters: Rebranding well-known products or introducing a new motto, logo or name can be a tall order for brand managers looking to keep loyal customers while also attracting new audiences. Pepsi's new line carries several things in its favor, however: It will be used across all of its products, creating a unified brand no matter what beverage consumers buy. The message's inclusivity caters to multicultural and global marketing campaigns, too. Kaplan also told Fast Company that the catchphrase highlights what Pepsi's research revealed about its customers.
---
MEASURED THOUGHTS
All the time and effort you put into crafting a social media post that captures attention and provides value can be for naught if your audience doesn't see it.
Sprout Social recently published a guide of best times to post on social media for 2019, with a breakdown for platforms including Facebook, Instagram and Twitter across several industries.
For Facebook, Sprout Social reports that the middle of the week can net you the most interactions: Wednesday is the best day to post, especially from 11 a.m. to 1 p.m. Forget Sunday, which has the lowest engagement numbers, as well as early morning and nighttime hours.
Image courtesy of Sprout Social.
Instagram carries similar advice, though Sprout Social says that Tuesday through Friday at 10 a.m. to 3 p.m. delivers "consistent engagement":
Image courtesy of Sprout Social.
Though Wednesdays are also a best day to post on Twitter, Tuesdays will also bring you increased engagement. Unlike Facebook and Instagram, mornings are golden for Twitter posts, especially 9 a.m. on Wednesday and Fridays.
Image courtesy of Sprout Social.
 Check out the company's full blog post for a breakdown of industry times and advice across platforms.
TikTok publishes transparency report
 Following in the footsteps of other social media and online search platforms, the video-based social app that has been growing in popularity recently addressed concerns by releasing a transparency report, which revealed the countries submitting removal requests (along with the number of requests).
To foster candid dialogue essential to earning and maintaining trust, we are publishing our first Transparency Report this year, providing insight into how we responsibly respond to legal requests regarding user content. Through regular updates, we aim to give our community the opportunity to better understand the actions we take on their behalf and evaluate us based on up-to-date information.

… We're proud of our commitment to help ensure that TikTok is a fun, inclusive, and safe community for all who have a desire to express their creative side. With that said, we know we can always do more both to protect our users and to earn and maintain trust. This report is just the latest effort in our commitment to being transparent with our community about the ways we maintain the app experience users expect while providing the protections they deserve.
Though the transparency report shows no takedown or user information requests from China, Wired reported that China made no requests to Facebook or Google during the same time period—probably due to the fact that none of the platforms can be accessed by Chinese citizens.
"[M]any of TikTok's critics have maintained that a Chinese-owned tech company can't be trusted, given the country's track record when it comes to censorship and surveillance," Wired reported. The United States Army and Navy have also banned its members from using the platform due to cybersecurity concerns.
Why you should care: Social media and technology platforms are struggling to maintain trust as privacy and cybersecurity concerns grow, but communicators don't have to work for these companies to be affected. For example, if user growth numbers stagnate or decline because of privacy or cybersecurity concerns, you might want to remove the platform from your list of online presences. Also, consider what apps and platforms, including TikTok, mean for your employees, and include any necessary guidelines or warnings in your organization's social media policy.
---
FROM THE EXPERTS
Video content continues to be a powerful weapon in PR and marketing pros' toolkits, but not all platforms are created equal and will net you the same success. Lisa Arledge Powell, president of MediaSource, shares reasons why and how marketers should invest in Facebook videos. Check it out here.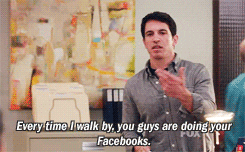 Amazon employees clash with company over climate change protests
The company warned a few employees who have spoken out about Amazon's environmental policies, reminding them that continuing to violate the company external communications policy could lead to termination. Activist group Amazon Employees For Climate Justice issued a press release lashing out at the company's policies, claiming they were revamped to "explicitly forbid employees from speaking out":
We must be able to speak up. Here is our press response to Amazon's intimidation tactics. 3/ pic.twitter.com/7DqhCw09Yf

— Amazon Employees For Climate Justice (@AMZNforClimate) January 2, 2020
This policy change has nothing to do with sharing confidential company information; this change was made to explicitly forbid employees from speaking out about publicly available information, such as Amazon's partnerships with fossil fuel companies… 5/

— Amazon Employees For Climate Justice (@AMZNforClimate) January 2, 2020
Amazon, however, said its employee policies regarding protests aren't different from other organizations.
Amazon's external communications policy "is not new and we believe is similar to other large companies," company spokeswoman Jaci Anderson said in a statement. In response to whether Amazon was trying to stifle workers, Anderson said employees are "encouraged to work within their teams," including by "suggesting improvements to how we operate through those internal channels."
Why it's important: Employee activism is a trend that continues to grow, especially as hot-button issues including gender equality, diversity, climate change and sustainability grab headlines and social media attention. If you don't have a policy in place for your employees, create one now. If you do have a policy in place that is being criticized, consider programs that empower your employees to speak out in ways that don't set them up as official company representatives.
---
WHAT YOU SAID
We asked you what you do on your lunch break, and there was an even split between afternoon meal connoisseurs and workaholics who skip midday sustenance.
PR pros, what do you do for lunch?

Weigh in below and share your routines (along with your New Year resolutions) under #MorningScoop!

— PR Daily (@PRDaily) January 2, 2020
What's your favorite thing to have for lunch?  Share your thoughts for your first Friday back in the office.
---
SOUNDING BOARD
How do you think we will remember the coming decade? Will we call it the '20s? Will we make insufferable puns about 20/20 vision?
How will we remember the coming decade? Share your thoughts and favorite monikers with our hashtag #MorningScoop.

— PR Daily (@PRDaily) January 3, 2020
Share your thoughts with our hashtag #MorningScoop.
PR Daily News Feed
Sign up to receive the latest articles from PR Daily directly in your inbox.
COMMENT