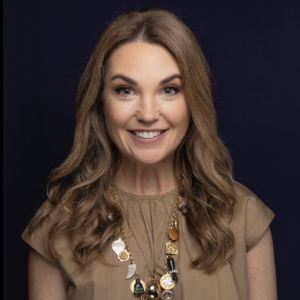 Dustee Jenkins
Chief Public Affairs Officer - Spotify
Dustee Jenkins serves as the Chief Public Affairs Officer for Spotify where she sits on the company's executive leadership team overseeing government affairs, content moderation and policy, global experiential productions, and external and internal enterprise-wide communications across the company's more than 180 markets.
Since joining Spotify in 2017, Jenkins played a key role in shepherding the company's public listing on the NYSE, as well as its evolution from a music streaming service to an audio platform with more than 500 million users that now also offers podcasts and audiobooks. She's been a key contributor to the company's incredible growth while also guiding it through high-profile reputation-based issues including content moderation challenges, a global reduction in force and the expansion into more than 100 new countries.
Prior to joining Spotify, Jenkins was Senior Vice President and Chief Communications Officer at Target. Under her leadership, she led the company through multiple headline-driving challenges such as its successful proxy fight against an aggressive, media savvy activist, a heavily publicized data breach, the retail chain's exit from Canada, and a corporate restructure. Additionally, she guided the successful launch of Target's first outside CEO and the multi-billion dollar transition of its pharmacy business to CVS. Previously, Jenkins was a director at Public Strategies, Inc., now Hill+Knowlton Strategies, specializing in crisis and financial transactions, where she managed issues such as bankruptcies, insider trading, executive shake ups, and corporate restructures. She also served as the director of communications of the Department of Housing and Urban Development. Prior to that position, she was Press Secretary for U.S. Senator Kay Bailey Hutchison.
Jenkins has been recognized in Mashable's 10 Pioneering Women Changing the Field of Communications, 40 Under 40 in Marketing by Ad Age and PR Week's 40 Under 40 in Public Relations. She has also been included in PR Week's Global Power Book and Hall of Femme list, and Holmes Report's Influence 100.
She also serves on the board of Tech:NYC and is immediate past president of the board of New York Women in Communications. She is active across the industry as a member of Arthur Page and will serve as the Jury Chair for PR Week's 2023 industry awards. She lives in New York City with her husband, Justin, and two children.