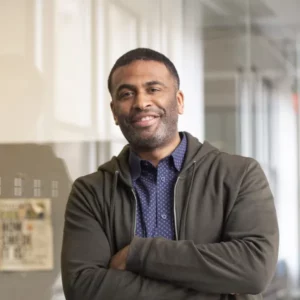 Marc Johnson
Vice President, Corporate Communications - Meta
Marc Johnson is a 20-year veteran in communications. Over his career, Marc has developed a deep expertise in identifying and activating unique data-based insights to develop more authentic brand voice and connection with business stakeholders. Marc is currently Meta's Vice President of Content Studio, managing a range of creative brand communications functions using social media as a primary channel. His priority focus is to use social and creative communications to empower Meta's brands to build community with core audiences.  Marc was previously the Vice President of Corporate Communications and influenced numerous sensitive company initiatives including the rebrand from Facebook to Meta, organizational changes, and media relations connected to company earnings disclosures and acquisitions.
Previously, Mr. Johnson was Managing Director of APCO Worldwide's New York business, and the Global Head of Digital Strategy where he helped clients accomplish their objectives through data analytics and content strategy. His work in issues management and stakeholder analysis has driven critical business goals for consumer and association brands. This work included designing corporate brand activations for Audi of America, connecting IKEA to meaningful public affairs moments, developing new ways to educate people on Red Bull energy drink ingredients, and supporting communications and brand strategy at many other Fortune 500 organizations. Marc has also driven global communications strategy in the public sector including work with the Government of Malaysia where he helped 400 government officials better engage public constituents through the more informed use of social media.
Marc has been a pioneer in reshaping the way agencies approach digital strategy. In 2015, he transitioned the APCO digital strategy team to focus more acutely on using unique data analytics and insights to inform overall communications. This new practice helped clients build a more informed and dynamic communications strategy, and new products and tools for more impactful outcomes.  Simultaneously, Marc built a digital and data analysis curriculum to upskill hundreds of APCO employees to become better strategists using a new set of tools.
Prior to joining APCO, Marc drove campaigns in healthcare, education, and public advocacy sectors at Mindshare in Washington D.C. There, he led and contributed to a range of highly successful projects with UNICEF and Anheuser-Busch. He also managed the website redesign and advancement of digital strategy for Human Rights Campaign (HRC) which won the 2006 Webby Award in the public advocacy category.
Mr. Johnson holds a Bachelor of Arts in Advertising and Mass Media Communication from Hampton University. He is an active board member with America's Charities, Gideon's Promise, and the Hampton University Scripps-Howard School of Journalism and Communications. Marc was named to PRWeek's 40 under 40 list in 2015 and was ranked #5 on The Observer's Power PR List in 2020.