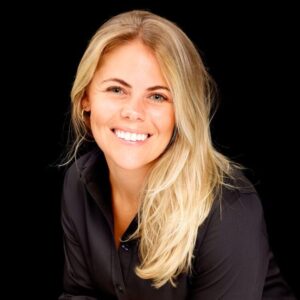 Samantha Jordan
Futurist - The Future Today Institute
Samantha Jordan is a futurist on a mission to spread "plausible optimism" about the possibilities of emerging technologies. As a consultant with the Future Today Institute (FTI), a leading foresight and strategy firm founded by world-renowned futurist Amy Webb, Jordan helps organizations dissect the complexities of upcoming opportunities, while also factoring the inherent risks. Her analysis of the data and trends in the ever-changing tech landscape gets organizations unstuck and ready to develop and implement their own customized, future-focused strategies for evolving their businesses.
Exclusively represented by Leading Authorities speakers bureau, Jordan infuses her talks with a compelling blend of passion and conviction as she leads a fascinating exploration into artificial intelligence, computing, meta-science, and the advancements in technology that will make the biggest impact on business and society. With her unique approach, Jordan helps organizations identify which emerging technologies they can integrate into their operations and strategies to power their businesses to the next level, while talking them through the ethical aspects. She is immensely skilled at making otherwise abstract concepts in future trends and technological ethics accessible to any audience. Groups come away from Jordan's talks with tools for productive action toward progress in overcoming current and future challenges.
At FTI, Jordan maintains a database of thousands of different trends, leveraging her expertise with the firm's unique foresight methodology to advise her clients, some of whom rank in the Fortune Top 20. Together, she works with these organizations to adapt their strategies based on future scenarios that she helps craft. Jordan was also the founder and CEO of TrovBase, a secure data discovery and analysis sharing platform. Previously, she was an IBM client leader helping enterprise clients modernize their IT environments.
In addition to serving as a mentor for NYU Stern MBA students in strategic foresight, Jordan headed the Carnegie New Leaders program at the Carnegie Council for Ethics in International Affairs, during which time, she created programming for the next generation of leaders across sectors to engage deeply with ethics. She was also a national finalist in persuasive speaking and international champion in rhetorical critical analysis as a student, bringing a high level of passion and polish to every engagement.
Samantha Jordan believes emerging technologies have the potential to enable a better future for all if we make good choices. Stressing progress over pessimism, she shares her purpose-driven and framework for using today's capabilities to build a better tomorrow.