Reddit offers livestreaming tools, chicken chains crow on Twitter, and top execs redefine the purpose of a corporation
Also: Amazon scores with a 'Mrs. Maisel' promo, consumers say they don't mind being tracked online, Twitter cracks down on government propaganda, and more.
Good morning, PR pros:
Reddit is testing the livestreaming waters with a service dubbed the "Reddit Public Access Network."
Users who want to tune into broadcasts can do so directly from the subreddit, but top streams will appear on Reddit's front page throughout the testing period, according to a blog post. Users will also be able to vote on their favorite stream, similar to Reddit's upvote system, which will dictate what appears on the homepage.

Not everyone will be able to stream. The company is being "incredibly judicious with the rollout of RPAN," it says, and even created additional policies specifically for people using the new feature. There are obvious rules — no pornography, or illegal or dangerous behavior, for example — but Reddit's new policies also state that borderline behavior is also prohibited.
Reddit users' reactions are mixed. Several gave kudos to showing a collection of streams regardless of how much karma the profiles have (similar to other platforms' follower or fan counts), but others complained that they could (and do) go to Facebook, Instagram, Twitch and other platforms for livestreaming content.
With the trend of video content growing (whether prerecorded or livestreamed), how are you including video in your social media strategies?
Here are today's top stories:
Twitter suspends Chinese accounts for propaganda against Hong Kong
Twitter recently suspended more than 200,000 accounts that the platform suspected of taking part in a social media influence campaign directed at protestors in Hong Kong.   
On Monday, Twitter said it had updated its advertising policies and wrote in a blog post:
… Going forward, we will not accept advertising from state-controlled news media entities. Any affected accounts will be free to continue to use Twitter to engage in public conversation, just not our advertising products.
The misinformation was also spread on Facebook.
The Associated Press reported:
The accounts were suspended for violating the social networking platform's terms of service and "because we think this is not how people can come to Twitter to get informed," the official said in an interview with The Associated Press.

The official, who spoke on condition of anonymity because of security concerns, said the Chinese activity was reported to the FBI, which investigated Russian efforts to interfere in the 2016 U.S. presidential election through social media.

After being notified by Twitter and conducting its own investigation, Facebook said Monday that it has also removed seven pages, three groups and five accounts, including some portraying protesters as cockroaches and terrorists.
Why it matters: As Twitter, Facebook and other online platforms struggle to identify and stop the spread of misinformation, communicators of all stripes should evaluate how they're helping their audiences become savvier in news and content consumption.
Guiding both internal and external stakeholders in understanding information and critically evaluating content can increase trust and cut down on the growing spread of misinformation.
Related reading:
---
MEASURED THOUGHTS
How do consumers feel about marketers tracking their location online?
A study from The Manifest suggests many people are comfortable with apps and technology that use their internet searches to pinpoint their location.
Knowing a consumer's geographic location can be extremely useful in tailoring your marketing and PR messages. The risks are also low when considering whether you will turn consumers off your app. Only 14% of consumers reported deleting an app after accidentally sharing their location.
Executives redefine 'the purpose of a corporation'
The Business Roundtable, which includes more than 200 executives from organizations such as Apple, Walmart, Pepsi and more, redefined the role of organizations in today's society, which was decidedly more values-driven than pleasing stakeholders.
"Each of our stakeholders is essential," the statement reads. "We commit to deliver value to all of them, for the future success of our companies, our communities and our country."
The members committed to exceeding customer expectations, investing in employees' inclusion and training, dealing fairly with suppliers, supporting their communities, and creating long-term value for shareholders with "transparency and effective engagement."
Why it matters: More and more consumers are pressing organizations to take a stand on political and social issues as well as to define and lead by values as part of organizations' missions. If you want to build lasting relationships and increase trust, it's no longer enough to purely provide outstanding profit margins.
Related reading:
---
TACTICALLY SPEAKING
A recent PR campaign from Amazon Prime Video worked a little too well.
The TV channel's PR team recently partnered with almost 30 organizations in the Los Angeles area to promote "The Marvelous Mrs. Maisel" ahead of this year's Emmy Awards (the show is nominated for Best Outstanding Comedy Series).
Prices were rolled back to what they were in 1959 for "Maisel Day," sparking social media buzz as consumers jumped at cheap gas prices, meals, haircuts, shoeshines and more.
It's #MaiselDay in LA. Getting the 75 cent shoe shine @TheGroveLA! pic.twitter.com/6AKynQxZTH

— bryan beasley (@bryanbeasley) August 15, 2019
If I didn't love this show already!! 💗 #MaiselDay pic.twitter.com/Y4sdxct29s

— Selene Alvarez (@sealvarez14) August 15, 2019
It's #maiselday! @PrimeVideo is promoting @MaiselTV with businesses offering prices from 1959 😱Talk about a #tbt! My first stop was @PhilzCoffee for .50 rosè coffee. Follow me on insta to see where I go next and check out more #Throwback prices @NBCLA https://t.co/N0VB9cTHgP pic.twitter.com/7N1Yo4X3wK

— Heather Brooker (@HeatherBrooker) August 15, 2019
However, the campaign's low gas prices caused such a stir that police had to close the promotion to stop traffic backups.
Police had to shut down a 30-cents-per-gallon promotion at a Chevron gas station in Santa Monica after eager customers lining up caused traffic delays at the nearby westbound Santa Monica Freeway for hours.

One motorist took to Twitter to complain, saying it would have been a better idea "if we had the same number of cars on the road as in the '50s."
The incident was still a PR win, however: Many news media outlets reported on the traffic-stopping promotion, which also gave Amazon's team several headlines.
Popeyes Chicken and Chick-fil-A duke it out on Twitter
An online flap between fast-food chains broke out after Chick-fil-A tweeted a tongue-in-beak equation that threw shade on its competitor, Popeyes Chicken (which recently introduced a chicken sandwich).
Popeyes quickly clucked back:
… y'all good? https://t.co/lPaTFXfnyP

— Popeyes Chicken (@PopeyesChicken) August 19, 2019
As consumers jumped in to share their pecking order, Wendy's entered the fray:
Y'all out here fighting about which of these fools has the second best chicken sandwich. pic.twitter.com/4v9RJFgy0T

— WENDY'S SPICY NUGGETS ARE BACK!!! (@Wendys) August 19, 2019
Popeyes answered with snark of its own, alongside a reference to its biscuits:
Sounds like someone just ate one of our biscuits. Cause y'all looking thirsty. https://t.co/89eqI5vk2z

— Popeyes Chicken (@PopeyesChicken) August 20, 2019
Wendy's quickly shut down the fracas:
lol, guess that means the food's as dry as the jokes https://t.co/aX3XnRunNW

— WENDY'S SPICY NUGGETS ARE BACK!!! (@Wendys) August 20, 2019
Boston Market tried to jump on the bandwagon but missed the mark:
Customer: Can I get something like Boston Market mac & cheese but mediocre?

Other guys: My pleasure

— Boston Market (@bostonmarket) August 19, 2019
To add insult to injury, several Twitter users remarked that they forgot Boston Market was still open:
I honestly didn't know you were still open!

— Pam Moore (@PamMktgNut) August 20, 2019
Ouch.
Impress your boss: Branded Twitter accounts' sparring matches amuse and delight consumers—and Wendy's tweetable sass is a gold standard of fun social media engagement. However, you don't have to start a feud with a competitor or adopt a snarky tone to capture attention.
Research and understand your audience on Twitter, then scan for current trends and tap into the quickly moving news cycle for current stories to which you can add your voice. Ensure it's relevant to both your audience and fits with your organization's brand voice and mission.
Don't adopt a sassy attitude on Twitter just because everyone else seems to be doing it, lest you come across as this:
Related reading:
---
WHAT YOU SAID
We asked you to share a caption for this GIF to comment on trends in PR that make you want to laugh.
There's plenty of PR behavior that rankles, but what's a PR tactic that makes you laugh out loud at its audacity (or stupidity)? Share your GIF caption for our #MorningScoop. pic.twitter.com/wk2Df2NGVL

— PR Daily (@PRDaily) August 19, 2019
Danielle Ryan, a PR pro with Hennepin County in Minneapolis, Minnesota, shared her caption in the form of a GIF:
#MorningScoop pic.twitter.com/XDsAl3tJnJ

— Danielle Ryan👩🏻‍💻 (@ryelle777) August 19, 2019
People who don't take the profession seriously make us cringe, too, Danielle. That's why business leaders and owners shouldn't try to handle their own public relations. They might not be any good at it—and the damage can be significant.
Better to call in the experts.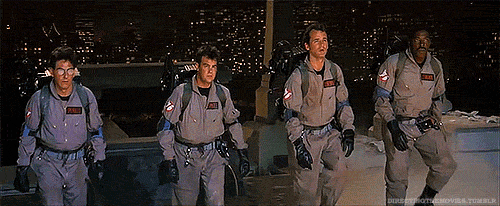 ---
SOUNDING BOARD
PR pros know it's essential to sound authentic and relatable when talking to consumers, so why do so many brand messages sound like corporate mad-libs?
What are your least favorite examples of PR jargon?
What's the worst piece of PR jargon/corporate speak?

— PR Daily (@PRDaily) August 20, 2019
Share your thoughts with the #MorningScoop.
---
(Image via)
PR Daily News Feed
Sign up to receive the latest articles from PR Daily directly in your inbox.
COMMENT