Report: Employee advocacy trumps influencer marketing
A recent Sprout Social Index revealed that the majority of marketers are turning to their organizations' team members to boost brand recognition, transparency and trust.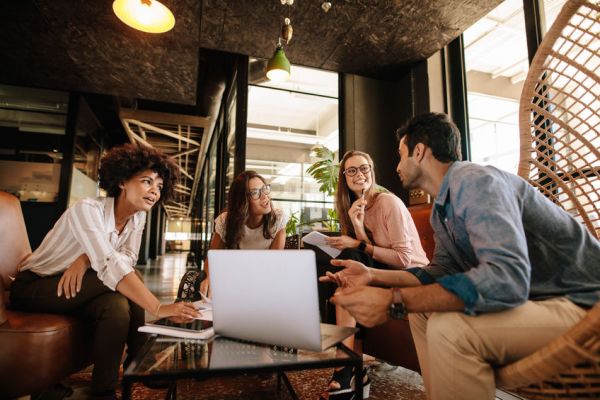 When it comes to learning about a brand and purchasing its offerings, relationships matter.
When you apply this truth to social media marketing efforts, your employees—not online influencers with massive followings—make the difference.
The 2018 Sprout Social Index revealed that 71 percent of digital marketers either currently use employee ambassadors or want to for future campaigns. In comparison, only 19 percent said they had an influencer marketing budget.
Employees are more effective at persuading and converting consumers because of the more intimate relationships they have with their followers.
More than half of consumers (61 percent) said they would research a product or service that a friend of theirs recommends on social media, but only 36 percent feel the same way when celebrities or social media users with huge followings recommend it.
Though employee advocacy increases engagement, content shared by organizations' staff doesn't necessary increase online sharing.
Sprout Social reported that consumers are 150 percent more likely to engage with employee advocacy posts than share them—and 90 percent more likely to engage, rather than share, with posts that display an organization's culture.
Most marketers prefer Facebook and Instagram
In terms of social media platforms, most marketers (97 percent) turn to Facebook, which also underlines the importance of relationships when using social media advocacy and influence. Instagram is also a popular choice, with 83 percent of marketers surveyed saying they use it. Those platforms overshadow Snapchat: Only 13 percent of marketers use the app to reach consumers.
Though relationships are paramount, marketers might want to reconsider using Snapchat: Thirty percent of consumers actively use the app. Instagram reigns supreme, however, with 51 percent embracing that platform.
Marketers struggle with resources and ROI
No matter the platform used, more than half of marketers say they lack the software they require to effectively use social media in their marketing campaigns. Sixty-five percent said they needed a dedicated content development resource.
Though content strategies, social media platforms and influencer groups might have changed, defining success remains marketers' top challenge.
More than half of marketers (55 percent) said measuring ROI is their biggest hurdle and 42 percent said they struggle to understand social media success across channels. Thirty-nine percent said they have a hard time developing a strategy that helps them meet their organizations' business goals.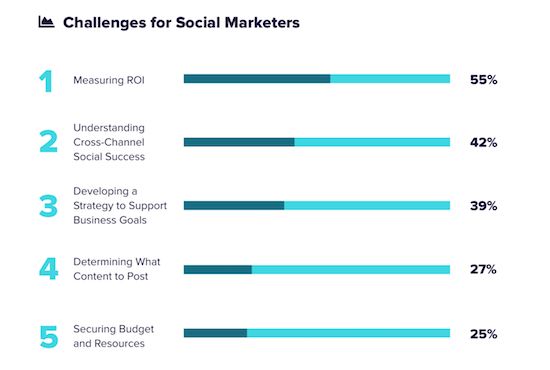 To address these challenges, marketers should define what success means with specific goals—and how they can measure their efforts in obtaining those goals.
Sprout Social reported:
Traditionally ROI for social has been focused on direct attribution to sales–how is your Facebook campaign driving people to the checkout line? However, that model doesn't actually reflect where social marketers are focused. Eighty percent of social marketers say increasing brand awareness is their primary goal on social, and another 80% say their key strategy is increasing engagement across their social channels.
Another stumbling block is a mismatch in marketers' aims and consumers' needs. Sprout Social reported that more than half of marketers distribute content that teaches (61 percent), tells a story (58 percent) and inspires readers (53 percent).
However, the majority of consumers (73 percent) seek discounts and sales, followed by information about news products and services (60 percent). Fifty-nine percent of consumers look for content that teaches them something.
Marketers could also stand to have more conversations with their organizations' executives. The report revealed that 60 percent of marketers don't have regular talks with their bosses about ROI.
(Image via)
COMMENT