Snap says 'sorry' for Juneteenth filter, AMC to require face coverings after all, and Patagonia joins Facebook boycott
Also: Dreyer's to rebrand its Eskimo Pies, Upwork reports that hiring managers are turning to freelancers during COVID-19, Netflix announces 'The Witcher' with a poem, and more.
Hello, communicators:
As many organizations across industries announce re-opening dates and plans, many networks and shows are announcing resuming productions for TV series, films and more.
Netflix's "The Witcher" announced the news with a fitting poem:
I'm dusting off my lute and quill,
I have some news, some mead to spill:
After all the months we've been apart
It's time for production to restart.
The Witcher and his bard – who's flawless,
Will reunite on set 17 August.

— The Witcher (@witchernetflix) June 22, 2020
As you create content and messages for a "return to normal," consider ways you can infuse your messages with creativity where appropriate, such as infographics, poems or other content formats.
Here are today's top stories:
Snapchat apologizes for Juneteenth filter
The social media app issued both internal and external mea culpas after backlash over its Juneteenth Lens promptly grew:
We deeply apologize for the offensive Juneteenth Lens. The Lens that went live hadn't been approved through our review process. We are investigating so this doesn't happen again.

— Snapchat (@Snapchat) June 19, 2020
The filter asked Snapchat users to "smile and break the chains" of slavery. Snap said the offering was a collaborative effort that didn't go through its usual review process.
In a letter to employees, Snap's vice president of diversity, equity and inclusion, Oona King, wrote:
Speaking on behalf of my team, clearly we failed to recognize the gravity of the "smile" trigger. That is a failure I fully own. We reviewed the Lens from the standpoint of Black creative content, made by and for Black people, so did not adequately consider how it would look when used by non-Black members of our community. What we also did not fully realize was a) that a 'smile' trigger would necessarily include the actual word "smile" on the content; and b) that people would perceive this as work created by White creatives, not Black creatives.

We feel it is perfectly acceptable as Black people to celebrate the end of slavery — as we do with picnics, BBQs, street parties and other forms of celebration across America — and say "Smile! Happy Juneteenth; we're no longer enslaved! But we're not yet really free either!" However for a White person to tell a Black person: "Smile! You're no longer slaves" is offensive in the extreme. I'm hoping many people will understand how the same word can be appropriate in one context, but inappropriate in another, depending on who is using it. Regardless, we should not have used smiling as a trigger to break the chains of slavery in the Lens, and we understand why that was offensive.

The mischaracterization on social media—that White executives at a tech company failed, yet again, to include Black perspectives—is completely untrue. What is true is that regardless of our diverse backgrounds, we are all human, and humans make mistakes. We are building a culture where we confront and acknowledge our errors so that we can learn, improve and grow together. This mistake has taught us a valuable lesson, and I am sincerely sorry that it came at the expense of what we meant to be a respectful commemoration of this important day.
Why it matters: King's letter addresses the importance of public perception as well as open conversations with diverse team members. Though many communicators might aptly attribute this misstep to a failure to go through the review and approval process, the situation can serve as an example for you and your employees as you create and execute inclusive campaigns.
TACTICALLY SPEAKING
 Dreyer's Grand Ice Cream is rebranding its nearly century-old Eskimo Pie product, promising to drop both the name and image of an Eskimo by the end of the year.
The chocolate-covered vanilla ice cream bar on a stick—which is nearly 100 years old—features on its packaging a young boy wrapped in a white fur robe with gloves and snow boots, reminiscent of indigenous Arctic clothing.

The name "Eskimo" is commonly used in Alaska to refer to people from the Inuit and Yupik indigenous groups. The term is considered "derogatory" because "it was given by non-Inuit people and was said to mean 'eater of raw meat,'" according to the Alaska Native Language Center at the University of Alaska.
Dreyer's decision comes after moves to rebrand products including Mrs. Butterworth's pancake mix and syrup, Uncle Ben's rice, and Land O'Lakes butter. Johnson & Johnson also said it would no longer sell its Neutrogena Fine Fairness and Clean & Clear's Clear Fairness, both used by some consumers to lighten skin tone.
"We are committed to being a part of the solution on racial equality, and recognize the term is inappropriate," Elizabell Marquez, head of marketing for Dreyer's, said in a statement on Saturday. "This move is part of a larger review to ensure our company and brands reflect our people values."
If you haven't already evaluated your products, services, messages and logos for potentially derogatory or culturally insensitive words, phrases or imagery, now is the time to do so. Make changes before a potential crisis is at your organization's front door.
MEASURED THOUGHTS
Upwork's Future Workforce Report 2020 revealed that although COVID-19 layoffs continue to decimate organizations' workforces, opportunities are growing for freelance professionals to fill contract positions.
Upwork reported that 45% of hiring managers expect freezes and 39% are preparing for additional layoffs, but 73% of hiring managers are seeking contractors to complete work for projects in opportunities that can take an average of four months to complete.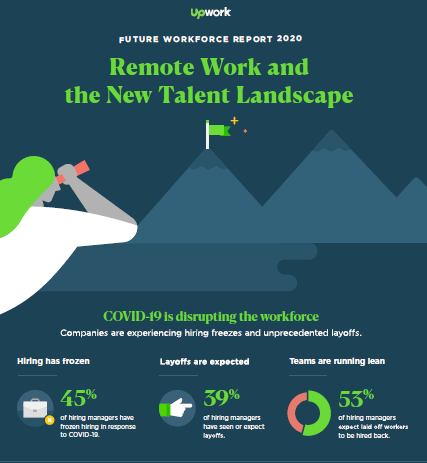 Upwork also reported that 56% of hiring managers say that remote workforces have exceeded expectations, so there might be additional flexibility in working from home even after the COVID-19 crisis is over.
You can read the full report here.
---
CRISIS LEADERSHIP BOARD
Looking for more insight on how to address the current global crisis and lead your organization into a strong recovery?
Join Ragan's Crisis Leadership Board to network and brainstorm with peers, get the latest intelligence, and research and start to strategize for the future of your organization.
Learn more about this exclusive membership here.
Patagonia joins REI, and The North Face in Facebook boycott
The outdoor clothing company recently announced it was halting advertising on Facebook throughout the month of July as part of a protest against the social network's moves enabling posts that incited violence against Black Lives Matter protesters and lack of action regarding voter suppression and misinformation.
Patagonia is proud to join the Stop Hate for Profit campaign. We will pull all ads on Facebook and Instagram, effective immediately, through at least the end of July, pending meaningful action from the social media giant.

— Patagonia (@patagonia) June 21, 2020
We stand with #StopHateforProfit in saying Facebook's 'profits will never be worth promoting hate, bigotry, racism, antisemitism, and violence. – Cory Bayers, Head of Marketing, Patagonia

— Patagonia (@patagonia) June 21, 2020
REI, The North Face and Upwork previously joined the boycott #StopHateforProfit, which was created by NAACP along with Color of Change, Common Sense, Anti-Defamation League and more.
For 82 years, we have put people over profits. We're pulling all Facebook/Instagram advertising for the month of July. #StopHateForProfit

Learn more: https://t.co/XCQSnUO8XJ https://t.co/Jp1GaKdCUN

— REI (@REI) June 19, 2020
We're in. We're Out @Facebook #StopHateForProfit

Learn more: https://t.co/uAT7u7mjBG https://t.co/jVxTIH5ThQ

— The North Face (@thenorthface) June 19, 2020
Upwork is hitting pause on hate with no Facebook advertising in July. #StopHateForProfit

Learn more at https://t.co/rBCCtMXJZlhttps://t.co/ZpRAL6iSZU

— Upwork (@Upwork) June 19, 2020
Why it's important: The adage that consumers vote with their pocketbooks can be a powerful voice for change, when many consumers team up with their efforts. In a similar manner, involved organizations are hoping to push Facebook to act by undercutting their advertising dollars. Communicators can expect more organizations to join the boycott as we near July, but also might want to consider their organization's own stance on the issue.
---
RESEARCH SNAPSHOT
The COVID-19 crisis has drastically changed the landscape for communicators and PR pros. More than ever before, communicators must gain key skill sets and employ strategic communications and media relations strategies to boost their organizations' coverage, reputation and overall brand.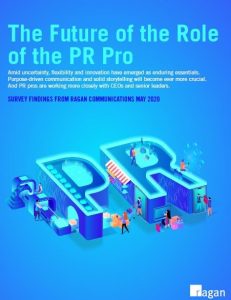 Learn what the 315 communicators we surveyed say about what parts of the PR function are more important than ever, how to adjust for COVID-19, and more with our free report revealing insights that can help you persevere during this uncertain time.
Download your copy of the report here.
AMC Theaters reverses course and requires patrons to wear masks
The theater chain announced it's opening doors to locations across the United States on July 15, but what began as an optional mask-wearing policy soon turned into a requirement after swift backlash.
We are delighted to announce that AMC will resume theatre operations beginning 7/15, rolling out in advance of @DisneysMulan and @TENETFilm. AMC will implement a comprehensive health and sanitation program: AMC Safe & Clean. Learn more: https://t.co/tkjT2I23TQ pic.twitter.com/0cWDLopGDH

— AMC Theatres (@AMCTheatres) June 18, 2020
The reversals came a day after Adam Aron, AMC's chief executive, said in an interview with Variety magazine that masks would not be required, and that the company made that decision because "we did not want to be drawn into a political controversy."

"We thought it might be counterproductive if we forced mask wearing on those people who believe strongly that it is not necessary," he told Variety.
In a press release, Aron wrote:
At AMC, we have been consulting with top scientists and health experts to create a broad, sweeping, far-reaching health and safety effort to make AMC Theatres safe for our guests and associates when our theatres reopen in July. Among many elements of that comprehensive plan was a requirement for our associates all to wear masks nationwide, as well as a requirement for our guests all to wear masks in the many parts of the country that will require it. In those areas of the country where masks will not be required, we nonetheless planned to strongly encourage mask usage by guests, and fully expected that the vast majority would do so. That policy on guest mask usage, which is directly comparable with our major competitors and many other highly regarded retailers, was announced yesterday afternoon.

This announcement prompted an intense and immediate outcry from our customers, and it is clear from this response that we did not go far enough on the usage of masks. At AMC Theatres, we think it is absolutely crucial that we listen to our guests. Accordingly, and with the full support of our scientific advisors, we are reversing course and are changing our guest mask policy. As we reopen theatres, we now will require that all AMC guests nationwide wear masks as they enter and enjoy movies at our theatres. The speed with which AMC moved to revise our mask policies is a reflection of our commitment to the safety and health of our guests.
Aron also said in an interview with CNN that consumers "can be sure that I'll be wearing a mask."
Why it matters: Though toeing the line on political and social issues might seem like the simplest way to avoid controversy, AMC showed what can happen when organizations refuse to take a stand. Some consumers complained that COVID-19 is a public health crisis, not a political debate—but challenges remain for brand managers navigating re-opening efforts amid polarized reactions and as emotions run high.
COMMENT