Starbucks uses 'Game of Thrones' gaffe to lift its brand
The coffee chain trended worldwide on Twitter and garnered several headlines after viewers of HBO's hit show claimed the brand's classic cup made an appearance in Westeros.
Earned media coverage wins over a paid advertisement—even if the headlines are due to an accident.
Starbucks was recently thrust into the spotlight when social media users went crazy over a seemingly large editing error in Sunday's "Game of Thrones" episode "The Last of the Starks."
Many viewers pointed out the coffee chain's iconic cup on the table during a scene: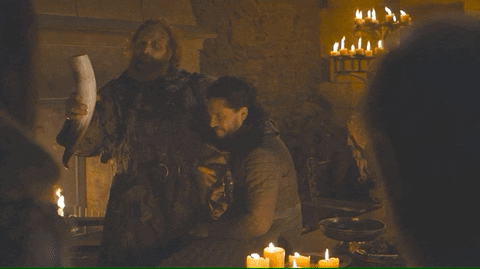 The cup makes an appearance in a scene at Winterfell in which Tormund Giantsbane is toasting his friend Jon Snow as part of a post-battle meal where the wine is flowing.

This downtime is a welcome respite from death and destruction, but Daenerys Targaryen eyes the scene suspiciously. Threatened by Jon's secret status as true heir to the Iron Throne, she looks slightly miffed to witness all the love for him from various northmen.
… It's not obvious who the offending coffee drinker on set was, or what flavor of Starbucks brew they enjoy, but the position of the cup was on the grand table of the nobles, in front of Jon Snow's seat. It's also not clear whether this was a mistake — which would require all the actors and producers, plus all the editors afterward, to not notice — or some deliberate tongue-in-cheek insertion to get people riled up and talking about the show even more.
Starbucks and "Game of Thrones" trended on Twitter around the world as social media users made fun of the mistake:
my favorite show in the entire world forgot a STARBUCKS COFFEE CUP ON THE TABLE WHILE FILMING pic.twitter.com/60z3pOCfg9

— zane (@zane) May 6, 2019
Starbucks has a winterfell location guys. pic.twitter.com/qbb0kUtp9h

— Special K (@THEbroseth) May 6, 2019
Daenerys Stormborn of House Targaryen, the First of Her Name, Queen of the Andals and the First Men, Protector of the Seven Kingdoms, the Mother of Dragons, the Khaleesi of the Great Grass Sea, the Unburnt, the Breaker of Chains, and Drinker of Pumpkin Spice pic.twitter.com/BOPdolRhXz

— Ira Madison III (@ira) May 6, 2019
Starbucks cup. #gameofthrones #starbuckscup pic.twitter.com/GvfMUIl3AZ

— ☠️ Clive ☠️ (@dropdeadclive) May 6, 2019
The fact that there was a Starbucks cup in tonight's Game of Thrones that no producers or editors noticed throughout multiple cuts merely 1 week after the DP yelled that the show's not too dark to see is truly *chef's kiss*

— Jen D'Angelo (@jenlikespizza) May 6, 2019
That's a pumpkin spice latte pic.twitter.com/fPThGIWJPW

— Walt (@UberKryptonian) May 6, 2019
ooooh i get it now they all have STARBUCKS names pic.twitter.com/SSj5skShLo

— jonny sun (@jonnysun) May 6, 2019
GoT cinematographer: i know there are exactly the right amount of starbucks cups in the shot bc i shot it https://t.co/MKW5ifKKtb

— ☕netw3rk (@netw3rk) May 6, 2019
The whole show takes place in a Starbucks, you idiots. Read the books.

— Topher Lundell (@topherlundell) May 6, 2019
I found where she got the Starbucks cup from #GameofThrones pic.twitter.com/cstnDTwnrV

— Charly (@Charly86603169) May 6, 2019
New goal:

be as famous as #starbucks cup in #GOT pic.twitter.com/4ZcP9PBxqj

— 🌟Nostalgia🌟 (@Soralgia) May 6, 2019
I knew it! They're everywhere. #GameofThrones #Starbucks pic.twitter.com/jJUWjn8xal

— Jerry Wustrack (@jwt0480) May 6, 2019
when you want to be ruler of the seven kingdoms but all anyone wants to talk about is the Starbucks cup you left on the table pic.twitter.com/MOOwXm08nw

— Dave Itzkoff (@ditzkoff) May 6, 2019
One reporter said the mistake's virality was fueled by viewers' disappointment of the HBO show's current season.
As amusing as all this is, it's also an opportunity for fans to vent their frustrations with Game of Thrones in general, using the Starbucks cup as a sort of synecdoche for their overarching problems with this season of the show thus far.
For example, a few Twitter users referenced the previous "Game of Thrones" episode, in which many viewers complained the scenes were too dark to see:
Maybe the reason you saw a Starbucks cup in Game of Thrones is because your TV isn't properly calibrated.

— rob fee (@robfee) May 6, 2019
If you had just calibrated your TV properly, you wouldn't have seen the Starbucks cup…

— Jason Jerome (@adrycoolwit) May 6, 2019
The virality spread past Twitter, too.
Several news media outlets covered the misstep and The Ringer published a fictional background of how the Starbucks cup came to Winterfell. At least one marketing pro joined the conversation hoping to get a brand boost: The Chicago Bulls on NBC tweeted a tie-in joke featuring its franchise.
Looked back in Bulls history to see whether a Starbucks cup ever made an appearance. Shocking discovery pic.twitter.com/GBgsWfLygV

— Bulls Talk (@NBCSBulls) May 6, 2019
On Monday, Starbucks tweeted a playful response to its time in the spotlight, referring to a new dragonfruit drink on its menu:
TBH we're surprised she didn't order a Dragon Drink.

— Starbucks Coffee (@Starbucks) May 6, 2019
Though Starbucks' social media team seems to be taking the unexpected marketing boost in stride, a product placement in a show such as "Game of Thrones" would have cost the marketing team a hefty sum.
Stacy Jones, CEO of Hollywood Branded, which specializes in product placement and other entertainment marketing campaigns, told MarketWatch that HBO doesn't pay for product placement in its shows because customers are subscribing to an ad-free experience in signing up for the premium cable network. But, if it did, and if "Thrones" took place in a contemporary setting where it made sense to slip in a Starbucks reference, then intentionally placing that cup in front of Daenerys would cost $250,000 in product placement fees. (Neither Starbucks nor "Game of Thrones" responded to MarketWatch for comment.)

"We're saying this is a Super Bowl-sized television series. We're comparing this to a 'Transformer' franchise, and 'Transformer's' deals of this type are around $250,000 to $1 million," she explained.
One Twitter user joked about Starbucks' reaction to the accidental product placement:
Starbucks executives after seeing all the free publicity they are getting after that game of thrones episode. #GameOfThrones

— Harry 🚀 (@Harray97) May 6, 2019
Starbucks joins a few organizations who also received unexpected fame online after a mention or viral incident.
The Wall Street Journal reported:
Other brands have found themselves unexpectedly in prominent media venues before—and struggled to make much of the opportunity. Poland Spring appeared in Sen. Marco Rubio's response to the 2013 State of the Union when he lunged awkwardly for a bottle of water. The next afternoon, the brand posted a photo on Facebook of a bottle facing a mirror with the caption, "Reflecting on our cameo. What a night!"

Beyoncé's 2016 song "Formation" includes a raunchy call-out to "Red Lobster." The chain eventually wrote on Twitter, "'Cheddar Bey Biscuits' has a nice ring to it, don't you think? #Formation @Beyonce"
So far, neither HBO nor the team producing "Game of Thrones" has responded to the incident.
(Image via)
COMMENT
PR Daily News Feed
Sign up to receive the latest articles from PR Daily directly in your inbox.
Tags: Game of Thrones, GOT