Trump rolls out 'human props' to add heart to State of the Union
Taking a page from Ronald Reagan's playbook, he repeatedly referenced regular Americans and their stories, as TV cameras picked them out in the gallery, throughout his 80-minute address.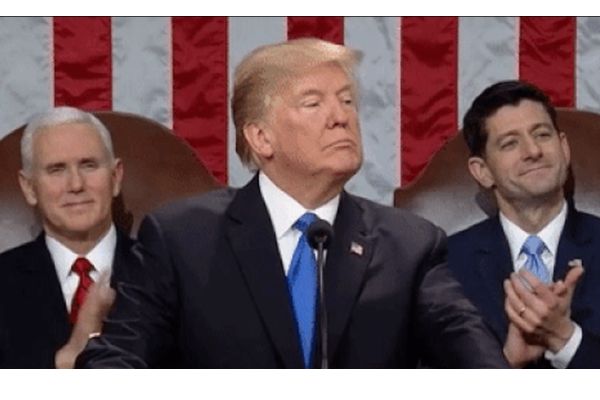 What do you do if you're a president who has to address a nation where more than half the citizens can't stand you, in a chamber where rows of black-clad opponents detest you, and even your wife may be on the fence?
In addition, you're not a particularly good speaker, and you've got a vocabulary that might embarrass a sixth-grader?
What, in the name of William Jennings Bryan, can you possibly do? If you're Donald Trump, you pull out the skutniks, the rhetorical device of the "human prop."
In so doing, perhaps for the first time in U.S. history, you successfully convert a dry and unmemorable State of the Union address into a spirited, even emotional, campaign pep rally.
Politics and personal animosities notwithstanding, observers must concede that in terms of oratorical performances, his Bill Clinton-size, 80-minute State of the Union (SOTU) ramble last night was intriguing.
'Skutniks' galore
Although the hopelessly jaded "experts" might quibble about his failure to be conciliatory on immigration or his propensity to play fast and loose with the facts—it's the eighth-largest tax cut in history not the "biggest ever"—it was Trump's use of skutniks that carried the night and proved the most fascinating dimension of the speech.
As every speechwriter worth his or her salt knows, a skutnik is a rhetorical device, intended to evoke emotion, deflect from a controversial point or provide necessary oomph for a flagging speech. Bluntly stated, it is a "human prop."
The term derives from an obscure employee of the Congressional Budget Office, Lenny Skutnik, who on Jan. 13, 1982, dived into the icy Potomac River after the crash of an Air Florida plane to save a drowning woman. Two weeks later, President Ronald Reagan invited the new celebrity to sit in the gallery overlooking the chamber at the State of the Union Address, whereupon the president paid national tribute to the heroism of Lenny Skutnik.
Thus was born the skutnik, the human prop that every president since has honored in the State of the Union.
Though other presidents have used the device sparingly to punctuate their remarks, never before has one used the skutnik throughout a speech to serve as an organizational framework and consistent theme—until last night.
Right from the get-go
In his introduction, when many expected Trump to laud his own accomplishments or summon rousing rhetoric, he did neither. Rather, he immediately began talking about American heroes, citing a Coast Guard helicopter pilot who had rescued Houstonians from peril amid Hurricane Harvey, as well as a firefighter who saved 60 children threatened by California wildfires. Both, seated near the first lady, stood with pride.
Without missing a beat, Trump next called out the Congress' own Rep. Steve Scalise—"the legend from Louisiana"—wounded by a shooter but now back in action. Then Trump saluted "the Capitol Police officers, the Alexandria Police, and the doctors, nurses, and paramedics who saved his life, and the lives of many others in this room."
Even sour-pussed Democrats had to rise in tribute; the warmth in the room was palpable. As a speech intro—particularly given the disdain with which the speaker was greeted by many in the room—it was not only a disarming and effective device, but also quite remarkable.
Trump then proceeded to his speech thesis, not surprisingly a traditional message of both sides working together:
"Tonight, I call upon all of us to set aside our differences, to seek out common ground, and to summon the unity we need to deliver for the people we were elected to serve."
It was a safe and valid thesis to which no one could object (except perhaps for House Minority Leader Nancy Pelosi, who sat stone-faced throughout).
Sticking to the motif
Trump moved to the body of his speech, when, again predictably, he cited his "accomplishments" thus far—from job creation and tax cuts to individual mandate repeal and ISIS dismantling. Here again, rather than simply reciting the usual laundry list of achievements that traditionally lard the SOTU, he turned to skutniks.
His economic reforms, he noted, had allowed one small Ohio manufacturer to record its best year ever. The man and woman who ran the company—both sitting near Melania—took a bow. By the way, added Trump, one of their employees was an "all-American worker," who had worked his way through high school, lost his job in the recession, but trained to be a welder and was using his tax cut to help buy a new home. Lo and behold, that man, Corey Adams, was also in attendance. "Stand up, Corey," intoned his new best presidential friend. Adams, an African-American, rose beaming to rousing applause.
Moving on to his "agenda," another SOTU staple, Trump served up some red meat for his base, including saluting the flag and keeping Guantanamo open. He then waded into the controversial area certain to rankle Democrats in the hall: immigration.
"Americans are dreamers, too," Trump said, in his best line of the night. He called for an end to such Democratic programs as the visa lottery and so-called "chain migration." One could sense the opposition's hackles rising, but then Trump pulled out his most daring skutnik of the night.
Citing the dangers of criminal illegal aliens, he pointed to two Long Island couples, again up in the gallery near Melania, whose two teenage daughters were murdered by Latin gang members who had entered the U.S. illegally.
"Tonight, I am calling on the Congress to finally close the deadly loopholes," Trump intoned. In the gallery, the parents sobbed as they stood to cheers. It was heart-wrenching and short-circuited any thoughts of disruption or objection that peeved Democrats might have had in mind. For this night at least, the immigration debate was settled.
Some would say—and they'd have a point—that Trump's use of the suffering parents was beyond the pale—callous, unseemly, even obscene. But in the context of this speech, at its most dramatic moment, the device worked.
And in closing, a few more
As Trump concluded, he continued to turn to skutniks for support: an ICE agent with a price on his head; a policeman and his wife who adopted an opioid-addicted baby; even the grieving parents of Otto Warmbier, the student who died after release from a North Korea prison camp. In each case, Trump used the human props to help drive home strategic points in a far more graphic and believable way than he could have ever achieved rhetorically.
Trump ended his speech as he began, with a tribute to America's heroes.
"They work in every trade. They sacrifice to raise a family. They care for our children at home. They defend our flag abroad. They are strong moms and brave kids. They are firefighters, police officers, border agents, medics, and Marines. But above all else, they are Americans. And this Capitol, this city, and this nation, belong to them."
No, the SOTU wasn't memorable, and it probably will be forgotten by the time of the president's next misguided tweet.
Nobody will ever mistake Donald Trump for Winston Churchill, but in summoning the rhetorical device made famous by Ronald Reagan (with help from Lenny Skutnik), this speech was this president's "finest hour."
Fraser Seitel has been a communications counselor, lecturer, TV commentator and teacher for 40 years, and is a prominent public relations author. He can be reached at yusake@aol.com.
(Image via)
COMMENT