Your work-from-home photos of the week
We asked and you answered. Here's a look at the home offices of communicators far and wide.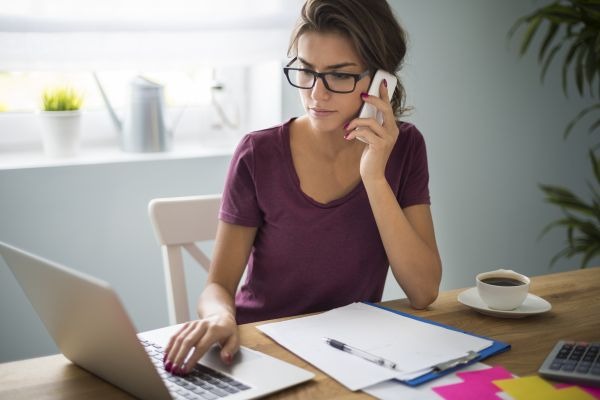 Thank you, readers, for sending me photos of your home office. As a reminder, here's the challenge.
There's nothing better than a photo of a cute pet, cool piece of artwork, or a cozy couch set-up popping into my inbox or social media page to brighten up my day. I'm sure it will do the same for you during this busy and stressful time in the world.
Keep them coming! I will continue to update this page weekly for some Friday fun.
Email me your photos at roulaa@ragan.com, or tag them on social media to #RaganWFH.
The week in photos (April 20-24):
Ken Koch, director of marketing and communications, Francis Tuttle Technology Center
Ken surrounds himself with the ones he loves in his WFH office. It certainly provides some variety for a Zoom background!
Jodi Szimanski, director of strategic communications, Faculty of Mathematics, University of Waterloo
As a good Canadian, it's important for Jodi to have hockey memorabilia in her office (Eagle-eyed readers will spot some San Francisco 49ers gear in there too!). Jodi also has a lot of Mickey Mouse memorabilia so she remembers not to take life too seriously.
Jeff Simmons, executive vice president at Anat Gerstein, Inc.
Hailing from Queens in New York City, Jeff still makes sure to get hard copies of newspapers each day. Given how much the days blend together, he has his Punxsutawney Phil groundhog on his desk. We can all relate! The only thing missing from this photo are his two dogs, who usually sit in the window sill, but it was a stormy today, so they're hiding under the bed.
Filomena Fanelli, CEO/founder, Impact PR & Communications
This is what Filomena's work-from-home office looks like when she was invited to be a podcast guest and preferred to do interviews standing up. Not a bad idea for a makeshift standing desk, Filomena. And when she's not standing up? She happily sits with one of her favorite work-from-home companions, soon-to-turn-9 Siena Fanelli.
Joe Borgenicht, director of strategic communications, University of Utah Health
Joe's office buddy.
Boardroom PR
How @boardroompr works from home in #Florida! ☀️ #WFH #RaganWFH pic.twitter.com/lNPdjkczwa

— BoardroomPR (@boardroompr) April 22, 2020
The week in photos (April 13-17):
Ed Memi, manager of external communications & marketing at the Bristow Group, Inc.
Ed had to squeeze in another monitor for his work laptop amongst his home computers. It's handy for him to have several computers running at the same time. It might not win a home décor content, he admits, but it's very functional!
Shoshana Mann, web designer, Positive Seven Marketing  
This freelancer needed a break on a snowy April day in Minnesota. Hopefully this will give people a smile and remind them to keep physically distant from colleagues, she says.
Red Lorry Yellow Lorry
And the award for the best dressed lorry during quarantine goes to… Astro the dog. https://t.co/gfkXPLCg2D

— RedLorry YellowLorry (@RedLorryComms) March 30, 2020
Anyone else getting tired of some of their new coworkers while #wfh? This new guy won't leaf 🍃 me alone! 😒#LorriesWFH #LALorries pic.twitter.com/psk8pdbqms

— Tanya Roberts (@TanyaRoberts) March 24, 2020
The week in photos (April 6-10):
Lisa Peers, director of internal communications at Beaumont Health
Lisa is in overdrive, working in multiple locations at her house, depending on where the rest of her family needs to work. Her daughters—who love puns—bought her this toy goat and wrote notes saying, "You're the GOAT (Greatest Of All Time)" and "You Goat This" for the work she's doing to help health care providers throughout the crisis. Wherever her goat is, her office is—it brings her joy.
Wendy Hsiao, account director at Hope-Beckham, Inc.

My assistant has taken over my office chair… but she's so cute that I can't even be mad. #RaganWFH pic.twitter.com/sm1h51VlOW

— Wendy Hsiao (@WWH0428) April 6, 2020
Jim Staylor, videographer/producer, Sharp HealthCare
Jim's cat, Oreo, does tricks for treats and likes to sit on shoulders. Jim, a videographer/producer, speculates that Oreo may be trying to learn how to edit video because he often walks across the keyboard while he's working.
Dominica Garza, marketing and communications manager, PWI Construction
Dominica switches between her sit down and stand-up desk often. Sitting down is good for responding to emails, while the stand-up is useful for reading and projects that require focus. That's when she turns her email off and concentrates on the task at hand. Of course, she couldn't stay focused without a reminder of one of the main reasons she works so hard—her son, whose pictures and artwork plastered around her office brighten her day.
Liz Kamper, Mountain/Northwest Communication Specialist, CBRE
Current standing desk 2.0 at my kitchen table. Added a second monitor at the end of last week. Still using cookbooks to lift my screen up #RaganWFH pic.twitter.com/DsA92Iv8tc

— Liz Kamper (@LizKamperPR) April 6, 2020
The week in photos (March 30-April 3):
LaTonya Taylor, director of media relations at Wheaton College.
LaTonya responded to our #RaganWFH challenge by submitting a photo of her home office, admitting it's tidier than her work office! She loves working under her photo of Louis Armstrong and Billie Holiday, a still from the 1947 film "New Orleans.
"To me, this is what inspiration looks and feels like. The orchid is a reminder that beauty is nourishing, and the sign, which says 'The dream is free. The hustle is sold separately' is a reminder to keep pushing ahead."
Jeffrey Smith, founder of Ground Floor Marketing, LLC
After years of straining over a coffee table to finesse PowerPoints and PR plans, Jeffrey salvaged this unused attic space for an ergonomically-friendly office.
"While it's too late to rename my business Third-Floor Marketing, I'm grateful for an abundance of natural light," he says. Fortunately, his four dogs know when the door is closed that their dad is earning their kibble, making conference calls less chaotic.
Sara Strasbaugh, junior account executive at Godfrey Sanders PR
Sara shares her home office alongside her friend/roommate/co-worker Meredith. Using their dining room table and laptop stands purchased from Amazon, it's functional and cozy at the same time.
Bowers PR
Home Office Challenge by Ragan PR Daily #RaganWFH #publicrelationsathome #workingfromhome pic.twitter.com/Db9KZlzUm3

— Bowers PR (@bowerspr) March 31, 2020
Nicole Schultz, communications coordinator for the UNLV International Gaming Institute
Nicole and her significant other live in a condo with no backyard, so they don't have a dog of their own. But when she gets lonely, her neighbor lets her borrow her dog for company. Her name is Koko. She's Nicole's "Ko-koworker."
My work from home situation allows me to look at what I call my window to the world & briefly daydream about being in a place and time where coronavirus doesn't exist. Then my computer pings, reminding me that I have a meeting & reality sets in again. #raganwfh .@RaganComms pic.twitter.com/0EoFsgS1fS

— AC Tweets (@ACoplin) March 30, 2020
June Holder, public relations manager at UPS, shares a photo of her devastatingly handsome co-worker, Tiger Puddy, who is an expert on cohabitation and maintaining boundaries.
Working from home #RaganWFH pic.twitter.com/6QC7iQkyey

— Lenox Lizwi Mhlanga (@lenoxmhlanga) April 1, 2020
COMMENT