12 of the biggest takeaways from PR Daily's Media Relations Conference
From AI to brand journalism and pitching tips, here's what you missed.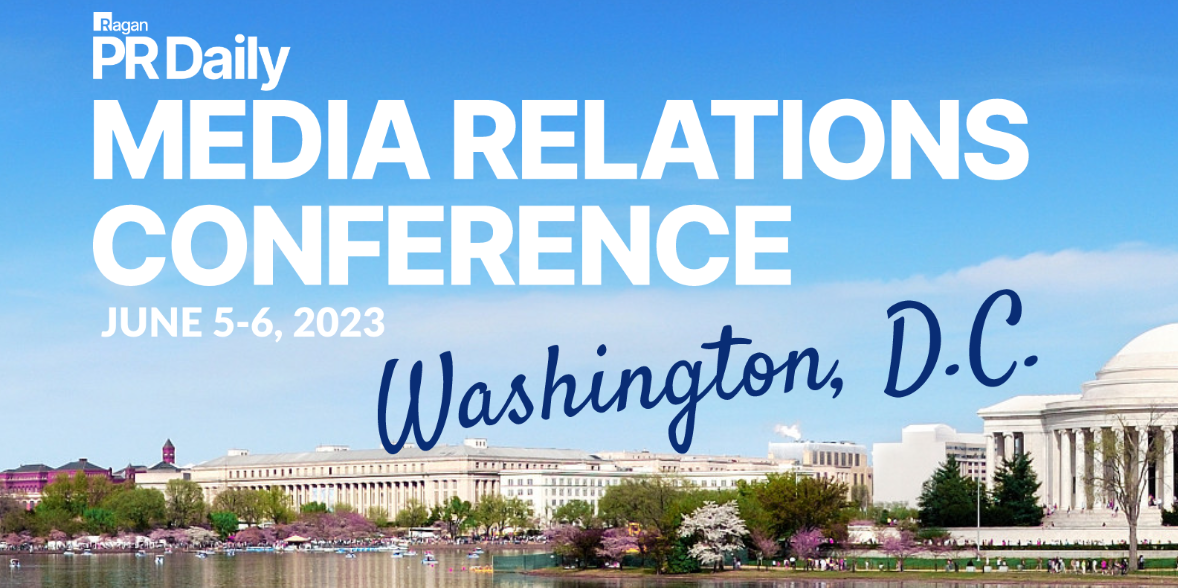 Hundreds of communicators gathered this week at the prestigious Press Club in Washington, D.C. Together, we learned about ways to forge new relationships with the press, build our own brand newsrooms and grapple with the coming storm that is AI.
While there are far too many learnings to share in a single story, these are some of the most important messages shared at the conference. If you missed it this year, make sure you join us next time. Until then, get inspired:

On AI
Keynoter Andrew Davis taught us that AI should be our creative partner, not our secret. We are constantly collaborating and training these tools to think more like us. By being transparent about AI use, we can build trust – or destroy it in an instant.
Moderator and speaker Mark Weiner said, "Give ourselves permission to learn and get better. The first iteration is not going to be good." That's true whether we're doing the writing or ChatGPT is. We have to give ourselves that grace to suck first.
From our session on unlocking trust in a disinformation age, we heard that AI changes everything: the scope, the speed, and the scale of misinformation. We need to watch out for our company's reputation in a new way today. Consider reaching out to the PESTO (PESO model plus third parties) to help combat misinformation in your response.
Don't be boring
"Find counterintuitive stories and counter narratives that might get a bite with the press," Nick Lanyi said during our preconference. Don't waste reporters' time. Get directly to your point and write clearly. Think about how this pitch helps *them* and their audiences, not just your own goals.
If you don't want to be a boring writer, don't be a boring person, Phillip Ballard said. Go out and experience life. Bring in interesting inputs to create interesting outputs.. You are in charge of your career, not your digital doppelganger. Robots will not replace you (yet) if you grow your skillset.
From Alan Black: Don't be boring. Relate your story to your readers. The headline is key. Whether you're using ChatGPT or not, you still need to draw people in. You're competing for attention.
On authenticity
From our session on the Trust Trifecta: Once you live your values and do the work, it's important to stand in them. Stick to what you're going to do. As we learned from Target and Bud Light, things can go very bad very fast if you waver. If you're not ready to stand in the values and stand in the community, don't do it. Be ready and don't waver.
Both Holly Fair and Dan Lansden said that audiences don't want slick, overly produced perfection. They want something that feels more authentic with vertical video and a more honest feel. That's often not what our bosses want, but we need to adapt.
From our crisis comms panel, In a crisis, the most important things you can fall back on are your company's values and brand persona. A crisis plan can help tell you who should respond, how they should respond. But everything should tie back in a way that's authentic to your brand.
On media relations
From our omnichannel PR session: You don't always need a full story to send out to the masses. Some really good stories start as quick social media posts that can add value while showcasing your brand.
From our media gauntlet panel, we heard that in a fractured media landscape where jobs are being cut as fast as possible, journalists are looking for not only great stories, but tell they can tell quickly. Make their lives easier by serving it up on a silver platter with everything they need to tell your story.
From our last panel: The media wants to quickly give insight to their readers. That's where we, as PR professionals, can help. We just have to step up and make ourselves known.
Allison Carter is executive editor of PR Daily. Follow her on Twitter or LinkedIn.
COMMENT
One Response to "12 of the biggest takeaways from PR Daily's Media Relations Conference"
fadhilc@gmail.com

says:

Great insights & learnings. Thank you 🙏