5 essential steps for responding to external criticism
When consumers lodge complaints, your response can either defuse the situation or add fuel to the fire. Here is a model to ensure critics feel heard, while leaving room to correct the record.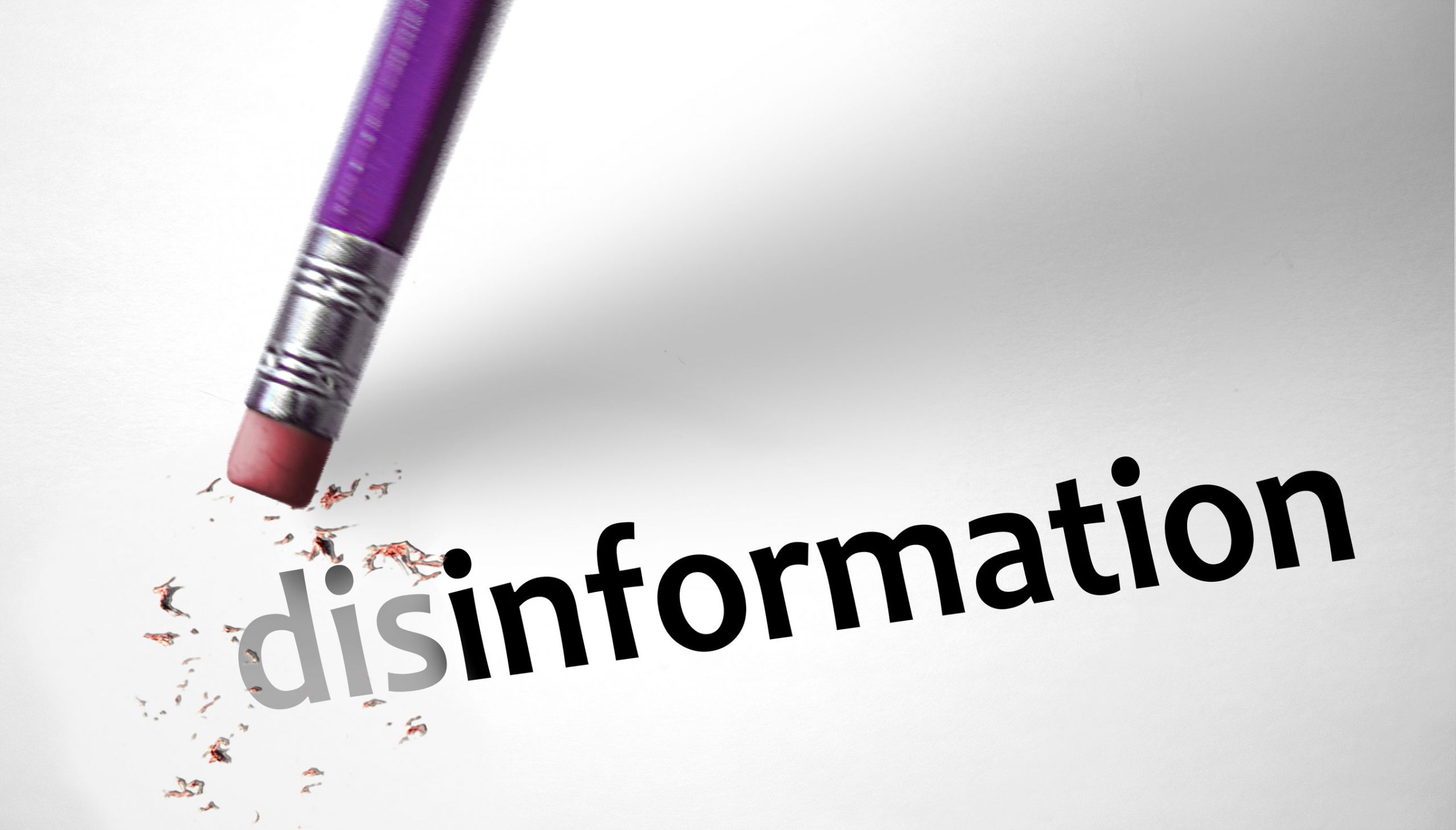 How you respond to complaints—whether online or in person—says a lot about your brand to potential customers.
Too defensive? Audiences will assume you have something to hide. Fail to correct the record? Misinformation and rumors might be taken as fact.
For communicators in the digital age, where misinformation has been industrialized and weaponized, being able to fight back against falsehoods while remaining thoughtful and respectful is paramount. Lauren Lawson-Zilai, senior director of public relations for Goodwill, shares five important steps for confronting online rumors and misinformation in a session for Ragan Training.
"While it feels very personal, it likely is not," Lawson-Zilai says of many online attacks. Being able to recognize the humanity behind a complaint or criticism is essential in finding a resolution—and avoiding a viral blow up.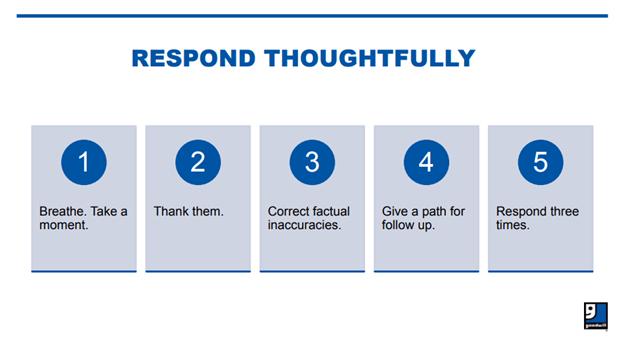 Her steps include:
You have a little more time than you might think. "Reread the post or comment to ensure you know what is being said," Lawson-Zilai advises.
Thank them. A person lodging a complaint is investing the time in trying to make a change with your organization. Make sure you acknowledge their commitment to your organization, even if it's not the message you wanted to hear.
Correct factual inaccuracies. It's OK to set the record straight, while maintaining respect for everyone involved.
Give a path for follow up. It's time to take this interaction out of the public sphere—but all stakeholders want to know that the issue raised will be revisited if necessary. Make sure the avenue for further inquiry is clear and responsive.
Respond three times. Never respond more than three times to the same person on a single complaint, advises Lawson-Zilai. After you've addressed the issue publicly, continue the conversation in a private forum—and be prepared to block someone who is just looking for attention.
Comprehensive crisis response also means that you are equipping your allies who are helping to establish and defend your reputation online. Goodwill offers its brand allies tools and training to make them more effective advocates and ensure the right message is being sent out.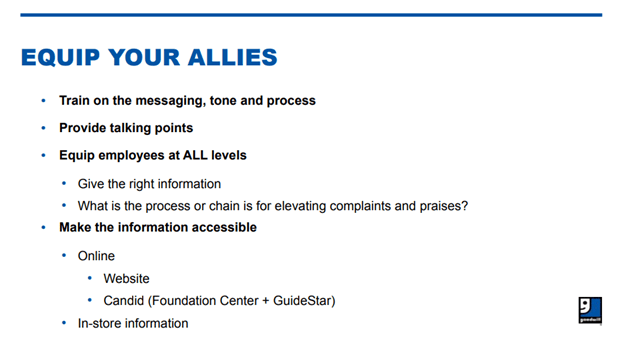 Lawson-Zilai encourages communicators to equip employees to respond to negative feedback or misinformation at all levels of the organization. Goodwill's intranet includes its "elevator pitch" and other talking points for responding to misinformation or tough questions, which anyone can access to help them navigate a crisis.
"It's important to make this information accessible," says Lawson-Zilai. No matter where an employee might be, at their desk or at a work site, make sure they can access these tools to respond right away and avoid a costly gaffe.
You can get more insight on the latest crisis communications best practices and strategies by joining Ragan's Crisis Communications Virtual Conference on June 10. Top-level pros from brands like Carnival Cruise Line, Dow Jones, IBM, Amtrak, Barclays, Pace University, Comcast and more will share essential lessons on defending your reputation in a volatile world.
COMMENT
One Response to "5 essential steps for responding to external criticism"
Marie MacDonald

says:

Excellent article!