Adidas rejects employee claims on diversity, employee welfare tops ranks of reopening concerns, Publix stays the course on BLM attire, and more
Also: Cream of Wheat and Lloyd's of London address racist past, Orlando International Airport sets the record straight on Twitter, when PR pros plan to return to the office, and more.
Good morning, communicators:
After Quaker Oats announced it would retire Aunt Jemima because of the brand's association with slavery and racial inequality, other brands are also taking a close look at their mascots and images.
Cream of Wheat says it is taking a look at its branding, which includes images of a black cook some believe to be Chicago chef Frank L. White.
White was added to the package to replace the original mascot, "Rastus," a racist caricature of African Americans based on minstrel shows.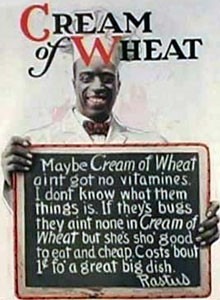 "We understand there are concerns regarding the Chef image, and we are committed to evaluating our packaging and will proactively take steps to ensure that we and our brands do not inadvertently contribute to systemic racism," B&G Foods told CNN Business in an emailed statement.
Even if you no longer display the most offensive version of your branding, acknowledging its racist roots and taking stock of past inequality can be a powerful step to take for brand managers.
Here are today's top stories:
Addidas "rejects all statements" made by employee letter on diversity
The apparel company has made bold promises in recent days about adding leaders from diverse backgrounds and hiring more people of color for roles throughout the organization. However, when an employee letter signed by 83 employees questioned the approach, the brand refused to give ground.
The letter also calls for the creation of an anonymous platform where employees can report instances of racism and discrimination, and for protection against retaliation.

"Our employees have courageously raised their voices to people in positions of power; they have called out the fact that we are not representative of the communities we profit from and we lack the leadership, processes, and goals that will enable us to get there," the letter reads.
The letter also questions whether the company has the right HR leadership to tackle the diversity and inclusion issue.
Adidas' response sounds like a crisis response of the past:
Adidas, which also owns Reebok, said in a statement that it "rejects all statements" made in the employee letter. … "Adidas and Reebok have always been and will always be against discrimination in all forms and we stand united against racism," the company said in a statement to CNN. "Our Black employees have led the response that we will continue to implement together and that we have committed to as a company. We are now concentrating our efforts on making progress and creating real change immediately."
Why it matters: Heavy-handed statements and strong denials might have played well in previous crises, but they risk appearing tone-deaf on today's hottest issues. Employees are asking to be heard on topics like diversity and inclusion, and statements that categorically reject their assertions do nothing to heal generations of inequality and pain. If you can't find a way to show that you are listening to your employees, it's best not to say anything at all.
---
MEASURED THOUGHTS
When thinking about your recovery in a post-COVID environment, it's crucial to think through how your employees and how your consumers may have changed.
Audiences say it is crucial for businesses to take care of employees in tough times and to stand for something beyond profits.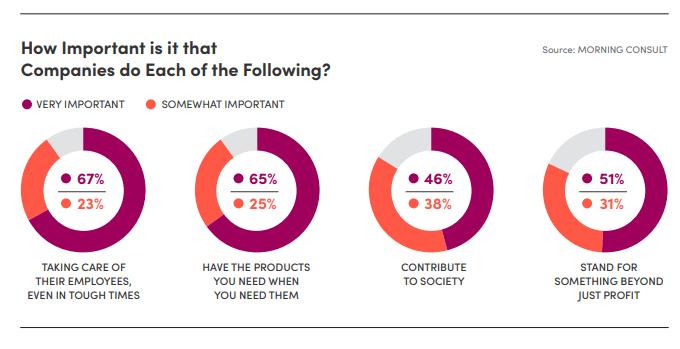 Your consumers' behaviors have also changed drastically because of the pandemic. Consumption of news is up, as is spending time with family and watching video. Take that into account as you think about reacquiring your consumer base.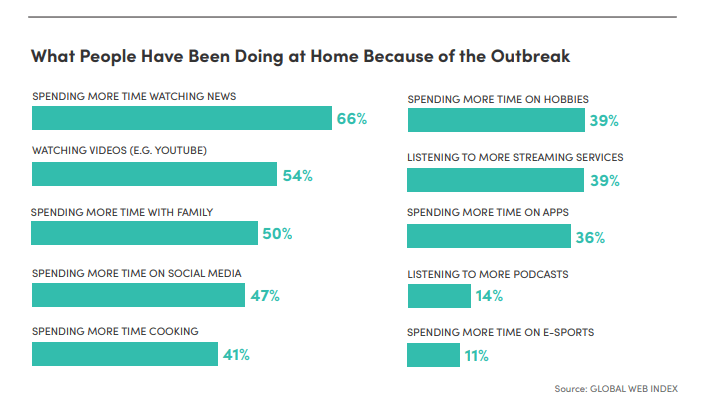 Check out all the insights from the Constituent Management Group's Road to Recovery Guide.
Publix stands firm on prohibiting employees form wearing pro-BLM attire
The grocery chain has come under fire for a decision to ban employees from wearing apparel that shows support for the Black Lives Matter movement. After a teenage employee in Lehigh Acres, Florida, wrote "BLM" on his paper face mask before starting his shift, the store sent him home.
He shared his experience on social media:
Today @Publix sent me, a publix employee home for having "BLM" written on my mask. The assistant store manager told me he doesn't know if the company is "Pro or Con". I will no longer be working for publix. Stand for something or you'll fall for anything! #blacklivesmatterFL ✊🏾

— Q Desamours (@QDesamours) June 6, 2020
In a statement sent to NBC News, Publix spokeswoman Maria Brous said the company does not accept racism, but the uniform policy will hold. "At Publix, we reject racism and believe diversity makes our company — and our community — better," Brous said. "Our focus remains on ensuring a welcoming work and shopping environment for all associates and customers. Our uniform policy does not permit non-Publix messaging on clothing or accessories."
Why it matters: With many businesses sharing pro-BLM messages and standing in solidarity with the movement, it's difficult to explain a position around preventing employees from speaking up on the issue of racial inequality while at work. Starbucks changed its position to allow employees to wear shirts that the chain specifically created. Whatever path you take, know that employees have their own social media channels to share their side of the story.
---
SOCIAL BUZZ
Your social media channels are important avenues to help set the record straight.
When Florida's Gov. Ron DeSantis incorrectly stated the number of employees at Orlando International Airport who had contracted COVID-19, the organization turned to its channels to correct the record.
— Orlando International Airport (@MCO) June 17, 2020
Think about how your organization can be an advocate for accurate and honest news. You have a lot of data that can help your audience understand the world around them, and with the fragmentation of the media landscape, you have an important role to play in how audiences get information.
Don't assume a media outlet is going to do all the fact-checking for you. Get out there with your data, and advocate for yourself.
Lloyd's of London apologizes for its role in the slave trade
The banking giant rose to prominence in the 17th and 18th centuries with shipping insurance—a key part of the trade that ripped millions of African men and women from their homes.
"We are sorry for the role played by the Lloyd's market in the 18th and 19th Century slave trade – an appalling and shameful period of English history, as well as our own," Lloyd's said.

"Recent events have shone a spotlight on the inequality that black people have experienced over many years as a result of systematic and structural racism that has existed in many aspects of society and unleashed difficult conversations that were long overdue."
Why it matters: In an honest look at your past, you will probably find instances where your organization didn't live up to the moral standards you now espouse. Rather than try to diminish your past, it's important for leaders to own it and apologize for decisions that are still having an impact on lives in the 21st century. Only by admitting mistakes can you hope to convince audiences of new moral certainties.
---
TACTICALLY SPEAKING
Netflix CEO Reed Hastings announced that he would be giving $120 million to support historically black universities and colleges (HBCUs).  The gift is supposed to be the single largest individual gift in support of student scholarships to HBCUs.
Hastings and his wife, Patty Quillin, said that the gift is attempting to reverse a trend where philanthropy generally supports white institutions.
"HBCUs have a tremendous record, yet are disadvantaged when it comes to giving. Generally, White capital flows to predominantly White institutions, perpetuating capital isolation. We hope this additional $120 million donation will help more Black students follow their dreams and also encourage more people to support these institutions – helping to reverse generations of inequity in our country."
When thinking about donations around race and inequality, think about where your gift could have the biggest impact. For Hastings, the gift to HBCUs created a powerful narrative that he was able to share.
---
WHAT YOU SAID
We asked you when you plan on returning to the physical office, and many of you said that won't be for a while.
Around 30.4% said they would be going back by September, while another 30.4% said they wouldn't be back in the office until 2021.
Are you planning on getting back to the office this year? How about this summer?

Share how your return to work thinking is evolving with our hashtag #DailyScoop.

— PR Daily (@PRDaily) June 17, 2020
About 13% said they would embrace or stick with their permanent WFH setup.
One PR pro says they have already been back since the beginning of May:
We had already resumed since the beginning of May.

— ukeme umoh (@MrUmoh3) June 17, 2020
Another says that her company is revisiting their plan due to the rising number of infections seen in some parts of the country:
The plan was to phase employees back next week, but due to the sudden rise of infection rates, that decision is being revisited now. Luckily my company specializes in janitorial & facilities management, so I have a lot of trust in the cleanliness of the workplace when we return.

— Sharon Glenn (@Sh_AH_RUN) June 17, 2020
---
SOUNDING BOARD
How do you feel the business community has done in responding to the wave of protests around the country in the wake of the death of George Floyd? Do you feel the response has been adequate? Misguided?
How do you feel the the business community has performed in responding to the wave of protests around racial inequality across the country?

Share your thoughts with our hashtag #DailyScoop.

— PR Daily (@PRDaily) June 18, 2020
Share your thoughts with our hashtag #DailyScoop or in the comments below.
COMMENT
One Response to "Adidas rejects employee claims on diversity, employee welfare tops ranks of reopening concerns, Publix stays the course on BLM attire, and more"
Ronald N. Levy

says:

Instead of Adidas or any other company arguing AGAINST the accusers and the accusations, it could be better to argue FOR what the company favors.

One way you're in an argument over whether you're guilty. But the positive way makes you hard to argue against.

One could sorrowfully acknowledge past mistakes but why if they were mistakes made by someone else? The public—ALL publics—care about "what's in this for us?" So if what we favor is good for a public we care about, their self-interest will tend to encourage their favoring what is good for us.

Kids don't throw rocks at the ice cream truck. So instead of arguing about whether the driver is free of all blame which no one is, it can make sense to emphasize that the ice cream is not only delicious and fun but in moderation is nourishing, and the ice cream truck is in many ways good for our economy.

Benefits! They make ads successful and make companies appreciated. Our telling what's true may be much more important to most people than would trying to claim we're blameless which no one is.

The first question in creating a PR program is to ask "what good are we," not what are we accused of and why is it false. If we provide good jobs, make good products, support good causes and pay taxes that benefit our communities, we are in each of these cases good. Our program can increase public awareness of our good points.

We should certainly have a good PR firm or several of them, certainly one for Washington PR and possibly others for Health PR, Financial, Marketing Support and other specialties.

It's worth noting that every major PR firm's new business pitch is built around what's good about them, and ways they can be good for us, not why critics and criticisms are wrong. It's like the ice cream truck that has pictures of delightful treats, not negative stuff. We do ourselves good when we communicate most what publics care about most.