Amazon, Instacart and other essential workers strike, Disney offers branded face masks, and Deloitte shares crisis recovery tips
Also: Communicators shine in an ROI musical, Reddit puts the brakes on group chat feature, join our Twitter #RaganChat with special guest from OKCupid, and more.
Hello, communicators:
 Jake Sanders, content strategist and owner of POSMarketing, shared the debut of "ROI: The Musical" for communicators' stay-at-home enjoyment:
*World Premiere* | "ROI: The Musical" | A comedy-musical-podcast-experience for anyone in business that's ever asked, "RO-Why are we doing this?" | Starring @ScottMonty @Dr_Draper @MisterNeonBrown @vital_voice, @pj_julius and more! | LISTEN NOW -> https://t.co/V5Slgwr4Ze

— Jake Sanders (@POSMarketer) March 27, 2020
Here's the elevator pitch and trailer:
A time-traveling, genre-spanning, thought-leading comedy musical podcast experience about marketing, sales, and ROI, that's sure to enchant anyone in business that's ever asked, "RO-Why are we doing this?"
The musical is a humorous look at data, marketing and more and can serve as a reminder to find moments of laughter in between crisis responses and new campaign creation.
Here are today's top stories:
Amazon, Target, Whole Foods, Instacart and other employees strike
Essential workers at several organizations, including Target, Instacart, Walmart, FedEx, Shipt, Whole Foods and Amazon have organized a walk-off to protest the lack of sick pay and personal protective equipment.
Whole Foods, Amazon, Target, and Instacart workers are striking on May 1st pic.twitter.com/nwnMhxxffy

— Michael Sainato (@msainat1) April 22, 2020
Employees have told reporters that safety protocols are insufficient in many workplaces for their peace of mind.
Amazon for its part says that it has always prioritized worker safety and has implemented more than 150 process updates to protect workers and offers pay while workers who have contracted the virus, or come into contact with a worker who has the virus, convalesce at home.
Why it matters: Employee communications are crucial during the pandemic, especially if your workplace is on the front lines, serving people throughout the crisis. Focus your messages on their safety and well-being, and show that you're listening to their concerns by responding as directly and transparently as possible.
---
SOCIAL BUZZ
 Musa Tariq, global head of marketing for Airbnb Experiences, recently tweeted a suggestion to Facebook executives about changing an Instagram Stories sticker's text to, "How can I help?"
I have a small request @instagram – how can we change the default text here, from "Ask me a question" to "How can I help?". Even just for a week. Changing 4 simple words, would spread more kindness in the world than most of us could ever dream of. 🙏🏽 @kevinweil @ajlucio5 pic.twitter.com/rMl0UJRwGs

— Musa Tariq (@MusaTariq) April 2, 2020
Adam Mosseri, Instagram's chief executive, quickly replied that he was on board and the change was made:
We love the idea of reframing the question to focus on others — so we just launched it right now. We're hoping it'll be a small way help people spread kindness and support. pic.twitter.com/ZAqq6MfUF2

— Adam Mosseri 😷 (@mosseri) April 2, 2020
Twitter's marketing team curated the conversation:
Here's how @instagram quickly turned @MusaTariq's Tweet into a product feature offering help and hope #OnlyOnTwitter https://t.co/nr2EfL5dAK

— Twitter Marketing (@TwitterMktg) April 27, 2020
Whether through a new feature (such as Facebook's "Care" reaction) or tailored messages similar to Instagram's move, social media users have more opportunities to reach out and support one another through the pandemic.
Do the same in your social media campaigns by asking what you can do to help your community and responding to their questions, concerns and stories.
---
JOIN #RAGANCHAT
 We're welcoming special guest Michael Kaye, global communications manager at OKCupid, in our next Twitter #RaganChat.
Join us May 5 at 3 p.m. Eastern time as we discuss with Kaye best practices for media relations in a crisis. You can also glean the latest insights at PR Daily's Media Relations and Measurement Virtual Conference, May 14-15.
Register here to learn about data-informed storytelling from Kaye as well as speakers from AdCouncil, Twitter, AMEC, Forbes, CHG Healthcare, Southwest Airlines, Twitter and more.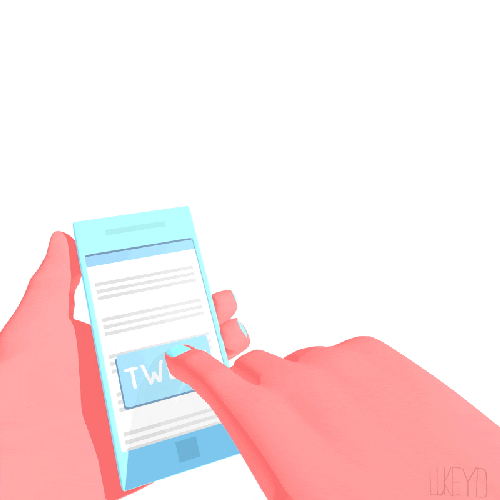 ---
MEASURED THOUGHTS
In an article titled, "The essence of resilient leadership: Business recovery from COVID-19," Deloitte outlines several ways that communicators' mindsets must shift as organizations turn from crisis response to messages of recovery in our "new normal":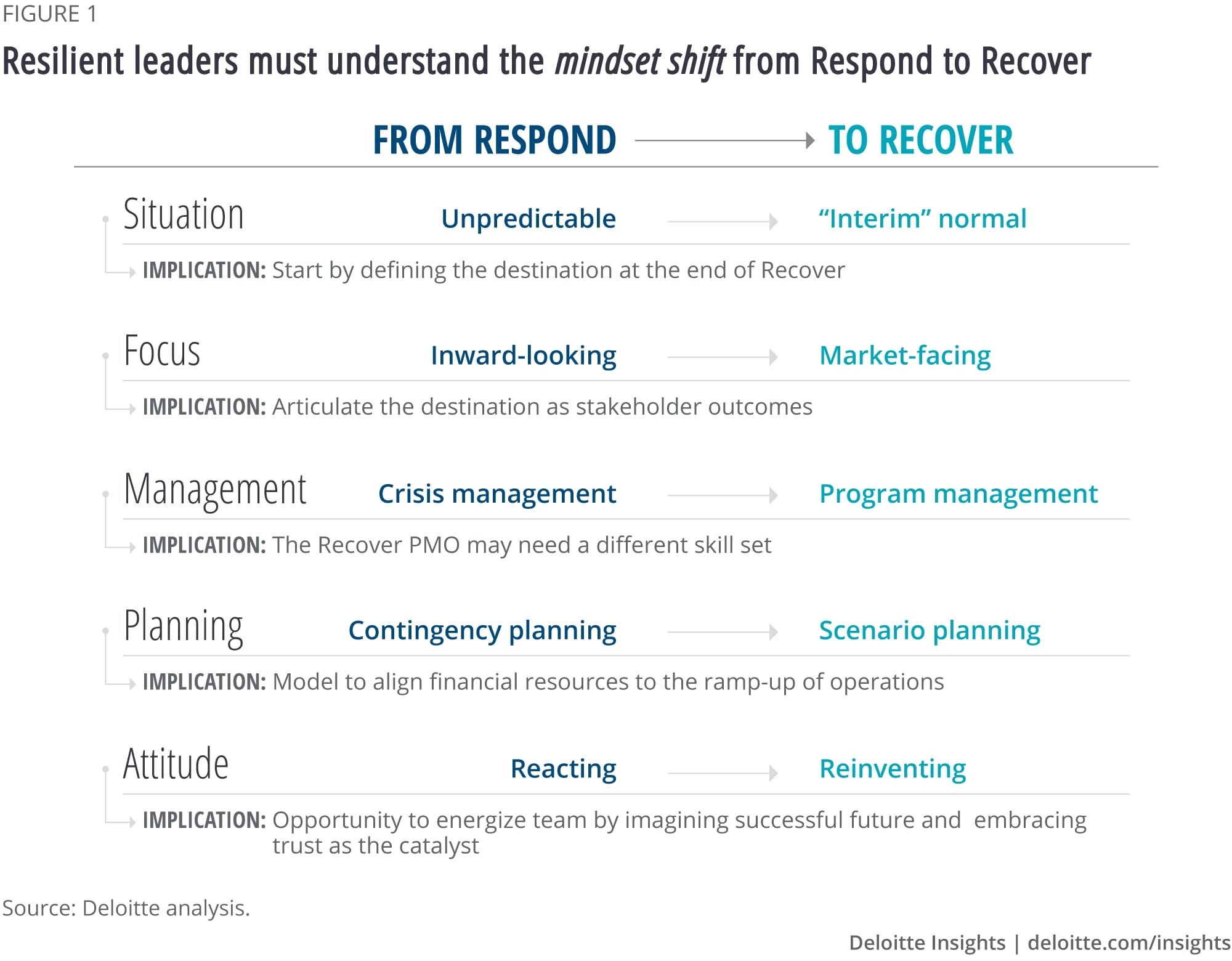 You can help your internal and external audiences adjust their expectations and views with you by understanding the pillars of trust. Deloitte said that by understanding the experience and catering to it—such as by keeping messages transparent and clear—you increase the changes of employees, investors, consumers and other stakeholders coming with you on the road to recovery.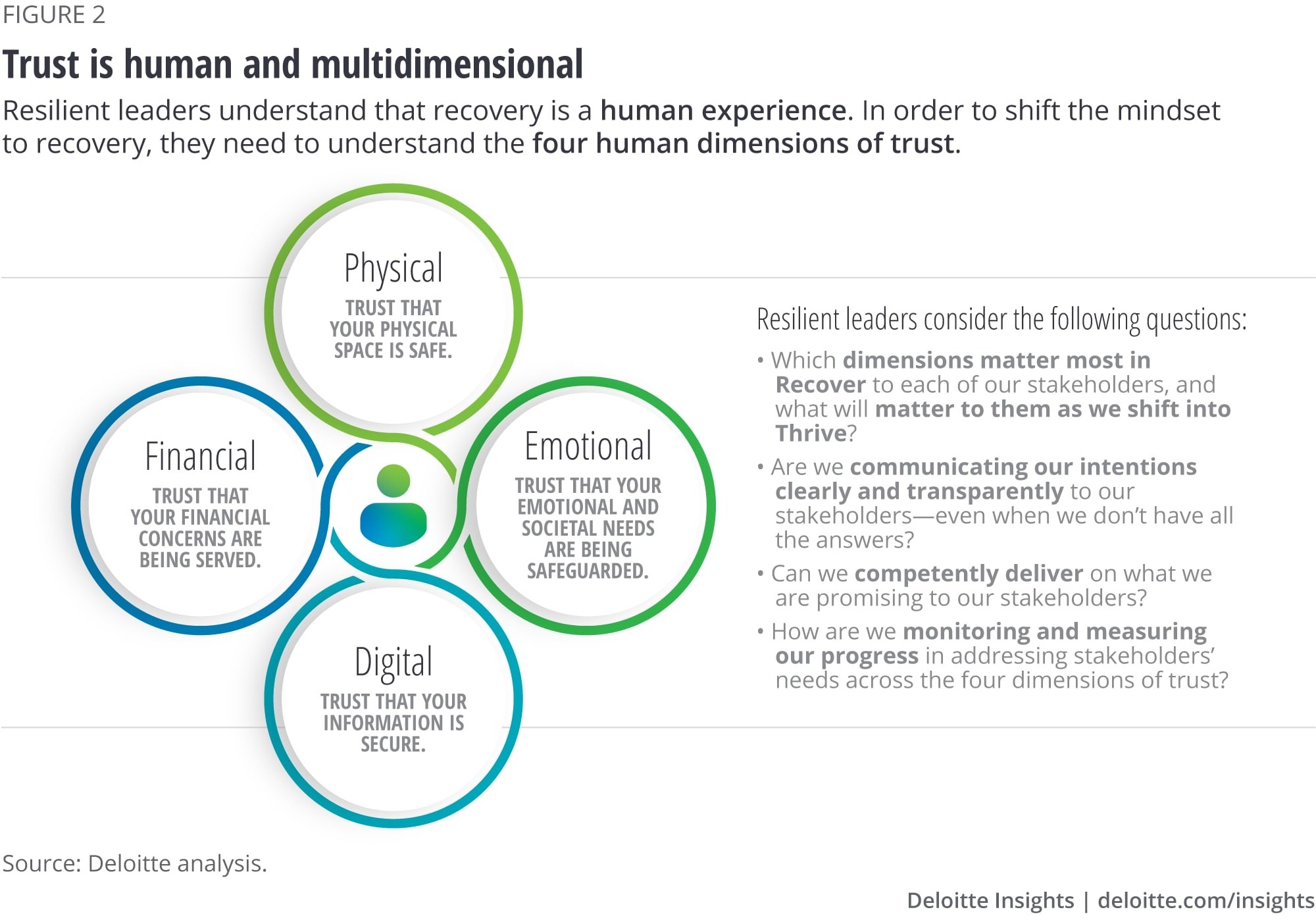 How are you preparing for the "new normal?" Share your thoughts under the #DailyScoop hashtag.
---
CRISIS LEADERSHIP BOARD
Looking for more insight on how to address the current global crisis and lead your organization into a strong recovery?
Join Ragan's Crisis Leadership Board to network and brainstorm with peers, get the latest intelligence and research, and start to strategize for the future of your organization.
Learn more about this exclusive membership here
Disney creates branded face masks
The company debuted non-medical cloth face coverings featuring its Marvel, Disney Princesses, Pixar and "Star Wars" properties. The pre-orders come with a promise to donate all mask profits up to $1 million to Medshare, through Sept. 30. Disney will also donate one million masks for underserved families.
Read more about @shopDisney's new range of cloth face masks and donations to families and communities in the U.S. during this trying time: https://t.co/AvgtUZFHMG pic.twitter.com/s3MCD9vTog

— Disney Parks (@DisneyParks) April 30, 2020
 In a blog post, Disney Parks wrote:
"We realize this is a challenging time for families and wearing any type of mask can be daunting," says Edward Park, senior vice president, Disney store and shopDisney. "Our hope is that Disney's cloth face masks featuring some of our most beloved characters will provide comfort to the families, fans and communities that are so important to us."
Other companies such as Fanatics are selling branded face masks, featuring images such as sports teams logos. Next to product listings and in statements, organizations have said the profits will also go to COVID-19 relief efforts.
Proceeds from Senators-branded face masks to go to Food Banks Canada #ottnews https://t.co/U2UK88HJGs

— CTV Ottawa (@ctvottawa) April 28, 2020
It might seem like a risky marketing move, but fun designs could increase adoption of CDC guidelines and help organizations with CSR efforts.
"Anything we can do to celebrate and destigmatize the wearing of facemasks—either by making them more fashionable or more fun—the more we incentivize and normalize adoption," says Jason Musante, global chief creative officer at Huge, who is currently working with a client on rolling out a line of "fun and fashionable face-coverings." "The more we embrace this new normal, the more lives we'll save."
Top tip: If you're venturing into the branded mask market or creating products in response to the pandemic, make sure your community efforts and partnerships remain front and center. Continue to focus on the employees and consumers you're trying to help, not the potential revenue streams you're testing.
---
SOCIAL BUZZ
Just one day after debuting its new chat rooms, Reddit changed tack and pulled the feature after swift backlash.
"Reddit's users, moderators and communities are at the core of every product decision we make, and our intention in rolling out 'Start Chatting' was to give Redditors a new avenue to connect with each other during these difficult times. Given the issues and concerns expressed by our users and moderators throughout the last 24 hours, we've made the decision to disable Start Chatting so we can reassess our rollout plan and evolve the product to meet the needs of our community."
Though Reddit claimed reaction to early tests of Start Chatting had received positive feedback, the launch appears to have taken many of the site's users by surprise. Soon after it was introduced Wednesday, Reddit moderators flooded the comments of the announcement post with confusion and frustration.
The situation can serve as a reminder to continually test potential changes, offerings and features before committing to them—and listening to dissenting voices during the research and development phases. Doing so might save you from having to suddenly change course on a launch.
---
FREE DOWNLOAD
How is the COVID-19 crisis affecting communicators? What are their top challenges and how are they responding?
Benchmark your efforts by downloading our survey about how the current crisis is making an impact on your colleagues and neighbors. Learn what channels are the most effective, what messages are getting the majority of the focus, and other key insights.
---
WHAT YOU SAID
We asked you how the role of the communicator was involved with your return-to-work plan. Most of you said that communications is an integral part of your efforts.
Are communicators or communications generally an important and valued part of your "return to work" team? Share your thoughts with our hashtag #DailyScoop

— PR Daily (@PRDaily) April 30, 2020
However, almost one-fifth of respondents say they don't have a RTW team. If your organization is in need of leadership on this issue, now is a good time to start advocating for yourself and make the moves your workplace needs to consider.
---
SOUNDING BOARD
 It's the weekend and we want to know what you plan to do with it. Share your thoughts in our Twitter Poll or tweet us @PRDaily with our hashtag #DailyScoop.
It's the weekend. What are your big plans for your Saturday and Sunday? Share your thoughts in our Twitter poll or tweet us using the hashtag #DailyScoop.

— PR Daily (@PRDaily) May 1, 2020
COMMENT
No Responses to "Amazon, Instacart and other essential workers strike, Disney offers branded face masks, and Deloitte shares crisis recovery tips"
Ronald N. Levy

says:

PR wisdom in the strike situation, as Ragan educators doubtless teach in the excellent courses on PR savvy, is to appeal for fairness NOT to rich companies but fairness to the families and others who NEED the food that Amazon, Whole Foods and others supply at prices that are a blessing to the public, especially to the millions of people who are short of money because of the pandemic.

Demanding unlimited time off can be seen as not only punishing the poor but also as making it tough on millions of small businesses that realistically can't afford to give unlimited time off forever.

One key to success in many PR crisis situations is to show WHO is on each side and WHAT the issue is.

The WHO in this case can be presented as consumers and small business employers on one side, and strikers on the other side.

The WHAT—the issue—is as both sides seem to agree whether unlimited time off should be given indefinitely or whether there should be some limit.

Amazon and Target have marvelous PR management but for other companies in the same boat, a common blunder is to argue for what's "fair" to the company. What make this a blunder is that most people have their own troubles and don't give a damn about fairness to the company, especially one headed by an ultra-rich guy with a yacht.

The public cares "what's in this for us" so PR wisdom is to answer clearly: who is on each side, what the issue is and what's in this for the public.

In truth, even if the rich guy sold his yacht, that wouldn't bring in nearly enough money so thousands of employees could have unlimited time off. If stores have to pay some employees for unlimited time off, that could make it necessary for the stores to charge more which would burden many customers.

Also PR can make clear that many employees who keep working may be happy, as many health professionals are, to help the public.