Announcing Ragan's Video, Visual & Virtual Awards finalists
Congratulations to the 2020 finalists!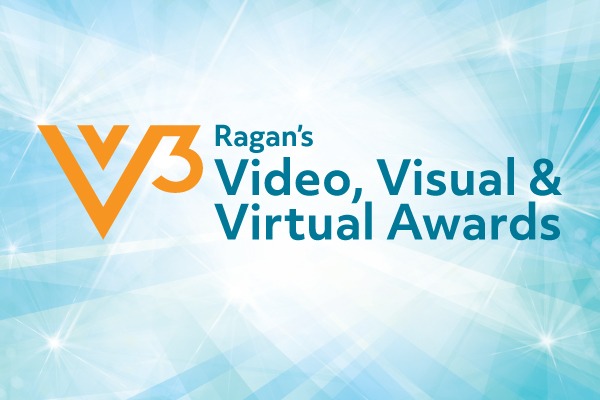 Video, visual design and virtual events are essential to communications success—especially when aiming to engage with busy, largely remote audiences. These visual mediums can help connect with viewers on a uniquely emotional level.
The finalists for Ragan's Video, Visual & Virtual Awards showed they know how to engage busy audiences with captivating visual content and engaging virtual events.
Congratulations to this year's impressive list of finalists. Stay tuned for the winners announcement in March.
Video Categories
COVID-19 Video
#ServiceNowStrong, ServiceNow
COVID-19 Response, Xcel Energy Inc.
Creative Services, Dartmouth-Hitchcock Health
Epi Explains, University of Iowa Health Care
Multimedia Team, Northwell Health
Now's The Time, The Kroger Co.
Overlake Communications/ PR, Overlake Medical Center & Clinics
S&B's Engineers and Constructors Reveals Return-to-Office Video, S&B Engineers and Constructors
Social Justice Video
A Message from our C.E.O., The Kroger Co.
Diversity, Equity & Inclusion Video
Diversity and Inclusion, Southwest Gas Corporation
Diversity & Inclusion, The Kroger Co.
Microsoft Story Labs, Microsoft
Our Strength is Our People, Pacific Northwest National Laboratory/Battelle
Worldwide Sales Enablement, Citrix
Animated Video
Microsoft Story Labs, Microsoft
The World's Most Flexible Cloud Communications Platform / Brand / Creative, Vonage
Worldwide Sales Enablement, Citrix
Augmented or Virtual Reality Video
Experience the Action: Virtual Reality Campaign, G&S Business Communications
Office of Communications and Imaging Technology Center, NASA Glenn Research Center
Educational Video
From Homelessness to Homeownership: S&B's Craft Education and Training Video, S&B Engineers and Constructors
Microsoft Story Labs, Microsoft
Office of Corporate Communications, Defense Intelligence Agency
San Diego Tourism Marketing District, (W)right On Communications
Understanding Inertia Without the Spin, National Renewable Energy Laboratory
Internal Communications Video
#ServiceNowStrong, ServiceNow
Marketing and Communications, University of Iowa Health Care
This Feels Like Home, CCMC
Worldwide Sales Enablement, Citrix
Interview Video
Courageous Conversations, Novant Health
From Homelessness to Homeownership: S&B's Craft Education and Training Video, S&B Engineers and Constructors
JM Rapid Q&A Videos, Johns Manville
Office of Corporate Communications, Defense Intelligence Agency
Nonprofit Video
Madeira Unexpected, The Madeira School
The IDP Rising Schools Program, IDP Foundation
PR Video
1 Billion Meals, The Kroger Co.
From Homelessness to Homeownership: S&B's Craft Education and Training Video, S&B Engineers and Constructors
Moments of Joy, Chispa House and Aflac
Unedited Ride Video Series, Intel-Mobileye
Video Department, Navarro Research and Engineering
Public Service Video
League of Women Voters of the United States & Vanguard Communications, Vanguard Communications
Recruitment or Employer Branding Video
#ServiceNowStrong, ServiceNow
Kroger Brand Manifesto, The Kroger Co.
Shine Like a Ruby, Rubius Therapeutics
Shoestring Video (Under $300)
CF Heroes, CF Industries
Marketing and Communications, University of Iowa Health Care
The Art of Healing: Art Collection of UC Davis Health, UC Davis Health
Social Media Video
#ServiceNowStrong, ServiceNow
With or Without Video, ASTM International
Video Series
Change Stories, The Kroger Co.
Epi Explains, University of Iowa Health Care
My FBI Huntsville Video Series, Federal Bureau of Investigation
Office of Corporate Communications, Defense Intelligence Agency
The New Abnormal, Goodfuse
Unedited Ride Video Series, Intel-Mobileye
UW Medicine-video covid-19 coverage, UW Medicine
Virtual Park Bench Chats, The Trust for Public Land
Virtual Event Categories
Customer Engagement Virtual Event
Advantest Asia Virtual Trade Show, Advantest
Highland Bridge/Ford, Ryan Companies US Inc.
Teacher Appreciation Week, Newsela
Young Living's 2020 Virtual International Grand Convention, Young Living Essential Oils
Employee Engagement Virtual Event
#ServiceNowStrong, ServiceNow
MAKING A BIG BANG THROUGH A SMALL SCREEN, Hotwire
Our "Hanging With" Sessions – Casual Quickness for Critical Business, Superior Essex Communications
US Team Meeting June 2020, ReSource Pro
Virtual Presentation
#ServiceNowStrong, ServiceNow
"Our New Normal" Webinar, Superior Essex Communications
US Team Meeting June 2020, ReSource Pro
Virtual Heroes Ball, Oklahoma Institute for Child Advocacy
Visual Storytelling
ESPN Images, ESPN
Lee Weissman, Northwell Health
Microsoft Story Labs, Microsoft
MSU Denver RED, Metropolitan State University of Denver
NVTA 2019 Annual Report, Northern Virginia Transportation Authority
Office of Corporate Communications, Defense Intelligence Agency
"Thank Cable" Social Media GIF Campaign, Superior Essex Communications
Visual Design Inspires Employees to Dive into the Fight Against Cancer, SPI Group
Wilson Awards 2020, CF Industries
Grand Prize Categories
Best Overall Video
Employee Comms, Talent Brand & Marketing Team, ServiceNow
Now's The Time, The Kroger Co.
Unedited Ride Video Series, Intel-Mobileye
Video Team of the Year
Aerospace Video Production Center Team, The Aerospace Corporation
Kroger Studios, The Kroger Co.
Office of Corporate Communications, Defense Intelligence Agency
Virtual Event of the Year
2020 Corporate Awards, The Aerospace Corporation
CXO Series – By ABM Team, Fujitsu Americas Inc
MAKING A BIG BANG THROUGH A SMALL SCREEN, Hotwire
COMMENT