Ben & Jerrys, Eddie Bauer join Facebook boycott, Google employees urge company to stop selling to police, and GNC might close 1,200 locations
Also: Google reveals rising search trends for small business support, a social media manager's relatable frustration over current crises, WFH risks to avoid, and more.
Hello, communicators:
Nikki Sunstrum, director of social media and public engagement for the office of the vice president for communications at the University of Michigan, recently tweeted a relatable moment of frustration for social media managers amid current crises:
Welcome to Social Media in 2020.
Each new day, a new crisis.
And if you're lucky, you get two in one.

p.s. Yes, I'm still working…aren't you? pic.twitter.com/bGfSgZ7mPp

— Nikki Sunstrum 〽️ (@nikkisunstrum) June 23, 2020
How are you handling the increased pressure brought by COVID-19, social justice protests and more? Share with us your thoughts under the #DailyScoop hashtag.
Here are today's top stories:
Ben & Jerry's, Eddie Bauer and more join Facebook boycott
In a statement posted to its website, Ben & Jerry's wrote:
Ben & Jerry's stands with our friends at the NAACP and Color of Change, the ADL, and all those calling for Facebook to take stronger action to stop its platforms from being used to divide our nation, suppress voters, foment and fan the flames of racism and violence, and undermine our democracy.

As of July 1st we will pause all paid advertising on Facebook and Instagram in the United States as part of the #StopHateForProfit campaign. We call on Facebook, Inc. to take the clear and unequivocal actions called for by the campaign to stop its platform from being used to spread and amplify racism and hate.
We will pause all paid advertising on Facebook and Instagram in the US in support of the #StopHateForProfit campaign. Facebook, Inc. must take the clear and unequivocal actions to stop its platform from being used to spread and amplify racism and hate. >>>https://t.co/7OpxtcbDGg pic.twitter.com/I989Uk9V3h

— Ben & Jerry's (@benandjerrys) June 23, 2020
Eddie Bauer, Magnolia Pictures and clothing brand Arc'teryx also joined the boycott:
In support of the #StopHateForProfit initiative, Eddie Bauer will suspend all paid ads on Facebook and Instagram through the end of July, effective immediately.
Learn more here: https://t.co/0oMnahL1Mh

— Eddie Bauer (@eddiebauer) June 24, 2020
In solidarity with the #StopHateForProfit movement, Magnolia Pictures has chosen to stop advertising on Facebook and Instagram, starting immediately, through at least the end of July. We are seeking meaningful change at Facebook and the end to their amplification of hate speech.

— Magnolia Pictures (@MagnoliaPics) June 23, 2020
We need a break @facebook. Effective immediately, we will be halting our global advertising with @Facebook & @Instagram until at least the end of July in support of the #stophateforprofit campaign & donating those dollars towards building more inclusive outdoors.

— Arc'teryx (@Arcteryx) June 23, 2020
Marketing and advertising agencies are also jumping on the bandwagon, with some urging their cliients to pause their Facebook ads in July and issue statements that support the iniative.
The Wall Street Journal reported:
360i, whose clients include spice maker McCormick & Co., Discover Financial Services and consumer-goods giant Unilever PLC, "believes any social platform that earns profits by amplifying the voices of their community must have a zero tolerance policy for hate," according to the email, which was seen by The Wall Street Journal.

"It is no longer enough to be on a path to addressing this or merely celebrating the considerable gains made over the last year or so," said the email, which didn't mention Facebook by name but linked to a recent Journal story about the civil-rights groups' call to boycott Facebook. "Therefore, we support #StopHateforProfit and its July call to action."
Facebook has responded to reporters and marketing partners by highlighting its focus in removing hate speech and misinformation on the platform, especially as the United States presidential election nears.
Carolyn Everson, Facebook's vice president for global marketing solutions, said in a statement that the company was in discussions with advertisers and civil rights groups "about how, together, we can be a force for good."

"We deeply respect any brand's decision, and remain focused on the important work of removing hate speech and providing critical voting information," she said in the statement.
Why it matters: Whether or not you take part in the #StopHateForProfit initiative, consumers are increasingly looking to organizations to be involved (and even take the lead) in social justice efforts. Brainstorm ways you can move beyond corporate social responsibility or merely donating to organizations you want to support, instead finding ways to speak out and make a difference through partnerships and more.
---
SOCIAL BUZZ
Google published an overview in search trends for International Small Business Week that highlights the growing trends of people launching their own organizations as well as consumers looking to support smaller brands.
📈 This week in Search: People everywhere are asking "how to start a business" in record numbers. This International Small Business Week, take the first step—or learn how to help a small business near you → https://t.co/aA6HOBt8I2. #supportsmallbusiness pic.twitter.com/qk7b1HHXNb

— Google (@Google) June 22, 2020
Google reported that a top search within the past month has been for Black-owned businesses in consumers' communities:
People are searching for ways to support their communities. "Black owned businesses near me" was the top business-related search over the past 30 days. Learn more → https://t.co/zwQ3xeRX6h pic.twitter.com/xf4D6ELnj0

— Google (@Google) June 22, 2020
People are also searching overall to patronize local organizations, with search traffic doubling around the world over the past three months:
Searches for "support local" have doubled worldwide over the last 90 days. In the U.S., UK, and Canada, search "support local businesses" and scroll to see a list of businesses in your area that are accepting donations or offering gift cards → https://t.co/3i8MZPEg9P pic.twitter.com/lO2ZfK2AYw

— Google (@Google) June 22, 2020
You can take advantage of these searches through the resources shared by several social media platforms, including Instagram's COVID-19 resource directory, Facebook's small business resilience toolkit, Google's small business COVID-19 resources, Snap's COVID-19 business resource center, LinkedIn's COVID-19 resources and more.
---
MEASURED THOUGHTS
UK-based IT company Computers in the City recently created an infographic outlining the benefits and risks of remote workforces, as employees across organizations continue to adjust to the "new normal."
On the plus side, working from home boosts a majority of remote employees' moods, with 82% reporting lower stress levels and 77% saying that working from home has boosted their overall health and wellness. (It's important to note that these statistics are from overall work-from-home reports and don't necessarily take into account stressors from COVID-19 and social justice protests.)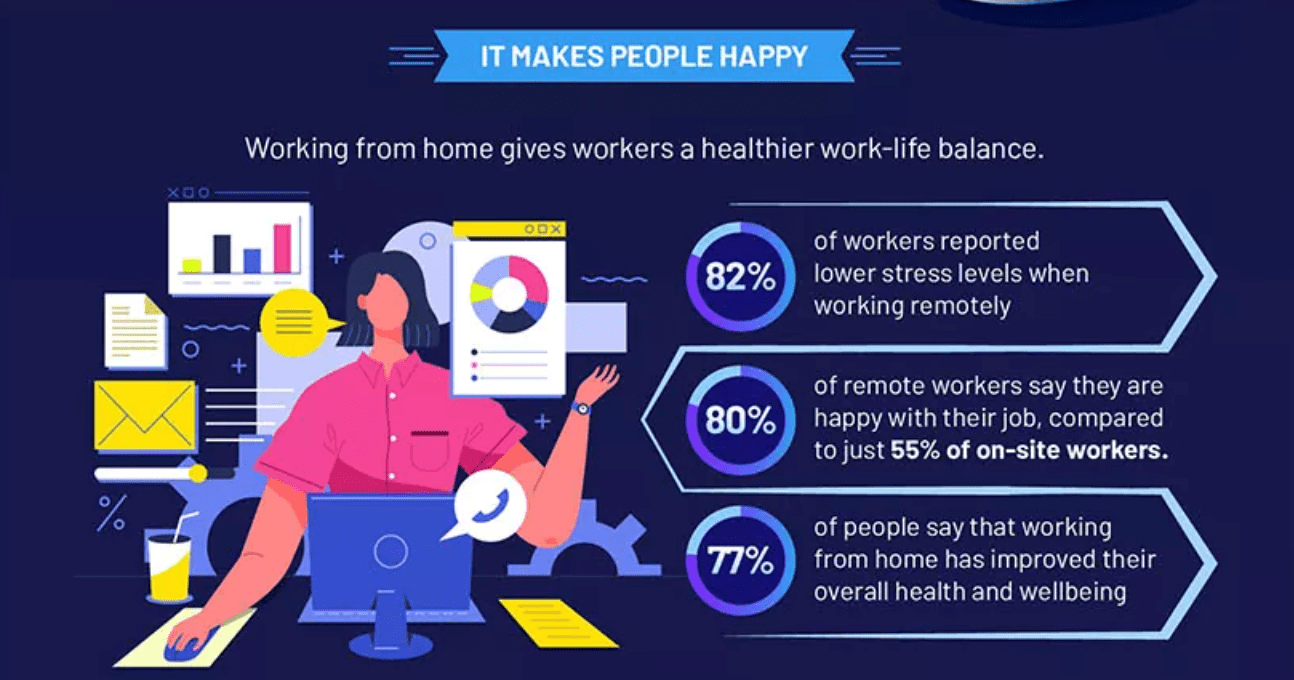 Image courtesy of Computers in the City.
 As organizations extend their remote workforce plans—or embrace it permanently, as Twitter did—communicators should focus on helping employees with cybersecurity best practices as well as offering wellness resources.
These tips and reminders can serve as a start: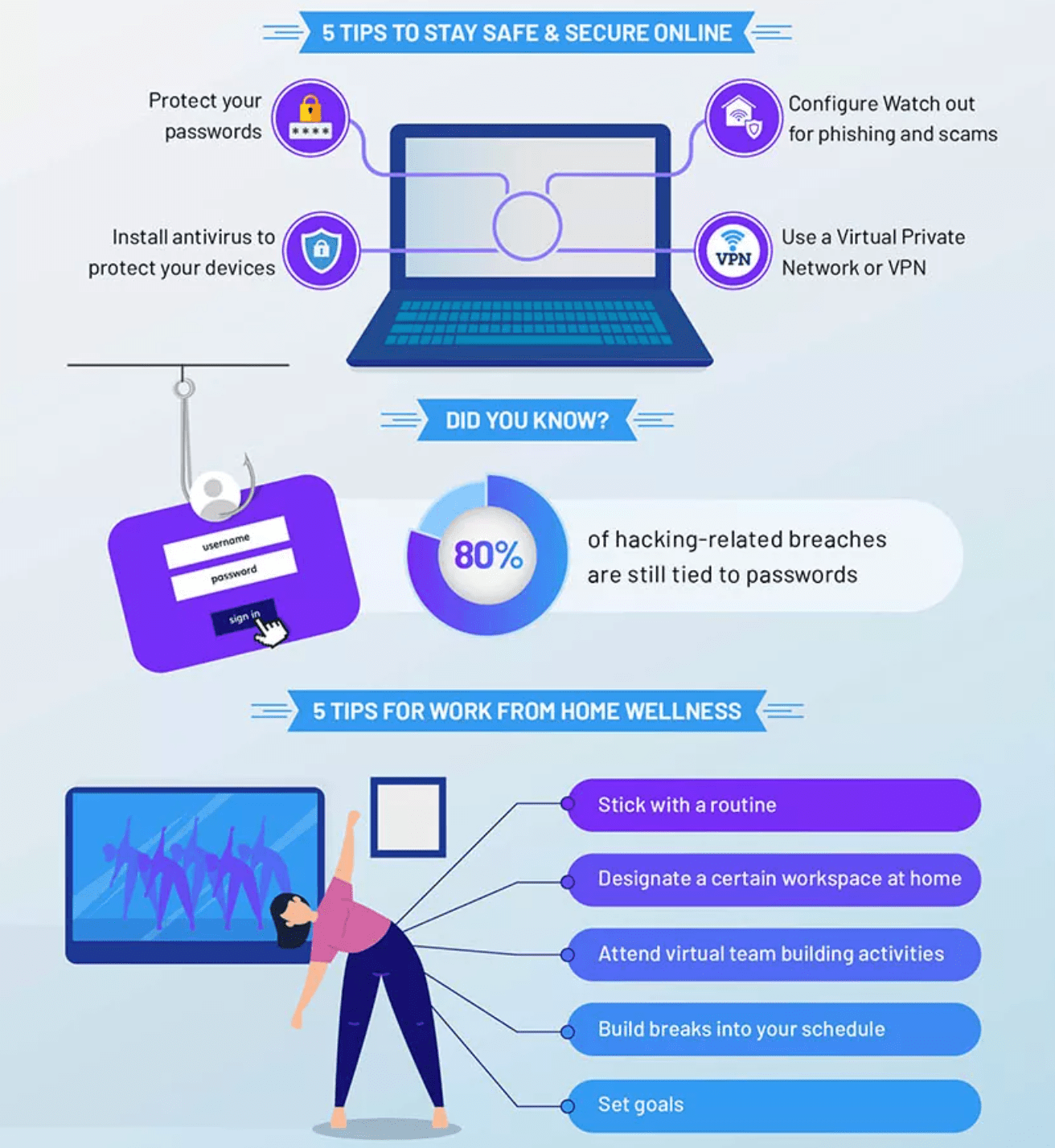 Image courtesy of Computers in the City.  
You can view the entire infographic here.
---
CRISIS LEADERSHIP BOARD
Looking for more insight on how to address the current global crisis and lead your organization into a strong recovery?
Join Ragan's Crisis Leadership Board to network and brainstorm with peers, get the latest intelligence, and research and start to strategize for the future of your organization.
Learn more about this exclusive membership here.
Google employees urge company to stop working with police
More than 1,600 of the search giant's employees sent a signed letter to Google's chief executive, Sundar Pichai, urging him to stop selling its products to law enforcement organizations as a way to stand against police brutality and support racial justice.
"We have a long way to go to address the full legacy of racism but to begin with — we should not be in the business of profiting from racist policing," the Google employees' letter said.

After the letter was published, Google released a statement that said the company wouldn't agree to its demands. "We have longstanding terms of use for generally available computing platforms like Gmail, G Suite and Google Cloud Platform, and these products will remain available for governments and local authorities, including police departments, to use," a spokeswoman said in an email.
Google also said it has received more than 500 suggestions from its workforce on how it can move forward with meaningful initiatives, which the company said it's reviewing.
Why it's important: As your employees respond to the Black Lives Matter protests and seek to support both social justice initiatives and your organization's diversity and inclusion efforts, communicators should find ways to hold meaningful conversations and foster corporate cultures where employees feel both supported and connected to your organization's values.
---
RESEARCH SNAPSHOT
The COVID-19 crisis has drastically changed the landscape for communicators and PR pros. More than ever before, communicators must gain key skill sets and employ strategic communications and media relations strategies to boost their organizations' coverage, reputation and overall brand.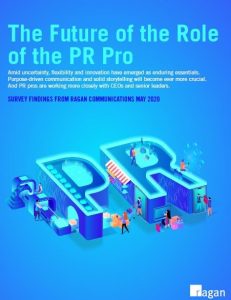 Learn what the 315 communicators we surveyed say about what parts of the PR function are more important than ever, how to adjust for COVID-19, and more with our free report revealing insights that can help you persevere during this uncertain time.
Download your copy of the report here.
---
TACTICALLY SPEAKING
GNC Holdings, Inc. recently filed for Chapter 11 bankruptcy protection and announced it would close the doors on 800-1,200 of its GNC locations.
The Pittsburgh-based chain, which had approximately 5,200 retail locations in the U.S. and 7,300 locations globally as of March 31, said the COVID-19 pandemic accelerated the need to file for bankruptcy protection after being under "financial pressure for the past several years."

"The COVID-19 pandemic created a situation where we were unable to accomplish our refinancing and the abrupt change in the operating environment had a dramatic negative impact on our business," the retailer said in frequently asked questions about the decision.
As the COVID-19 crisis continues, organizations across industries are grappling to make necessary changes to stay afloat, especially as organizations both large and small announce layoffs and store closures.
Finding ways to supplement your offerings with virtual alternatives or digital-first outreach (such as e-commerce for retailers and online ordering for those in the restaurant and grocery industries) can help you both now and in the future, as consumer behaviors continue to shift.
---
WHAT YOU SAID
We asked where you had the most difficulty in measuring your efforts, and more than 58% of you said setting KPIs that matter to your campaigns and prove ROI remains the biggest challenge.
Nearly 17% said using data and numbers to plan is a hurdle, and more than 12% struggle with measuring on a budget (with 12% grappling with understanding what the data say to produce effective reports).
What's the most difficult part of measurement efforts, PR and communications pros?

Share with us your challenges as your measure your campaigns and initiatives under #DailyScoop

— PR Daily (@PRDaily) June 23, 2020
Marketing agency Rise said that even with the right tools, measurement isn't the challenge. Instead, it's defining what success means before your evaluate your efforts:
When you have access to the right tools, measuring isn't the biggest challenge. Rather defining success upfront, making sense of data, cross-functional integration, & taking leadership on this journey (it often requires a new way of thinking) is often the bigger task. #DailyScoop

— RISE- (@RiseThrough) June 23, 2020
---
SOUNDING BOARD
As Black Lives Matter protests continue and consumers push organizations to take a stand for racial justice as well as make meaningful change, is your organization adopting social justice initiatives or teams, outside of general community and CSR efforts?
With continued protests to support the Black Lives Matter movement and consumers urging brands to take a stand, are you starting to adopt social justice initiatives outside of CSR and overall community efforts?

Weigh in below and share your thoughts under #DailyScoop.

— PR Daily (@PRDaily) June 24, 2020
Share your thoughts  below and on Twitter, under the hashtag #DailyScoop.
COMMENT
One Response to "Ben & Jerrys, Eddie Bauer join Facebook boycott, Google employees urge company to stop selling to police, and GNC might close 1,200 locations"
Ronald N. Levy

says:

Is PR Daily going to post the pro-Facebook side? I'm not saying who is right or wrong, I'm asking whether PR Daily is going to post both sides or only one side.

Ronald N. Levy

says:

In fairness, PR Daily may have TRIED to tell the pro-Facebook side by quoting a Facebook VP. But the part of her statement quoted says little more than "they can say what they want about Facebook but we're not guilty."

I suspect that the Facebook statement may also have said that critics of Facebook ARE guilty because neither Facebook nor any other carrier of information in our land of the free should censor truthful information that Americans want to communicate.

Can you imagine if our phone companies had delayed transmission plus AI so that some things we want to say don't get communicated?

TV broadcasters have a way of bleeping out filthy language, but Facebook isn't accused off transmitting filth. Facebook is accused of helping to effectuate American freedom of speech.

If the Facebook statement pointed out this reality but took too many words, PR Daily could at least supply a link to the whole Facebook statement.

If the Facebook statement did NOT point out this reality, you can understand why people who worked for me implored: "Ron, you should never call a major client a schmuck!"