Celebrating the women who are revolutionizing marketing today
In support of the women shattering glass ceilings and creating opportunities for those following in their footsteps, Ragan has launched the PR Daily Top Women in Marketing Awards.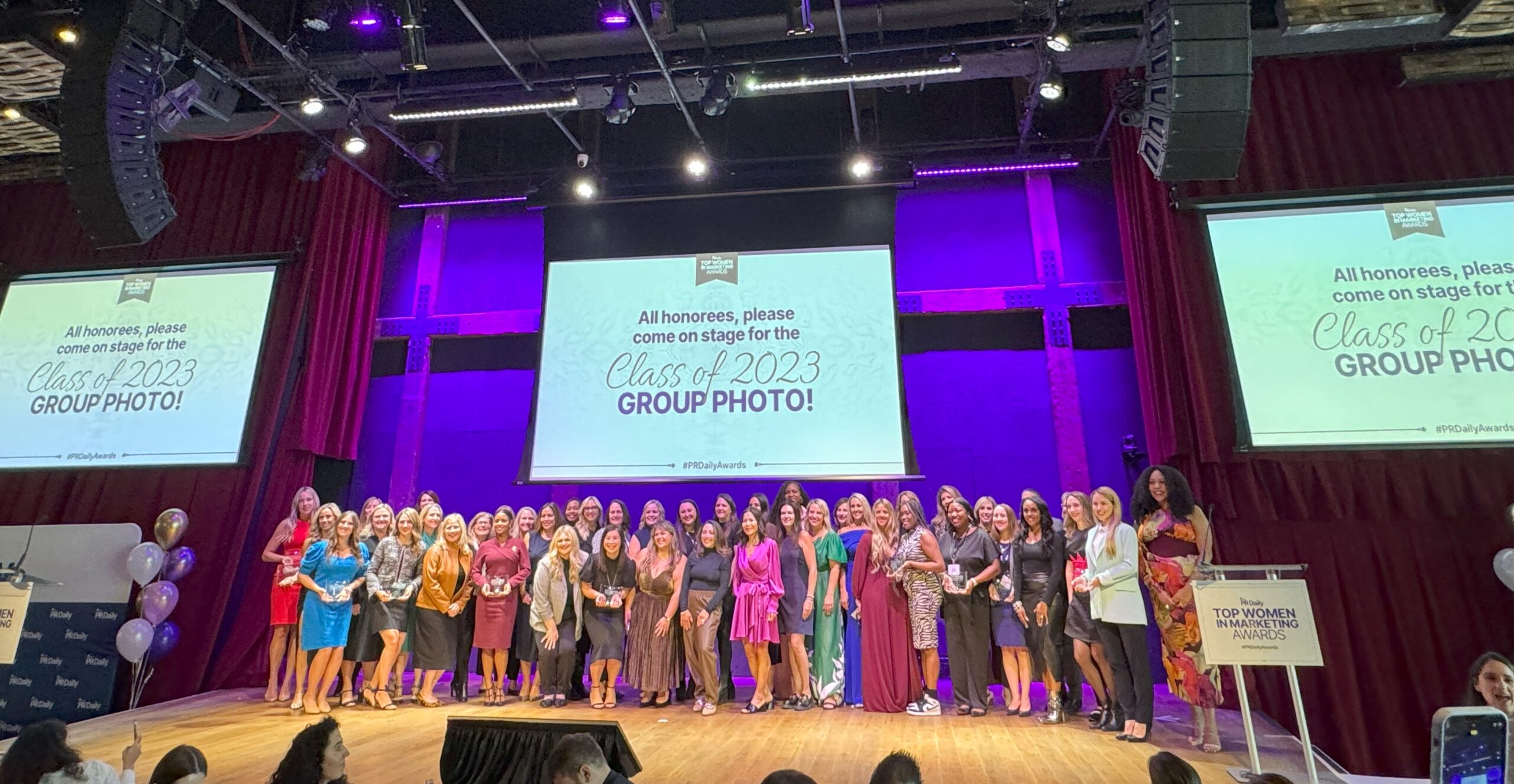 You don't have to look far to recognize the cultural impact and change women are leading in 2023. Women supporting women-led artists like Taylor Swift and Beyoncé are uplifting entire cities' economies. The "Barbie" movie has become the highest-grossing film of 2023, as well as the highest-grossing film by a female director of all time, in part fueled by the vast, powerful and relatable marketing campaign that accompanied it.
Women have also faced numerous challenges in the marketing industry this year, especially when striving to rise to the top. Global data provided by LinkedIn shows women account for nearly 42% of the workforce in 2023, yet the share of women in senior leadership positions is at just over 32%, and only 25% in the C-suite. In Ragan's most recent Salary and Workplace Culture Survey, the average base salary of women is $109,148, which is $9,136 less than their male counterparts. While this is progress over the past, it's clear that there is still much work to be done to break through barriers and biases that women often encounter.
To support the women who are shattering glass ceilings, leveling playing fields and creating opportunities for those following in their footsteps Ragan has launched the PR Daily Top Women in Marketing Awards. These honorees have impacted the performance, reach and awareness of their organizations and inspired those in their professional circles. They work tirelessly to advance the profession while empowering their teams to do their best work and accelerating growth for their organizations.
Judges selected nearly 100 women in nine categories including Agency Leaders, Social Media Marketers and Data/Analytics Leaders to develop a premier list of women leaders who were honored at an in-person event at New York City's City Winery on Oct. 26.
Congratulations to all of the honorees of our inaugural Top Women in Marketing awards. Let us all continue to support their great efforts in being leaders and their great efforts in moving the industry forward.
Read about just a few of the impressive professionals who made this year's list:
Alana Visconti
Marking and Communications Director, Publishing and Distribution Strategy, Nasdaq
Alana Visconti embraces change and fuels innovation in marketing. Although she was recently promoted to her marketing and communications role, Visconti spent two years leading Nasdaq's social media strategy. In just her first year, she expanded content production by 64%, creating more than 4,300 posts that reached 2 billion users. She positioned Nasdaq as a Web3 trailblazer by holding Nasdaq's historic bell ceremony in the Metaverse, and by leading the launch of an NFT collection, aligned with the tech conference Silicon Slopes 2022. Today she continues to focus on advancing Nasdaq's partnerships, strategically exploring emerging trends like AI and leading social content with a purpose, all while seeking opportunities to advance ESG initiatives.
Leadership Advice from Visconti: "Dream big! Seek opportunities that are aligned with you and help to support your dreams. Commit to never stop learning and evolving. Always look for ways to take projects, work streams, or roles to a new level."
Alejandra Caceres
Director of Social Media, Crumbl Cookies
Under Alejandra Caceres' leadership, Crumbl Cookies' social media presence has flourished, boosting brand perception, awareness, partnership excitement and, of course, cookie sales. In just six months, her work led to the brand amassing 3.2 million new followers across 14 social media accounts on nine platforms. Also in that time, she spearheaded more than 15 successful social media campaigns, focusing on alignment with target demographics and team collaboration. Caceras' approach focuses on tailoring content to specific platforms, ensuring that the brand's content meets consumers where they are, speaks their language and reflects their preferences for engaging with brand accounts.
Lindsay Morgan
Chief Marketing Officer, Pizza Hut U.S.
In a bid to revitalize Pizza Hut's image and brand in the U.S., 15-year marketing veteran Lindsay Morgan launched a 360-degree marketing campaign that included messaging aimed at younger audiences, contemporary packaging, new food photography and a push into a new category with the introduction of "Melts," a folded pizza product intended for a single customer. The new product was accompanied by advertising and social media content focused on empowering the individual: Customers were invited to "go solo" and embrace the "World of Me." The campaign generated more than two billion media impressions across publications, including the websites for Business Insider, CNN, the New York Post and more, and it helped drive a 5% systemwide sales increase for Q4 of 2022.
Maya Wasserman
Head of Marketing and Director of Marketing Communication, Home Entertainment and Sound, Sony Electronics
With more than 12 years at Sony Electronics, Maya Wasserman is no stranger to launching new products, creative storytelling and digital marketing, but her recent work on the launch of LinkBuds headphones and gaming gear brand INZONE shines for its forward-thinking approach and exploration of new channels. For LinkBuds in particular, she developed a mobile-first campaign that spanned social media and the metaverse and incorporated an augmented reality unboxing experience, as well as partnerships with more than 100 influencers, and rising artist Lucky Daye, who worked with the brand to develop an NFT unlocking prizes and real-life experiences. As a result of her work Sony TIME Magazine's Best Invention of the Year for LinkBuds and a Washington Post Feature surrounding INZONE.
Leadership Advice from Wasserman: "Lead with authenticity and lean into your strengths. Find your own leadership style that works. Also, allow your team to fail and foster an environment of curiosity. Build a culture of 'test and try' and let them know it is okay to take calculated risks, and fail, as long as there are learnings from your failures."
Vanessa Mbonu
Vice President of Digital Marketing and Communications, NAACP
At just 28 years old, Vanessa Mbonu has emerged as a leader at the NAACP and a model for other women in marketing. Born in Lagos, Nigeria, before emigrating to Maryland, Mbonu is an advocate for equity and seeks to uplift women's voices in her impactful work. She co-produced "UNPCKD," a virtual event series created in partnership with The Webby Awards that addresses critical issues facing communities of color in online spaces and aims to create a more inclusive internet. Her team's digital marketing strategy expanded viewership of the NAACP annual Image Awards by more than 70% year over year and increased individual donor contributions. Her work has also resulted in an increase in email list subscribers of more than 30%.
Leadership advice from Vanessa: "Nobody knows exactly how to win 100% of the time. But the few people who have mastered the art of failing fast and pivoting graciously typically end up being the most successful."
Abby Nelson
Senior Marketing and Communications Specialist, Ascension
Ascension, a prominent non-profit and Catholic health system operating across 19 states with 2,600 care sites, is fortunate to have Abby Nelson on its team. Since her arrival in 2019, Nelson swiftly ascended to a role of immense responsibility as senior marketing and communications specialist. She masterminds marketing strategies for crucial lines of business, such as heart and vascular, brain and spine, orthopedics, sports medicine, and oncology. Nelson's contributions include the creation of Ascension's first-ever integrated oncology campaign. Titled "With a plan, comes hope," this campaign personalized the cancer care journey and highlighted Ascension's patient-centered approach. It not only aligned with recovery metrics but by December 2022, the campaign garnered 145 million impressions, resulting in more than 8,000 patient engagements. Furthermore, Nelson's expertise extends to cardiovascular care, where she's spearheaded a comprehensive campaign spanning TV, online video, and paid search. Her campaigns consistently target high-risk patients and contribute significantly to Ascension's $28 billion healthcare brand. Her skillful execution, innovative strategies, and patient-centric focus make Nelson a standout figure in the world of healthcare marketing.
Adrienne Cadena
CEO, Havas Street
Adrienne Cadena's two-decade tenure has driven Havas Street's growth and reputation. Appointed CEO in 2023, she leads diverse capabilities from large-scale events to sampling campaigns. In 2022, as president, Cadena excelled in creative development and led activations for brands such as Nike, PepsiCo, JPMorgan Chase and LEGO. Notable projects include Merrell's "More Less" wellness pop-up and a multi-sensory lounge for Norwegian Cruise Line, reaching 18,000 attendees and generating 25,000 social media impressions. The "Welcoming Spirit" campaign for Jim Beam welcomed 70,000 guests at 51 events. Beyond campaigns, Cadena champions diversity and inclusion and has innovative projects in the pipeline. She's a force outside the office, launching "Run the World Athletics" to empower girls and contributes to The Center for PR. With her strategic leadership and passion, Cadena continues to shape Havas Street's success in creating meaningful brand experiences.
Kelly Higgins
CMO, Doremus+Co
Under Kelly Higgins' leadership, Doremus+Co thrives, successfully attracting companies facing transformative change, gaining 10 new clients in the last year, including Meta, AMD and J&J. She spearheaded a successful agency rebrand with a playful visual identity, a new website, and the tagline "Good Company for Complex Brands" while her strategic ads during Advertising Week in Manhattan reinforced Doremus+Co as "Your B2B BFF." She values empathy in business and focuses on the right opportunities, reducing team stress by focusing on the best prospects best for the company. Higgins ensured Doremus+Co's presence in a vital Interbrand partnership, contributing to a sector report highlighting B2B brand growth. She was also instrumental in getting Doremus+Co President and Chief Creative Officer Paul Hirsch picked for the prestigious role of Jury President for the first-ever B2B Creative Lions award category at the Cannes Lions International Festival of Creativity in 2022. She then made sure he was quoted widely on the creativity and momentum B2B brands are showing around the world. With her B2C approach, Doremus+Co has earned industry accolades, cementing Higgins as a top woman in marketing.
Leadership Advice from Higgins: "It's a real honor to be recognized as a Top Woman in Marketing. This is a tough industry, often made tougher as a woman. But with the right mix of grit, ingenuity and self-confidence, you'd be amazed at what you can accomplish. It's been a privilege to build my career working with incredibly talented people to help solve big client challenges. And with all the changes on the horizon — in culture, in tech, in my life — I'm excited to continue this journey."
Rachel Barek
CEO and co-founder, Said Differently
Rachel Barek of Said Differently has taken an innovative approach to her agency model. After departing from a major marketing firm, Barek expanded Said Differently's freelance network to 3,000 professionals within a year. She introduced a dynamic approach, focusing on shorter, better-matched talent placements, enhancing client satisfaction. Said Differently's collaboration with Neiman Marcus led to a remarkable mobile app transformation, improving its rating from 2.5 to 4.5 stars in six months. Due to its success, Falfurrias Capital Partners made a significant investment in Said Differently in September 2022, underscoring the agency's groundbreaking model. As an openly LGBTQ+ CEO, Barek actively mentors emerging leaders and advocates for reshaping the agency landscape to serve talent better and yield superior results. Her trailblazing spirit and industry impact make her a standout figure in marketing.
Leadership Advice from Barek: "For way too long, agency-side talent has been working within a model that was designed by boomer men. This antiquated design dictated their options for work-life balance. Said Differently's distributed model is all about trusting and empowering our talent to choose their relationship to work. That means working when they want, the way they want, where they want and on the types of projects that give them the greatest professional satisfaction. Our flexible model is great for women, who over-index as working parents and caregivers. It turns out that when you empower talent to be their best, it's a win-win for both the talent and the client 100% of the time."
Sue Burkett
Strategic Marketing Leader, Owens Corning
With more than 40 years of experience in the building materials industry, Sue Burkett's remarkable achievements go beyond qualifications. She's championed female consumers' voices in roofing choices, recognizing their unique preferences. Burkett reshaped the roofing industry by introducing vibrant shingle formulations like Merlot and Aged Copper, appealing to women's design sensibilities. She created the Shingle Color of the Year, with 2023's Midnight Plum as the market's sole purple shingle, lauded by homeowners and contractors alike. Under her leadership, Owens Corning Roofing has earned the Women's Choice Award for six consecutive years, signifying it as America's Most Recommended roofing products. Burkett's strategies in a male-dominated industry have revolutionized the roofing conversation, bridging the gap between roofing and design for women. Her dedication and transformative marketing strategies make her a standout in the field.
Check out all the Top Women in Marketing Profiles.
COMMENT
Tags: awards, Top Women in Marketing