Cisco, Maxwell PR, Alibaba Group lead the way among Digital Marketing Awards winners
Dozens of outstanding companies and agencies earn accolades as the best of the best in online audience engagement, consumer awareness and a host of other specialized categories in PR Daily's recent awards program.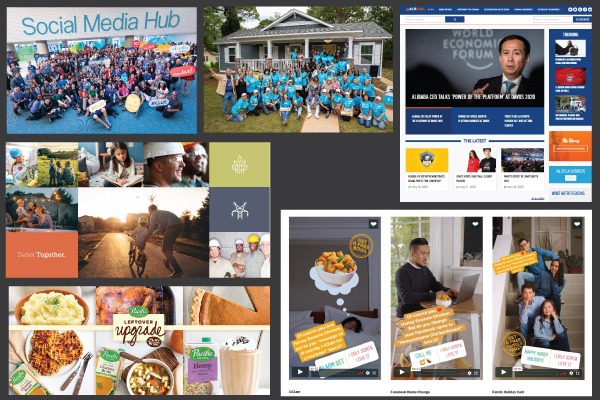 Digital marketing comes in many shapes and sizes, as evidenced by the array of victorious campaigns in PR Daily's 2020 Digital Marketing & Social Media Awards.
From repurposing Thanksgiving leftovers to building homes from scratch, from addressing children's health issues to celebrating older people's enduring vitality, communicators stretched their creative muscles to develop memorable brand experiences for their respective audiences.
Some companies and agencies stood out from an already exemplary pack, as multiple category winners or as Grand Prize honorees.
A few further distinguished themselves with Grand Prizes and multiple wins: Alibaba Group, Cisco and Maxwell PR all pulled off that accomplishment—with Cisco earning two Grand Prize designations.
Cisco shone for its digital and social media efforts, including a tweet and retweet storm around its Cisco Live event, its @WeAreCisco feed, livestreaming and staff-focused videos, and the Life at Cisco blog—every post bylined by an employee, which had its best year ever in 2019 in terms of visits and pageviews.
Maxwell PR put people first in representing its food-focused clients. In promoting Pacific Foods, it created Leftover Upgrade, offering recipes centered around the company's signature pantry staples and the abundance of leftovers from the yearly food fest, Thanksgiving. Speaking of yearly events, the 90th birthday of Bob's Red Mill founder Bob Moore inspired the "Portraits of Longevity" campaign, celebrating elders who are still feeling their oats. Hundreds of inspiring stories poured forth, elevating the brand as a healthful component of a long, active life.
Alibaba Group's digital team had a prodigious year: Its Twitter following has mushroomed from 3,000 to 164,000, and business is bustling on LinkedIn (776,000+ followers), Facebook (305,000+ followers), YouTube (96,000+ subscribers) and Instagram (86,000 followers). Meanwhile, sessions on Alizila, the company's corporate news site, nearly tripled to 3.3 million and pageviews increased 114% to 4.4 million year over year.
Panda Restaurant Group with Havas Formula and Tri-State Generation and Transmission also won Grand Prize honors. Here's how.
Panda Express' honey sesame chicken breast, one of the brand's top-performing limited-time offers and most-requested dishes, was the centerpiece of its highly successful "Brought to You by You" campaign.
Tri-State, an electricity provider, created more than 350 print ads, 120 versions of broadcast commercials for TV and the web, more than 40 radio spots, and 39 custom, location-specific landing pages for 39 of its co-op members. Its 12-week digital marketing campaign also included editorials, earned media coverage, community outreach events and sponsorships.
Other multiple winners
Porter Novelli won for Influencer Campaign (on behalf of Habitat for Humanity); Facebook (on behalf of Panasonic) in a solar panels campaign; and Instagram Campaign and Video Campaign (both on behalf of the Centers for Disease Control and Prevention's National Center for Immunization and Respiratory Diseases). Those last tandem efforts targeted the rampant disinformation about vaccines, including Q&A sessions to inform parents and dispel myths.
Clearly, even pre-coronavirus, health concerns were top of mind for marketers and consumers alike.
Children's Health won kudos for Content Marketing Campaign, Email Newsletter and Website. Overall, it provided extensive resources for anxious parents, notably streamlining its website for a better user experience and segmenting its comprehensive e-newsletter into 11 issue-specific editions, targeting such topics as substance abuse and food allergies.
Also, Schmidt Public Affairs won in two categories, Marketing Campaign and Public Affairs Campaign. The former sought to educate suppliers about a new bidding system to Durable Medical Equipment, Prosthetics, Orthotics and Supplies offerings approved for the federal Medicare program; the latter lobbied lawmakers to repeal a tax on medical devices.
AT&T teamed with TruePoint Communications for outstanding Social Listening and Specialty Campaign efforts. For the former, it shrank online response times and increased engagement with highly visible accounts. The latter endeavor engaged a highly active niche of gamers to raise awareness and drive positive sentiment for the AT&T brand.
Stories, familiar faces—and even some fish tales
Beloit Health System celebrated its 50th birthday—and so did a staff nurse named Deb. There's much more to it, though, and Chartwell Agency helped tell their intertwined stories. Deb was born at the hospital the year it opened, she delivered her children in the Family Care Center, her father was treated at Hendricks Heart Hospital, and her mom received care at Beloit/UW Cancer Center. Deb herself is a nurse in the hospital, as is her daughter. This heartwarming, truly lifelong affiliation wove through Beloit's winning Annual Report, infusing humanity into what otherwise might be pages upon pages of statistics.
A celebrity presence is not uncommon, especially in promoting a live event. It's a whole different matter when that celebrity is a co-founder of the event—as singer/songwriter Jewel is for the Wellness Your Way Festival. Dunn Pellier Media teamed with the Grammy nominee and the other event co-founder, Kroger Co., to promote the three-day festival using carefully targeted appearances, winning honors for Event Promotion.
To reel in seafood consumers, Butin served up Dish on Fish, combining guidance from a renowned nutrition expert with tantalizing, step-by-step recipes to win Best Blog recognition.
Our other winners
We salute these honorees for their exemplary work: Sandia National Labs, Brand Awareness Campaign; Mars with Weber Shandwick, Cause Marketing/CSR Campaign; American College of Physicians, Community Engagement Campaign;  MDVIP, Health Care Marketing Campaign; Bristol-Myers Squibb Australia with Palin Communications, LinkedIn Campaign;  Peppercomm, Media Relations Campaign; VetriScience and Rinck Advertising, Multichannel Campaign; Moment Marketing and AdventHealth, Personalized Marketing Campaign; Blue Cross Blue Shield of Michigan, Podcast; Carmel-by-the-Sea with The Abbi Agency, Public Relations Campaign; NYC Health + Hospitals, Recruitment.
Here is a complete list of all winners for more-detailed write-ups on their striking successes.
COMMENT
One Response to "Cisco, Maxwell PR, Alibaba Group lead the way among Digital Marketing Awards winners"
Ronald N. Levy

says:

A Spanish proverb says "el musico pago no toca bien" (the musician who has already been paid doesn't play well). In PR it's so different: these world's-greatest PR teams earn these national awards and deep respect yet keep performing better than ever.

"No toca bien" actually means doesn't "touch" well, but these PR winners certainly do have the touch.

Awesome PR achievers!