Disney Parks rebrands Splash Mountain, Macy's lays off 3,900 corporate employees, and Walmart gets backlash for 'All Lives Matter' t-shirts
Also: Amazon announces Climate Pledge Arena, Chuck E. Cheese parent files for bankruptcy, the COVID-19 messages that resonate with consumers,  and more.
Hello, communicators:
 CEC Entertainment—which operates 734 restaurants in 47 states as well as 16 countries, including Chuck E. Cheese—has filed for bankruptcy.
 CBS afiliiate KPIX 5 reported:
"The Chapter 11 process will allow us to strengthen our financial structure as we recover from what has undoubtedly been the most challenging event in our company's history" said CEO David McKillips in a prepared statement.

The restaurant industry has been devastated by the coronavirus. Transactions at U.S. family dining restaurants plummeted more than 80% in mid-April, the height of the pandemic in the U.S., according to The NPD Group, a data and consulting firm.
The announcement seems at odds with Chuck E. Cheese's official Twitter account, which tweeted this on Wednesday:
Today's Afternoon Fun Break is a fun game with gifs on our instagram story called "My Favorite Things"! Spoiler Alert: I love 🍕! pic.twitter.com/Mtk3iBoXYn

— Chuck E. Cheese (@ChuckECheese) June 24, 2020
The restaurant chain is far from the only one declaring bankruptcy or announcing layoffs because of the affects of COVID-19 and consumers staying at home. However, communicators should work across departments to share information and tailor messages to find a unified message across all their channels.
Here are today's top stories:
Disney announces Splash Mountain rebrand
The iconic ride at both Disneyland and Disney World will be redesigned to feature characters from "The Princess and the Frog." Though Disney said the project was started last year, the announcement comes as many are pushing the theme parks to drop the ride's depictions from its racist 1946 film "Song of the South."
In a blog post, Disneyland Resorts's public relations director, Michael Ramirez, wrote:
Tiana is a modern, courageous, and empowered woman, who pursues her dreams and never loses sight of what's really important. It's a great story with a strong lead character, set against the backdrop of New Orleans and the Louisiana bayou. In 1966, Walt himself opened New Orleans Square when it became the first new "land" added to Disneyland park, so it feels natural to link the story and the incredible music of "The Princess and the Frog" to our parks.

… The approach to retheming or "plussing" attractions (as Walt Disney referred to it) begins with Imagineers asking the question, how can we build upon or elevate the experience and tell a fresh, relevant story? It's a continuous process that Imagineers are deeply passionate about. And with this longstanding history of updating attractions and adding new magic, the retheming of Splash Mountain is of particular importance today. The new concept is inclusive – one that all of our guests can connect with and be inspired by, and it speaks to the diversity of the millions of people who visit our parks each year.
Social media users were quick to give Disney kudos for the announcement and its messages:
A BLACK WOMAN IS LEADING THE REIMAGINING OF SPLASH MOUNTAIN TO PRINCESS AND THE FROG!

IT EVEN GOT MORE EXCELLENT! COME THROUGH CHARITA CARTER! THANK YOU FOR RIGHTFULLY LEADING THIS PROJECT! pic.twitter.com/KBZiF1Or7U

— Francis🌙 (@francisdominiic) June 25, 2020
Why it matters: The positive PR is probably welcome for Disney Parks, as Disneyland has delayed its July 17 re-opening and Disney World is facing increasing calls from consumers and cast members to delay opening for guests once more. The announcement also comes alongside changes from many other brands that are adjusting racist or discriminatory names and logos.. If your organization could make similar changes, now is the time. Be honest and forthcoming with your announcement, and consumers will respect the progress.
---
TACTICALLY SPEAKING
Macy's is cutting 3,900 corporate positions in an effort to save roughly $365 million during 2020 and $630 million annually. The layoffs represent a fourth of Macy's corporate employees and 3% of its total workforce.
In a press release, Macy's chairman and chief executive, Jeff Gennette, said:
COVID-19 has significantly impacted our business. While the re-opening of our stores is going well, we do anticipate a gradual recovery of business, and we are taking action to align our cost base with our anticipated lower sales. These were hard decisions as they impact many of our colleagues. I want to thank all of our colleagues–those who have been active and those on furlough–for helping us get through this difficult time, and I want to express my deep gratitude to the colleagues who are departing for their service and contributions. We look forward to welcoming back many of our furloughed colleagues the first week of July.

We know that we will be a smaller company for the foreseeable future, and our cost base will continue to reflect that moving forward. Our lower cost base combined with the approximately $4.5 billion in new financing will also make us a more stable, flexible company.
Additional layoffs and company closures will continue as organizations grapple to find new business models that can quickly meet changing consumer behaviors during COVID-19 and beyond. Communicators can help by both talking regularly with employees as well as offering insights into consumer preferences and ideas for how to adjust during current crises.
---
MEASURED THOUGHTS
Aki Technologies and TapResearch released the Consumer Insight Survey Q2 2020, which revealed that nearly half of consumers are watching more TV during the COVID-19 crisis, while 38% are looking at more content on their phones and 36% are playing more games: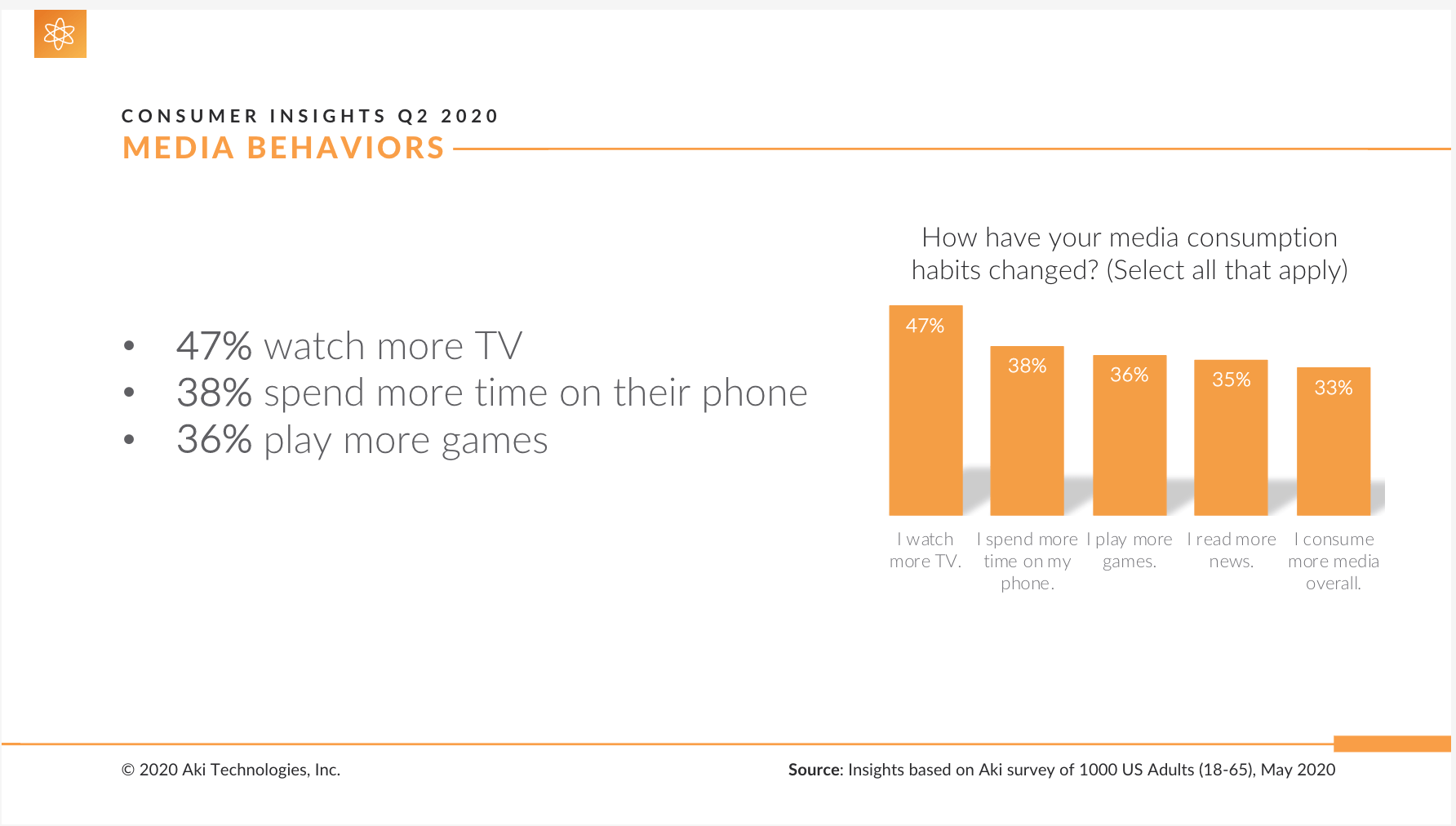 Image courtesy of Aki Technologies.
These changing consumer behaviors represent opportunities for savvy brand managers to capture attention and engage with audiences, especially for those who adjust their content marketing strategies to be seen on smaller screens and within different digital channels (such as streaming game platforms like Twitch).
Aki also reported that 80% of consumers surveyed remembered seeing brands' COVID-19 messages, with 84% reporting the ads either improved their opinion of the brand (46%) or didn't change their feelings (38%):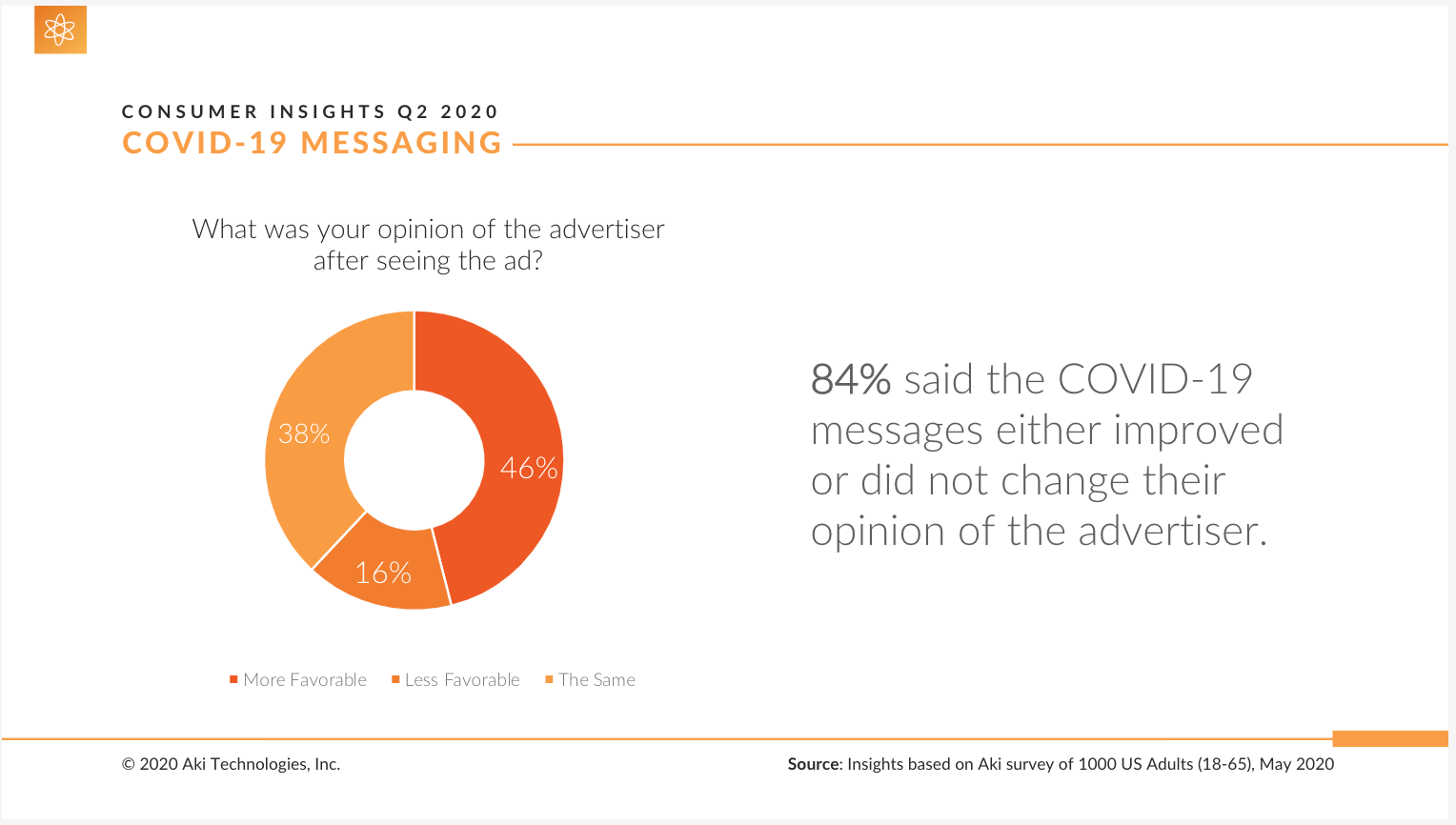 Image courtesy of Aki Technologies.
Not all COVID-19 messaging carries the same weight, however. More than half of consumers surveyed (57%) said addressing safety precautions were in the COVID-19 ads they most liked, with others reporting favor for business change updates (50%), messages applauding frontline workers (48%), social distancing reminders (47%) and content aimed to entertain during self-isolation (45%):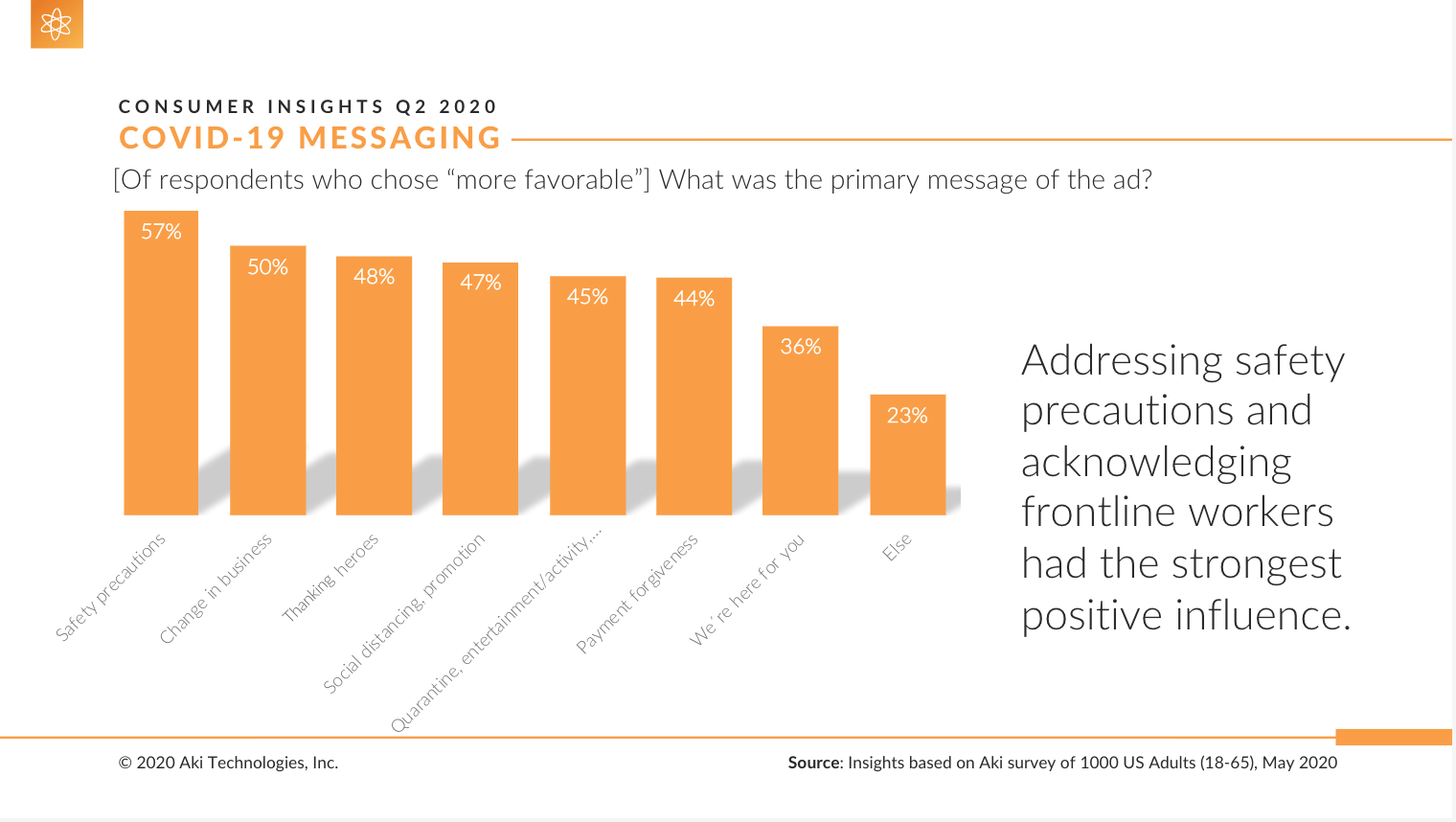 Image courtesy of Aki Technologies.
You can read the entire study here.
---
CRISIS LEADERSHIP BOARD
Looking for more insight on how to address the current global crisis and lead your organization into a strong recovery?
Join Ragan's Crisis Leadership Board to network and brainstorm with peers, get the latest intelligence and research, and start to strategize for the future of your organization.
Learn more about this exclusive membership here.
Walmart receives backlash for 'All Lives Matter' t-shirts
 The retailer's Canadian arm has been criticized for offering third-party t-shirts carrying the messages "Irish Lives Matter" and "All Lives Matter":
Walmart facing criticism over "All Lives Matter," "Irish Lives Matter" T-shirts https://t.co/z2rbXqRQR4 pic.twitter.com/qgDYmbN38b

— The Hill (@thehill) June 26, 2020
Some complained that the shirts contradicted Walmart's statements in support of racial equality and justice:
Walmart Canada: We are taking steps to address racism.

Also Walmart: This ALL LIVES MATTER merch is available for pick up in three locations near you.

Absolutely disgusting. Remove this right now @WalmartCanada https://t.co/cUg4yRrKef pic.twitter.com/TFW4vVwuIH

— Farzana Khan (@_Farzanakhan) June 23, 2020
The retailer took the merchandise off its website and issued a statement to reporters underlining its commitment to stand against racism and discrimination.
In a comment to CBC, Walmart Canada said it "stand[s] against any form of racism or discrimination." "We promote listening, seeking to understand and embracing individual differences. Today, our third-party marketplace has a number of items with variations on the phrase 'lives matter.' We will continue to review those items to ensure compliance with our terms and conditions."

As of Thursday afternoon, the "All Lives Matter" T-shirts were no longer visible on the Walmart Canada website.

Walmart (WMT) said in an email that its online marketplace includes third-party sellers who must pass a review based on a number of criteria before they are approved to sell items on Walmart.com.
Why it's important: As more retailers embrace e-commerce, many have offered the ability for third-party vendors to sell through their websites. This represents a risk that the items sold will not align with your organization's values, so communicators should take note of the importance (and work involved) to regulate these listings—as well as scout out potential issues with content creators, celebrities and organizations to which they want to partner. 
---
RESEARCH SNAPSHOT
The COVID-19 crisis has drastically changed the landscape for communicators and PR pros. More than ever before, communicators must gain key skill sets and employ strategic communications and media relations strategies to boost their organizations' coverage, reputation and overall brand.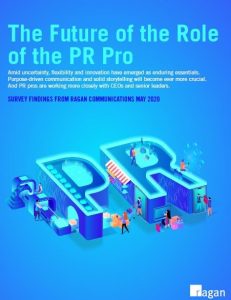 Learn what the 315 communicators we surveyed say about what parts of the PR function are more important than ever, how to adjust for COVID-19, and more with our free report revealing insights that can help you persevere during this uncertain time.
Download your copy of the report here.
---
TACTICALLY SPEAKING
 Amazon is highlighting its promise to fight climate change with its partnership with the National Hockey League's Seattle stadium, to which it just bought the naming rights. However, instead of putting its own name or logo on what was previously called KeyArena, the building will be called "Climate Pledge Arena."
Amazon's chief executive, Jeff Bezos, posted the announcement on Instagram and said the name served "as a regular reminder of the urgent need for climate action":
Amazon hopes the new name will spread the word about The Climate Pledge. And the more than 18,000 people who cram into the arena to watch a game will get a sustainability lesson at the same time.

Trash cans will be replaced with recycling bins and uneaten snacks will be composted. Natural gas is gone from the arena and replaced with electricity. Reclaimed rainwater will be used for the ice, which Amazon proclaimed in a press release makes it the "greenest ice in the NHL."
The effort is an innovative way to execute CSR efforts, though you don't have to have a huge budget to produce campaigns that help your organization's vision and mission come to life. Instead, consider ways you can introduce new practices and procedures that can help you meet the goals you set—whether they're sustainability aims, diversity, equity and inclusion commitments, or other community efforts. Harness the power of partnerships to further extend your reach.
---
WHAT YOU SAID
We asked how you're keeping in touch with colleagues and checking in with employees, and roughly 33% of you said you communicate through regular town halls, while more than 33% use Slack, Microsoft Teams or other messaging platforms to keep the conversation going.
Nearly 17% have employees send their questions to their organizations' leaders, while almost 17% turn to internal groups and communities through their intranet.
How are you keeping in touch with colleagues within your organization–or checking in with employees? Especially during current crises, how are you addressing concerns?

Weigh in below and share your thoughts under #DailyScoop. We'll share in tomorrow's roundup.

— PR Daily (@PRDaily) June 25, 2020
---
SOUNDING BOARD
Many connect with co-workers through messaging apps and platforms as well as virtual meetings. How are you meeting new industry peers and expanding your network, though?
Many are keeping in touch with co-workers through messaging channels and virtual meetings, but how are you meeting industry peers and expanding your #network as you work from home?

Share your tips for connecting with other #PR pros under #DailyScoop, and we'll share on Monday.

— PR Daily (@PRDaily) June 26, 2020
Weigh in belowe and share your strategies on Twitter under the hashtag #DailyScoop. We'll share after the weekend.
COMMENT