Facebook joins #GivingTuesdayNow push, brands celebrate Cinco de Mayo virtually, and Salesforce helps organizations return to work
Also: Popeyes seeks musicians to perform its jingle, Natural Light offers a virtual commencement ceremony, top social media platforms for marketers, and more.
Hello, communicators:
Avocados from Mexico created a campaign that encourages consumers to celebrate Cinco de Mayo from home:
Being indoors doesn't mean you can't celebrate #CincoDeMayo! 🎉Respond to this tweet with the 🌮 emoji for a delicious #guacamole recipe to top your tacos with! #HomemadeCinco #TacoTuesday

— Avocados From Mexico (@AvosFromMexico) May 4, 2020
The company's campaign runs through May 6 and offers a recipe to website visitors. Those who enter photos of their dips using the hashtag #HomemadeCinco on Instagram can win $50 prizes each day of the sweepstakes: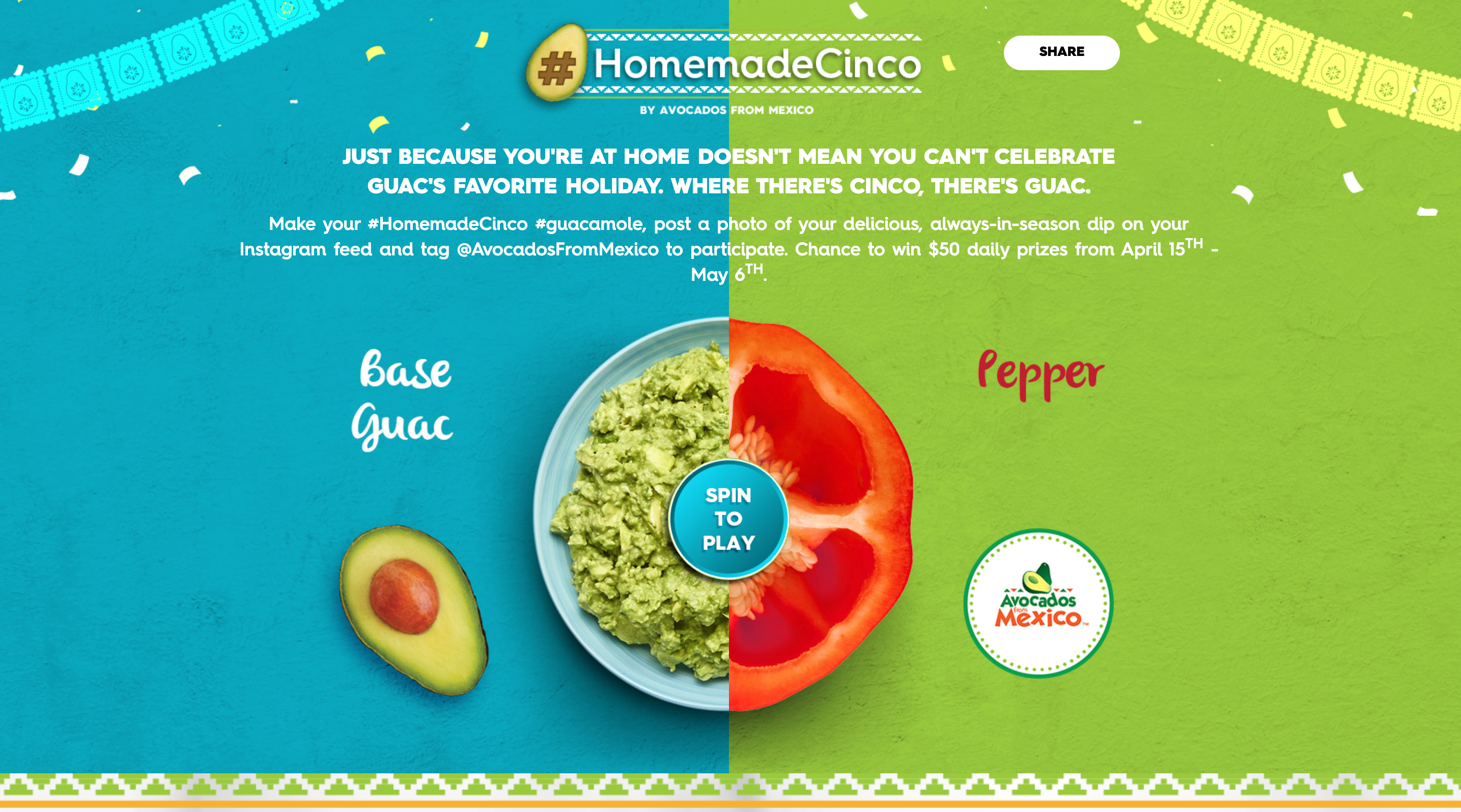 Image courtesy of Avocados from Mexico.
After delivering a random recipe, Avocados from Mexico connects visitors to grocery delivery through the Chicory app, further encouraging people to stay at home: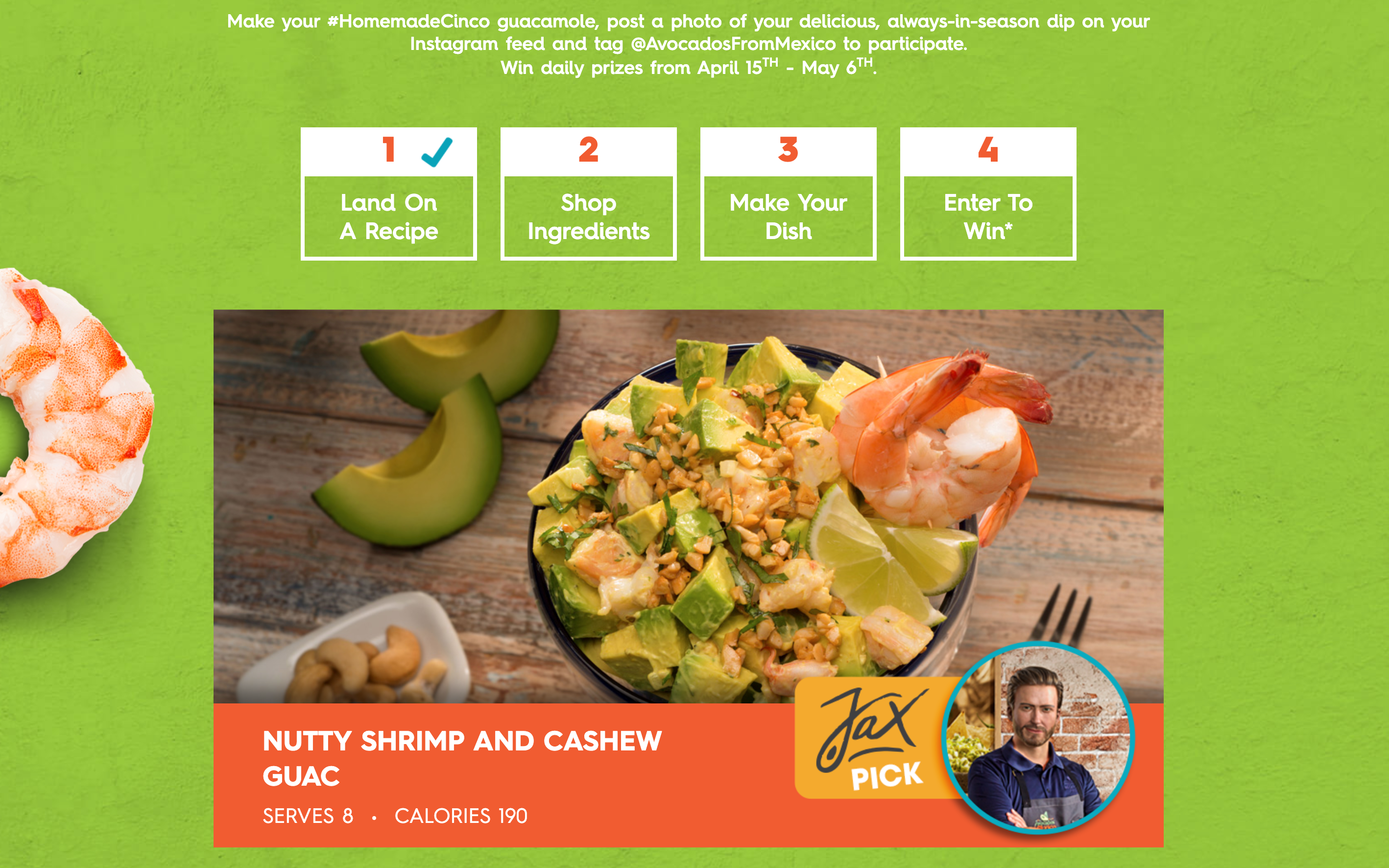 Image courtesy of Avocados from Mexico.
Though brand managers are still assessing risks with social media content during COVID-19, finding ways to tailor your products and services to those staying indoors, coupled with a game or contest, can provide a welcome distraction and increase engagement.
Here are today's top stories:
Facebook bolsters COVID-19 resource hub
The social media platform has added to its "Community Help" hub, including gift cards, volunteer signups and donation tools to help organizations get community support.
Facebook is launching the tools today as part of the #GivingTuesdayNow campaign.
We can still show social connection and come together on behalf of our communities even while practicing physical distancing. Join us on May 5 for #GivingTuesdayNow – a global day of unity. pic.twitter.com/ggOifHZnm7

— GivingTuesday – At Home (@GivingTuesday) April 29, 2020
Typically, the Giving Tuesday charitable giving event is held on the Tuesday after Thanksgiving in the U.S. — after Black Friday and Cyber Monday sales wrap. But in response to the unprecedented need caused by the pandemic, Giving Tuesday announced an emergency day of giving, called Giving Tuesday Now.
Why it matters: Many organizations and digital platforms have expanded their offerings to either take part in #GivingTuesdayNow or to help struggling organizations outside of the May 5 campaign. Take stock of what you could give—whether its products or your expertise—to help your community as the crisis continues.
---
TACTICALLY SPEAKING
Natural Light is throwing a "worldwide commencement ceremony" for college graduates who have had their ceremony canceled or postponed because of COVID-19.
Graduation ceremony cancelled? Sucks, but we got your back. We're throwing a worldwide commencement ceremony for the class of 2020. Tune in to FB Live May 14th at 7pm EST. Plus, you get to drink beer during it. #NattyCommencement pic.twitter.com/I539t7QiY1

— Natural Light (@naturallight) April 9, 2020
The virtual ceremony, which will take place on May 14 at 7 p.m. Eastern time, includes speeches from Mark Cuban, Jane Lynch, Stephen A. Smith and more. Registration is free and open to college graduates age 21 or over.
The move is a fun way to stand out from a sea of virtual events and content, targeted directly to the audience Natural Light wants to drink its brew.
---
JOIN #RAGANCHAT
We're welcoming special guest Michael Kaye, global communications manager at OKCupid, in our next Twitter #RaganChat.
Join us today at 3 p.m. Eastern time as we discuss with Kaye best practices for media relations in a crisis. You can also glean the latest insights at PR Daily's Media Relations and Measurement Virtual Conference, May 14-15.
Register here to learn about data-informed storytelling from Kaye as well as speakers from AdCouncil, Twitter, AMEC, Forbes, CHG Healthcare, Southwest Airlines, Twitter and more.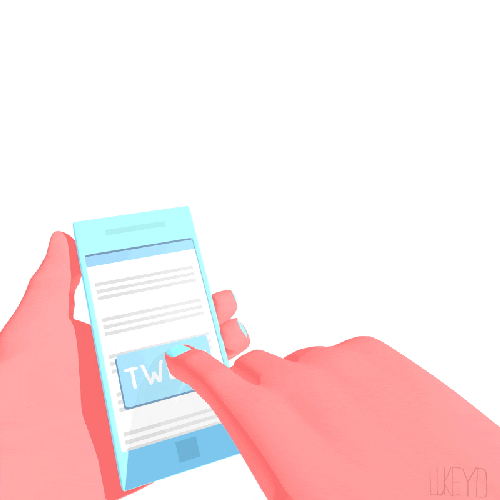 ---
MEASURED THOUGHTS
Sprout Social's latest index, "Above and Beyond," revealed that nine in 10 consumers will purchase products from brands they follow on social media—and as organizations continue to explore ways to pivot offerings and connect to consumers during COVID-19, social media platforms have become more important than ever to PR and marketing efforts.
Nearly three-quarters of marketing pros (74%) plan to use Facebook more this year, with 68% turning to Instagram and 53% boosting their Twitter content and campaigns: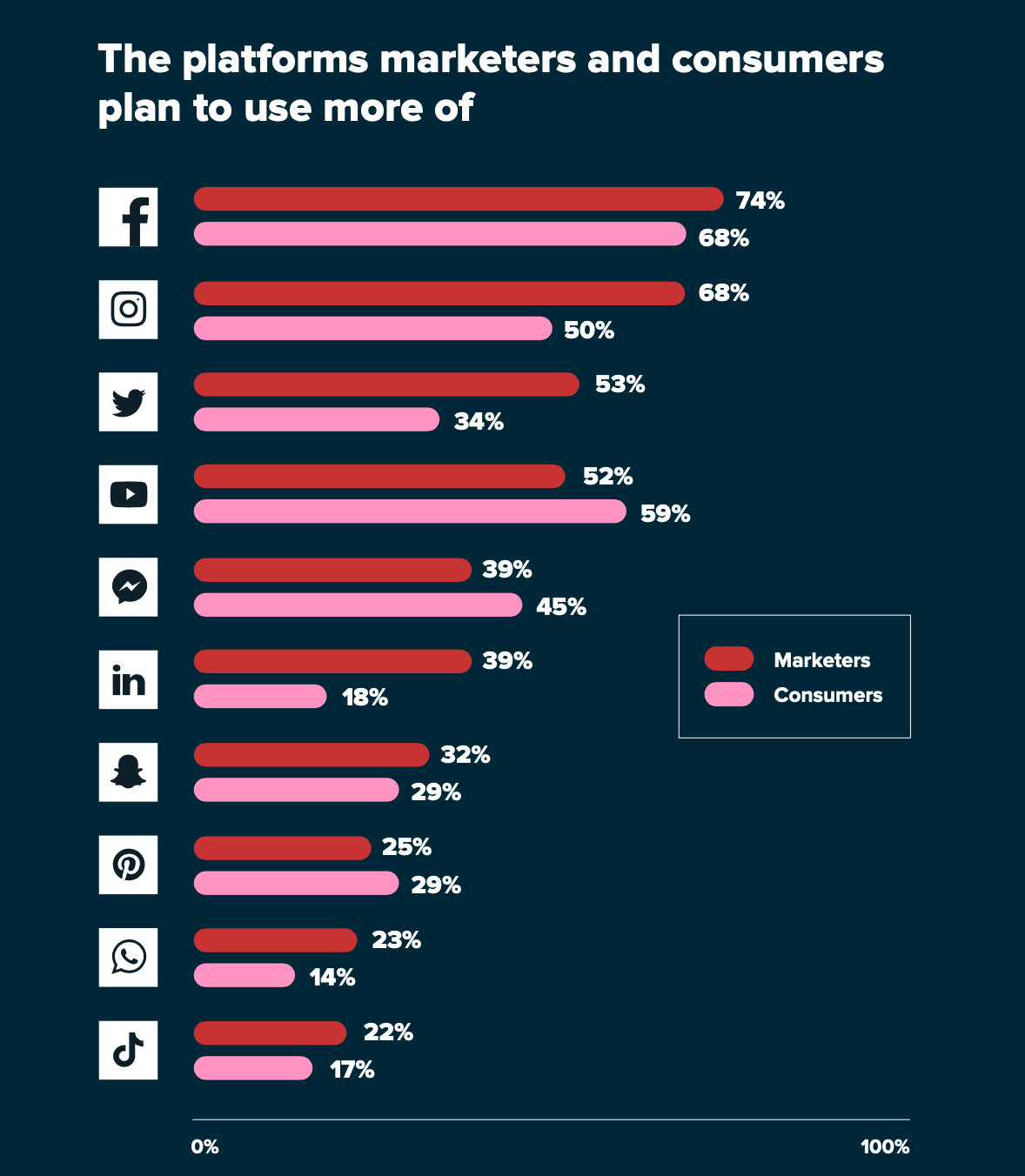 Image courtesy of Sprout Social.
These social media platforms offer PR and marketing pros a treasure trove of consumer data, which more than half (56%) are using to better understand their target audiences. Nearly half (49%) use social insights to develop content, and 43% harness it to assess the efficacy of their campaigns: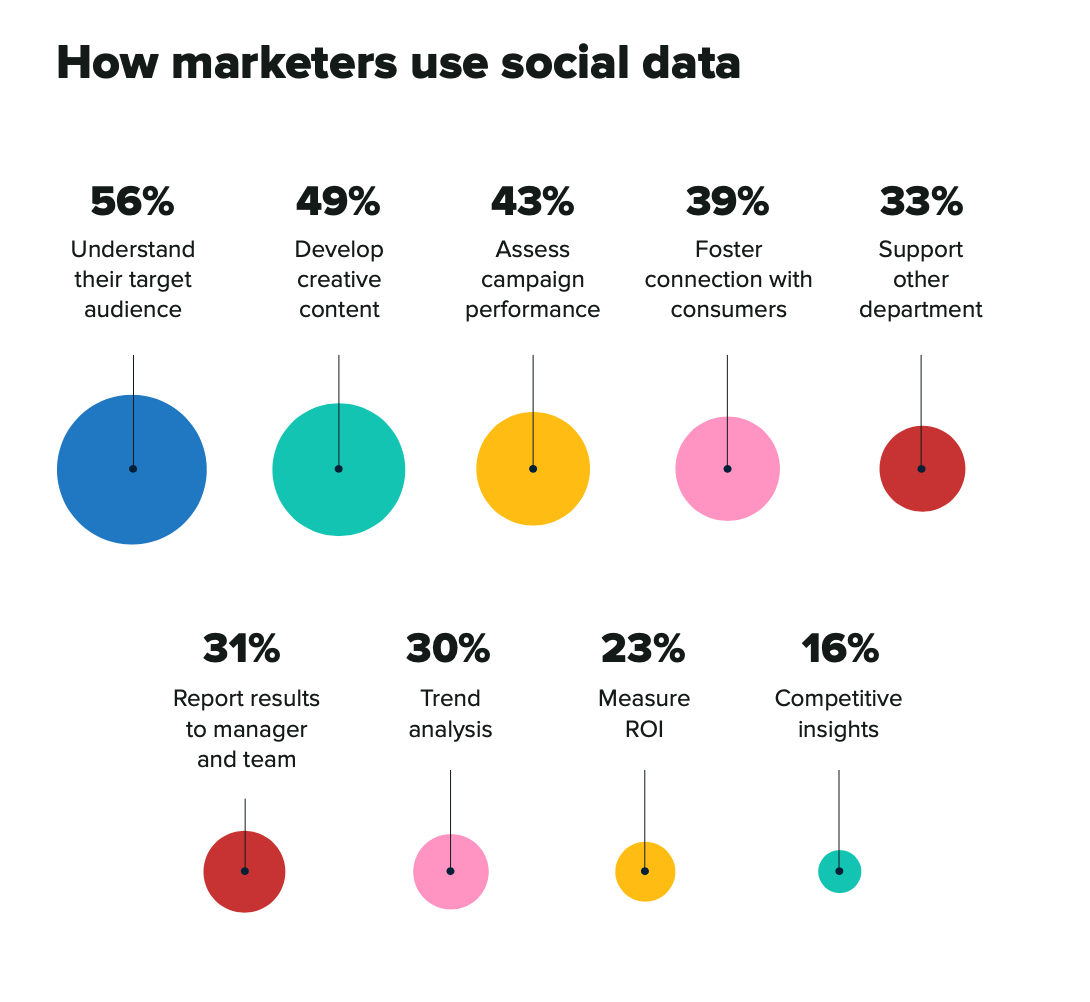 Image courtesy of Sprout Social.
Even with more opportunities and data, marketers face several challenges as they attempt to win with social media. These include identifying and reaching the right people, measuring their ROI, tying social media campaigns to business goals and more: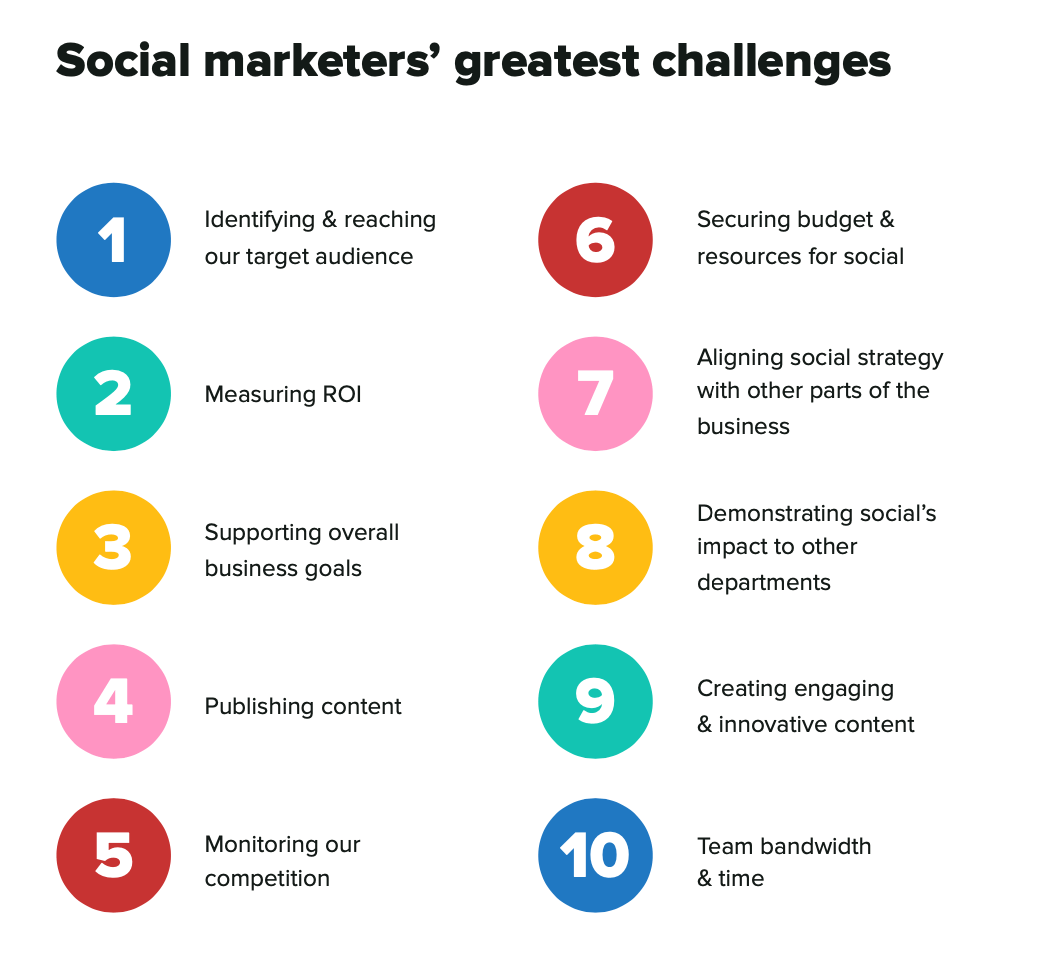 Image courtesy of Sprout Social.
You can check out additional insights in Sprout Social's report.
---
CRISIS LEADERSHIP BOARD
Looking for more insight on how to address the current global crisis and lead your organization into a strong recovery?
Join Ragan's Crisis Leadership Board to network and brainstorm with peers, get the latest intelligence and research and start to strategize for the future of your organization.
Learn more about this exclusive membership here
Salesforce's new tool aims to help organizations return to work
Salesforce launched Work.com, a platform and resource center to help organizations reopen safely and return to work as the crisis continues. The site includes emergency response management, employee wellness assessment, shift management and more. 
Introducing https://t.co/SdcqGlnByw, a new suite of apps, expertise, & services to manage the crisis today, & thrive tomorrow.

📈Make Data-Driven Decisions Fast
🔑Safely Reopen Your Workplace
🚨Quickly Respond to Emergencies
🤝Extend with an Ecosystemhttps://t.co/bLuKTucRAU pic.twitter.com/5086y1mLTn

— Salesforce (@salesforce) May 4, 2020
⚡️ ICYMI we launched https://t.co/SdcqGlnByw to help you manage the crisis today, and thrive tomorrow. Take a look at some of the highlights as we come together to reopen, safely. https://t.co/D8Ylb0QjIM

— Salesforce (@salesforce) May 5, 2020
"We need to have an open mind so we can all be ready to participate in this new economy."@Benioff speaks to the importance of reskilling your workforce to meet new business demands on @YahooFinance.

Reopening will be a journey — https://t.co/SdcqGlnByw is your guide. pic.twitter.com/ZKhIvVWH6a

— Salesforce (@salesforce) May 4, 2020
 In a press release, Salesforce's president and chief operating officer, Bret Taylor, said:
Every company and community in the world is focusing on how to safely reopen and get to a new normal.With Work.com, we're bringing together powerful new technology, our partners and network of experts to help organizations reopen and recover from this crisis while putting employee and visitor health and safety first.
Why it's important: Whether or not your role is in employee communications, working with your colleagues and workforce as a whole is crucial to setting adjusted strategies and policies for the "new normal." By involving communicators across your organization, you can also strengthen your company culture as well as your organization's reputation and image.
---
SOCIAL BUZZ
Popeyes Louisiana Kitchen is hiring out-of-work musicians to play the fast-food chain's jingle in its ads.
We're hiring musicians to play in our ads. Submit by posting a video with your version of our famous jingle using #LoveThatJingle. Additional terms apply. https://t.co/L9AgMLwIYO pic.twitter.com/incm1kSKLy

— Popeyes Chicken (@PopeyesChicken) May 4, 2020
People can submit their video demos under the hashtag #LoveThatJingle. Popeyes also included sheet music and a tip guide on its campaign page.
The effort is a creative way to combine crowdsourced content with a CSR effort. It also strongly reinforces the brand without resorting to a blatant sales pitch.
---
FREE DOWNLOAD
How is the COVID-19 crisis affecting communicators? What are their top challenges and how are they responding?
Benchmark your efforts by downloading our survey about how the current crisis is making an impact on your colleagues and neighbors. Learn what channels are the most effective, what messages are getting the majority of the focus, and other key insights.
---
WHAT YOU SAID
We asked for your go-to stress relievers as you continue to settle into the "new normal" of working from home, and more than half of you (51%) said you go for walks or embrace exercise. Roughly 20% stream entertainment, and almost 17% of you bake or eat comfort foods:
As you continue to work from home and respond to #COVID19, it's important for communicators to find outlets for frustrations.

What's your go-to stress reliever?

Share your tips and favourite ways to let off steam under #DailyScoop, and we'll share in tomorrow's roundup.

— PR Daily (@PRDaily) May 4, 2020
The team at ARPR have dedicated Slack channels to sharing virtual exercise routines, recipes an more:
The Army of Awesome has been indulging in all the above! We have @SlackHQ channels dedicated to sharing TV shows, #podcasts, workouts and new recipes!

— ARPR (@AR__PR) May 4, 2020
George Saratlic, national marketing communications manager for Chevrolet Canada, has a weekly virtual hangout with friends around the world:
I've set up a recurring Google Duo call with a group of old friends Saturday nights at 9PM. We all used to hang out a lot in our late teens and 20s. We now connect from Chicago, Naples and Toronto.

— George_S is #PhysicalDistancing #StayHomePeeps (@George_S) May 4, 2020
Keep sharing the ways you blow off steam under our hashtag #DailyScoop.
---
SOUNDING BOARD
How should organizations talk about face masks and coverings for both employees and customers? Should they be mandatory or should they be optional?
How can you prioritize safety for both employees and shoppers?
How should businesses manage requirements and expectations around face masks in their workplaces? Should masks be mandatory? Share your thoughts with our hashtag #DailyScoop.

— PR Daily (@PRDaily) May 5, 2020
Share your thoughts with our Twitter Poll or tweet us @PRDaily with our hashtag #DailyScoop.
COMMENT