Facebook launches Zoom competitor, Live Nation amends refund policy and Google shares ways to market during COVID-19
Also: Museums show off their sassiest objects on Twitter, workout wear company offers free masks, why PR pros should embrace digital skills, and more.
Hello, communicators:
Workout clothing company Dhvani is offering a free mask to anyone in the United States:
You can request your free mask at DHVANI.com/FreeMasks and donate to help others receive masks through the company's GoFundMe campaign.
Dhvani is one of many brands offering relief and extras to both essential workers and consumers throughout the pandemic. CNN compiled a list of organizations offering discounts and free products to front-line health care workers.
What can you offer to bolster spirits and make lives easier?
Here are today's top stories:
Facebook launches Zoom rival
The social media platform is beefing up its video offerings with the launch of "Messenger Rooms," a virtual video-conferencing tool that enables up to 50 people to "drop in on you whenever they like" (though room creators can remove people at any time).
The video chats, which come with virtual backgrounds and augmented reality filters, will expand to Instagram, WhatsApp and Facebook's smart home device, Portal.
Facebook's co-founder and chief executive, Mark Zuckerberg, also announced additional video features in a personal Facebook post:
For live video, there are now more than 800 million daily actives engaging with livestreams across Facebook and Instagram for workout classes, concerts, faith services and more. We're bringing Live With back to Facebook so you can add another person into your live video. We're also making it easier to raise money and donate money directly in Live. On Instagram, you can now watch live videos on desktop and we're also adding a feature to let you save your live videos to IGTV. You'll also be able to go live from Portal to Facebook Pages and Groups soon as well.
Why it matters: In its announcement, Facebook reported that "between Messenger and WhatsApp, more than 700 million accounts participate in voice and video calls every day, and the number of calls has more than doubled in many countries since the pandemic began." The features offer another way for you to easily connect with online communities and forge deeper relationships with brand advocates.
---
SOCIAL BUZZ
Yorksire Museum recently kicked off a #CuratorBattle on Twitter to find museums' "sassiest objects":
IT'S TIME FOR #CURATORBATTLE💥This week's theme is #SassiestObject!✨

We're starting with this bust of Emperor Constantine The Great. He won the throne, reunited the #Roman empire, AND named a city after himself.

It's even in his name. He knows he's worth it.

CAN YOU BEAT IT? pic.twitter.com/JnGUfryhVO

— Yorkshire Museum (@YorkshireMuseum) April 24, 2020
Several museums' social media managers joined in the conversation to showcase their collections and the stories behind them:
Right. Here goes. Our first submission is a mugshot of Maria Dawes. She's *done* with everything. If photos could speak, this one would use ALL the expletives. #SassiestObject #CURATORBATTLE @YorkshireMuseum pic.twitter.com/q199Hgo9mr

— National Justice Museum (@JusticeMuseum) April 24, 2020
Our Hippo says 'You don't even KNOW sass!'#SassiestObject #CURATORBATTLE pic.twitter.com/L2YHcw7elY

— Dublin's Dead Zoo (@DublinDeadZoo) April 24, 2020
Our #SassiestObject has to be this Sporran Clasp. It had 4 hidden pistols which would fire if the sporran was not opened correctly.
Nothing says sassy like an exploding crotch.
🔥
🔥
🔥#CURATORBATTLE https://t.co/if5VrpZb7S pic.twitter.com/qfp19kw0So

— National Museums Scotland (@NtlMuseumsScot) April 24, 2020
@YorkshireMuseum have challenged museums all over the world to show off their #SassiestObject for this week's #CURATORBATTLE 💁‍♀️
Our Sassiest Object is this pair of… PETRIFIED KNICKERS! 🐒😳 pic.twitter.com/LcGKlNxSE1

— Mother Shipton's (@Mothershiptons) April 24, 2020
The lighthearted competition is a fun way for closed museums to connect with their communities online, increase engagement and keep their brands top-of-mind while their buildings are closed. You can do the same, no matter your organization or industry, with compelling content and behind-the-scenes peeks.
---
MEASURED THOUGHTS
In a guide titled, "Navigating the road ahead," Google shares several ways brand managers can adjust their digital marketing campaigns and strategies during COVID-19.
The best way PR and marketing pros can adjust their plans is by getting a handle on rapidly changing consumer behaviors, which Google organized into three categories. "Shock" behaviors will probably decline as we continue to shelter-in-place and after the edicts are lifted. Other behaviors, such as exercise and delivery searches, could remain as long-lasting or permanent consumer methods: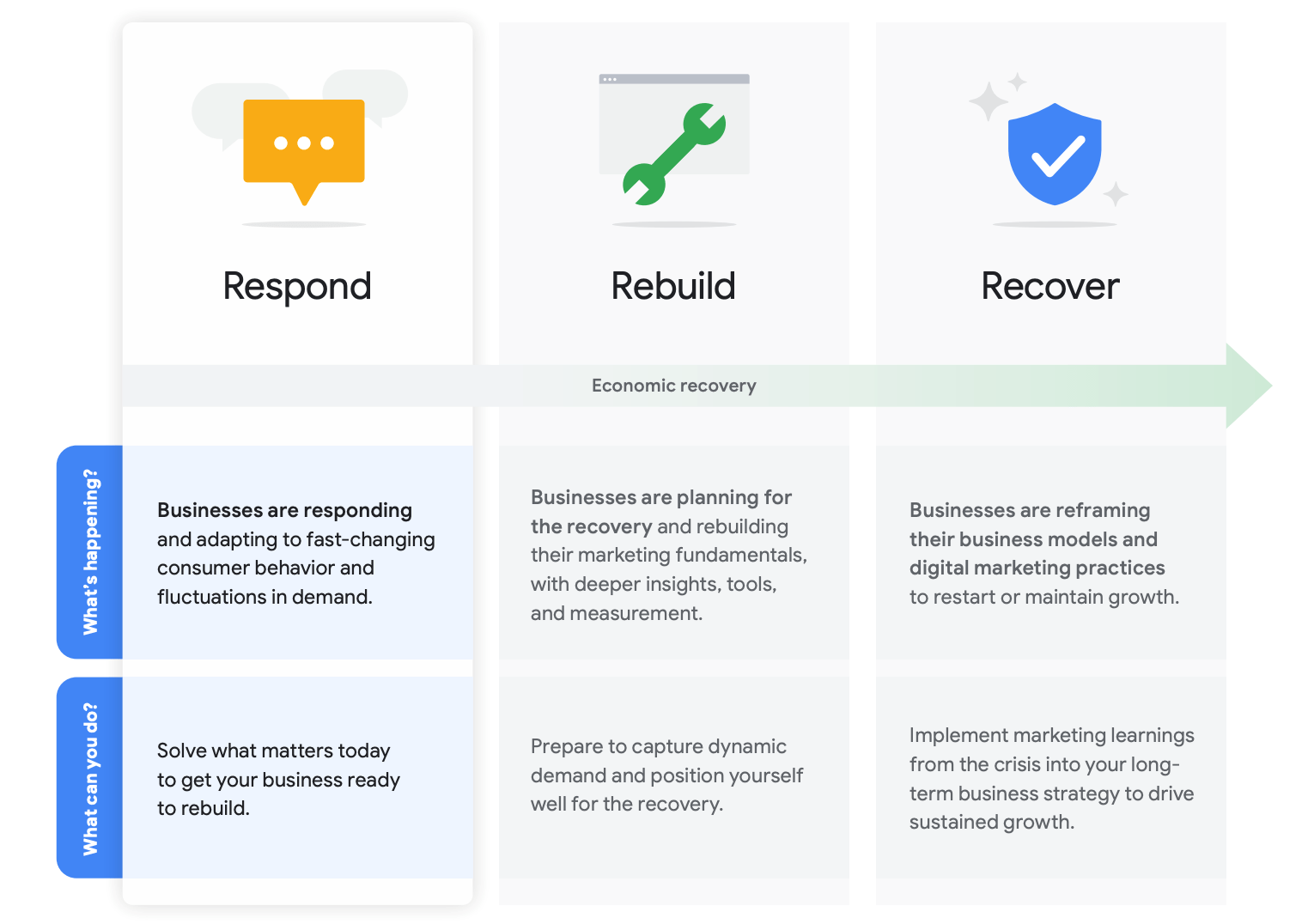 Google also outlined three stages of adjusting PR and marketing strategies: responding to changing consumer behaviors, rebuilding their marketing campaigns using more data and measurement, and recovering their business models through offering new or altered products and services.

You can learn more by downloading the guide here.
---
CRISIS LEADERSHIP BOARD
Looking for more insight on how to address the current global crisis and lead your organization into a strong recovery?
Join Ragan's Crisis Leadership Board to network and brainstorm with peers, get the latest intelligence and research, and start to strategize for the future of your organization.
Learn more about this exclusive membership here.
Live Nation rolls out new refund policy after backlash
The company changed tack on its strategy for canceled and postponed shows following criticism from consumers demanding refunds. Live Nation called the new strategy its "Ticket Relief Plan":
For more information, visit https://t.co/Dfu9HCldtX pic.twitter.com/6pdodeQRs7

— Live Nation (@LiveNation) April 24, 2020
If a new date isn't rescheduled within 60 days of your show being postponed, you'll be able to request a refund at that time. This will help provide some time as we work to finalize new dates for events, while not keeping you in limbo forever.

— Live Nation (@LiveNation) April 26, 2020
Live Nation will also be donating tickets to healthcare workers as a small thank you for the incredible work they are doing on the front lines.

— Live Nation (@LiveNation) April 26, 2020
Please visit https://t.co/wQNuAbBWyJ to see all of the options available to you and we look forward to seeing you when we can all experience the magic of live music together again.

— Live Nation (@LiveNation) April 26, 2020
In the new plan, consumers will automatically get a refund for canceled events—and will have the option to trade that refund for a 150% credit for future tickets, if the event was scheduled at a Live Nation venue. Customers who have tickets for postponed shows can use their tickets for the new date or can chose to get a refund within 30 days of the new date's announcement. If a postponed show doesn't have a new date—one of the complaints consumers gave—the refund window will open 60 days following the postponement announcement.
Live Nation's chief executive, Michael Rapino, tweeted that the policy revision was a direct response to feedback, saying, "We hear you":
Fans, we hear you. We don't want you to be waiting in limbo while shows are being rescheduled. Thanks to your feedback, @LiveNation has revised our refund policy. If new dates aren't set in 60 days, you'll be able to get a refund at that time https://t.co/eAXesPOKLw

— Michael Rapino (@Michael_Rapino) April 25, 2020
Why it's important: COVID-19 has caused most organizations to pivot both communications strategies and offerings, but continuing shelter-in-place restrictions provide another stumbling block for organizations working with live events. Keep consumers updated and be as transparent as possible in your communications. By offering an updated policty such as Live Nation's, you help provide consumers with answers during a time of uncertainty.
Don't wait until backlash grows, however. Make these decisions before your community gets angry.
---
FROM THE EXPERTS
Digital skills are more important now during this crisis than ever before.
Here's why one PR pro says communicators should use any downtime they have right now to learn a few new skills around digital comms. Some suggestions include SEO, measurement, Google tools like AdWords and much more.
---
WHAT YOU SAID
We asked for your favorite digital content "freebies" as you both work from and stay at home, and nearly 38% said streaming TV shows and movies top the list, while 29% are embracing workout videos and routines. Twenty-five percent of you are turning to recipes and cooking tips:
As we head into the weekend, what WFH "freebies" are your favorite?

Share the top content that's keeping you motivated as you #StayAtHome, and we'll share in Monday's #DailyScoop.

— PR Daily (@PRDaily) April 24, 2020
Writer Brandon W. Mudd said NFL's free trial for its Game Pass has uplifted his spirits:
The @NFL making their Game Pass free through May has been a huge bonus for our household. The @packers are on pretty much 24/7 now & has definitely provided a boost when I need it.

— Brandon W. Mudd (@BWMudd) April 24, 2020
---
SOUNDING BOARD 
Are you relying on video as a key channel during this crisis? Share how you are approaching communicating key messages in our latest Twitter Poll:
Has your organization used video for key messages to stakeholders during this crisis? Share your thoughts with our hashtag #DailyScoop.

— PR Daily (@PRDaily) April 27, 2020
Have additional thoughts about video and crisis communications? Share with us in the comments or tweet us @PRDaily  with our hashtag #DailyScoop.
COMMENT