Former EVP with TelevisaUnivision shares 5 ways to enhance your marketing and comms career
Flavia Vigio shares how curiosity, authenticity, respect, listening and embracing AI will enhance your career.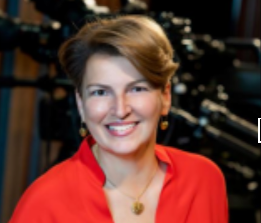 Elyse Siwinski is a graduate student in DePaul University's Professional Communications program. Her background is in nonprofits with a focus on donor communications.  Anita Malone, CAPM is a graduate student in DePaul University's Professional Communications program. Her background is in project management.
In a rapidly changing world, where artificial intelligence (AI) is gaining momentum, communicators are constantly seeking ways to improve their skills and stay relevant. Flavia Vigio is no different. Vigio is a former executive vice president, communications at TelevisaUnivision, the largest Spanish language media company in the US. Previously, she held roles with WarnerMedia, HBO, GOLIN Miami and McDonald's Latin America. Vigio has navigated her career by exhibiting emotional intelligence, respect, curiosity and authenticity. 
"I have always been interested in learning," says Vigio who is currently preparing for an educational sabbatical focused on AI. 
As she embarks on the next steps of her career journey, she offers guidance for success.
Stay curious.
Staying curious, trying something new and having fun with what comes your way will not only lead you to career success, but will also point you in the direction of what you truly love to do. Doubt and uncertainty often lead to fixed plans or rigid expectations. Vigio explains this mindset can be paralyzing, frustrating or disappointing when you are not where you expected to be. Curiosity allows you to stay open to possibilities. 
"Everything that was thrown my way, I was just naturally curious to take it. Always keeping that spirit alive has been very important for my career. It still is today," Vigio says. 
Be authentic.
"I'm Brazilian and I'm a woman," states Vigio. She explains that early in her career she tried to blend in by sounding like an American. Soon she realized she should not hide what made her an individual because leveraging her individuality helped her show up authentically. Vigio expresses there are not many who look like her in the rooms she has been in, but her unique life experiences play a major role in shaping her individual perspective. She believes it is her responsibility to represent those who will come after her and finds joy in her ability to support others in this way. Vigio encourages communication professionals to be true to themselves. 
Respect different perspectives.
Talking to others, listening to their stories and learning from their experiences equips us with a greater understanding and stronger appreciation for differences. "There are many beautiful things to see and learn about others, instead of fearing others," says Vigio. She believes diversity of perspectives is what makes our world rich. 
Respecting different points of view allows you to learn from others, deepen connections and get your message across in the best way possible, explains Vigio. 
Listen more than you speak 
Effective communicators begin with the perspective of their stakeholders, says Vigio, and understanding their perspective begins with listening. First, you must seek to understand before you will be understood. 
"To be a successful communicator, it's really important that you listen more than you speak," Vigio explains.
Listening is necessary for gathering information, while demonstrating respect for others, says Vigio. As communicators, we are tasked with transmitting the message without changing the origin. Listening with intent enables you to create and share a meaningful message that resonates with your stakeholders. 
Embrace AI responsibly and with purpose. 
Vigio expresses it is our responsibility as communicators to use AI correctly, be purposeful and make sure organizations are using the technology in a way that is good for society. "We are at a turning point with artificial intelligence and generative artificial intelligence. It's a great moment to take a step back and look at the big picture," says Vigio. She suggests we get familiar with AI rather than fearing it, and we have real conversations about how to integrate the technology into our work. 
When you approach your career journey with an open mind and remain curious, there is no limit to the possibilities. Vigio emphasizes, you will "always get noticed when you're doing something that you really love." 
COMMENT
RECOMMENDED READING
CAREER LADDER
Abigail Allen, Taniyah Keve and Grace-Lauren Richmond