Google, Facebook and Microsoft extend WFH dates, Wendy's offers online scavenger hunt, and Microsoft seeks more inclusive language
Also: Consumer content consumption trends during COVID-19, TSA embraces humor to share information and updates, take our survey, and more.
Hello, communicators:
Microsoft is leaning on technology to help communicators and others use more inclusive language.
Words matter.

Coming soon in Editor in Word, #Microsoft365 subscribers can also opt to see inclusive language suggestions that seek to eliminate biases based on gender, age, ability and more: https://t.co/KditApDTlG

— Microsoft (@Microsoft) May 7, 2020
In a blog post, Microsoft wrote:
The new tools are available through Editor in Word, Editor in Outlook and a new Editor in the browser extension, which will allow users to catch mistakes and write more confidently when crafting social media posts or communicating elsewhere on the web.

… Starting with Editor in Word and coming soon to other platforms, Microsoft 365 subscribers can also opt to see inclusive language suggestions—such as the word firefighter instead of fireman—that seek to eliminate biases based on gender, age, ability and more. In Word for the web in English, those users who want more feedback can now access whole sentence rewrite suggestions to improve fluency, conciseness and readability.
How have you adopted more inclusive communications? Share your thoughts under the #DailyScoop hashtag.
Here are today's top stories:
Google, Facebook and Microsoft extend WFH
The technology companies are bracing their employees for continued work-from-home arrangements, with Google telling its workforce to expect working from home through the end of the year and Facebook announcing that employees can work remotely throughout 2020.
The announcements come as Facebook plans to begin opening up its offices on July 6 and Google plans to open its offices in June or July.
Zuckerberg said last month that because most Facebook employees are able to do their jobs remotely, the company felt "a responsibility to allow people who don't have this flexibility to access shared public resources first." Zuckerberg also announced that the company would not hold any gatherings of more than 50 people until at least July 2021.
Microsoft also updated its policy and announced that its employees who can work remotely can do so through October 2020.
"On May 4th we confirmed that when restrictions lift, working from home will remain optional through October unless employees are in an essential role or local authorities mandate otherwise," the company said in a statement shared with GeekWire.
Why it's important: Many organizations will probably continue embracing remote working conditions throughout 2020 as COVID-19 continues. Consider your workforce arrangements and how you can integrate longterm virtual solutions if necessary, along with how you'll outline new policies and procedures.
---
SOCIAL BUZZ
The Transportation Security Administration has taken a humorous tack when spreading COVID-19 information and updates through its Instagram account.
The organization used Feta, a Newark Liberty International Airport K-9 member, to share tips about wearing masks:
TSA shared an infographic using its organizations dogs, carry-on bags and more to demonstrate what six feet looks like:
It also leaned on taco puns in another social distancing post:
The content can serve as a reminder that even serious information can be infused with humor, where appropriate. Make sure it fits into your brand voice and you're clearly getting across your messages—and stay away from edgy or controversial humor (unless your goal is to generate backlash).
---
MEASURED THOUGHTS
VisualCapitalist.com has compiled data from Global Web Index's COVID-19 April Research Report that shows the different media and content consumption trends across consumer demographics. For example, 42% of consumers ages 57 to 64 are turning to broadcast TV programs, whereas 44% of consumers ages 24 to 37 are watching more online videos (and 41% are turning to streaming TV services):
Image courtesy of VisualCapitalist.com.
 Nearly 70% of consumers are searching for COVID-19 news and updates, but they are also listening to music (58%), watching more TV shows and films (49%), laughing over funny movie clips (42%) and playing mobile games (40%)—presenting many opportunities for brand managers to reach and engage with people staying at home.
Image courtesy of VisualCapitalist.com.
---
CRISIS LEADERSHIP BOARD
Looking for more insight on how to address the current global crisis and lead your organization into a strong recovery?
Join Ragan's Crisis Leadership Board to network and brainstorm with peers, get the latest intelligence and research, and start to strategize for the future of your organization.
Learn more about this exclusive membership here
Wendy's interacts and distracts with online scavenger hunt
The fast food chain has been engaging with fans throughout the week in its "Cyber Search Challenge," in which Wendy's gives clues to 130 separate scavenger hunts and awards prizes for social media users who can locate the hidden code.
Welcome to Wendy's Cyber Search. All week we'll be sharing hints to codes hidden across the internet to win Wendy's gift cards. Each worth a little something, some worth a lot of something. DM us the code on Twitter for your chance to win. Happy hunting! https://t.co/H9bM7rWONS

— Wendy's (@Wendys) May 4, 2020
129 hiding spots and you found every one of 'em. But there's still one left. And it's big. $1000 in Wendy's food big. Tomorrow morning at 12 ET the hunt for the final code begins. Y'all ready for this? https://t.co/H9bM7sepFq pic.twitter.com/JyG7o9J5zC

— Wendy's (@Wendys) May 7, 2020
The clues are harder, but keep working smarter. Can you find these codes for Wendy's gift cards? https://t.co/H9bM7rWONS pic.twitter.com/2lvaZWPT8E

— Wendy's (@Wendys) May 7, 2020
Okay…honestly, that's pretty impressive. All the codes for these hints have been found. Nice work everyone!

— Wendy's (@Wendys) May 7, 2020
Why it matters: Wendy's became the gold standard in social media engagement long ago, but continues to impress fans (and inspire other social media managers) with its creative campaigns, contests and efforts to interact with online fans. Scroll through its Twitter feed to glean ideas for your next social media project.
---
TAKE OUR SURVEY
We want to know how the current crisis is changing how PR pros see the future of their roles and the industry. Is the path ahead growing ever brighter, or will it be more difficult to walk?
Please take our three-minute survey here.
All answers will be confidential, and you'll receive a copy of the final report as thanks for your time. In addition, one survey participant will be randomly selected to win a complimentary ticket to PR Daily's Media Relations & Measurement Virtual Conference. The survey results will be announced at that event, running May 14–15.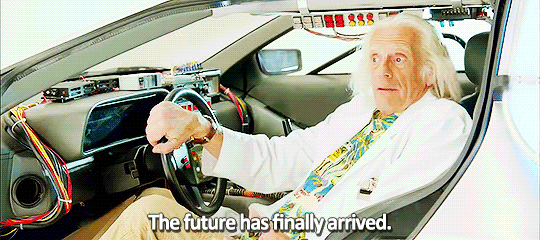 ---
SOCIAL BUZZ
Actress Cobie Smulders recently shared a quarantine-appropriate version of "Let's Go to the Mall," a song from TV show "How I Met Your Mother":
Entertainment Weekly reported:
"Keep on those jelly bracelets / And that cool graffiti coat / 'Cuz the mall is in our hearts, that's what it's all about," she sings (instead of "At the mall, having fun is what it's all about").

Other new lines include "I have to go do Zoom school soon, at least until we're all immune / But that's just fine, I'm gonna follow COVID guidelines."
In her post, Smulders encouraged followers to donate to nonprofit organizations Canada Helps, Daily Bread Food Bank and Save the Children.
As people stay at home, they're consuming more content than ever. Many organizations are partnering with celebrities and social media influencers to reach them, but you don't have to bust your budget to do the same. Look to your brand advocates and work with them to spread your organization's key messages and initiatives.
---
WHAT YOU SAID
We asked if you're having more meetings during the crisis than you did before working from home, and nearly 67% of you have more video conferences and phone calls filling your agendas. Roughly 26% say they have the same number of meetings as usual.
As many of us seek to connect to colleagues, clients and more as we work from home, how many video conferences and phone meetings are filling your agenda?

Weigh in below and share how you're making your meetings meaningful under #DailyScoop. We'll share in tomorrow's roundup.

— PR Daily (@PRDaily) May 7, 2020
---
SOUNDING BOARD
 Do you use virtual backgrounds for your video-conferencing calls, or do you think they're too silly to be used in this setting?
Whether or not meetings are part of your weekend schedule (we hope not), do you use virtual backgrounds for your Zoom, Microsoft Teams, or Google Meet calls?

Share your favorite backdrops (if you use them) below and under the #DailyScoop hashtag, and have a good, safe weekend.

— PR Daily (@PRDaily) May 8, 2020
For example, here are Microsoft's newest backgrounds:
— Microsoft (@Microsoft) May 8, 2020
Share your thoughts below and show us your favorite backdrops (if you use them) under the hashtag #DailyScoop. In the meantime, have a happy and safe weekend.
COMMENT
No Responses to "Google, Facebook and Microsoft extend WFH dates, Wendy's offers online scavenger hunt, and Microsoft seeks more inclusive language"
Ronald N. Levy

says:

The big PR challenge for Google, Facebook and Microsoft—because a public short of money and power could get dangerously jealous—may be to grow public awareness of "who we are."

They are largely INDIVIDUALS working at home to serve the public and hoping to stay employed. It's true.

THE REASON FOR "WHO WE ARE" PR is that some politicians may propose "let the rich companies pay" laws hoping to look like heroes to millions who are today up against it.

THE PR OPPORTUNITY is to address "thank you" ads not just to doctors and nurses from large companies as is done today, but "thank you" ads to the public from families working at home, hoping to stay employed, and expressing sincere appreciation to the public for the jobs.

It's said that an apple doesn't fall far from the tree. PR-savvy executives and corporate managements should think about keeping Apple and other large companies from falling at all.

Far smaller companies may also do Protective PR by saying "thank you."

RESTAURANTS AND RETAILERS that are at lest party open can thank customers for their business and their patience.

HOSPITALS AND GROUP PRACTICES of doctors can thank and also notify the public about increased availability of services.

TRANSPORTATION AND TRUCKING SERVICES can start communications with sincere thanks and then move promptly to communicate and remind people about services available now and soon.

SMALLER PR FIRMS can do "doctor heal thyself" work by communicating to prospects how a little PR now could mean a lot more business and goodwill soon.

Work from home is something many of us can do to benefit clients and ourselves.
PR Daily News Feed
Sign up to receive the latest articles from PR Daily directly in your inbox.