Google's Mother's Day salute, Souplantation permanently closes, and only 4% of consumers demand a halt in advertising
Also: Gerber's 2020 spokesbaby is adopted, HBO looks for engagement with writing challenge, Microsoft axes 'reply-all' email storms, and more.
Hello, communicators:
HBO's social media team started the week with a writing challenge based on its dark comedy show, "Run":
Kicking off week-long #RUNHBO #WritingChallenge with a question from showrunner @JonesDryWrite: Is there one person from your past who could just knock on your door right now, and say, "Come with me", and you'd go? Share your story below or use the hashtag #RUNHBO. pic.twitter.com/Wyurw7RwXo

— HBO (@HBO) May 11, 2020
The question is the first in a promised series of challenges, as the network looks to increase conversation online before the next episode. It's a fun way to encourage engagement with social media users without shouting PR or marketing messages.
Here are today's top stories:
Google offers virtual Mother's Day wishes
For Mother's Day, Google shared an interactive Doodle in which users could make and send digital cards:
Being a parent is… definitely different this year.
To moms of all kinds — thanks for everything you do.#HappyMothersDay 💐 https://t.co/NJeDl4eJIN pic.twitter.com/WlayCV1Mqk

— Google (@Google) May 10, 2020
The company also shared a video thanking "moms of all kinds":
#HappyMothersDay! Whether near or far, craft a message to let the mom(s) in your life know they will always be close to your heart.

Make & send your own digital art from the ♥️ in today's interactive #GoogleDoodle! 📮→ https://t.co/FhqCzr9O0i pic.twitter.com/IlFKdQ1wum

— Google Doodles (@GoogleDoodles) May 10, 2020
Google's efforts are an example of the virtual offerings and messages many brand managers shared for Mother's Day, as many consumers celebrated while also sheltering in place.
[A National Retail Federation survey] of 8,294 U.S. adults conducted from April 1 to April 6 found they plan to spend an average of $205 on Mother's Day gifts, a record high and up $8 from 2019. The survey found 78% of respondents thought celebrating Mother's Day was more important given the current state of the virus. Two-thirds said they planned to do so virtually.
Why it's important: Continue to tailor both your offerings and messages to virtual interactions. Though some countries, states and organizations are beginning to resume in-person business, many people are continuing to stay at home as COVID-19 continues. Keeping engagement high can help keep your brand top of mind as you plan and execute your recovery strategies.
---
TACTICALLY SPEAKING
 Microsoft introduced a reply-all protection tool for Outlook in Office 365, as well as Exchange Online. The current roll out will flag 10 or more messages sent to more than 5,000 recipients using the "reply all" feature within one hour, with additional settings and adjustments to come.
Microsoft's new reply-all email block feature will stay in place for four hours after it's automatically triggered, enough time to stop people from asking "why am I on this email thread?" hundreds of times. The new feature appears to be working for Microsoft's own employees. "Humans still behave like humans no matter which company they work for," says the Exchange team. "We're already seeing the first version of the feature successfully reduce the impact of reply-all storms within Microsoft."
 Though the tool is currently useful for large organizations, communicators of all-size organizations can use this as a reminder to revisit email etiquette and policies within their onboarding and employee communications content. Don't forget to include best practices for conference and video-conference calls as your teams work from home.
"Can everyone please go on mute?" pic.twitter.com/lQtT6gE6Ud

— Microsoft (@Microsoft) May 8, 2020
---
MEASURED THOUGHTS
Rio SEO compiled results from surveys conducted by Ipsos, Nielsen, Forrester and Binary Fountain and placed them in an infographic that shows how consumer behavior has changed during COVID-19.
The good news for PR and marketing pros is that only 4% of consumers think organizations should stop advertising. The remainder want to hear from brands, but in helpful ways. Nearly three-quarters (74%) want organizations to offer help in the form of tips or other assistance, and 72% think organizations should offer COVID-relief donations. Seventy-one percent want advice on how to get through the crisis, and 23% want to feel safe as they communicate with brands online: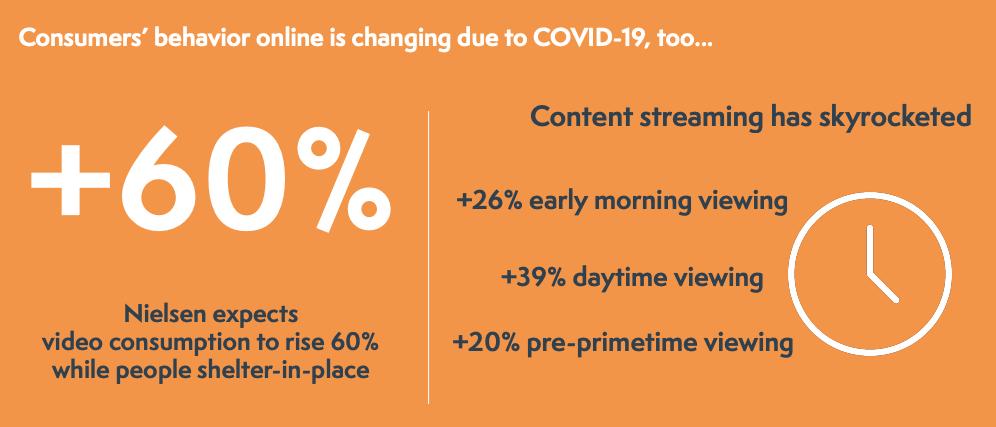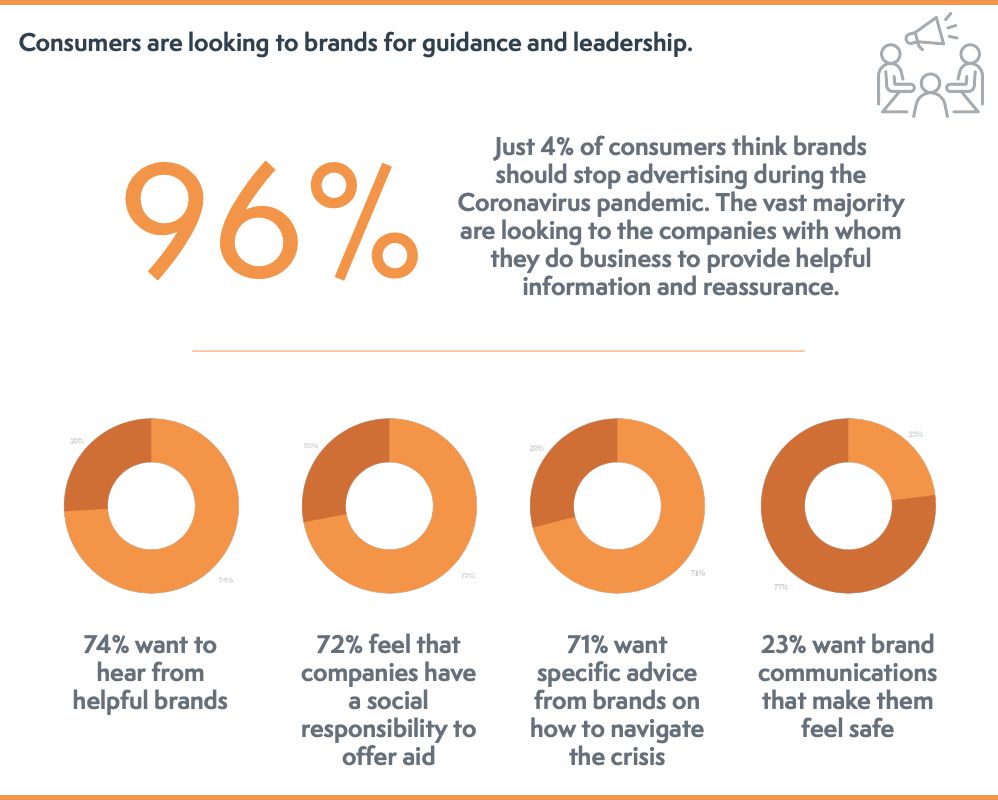 You can check out the entire infographic here.
---
CRISIS LEADERSHIP BOARD
Looking for more insight on how to address the current global crisis and lead your organization into a strong recovery?
Join Ragan's Crisis Leadership Board to network and brainstorm with peers, get the latest intelligence and research and start to strategize for the future of your organization.
Learn more about this exclusive membership here.
Souplantation and Sweet Tomatoes permanently closes
Restaurant chain Souplantation (or Sweet Tomatoes, for locations outside of California), announced it had shuttered the doors of all of its 97 restaurants for good.
The chain's social media team tweeted the following message to customers, thanking its employees "for their dedication and love they have shown to [their] local communities":
We will miss you. pic.twitter.com/75mS8GeQso

— Souplantation (@souplantation) May 8, 2020
Why it matters: The pandemic has had an especially devastating effect on business models such as Souplantation's, but other organizations have felt the strain of the crisis and have announced bankruptcy plans, restructuring and massive layoffs as they seek to stay afloat. No matter your organization, make sure you're consistently and transparently communicating to your employees, so that if you must give them bad news, they're prepared and supported as much as possible.
---
TACTICALLY SPEAKING
Gerber recently announced the winner of its 10th annual photo search and 2020 Gerber spokesbaby— Magnolia Earl from Ross, California. The winner brings a first for the organization's history, because Earl is adopted.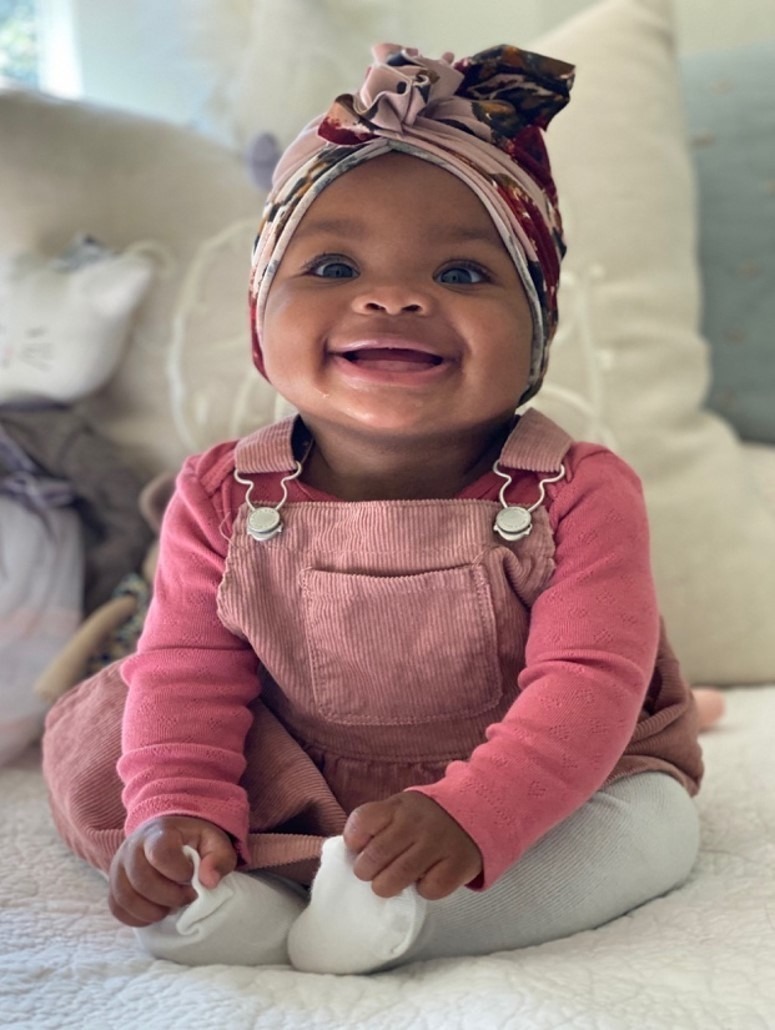 In a press release, Gerber wrote:
As the newest Gerber Spokesbaby, Magnolia represents every Gerber baby, and her family's story serves as a reminder of what unites all parents and drives everyone at Gerber: the promise to do anything for baby.

"Magnolia has brought so much joy to everyone she meets. Her personality is beyond happy and joyful," said Courtney Earl, Magnolia's mother. "On May 9th, 2019 we received a call from the Adoption Agency that there was an expectant mom that was in labor and wanted to talk to us! We pulled off the highway, got a chance to connect with her amazing birth parents, and a few hours later, this sweet baby girl was born. Adoption is incredibly special to our family's story. Winning Photo Search is an opportunity to tell Magnolia's story and shed light on all the beautiful and different ways families are made."
The announcement can serve as another reminder to communicators across organizations and roles of the importance of inclusion and diversity within your messages and campaigns, especially as you continue to reach out and connect both employees and customers.
---
FROM THE EXPERTS
Along with the plethora of video-conferencing calls you've probably added to your schedule, many communicators have had to turn their homes into TV studios or mini film sets to create content or participate in broadcasts and events throughout the crisis.
Rebecca Shaffer, managing partner of Ragan Consulting Group, shares four crucial tips to produce outstanding videos from home. Read them here.
---
WHAT YOU SAID
Last Friday, we asked for your opinion on the use of Zoom backgrounds during meetings. Are the unprofessional or do they add a bit of fun during this global pandemic?
Around 61% of you said that they are only appropriate for casual meetings. However, 27% said that they are fun no matter what kind of meeting you are having.
Whether or not meetings are part of your weekend schedule (we hope not), do you use virtual backgrounds for your Zoom, Microsoft Teams, or Google Meet calls?

Share your favorite backdrops (if you use them) below and under the #DailyScoop hashtag, and have a good, safe weekend.

— PR Daily (@PRDaily) May 8, 2020
---
SOUNDING BOARD
What collaboration tools are getting more use during this quasi-lockdown?
What collaboration tools have been getting more use from your team/colleagues during this crisis? Vote below or tweet us with our hashtag #DailyScoop to share your new favorite work helper.

— PR Daily (@PRDaily) May 11, 2020
Let us know of one of your new favorites is in our poll or tweet us with a tool you love below. Don't forget to use the #DailyScoop hashtag on Twitter.
COMMENT