HBO Max removes 'Gone With the Wind,' Paramount Network cancels 'Cops,' and CrossFit chief steps down
Also: Twitter is bringing back account verification with more transparency, Microsoft criticized for mistake with AI editor, Adidas promises to hire 30% black and Latino employees, and more.
Hello, communicators:
Twitter is bringing back its verification process, first reported by tech blogger Jane Manchun Wong:
Twitter is working on "Request Verification" 👀

(I'm not Twitter employee. I'm not tech support) pic.twitter.com/ED58QsD7kM

— Jane Manchun Wong (@wongmjane) June 7, 2020
Twitter later confirmed the feature to TechCrunch, and specified that it will, for the first time, publicly reveal who or what qualifies for the blue check mark. Twitter verification rules used to be completely internal—you could apply and make your case, but Twitter's actual rules were never clearly delineated—and it wasn't always clear why Twitter gave verification to some people and not others. Now the exact qualifications will be public, for better or for worse.
The move is another step toward greater transparency for Twitter, but brand managers across organizations and industries can benefit from a clear list of requirements to getting verified on the social media platform. Doing so can differentiate your account from that of a parody profile or bot and can also boost your legitimacy.
Here are today's top stories:
HBO Max removes 'Gone With the Wind' as Paramount cancels 'Cops'
The WarnerMedia-owned network announced it had pulled the film from its catalog amid #BlackLivesMatter protests. Though "Gone With the Wind" won several Academy Awards and Hattie McDaniel was the first African American to win an Academy Award as best supporting actress in the film, it's received growing criticisms over its depictions of the antebellum South and slavery.
The streaming service pledged to eventually bring the film back "with a discussion of its historical context" while denouncing its racial missteps, a spokesperson said in a statement on Tuesday.

… "'Gone With the Wind' is a product of its time and depicts some of the ethnic and racial prejudices that have, unfortunately, been commonplace in American society," an HBO Max spokesperson said in a statement. "These racist depictions were wrong then and are wrong today, and we felt that to keep this title up without an explanation and a denouncement of those depictions would be irresponsible."
The Paramount Network also made changes to its programming by permanently canceling "Cops." The 33rd season of the unscripted series following law-enforcement officers was scheduled to premiere on June 15.
The Wall Street Journal reported:
In a terse one-sentence statement, a spokeswoman for the Paramount Network said, "Cops' is not on the Paramount Network and we don't have any current or future plans for it to return." The network is a unit of ViacomCBS Inc.

The Paramount Network initially pulled "Cops" from its schedule last week amid nationwide antipolice protests after Mr. Floyd's killing.

"Cops" creator John Langley couldn't immediately be reached for comment.
Why it matters: It's not just enough to stand in solidarity with the Black Lives Matter movement. More and more consumers—and employees—are urging organizations to take action in addressing racism as well as increasing diversity and inclusion. This includes both commitments to make positive changes as well as cutting content, programs or partnerships that are at odds with your commitments and values.
---
TACTICALLY SPEAKING
Adidas commited to hiring black and Latino people for at least 30% of all new positions in the United States at both Adidas and Reebok. The sportswear company also promised to finance 50 college scholarships for black students annually for the next five years.
The Wall Street Journal reported:
Neither Adidas's six-person executive team nor its 16-person board of directors includes a black member.

… Last week, a group of black Adidas employees sent a presentation called "Our State of Emergency" to executives, calling for the company to increase representation of black and Latino employees to 31% of every level of the organization by the end of 2021. They also called on the company to give $50 million a year to black U.S. communities and help raise money for nonprofits serving those communities.

In response, the company said it would invest $20 million in black communities in the U.S. over the next four years, funding initiatives such as a basketball program built for underserved communities.
The commitment serves as an example of the positive change that can come from employees challenging their organizations to do better—and executives both listening and responding. It also highlights the importance of outlining specific goals and actions your organization will take to increase diversity and inclusion. When possible, outline clear and specific goals for which you can be accountable.
---
MEASURED THOUGHTS
Berlin Cameron and Perksy revealed in a national study that 90% of women think women's issues and rights should be talked about throughout the year, not just on International Women's Day, and 30% of women consumers feel that branded messages about women over the holiday is a promotional excuse, not a values-driven stand.
Image courtesy of Berlin Cameron and Perksy.
As brand managers take part in both Pride Month campaigns and Black Lives Matter messages, make sure your organization isn't using social justice movements as promotional opportunities and nothing else.
---
CRISIS LEADERSHIP BOARD
Looking for more insight on how to address the current global crisis and lead your organization into a strong recovery?
Join Ragan's Crisis Leadership Board to network and brainstorm with peers, get the latest intelligence and research, and start to strategize for the future of your organization.
Learn more about this exclusive membership here.
CrossFit chief steps down following George Floyd remarks
The company's chief executive, Greg Glassman, announced he was retiring after backlash over his comments to affiliated gyms that the company was "not mourning for George Floyd." Dave Castro will take his place as head of the company.
Here's Glassman's statement:
"I'm stepping down as CEO of CrossFit, Inc., and I have decided to retire. On Saturday I created a rift in the CrossFit community and unintentionally hurt many of its members. Since I founded CrossFit 20 years ago, it has become the world's largest network of gyms. All are aligned in offering an elegant solution to the vexing problem of chronic disease. Creating CrossFit and supporting its affiliates and legions of professional trainers has been a labor of love.

Those who know me know that my sole issue is the chronic disease epidemic. I know that CrossFit is the solution to this epidemic and that CrossFit HQ and its staff serve as the stewards of CrossFit affiliates worldwide. I cannot let my behavior stand in the way of HQ's or affiliates' missions. They are too important to jeopardize."
 However, the damage has already been done. Reebok severed its partnership with the company, along with several gyms. Glassman's tweets haven't been deleted, either—making his apology and promise to "not stand for racism" ring hollow.
Why it's important: Your organization's executives can both boost your brand's visibility and favor as well as destroy its reputation. Don't skip over social media advice or media training sessions, and make sure your chief executive is regularly checking in and listening to employees. These preventative measures can refine leaders' statements, help clue them into pressing issues, and help them avoid crises.
---
TACTICALLY SPEAKING
Microsoft laid off MSN.com's editorial staff in late May 2020, replacing it with new automated systems which curate articles from news media outlets to feature on MSN's homepage. Now, the tech company is receiving criticism because it's AI tool incorrectly chose a picture of the wrong member of Little Mix for a story about her bandmate's experience with racism.
A week after the Guardian revealed plans to fire the human editors who run MSN.com and replace them with Microsoft's artificial intelligence code, an early rollout of the software resulted in a story about the singer Jade Thirlwall's personal reflections on racism being illustrated with a picture of her fellow band member Leigh-Anne Pinnock.

… One staff member said Microsoft was deeply concerned about reputational damage to its AI product: "With all the anti-racism protests at the moment, now is not the time to be making mistakes."
A Microsoft spokesman told The Guardian that it replaced the image "as soon as we became aware of this issue," but the incident underlines the important role that editors play with both news and branded content. Especially in the current climate of social unrest, an error with an automated system can quickly put your organization in the crosshairs.
---
RESEARCH SNAPSHOT
The COVID-19 crisis has drastically changed the landscape for communicators and PR pros. More than ever before, communicators must gain key skill sets and employ strategic communications and media relations strategies to boost their organizations' coverage, reputation and overall brand.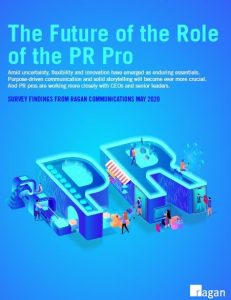 Learn what the 315 communicators we surveyed say about what parts of the PR function are more important than ever, how to adjust for COVID-19, and more with our free report revealing insights that can help you perservere during this uncertain time.
Download your copy of the report here.
---
WHAT YOU SAID
We asked how important it was for organizations to match strong messages about topics like racial justice with donations to relevant groups and nonprofits.
For many, a donation is an essential proof point of your commitment to an issue and a willingness to attach financial value to the cause. Some 69% said donations were essential; less than 5% said a donation wasn't a factor.
On topics where a brand or organization is taking a stand, how important is it to donate to the cause? Is that the most valuable thing you can do?

Share your thoughts about how brands can put their money where their mouth is by tweeting us with our hashtag #DailyScoop.

— PR Daily (@PRDaily) June 9, 2020
---
SOUNDING BOARD
Are you reevaluating your use of Facebook in light of the way the platform has handled comments from President Trump that stoked division and violence in the wake of George Floyd's death?
Some advertisers say it's time to take a closer look at how they use the platform.
Some advertisers are pulling back from Facebook over the way it has handled messages from President Trump. (https://t.co/72Ic9AgYGC)

Should brands think twice about their relationship with Facebook and other platforms that fail to address concerns about speech? #DailyScoop

— PR Daily (@PRDaily) June 10, 2020
Do you agree? Share your thoughts with our Twitter Poll or tweet us with our hashtag #DailyScoop.
COMMENT