Hilton partners with Lysol on 'CleanStay' initiative, NBA's Lakers return $4.6M loan, and distrust persists for media outlets
Also: Disney+ deals with backlash over legal jargon tweet, join our Twitter #RaganChat, why PR pros must lead now more than ever, and more.
Hello, communicators:
In an open letter titled, "This is our time to lead," T. Garland Stansell, 2020 PRSA chair and chief communications officer for Children's Hospital of Alabama, wrote that communicators must step up to dispel misinformation and guide their organizations through COVID-19.
Stansell's letter reads, in part:
 We are all struggling to make sense of the heartbreaking, tragic events taking place around the globe, and trying to do what we can to help each other cope, persevere and adjust, one day at a time. When the crisis finally starts to dissipate—and it will—many of the disruptions will be incorporated in some shape or form into the fabric of our lives. More than ever, there will be a need for calm, steadying and supportive voices at every level of society.

Each of us now has the opportunity not only to continue the important services we provide, but also to recommit ourselves to our profession, to reinvigorate our sense of purpose, and to reaffirm our mission to serve as fierce guardians of and advocates for truthful, transparent communication. We are more than up to the task, we are in this together and we will continue to move forward.
You can read the letter in full here.
How are you leading your organization, clients and colleagues through the current crisis? Share your stories under the #DailyScoop hashtag.
Here are today's top stories:
Hilton partners with Lysol and Mayo Clinic to create 'CleanStay' program
The hotel chain announced it was working with the health care organization and RB, maker of Lysol and Dettol, to "develop elevated processes and Team Member training to help Hilton guests enjoy an even cleaner and safer stay from check-in to check-out."
For over a century Hilton has led the hospitality business with industry-defining firsts. Today, we are launching a new standard of hotel cleanliness, Hilton CleanStay in partnership with RB, maker of @Lysol and Dettol. https://t.co/Ck5TaRAeiT pic.twitter.com/8Lv3CmKbag

— Hilton Newsroom (@HiltonNewsroom) April 27, 2020
The program aims to ease consumers' concerns and stop the spread of COVID-19 as travel bans and shelter-in-place orders lift.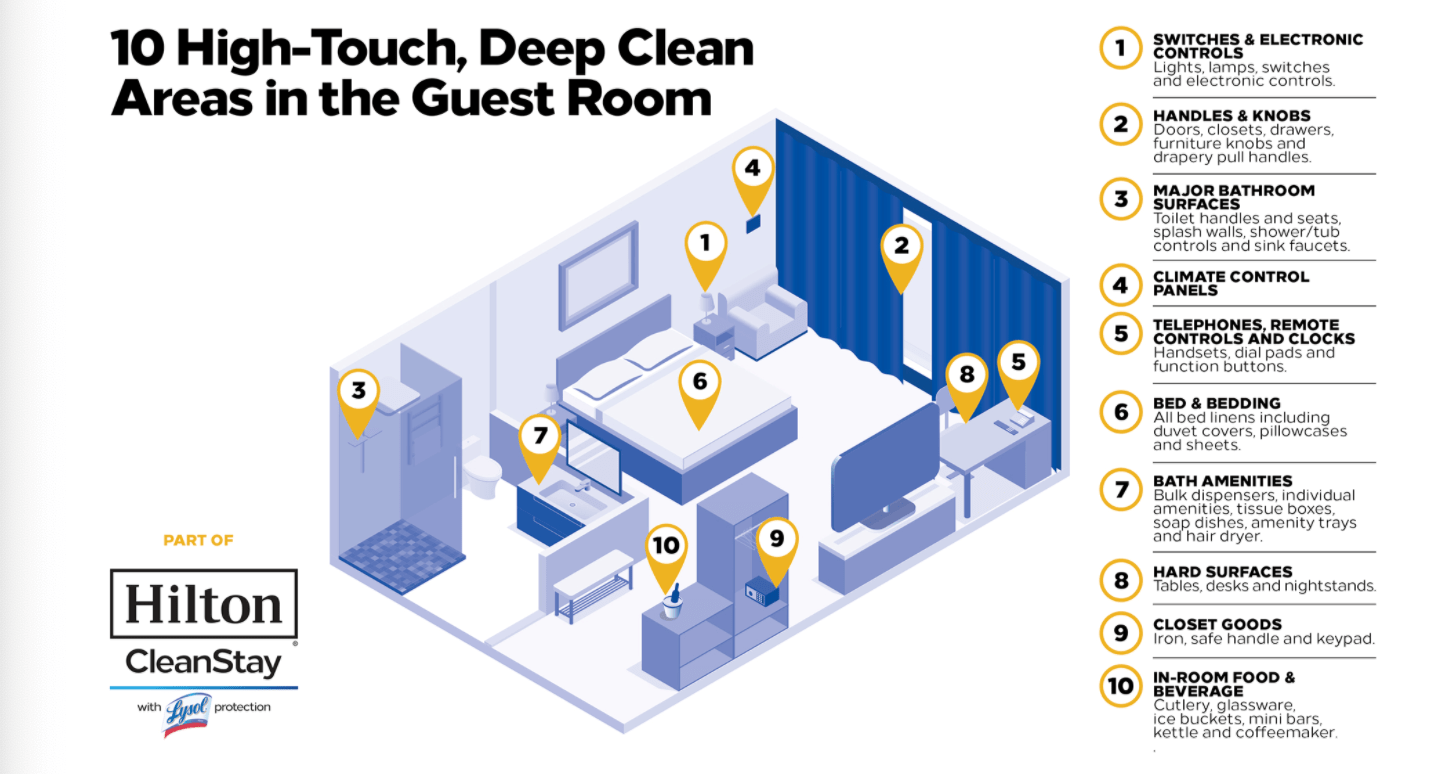 Marriott and Airbnb have also announced initiatives that will enhance existing cleaning processes and standards. Marriott is achieving this through its Global Cleanliness Council, while Airbnb is consulting with the former U.S. surgeon general, Dr. Vivek Murthy, Adweek reported.
Why it matters: COVID-19 has hit travel and hospitality industries especially hard, but communicators across industries must relay their updated policies, procedures and business models as they seek to stay afloat during and after the crisis. Make sure that you're regularly updating your audiences on initiatives and underlining that the priority of your changes lies with their safety and well-being, along with your employees.
---
SOCIAL BUZZ
Disney+ recently tweeted that the entire "Star Wars" saga was coming to the platform on May 4, asking fans to reply with their favorite memories of the franchise. Then, the social media team included a legal disclaimer:
By sharing your message with us using #MayThe4th, you agree to our use of the message and your account name in all media and our terms of use here: https://t.co/G0AyToufQ5

— Disney+ (@disneyplus) April 27, 2020
It didn't take long for Twitter users to ridicule the disclaimer:
lol nice try, bad lawyers.#MayThe4th

By sharing anything with me on Twitter, Disney agrees that they owe me (I'll be modest) ten million US dollars.

— Dale Innis 🌹 (@DaleInnis) April 27, 2020
Thank you for yet another example of companies who don't understand how social media works. You, of course, can use this tweet all you want. #MayThe4th

— C.C. Chapman (He, Him, His) (@cc_chapman) April 27, 2020
I wonder if that was typed completely earnestly by an attorney, or with deep, deep shame by a social media person.

— Jaron (@Comradephate) April 27, 2020
As backlash grew, Disney clarified that the legalese only applied to Twitter users who directly replied to their original tweet:
The above legal language applies ONLY to replies to this tweet using #MayThe4th and mentioning @DisneyPlus. These replies may appear in something special on May the 4th!

— Disney+ (@disneyplus) April 27, 2020
The situation showcases the balance communicators must strike between social media engagement and requests from their organizations' legal departments.
---
#RAGANCHAT
Join us for another conversation at 3 p.m. Eastern time on Twitter.
Join @RaganComms for #RaganChat tomorrow, April 28th at 3 p.m. ET. pic.twitter.com/qNkaLIKjen

— PR Daily (@PRDaily) April 28, 2020
This week we will cover social media usage during the COVID-19 pandemic. Come ready to share your favorite channels, accounts that are succeeding, gaffes that you've seen, and more.
We hope to see you there.
---
MEASURED THOUGHTS
Cision's 2020 Global State of the Media Report revealed that fake news and a changing media ecosystem continues to challenge journalists who are now scrambling even more to keep up with COVID-19 headlines and information.
Though the current crisis has affected headlines, 42% of journalists plan stories a week to a month in advance, versus 36% who say they plan their stories on a daily basis:

Though distrust in news media organizations is decreasing, 59% of reporters still say they believe there is distrust for media outlets.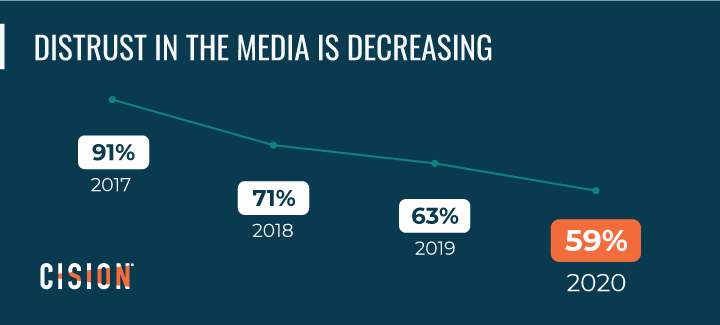 PR pros can help reporters increase trust among audiences across demographics by sharing data and experts to underline facts, along with pitching only relevant information and stories angled toward the current crisis. You can also fight against fake news by sharing news and information from trusted sources.
---
CRISIS LEADERSHIP BOARD
Looking for more insight on how to address the current global crisis and lead your organization into a strong recovery?
Join Ragan's Crisis Leadership Board to network and brainstorm with peers, get the latest intelligence and research, and start to strategize for the future of your organization.
Learn more about this exclusive membership here.
Los Angeles Lakers return $4.6M loan
The basketball franchise is returning its Payroll Protection Program loan following backlash from consumers and negative headlines.
The Lakers, one of the NBA's most profitable franchises, applied for relief through the Small Business Administration's Paycheck Protection Program, and were among the companies and nonprofits granted loans during the first round of distributions. But after reports that several large or highly capitalized entities were securing aid from the program's initial $349 billion pool — while hundreds of thousands of smaller businesses were shut out — the Lakers said they returned the money.

"The Lakers qualified for and received a loan under the Payroll Protection Program," the Lakers said in a statement to ESPN. "Once we found out the funds from the program had been depleted, we repaid the loan so that financial support would be directed to those most in need. The Lakers remain completely committed to supporting both our employees and our community."
Companies including Shake Shake, Ruth's Chris Steakhouse and Potbelly Sandwich Shop have also announced loan returns from the program after getting criticism, making statements aimed at earning back trust and favor:
Potbelly's sales dropped dramatically when COVID-19 hit, forcing us to furlough employees, close shops, and significantly cut salaries at all levels of the organization. In order to financially support our in-shop employees, and based on SBA guidelines (1/3)

— Potbelly (@Potbelly) April 25, 2020
We are returning the PPP loan after further clarification from the Treasury Department. We will continue to seek alternatives to help support our employees and enable them to return to work so they can serve our loyal customers.

— Potbelly (@Potbelly) April 25, 2020
Why it's important: It's easier to sidestep a potential crisis than to repair your reputation following backlash. Though most of the statements issued by the organizations returning PPP loans include phrases such as "unintended impact" and "protecting employees," consumers might be slow to believe these statements as many small and medium buisinesses continue to suffer from the effects of shelter-in-place orders.
---
FREE DOWNLOAD
How is the COVID-19 crisis affecting communicators? What are their top challenges and how are they responding?
Benchmark your efforts by downloading our survey about how the current crisis is making an impact on your colleagues and neighbors. Learn what channels are the most effective, what messages are getting the majority of the focus, and other key insights.
---
WHAT YOU SAID
We asked how much you're relying on video to relay COVID-19 messages and content, and 35% of you said you're creating a lot of videos, while 20% said they wish they were leaning more on the format. In comparison, 30% of you said you've only made and shared a few videos, and 15% aren't using the content format at all:
Has your organization used video for key messages to stakeholders during this crisis? Share your thoughts with our hashtag #DailyScoop.

— PR Daily (@PRDaily) April 27, 2020
---
SOUNDING BOARD
Microsoft Word will now show two spaces after a period as an error.
A debate for the ages finally settled. Where do you stand? ⚔️ https://t.co/A3xvC4OEMV

— Microsoft 365 (@Microsoft365) April 24, 2020
AP style calls for a single space, too. What do you think of the style declaration?
Microsoft World will now mark two spaces following a period as an error. (FYI, AP style calls for a single space, too.) Writers and comms pros, what do you think of the declaration?

Weigh in below and tweet your reactions under #DailyScoop, and we'll share results tomorrow.

— PR Daily (@PRDaily) April 28, 2020
Weigh in our poll through Twitter and share your reactions under the #DailyScoop hashtag, and we'll share results in tomorrow's roundup.
COMMENT