How a Dr. Fauci baseball card broke records and hijacked the news
PR agency 5W pitched the limited-run card to a wide field of media outlets, selling more than 50,000 cards in 24 hours. It won the "Media Relations Strategy: Newsjacking" category of Ragan's 2021 Media Relations Awards.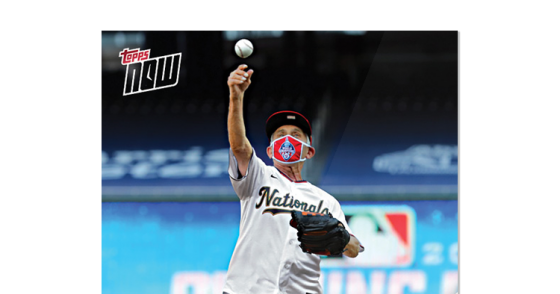 Founded in 1938, The Topps Company, Inc., is the preeminent creator and brand marketer of physical and digital sports cards. In 2016, the company launched Topps NOW to celebrate the greatest moments in sports and entertainment history as they happen. Cards in the series are available for 24 hours only, making them an exclusive and highly sought-after piece of history.
As a brand, Topps works quickly to capture newsworthy moments. One was Dr. Anthony Fauci officially kicking off the 2020 MLB season by throwing out the first pitch at the Washington Nationals vs. New York Yankees game.
Topps' agency partner, 5W Public Relations, had to move quickly to make the limited release of the Fauci card newsworthy. Its efforts were a home run: In just 24 hours Topps sold 51,512 Dr. Fauci cards, breaking previous sales records. Following the record break, the card was inducted into the National Institutes of Health Museum.
When Dr. Fauci threw out the first pitch on July 24, the accompanying Topps NOW card was released that afternoon. 5W's strategy was composed of three parts:
Piquing media interest. The moment Dr. Fauci was announced to throw out the first pitch, coverage began popping up in an array of outlets. 5W took this opportunity to begin outreach to build buzz surrounding the upcoming trading card release.
Reactive outreach. Moments after the pitch took place, 5W targeted a range of outlets across regional and national news, sports, entertainment, celebrity and lifestyle verticals. While the event itself was historic, 5W capitalized further on the viral moment of Dr. Fauci's pitch going awry, but still honored with the professional baseball card treatment.
Wrap-up. The team followed up its initial outreach with news of record-breaking sales, resulting in additional coverage on the sold-out piece of history.
The news of Dr. Fauci's Topps NOW card, as well as its record-breaking sales, resulted in 1,996 media placements across a variety of regional and national print and broadcast publications, and over 1.9 billion media impressions.
Learn more about Ragan's and PR Daily's current and upcoming awards programs here.
COMMENT