How CEOs feel about speaking out on issues of public interest
Findings of the 2022 HarrisX/Ragan CEO-Communicators Perceptions Survey reveal that CEOs are more willing to speak on societal issues when they matter to employees.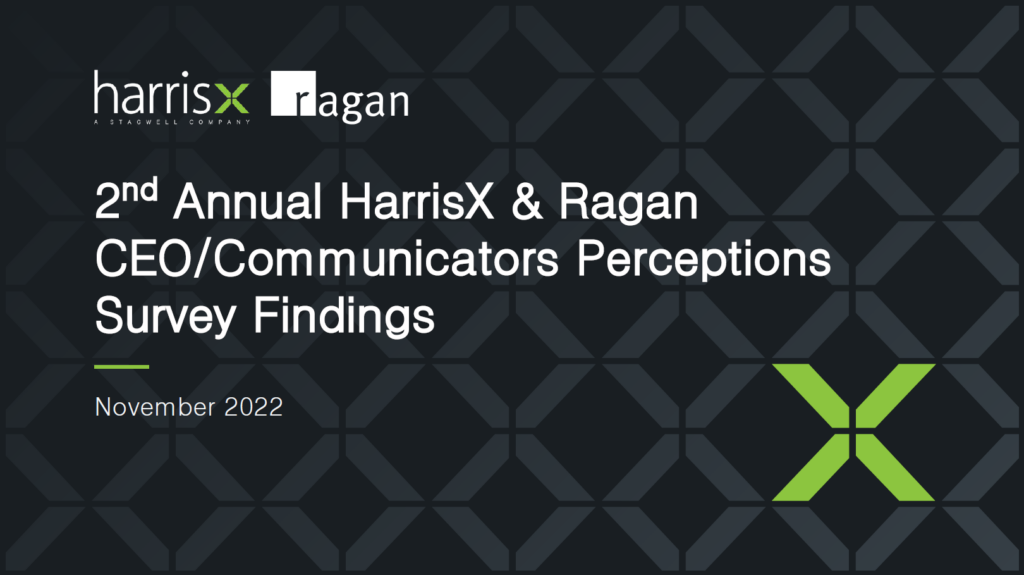 Communicators are at a crossroads each time a hot topic of public debate, from social justice issues to ESG and beyond, enters the news cycle. Is it appropriate for your organization to comment? Is taking a stand the right thing to do?
Ragan Communications partnered with research consultancy HarrisX in the fall of 2022 to understand how and when CEOs and communications leaders feel it's appropriate for organizations to take a stand on issues of public interest, and the factors that influence their decisions.
The survey was conducted by HarrisX from Oct. 11-24 within the U.S. among 360 CEOs and high-ranking senior communications.
Asked whether organizations should take a stand on political and social issues, 63% of CEOs said yes and 37% said no. Just  58% of communications leaders agreed brands should speak out.
Those numbers rose when respondents were asked whether organizations have a responsibility to challenge public policies when they threaten employees' rights — 76% of CEOs said yes and 74% of communications leaders said no.  This drastic increase in support demonstrates how attuned leadership is to the opinions of internal stakeholders—and offers a reminder that organizations can avoid reputational risk by tying larger purpose and values commitments back to a positive employee experience.
Those numbers fell again when each group was asked if standing up for employee rights should happen even if it meant losing revenue, with 61% of CEOs and 66% of comms leaders agreeing.
The fact that fewer CEOs said they support employee rights at the expense of revenue than those who support taking a stand overall is telling. Of course, failing to stand up for employee rights can bring about revenue losses in different ways as employees who experience a disconnect between their personal sense of purpose and the corporate purpose of their employer may very well leave, causing a loss of productivity and talent. It's on communicators to connect the dots for the rest of the C-suite here.
Download the HarrisX-Ragan Key Findings Report here
COMMENT
2 Responses to "How CEOs feel about speaking out on issues of public interest"
The results of this survey are heartening, as social mores change and stakeholder expectations of company executives are front and center. I agree with the majority on these questions. But, I would counsel my clients to embark on a speedy but thoughtful discernment on the risks and benefits of speaking to an issue and 1) how it is perceived by key stakeholders, such as employees and customers; 2) what kind of response do we expect from stakeholders? 3) what questions should we be prepared to answer? 4) does the issue and our position align with our company's culture, mission and values? 5) Do we need to share a position just with employees, or more publicly? These and other important questions should be a part of the decision-making process before stepping up to the mic on a social issue.

Deb, I agree with all your points. However, communicators should be mindful that the moment something is released internally, it'll be out on the street. And it may be perceived quite differently by internal audiences vs. external ones. Communicators need to be prepared for that.