How earned media drives consumer behavior
New research based on analysis of more than 100,000 media articles.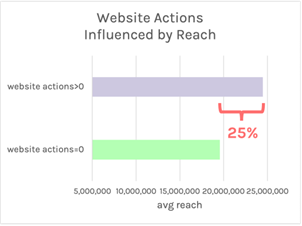 One of the biggest challenges for PR pros is understanding how their efforts influence consumer behavior. Connecting earned media content to behavioral outcomes such as website visits and activity, which ultimately result in more customers, sales and brand loyalists, has traditionally been challenging.
Today, we have PR measurement technology that can do just that.
At Onclusive, we recently took a deeper look into our global PR measurement data and uncovered some surprising insights about the relationship between different media attributes and desired consumer actions.
Our study sought to understand how predictive earned media characteristics – such as publication authority, brand relevance, brand engagement and sentiment – are of an individual article driving brand website traffic and actions.
The insights from this study could change how you approach your work as a PR professional, so let's take a closer look.
Publication reputation and consumer behavior
Publication reputation is the overall authority of a media publication based on its "tier."
The higher the reputation, the greater the likelihood that an article will rank highly in online search results.
For example, well-established publications such as The New York Times or the Wall Street Journal are considered tier one (high reputation), while outlets like niche content sites and blogs are considered tier three (low reputation). Tier two, or medium-reputation publications represent those in-between.
We found that high- and medium-reputation media outlets drive roughly equal website traffic, followed by low-reputation outlets. This means that publication reputation is not a good predictor of brand website visits you're going to get from an earned media article.
Here's where high-reputation publications make a big difference: they tend to drive significantly more website actions – 41% more than medium-reputation and 73% more than low-reputation publications: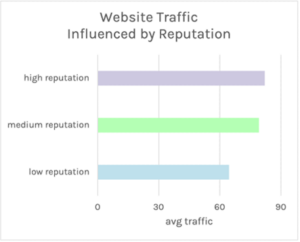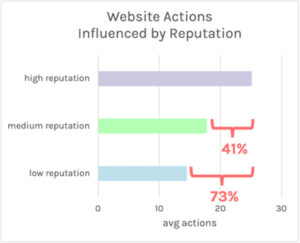 In other words, website visits from high-reputation publications typically convert into more actions from your audience.
We believe that this indicates an increase in consumer trust influenced by a reputable publication.
How you can use this in your PR strategy:
Don't ignore less well-known media, as niche content sites and blogs can be powerful drivers of website traffic.
To maximize the volume of actions your readers take when they arrive on your brand website, build relationships with tier one publications and consistently include them in your target media list.
Publication reach and consumer behavior
Publication reach is the total readership or circulation of a media outlet and, therefore, the potential audience size of any article.
To clarify, reach  or impressions are not an indicator of the number of actual article readers.
Similar to reputation, publication reach does not have a strong correlation with website traffic. There is only a 9% difference in the reach between articles that drive website traffic and those that do not.
This is one of those unexpected insights that came out of our analysis – the fact that publication reach is not a strong predictor of website traffic is quite counterintuitive.
However, the publication reach of articles that drove website actions is 25% greater than articles that do not: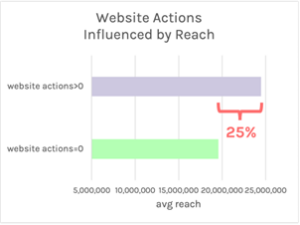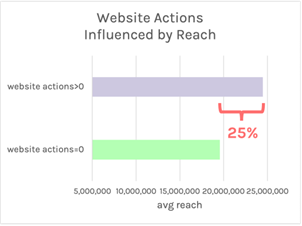 The takeaway: while reach does not predict overall traffic, articles published on websites with large reach do tend to result in more website actions once consumers arrive at a brand website.
How you can use this in your PR strategy:
Consider including lower-reach publications in your target media list since outlets with lower circulation can still drive meaningful website traffic.
At the same time, continue to explore which publications related to your industry, brand and competitors have greater reach and experiment with having your stories published there to increase desired website actions from your audience.
A word about our research methodology
We analyzed over 100,000 media articles published globally between January 1 and December 31, 2021, about a representative sample of business-to-consumer (B2C) and business-to-business (B2B) brands across a broad set of industries. The articles in the study included only earned media content published via digital media (excluding social media).
Zack Jenkins is US general manager for Onclusive. Stay tuned for the next article in the 3-part Earned Media Attributes That Drive Consumer Behavior series! We will focus on Brand Relevance next week.
COMMENT
One Response to "How earned media drives consumer behavior"
Grace Brindley, Editor/Writer for Platform Magazine

says:

This article offers some really valuable insights for public relations practitioners . I appreciate the application of quantitative data to measures, which professionals can utilize to attract brand awareness. Onclusive's findings, such as the increase in consumer action associated with high-reputation outlets, indicate the type of publications public relations practitioners should add to their media lists.