How PR can help journalism survive
It's a tough world out there for journalists — but PR pros can help.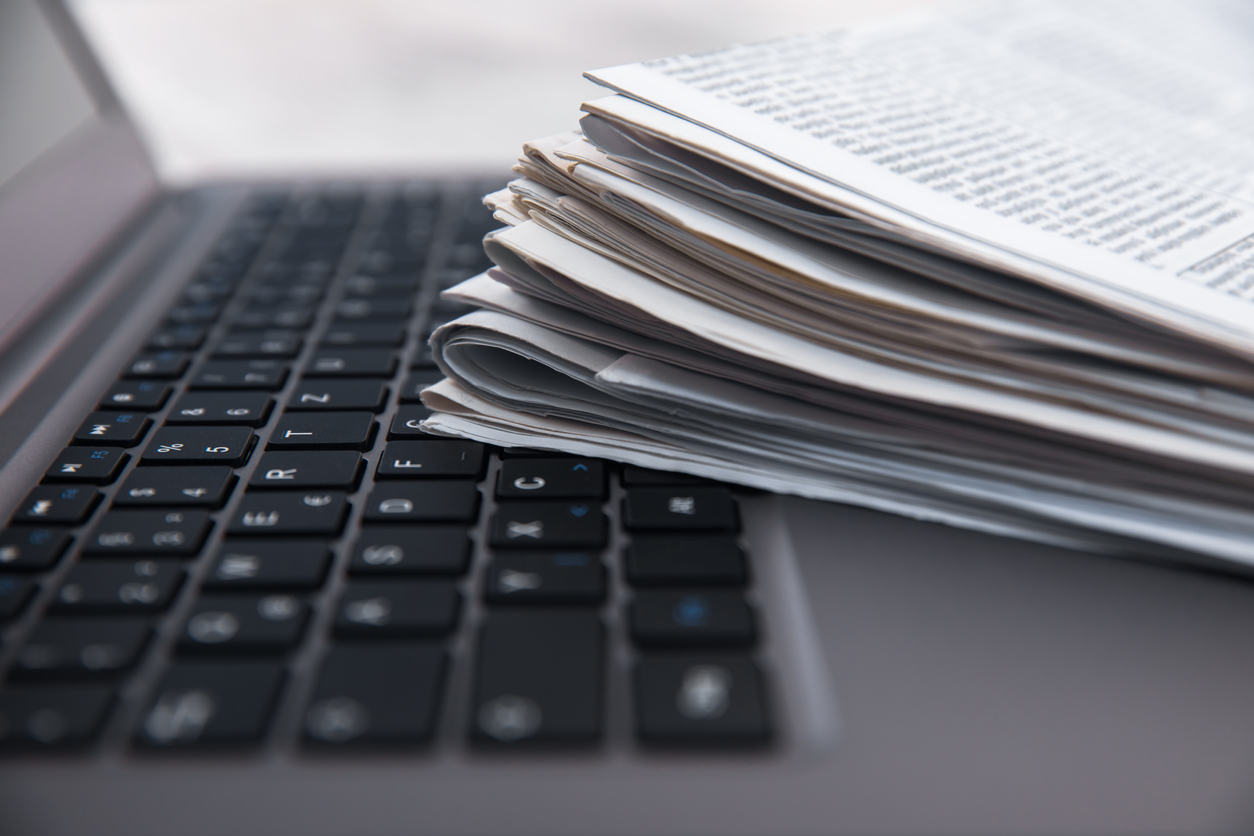 Tina:  Welcome back, Mark.  One of my absolute favorite things to talk about in our field is the state of journalism, which we address in detail in our annual IPR Disinformation studies, and how media impacts our field and our democracy as a whole. A few weeks ago, The Washington Post said they will lose money this year, the first time in years. To me, The Post is one of the gold-standard media outlets that others look up to as a success story. Any thoughts about this and what its impact will be on our field?
Mark: First, I appreciate how well you can plug in IPR's work to our topics.
Tina: Thank you, Mark. I do my best.
Mark: While we know that public relations is more than just media relations, a great deal of PR resources are focused in that direction.  To succeed within the context of those who invest in PR, we require a healthy news business.  Unfortunately, the news business is anything but healthy.
Tina: Well, how unhealthy is it? Or as Kai Ryssdal says on NPR's "Marketplace," "Let's do the numbers."
Mark: Gladly, Tina. Unfortunately the business model hasn't kept pace with society. According to the U.S. Bureau of Labor Statistics, there were roughly 47,000 journalists, news analysts and reporters working in the U.S. as of May 2021. Their 2021 outlook for the next 10 years forecasts a reduction of the journalist workforce at -9%. About a month ago, Gannett, the nation's largest newspaper chain with more than 250 papers, trimmed 400 jobs including journalists and other personnel. What's more, they announced that 400 roles will not be filled after the company announced second quarter losses of $54 million on revenues of $749 million. According to Pew Center, the total circulation of print newspapers in the US is more than 50% lower than in 2015. In the same study, Pew reports that advertising revenues declined by 40% between 2019 and 2020. While digital readers and revenues have increased over time, they haven't made up for the losses.
Tina: Those aren't great numbers. As you know, I'm a big fan of Dr. Penelope Abernathy and her research investigating the "expanding news desert," meaning that there are places in the U.S. that do not have a local newspaper or just publish a newspaper once a week. We need local news. This means that there is a large swath of the country where people don't have access to local news. This has a significant negative impact on our society and our democratic process. In fact, since 2004, the U.S. has lost a quarter of all its newspapers. Abernathy publishes an interactive chart on her website so people can find out if they live in a news desert.
Mark: Yes, this is not a pretty picture. Now, let's look at public relations employment trends. In 2021, the Bureau of Labor Statistics reported 278,000 people work in the industry with a very optimistic outlook for job growth between now and 2030 (+11%).  That amounts to roughly six PR people for every journalist. That's fewer PR placement opportunities for media relations people. Plus, The Washington Post reports two newspapers fold every week.
Tina: I really appreciate how we are digging into the numbers in this month's column because it's important for people to understand the scale of what is happening. So what is the impact of this, not just on our field if traditional media declines, but on our ability to be informed citizens?
Mark: Well, public relations professionals and their clients value the third-party endorsement of traditional media. Even though trust in traditional media is low, social media is even lower. In 2022, the Edelman Trust Barometer reported that social media is losing ground: Only 37% of the public around the world trust social media as a source for general news and information.  Traditional media's trust score also declined, down 5 points over last year but still at 57%. "Search" scored 59%.
The numbers indicate that fewer and fewer media and depleted newsrooms in combination with a growing population of PR people is a losing proposition as space and time grow scarcer in an increasingly competitive environment.
Tina: Mark, I think it's time for another plug for IPR research. In our annual IPR disinformation study, we broke down those traditional sources because it's hard to say "traditional media" or "social media" without understanding the nuances within that. We found that Facebook is the least trusted social media source with 72% of our 2,200 U.S. respondents said the platform was most responsible (along with politicians) for spreading disinformation. We have data on each of the platforms — it's fascinating as each of these sources are trusted differently, but still we see a lot of crossover from these platforms as well. And the lines between social and traditional are also increasingly blurring
One important finding in our study is that how much people trust sources depends on their political affiliation wide. For example, between their levels of trust of mainstream sources like The New York Times (40 percentage points) and The Washington Post (35 percentage points) Interestingly, we did find one source that both Republicans and Democrats agreed was most trustworthy and that …drum roll, please … Mark, you're supposed to do a drum roll sound.
Mark: Oh sorry. I didn't know that was a literal request. *drumroll*
Tina: Thank you, Mark, for the drumroll. That trustworthy source was … LOCAL NEWS, both broadcast and print.
Mark: That's really important especially as we talk about these news deserts. It's also  interesting from the perspective of the relationship between traditional and social. Social media is not exactly a refuge: I just read study results from think tank Skema Publika in Editor & Publisher that people of all ages around the world (except for China) have an increasing distrust for "reliable" news sources. Instead, they look to social media for information. While trust in both sources are extremely low, young Americans associate "fake news" with "media/press" more than 10 times more than "social media."
As more public relations programs than ever use paid media in their efforts, it's a way to guarantee the delivery of one's intended messaging to a targetable audience. And the revenue accrues to the media which pumps life into the sector. I wonder about the effects of paid on the "purity" of public relations which, I know, sounds quaint. The lines which separate PR from advertising, digital and other forms of marketing communication seem to be blurring. I suppose those of us who knew a more vital media industry and an earlier form of public relations must adjust.
Tina, any advice for PR pros?
Tina: Of course. I have lots of advice, even when people may not want it. First, public relations professionals can play a major role in influencing citizen trust of news, especially through their role as the conscience of the company. Organizations should support local news through funding (without the expectation of a quid pro quo relationship), subscriptions and advertising. Organizations should also teach media literacy as part of their professional development programs so their employees can be better consumers of news and better discern between "good" and "bad" news. Organizations should also review their advertising portfolios to ensure they are not funding "bad" or "fake" news.
The operative word, though, in "public relations" is "relations."  PR professionals must establish trust and confidence with key journalists, certainly, but with all journalists. Do your research; gain a keen understanding of their priorities and preferences to ensure that all your communications outreach matters and reflects well on your respect for the journalist. That's the basis upon which good media relations are based.  Make yourself an indispensable source of meaningful content.
Your thoughts?
Mark: No one could disagree with your recommendations. I would only add that whatever a communicator can do to anticipate a journalist's needs will earn respect.  When I worked in the news business in the 1980s, it was a simpler and relatively healthier time for traditional media when compared to today. As an editor responsible for 40 topical weekly features, I was always amazed at how many PR people still got it wrong and sent me worthless material. At the same time, I was always grateful for the PR people who knew what I needed and delivered when I needed it. They were indispensable to me. And that's the key: earn your vitality and indispensability. Gain that and you can't go wrong.
Tina McCorkindale, PhD is the president and CEO of the Institute for Public Relations. Mark Weiner is the chief insights officer for PublicRelay, the research-based communications consultancy.
COMMENT