IBM stops facial recognition work, employees seek fewer open workplaces, cosmetics brands drop talc, and more
Also: Google Maps offers alerts for mass transit users, Google Meet's new noise-canceling features, how consumers feel about brand messages on racial justice, and other topics.
Good morning, communicators:
Google is offering notices on its Maps app to help users avoid crowding and maintain social distance.
Apart from showing checkpoints and testing locations, the app will show how crowded public transit might be in a certain area. Public transit use is a key concern for many organizations' leaders as they try to chart a way back to the office for their employees.
Google Maps could be an essential resource for helping your employees find safe ways to return to work in the coming months.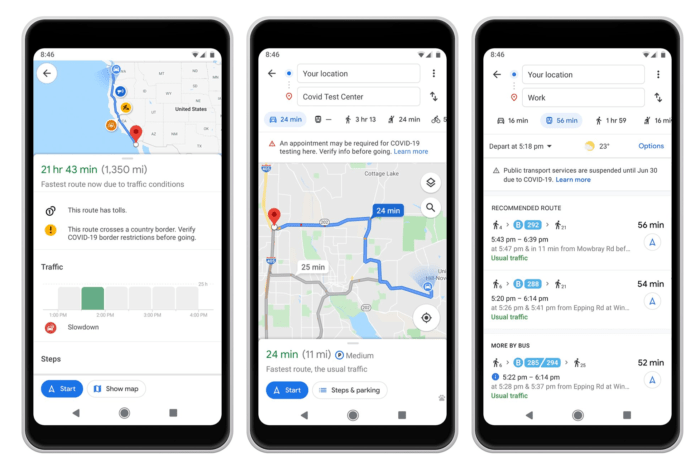 Image courtesy of Android Police.
Here are today's top stories:
IBM stops research on facial recognition, police partnership
The tech company's CEO, Arvind Krishna, wrote a letter to Congress stating that the organization would no longer help in developing facial recognition technology. Instead, IBM wants to help solve problems stemming from racial injustice and structural inequality.
In September 1953, more than a decade before the passage Of the Civil Rights Act, IBM took a bold stand in favor of equal opportunity. Thomas J. Watson, Jr., then president of IBM, wrote to all employees:

 " . . .Each Of the citizens of this country has an equal right to live and work in America. It is the policy of this organization to hire people who have the personality, talent and background necessary to fill a given job, regardless of race, color or creed."

Watson backed up this statement with action, refusing to enforce Jim Crow laws at IBM facilities. Yet nearly seven decades later, the horrible and tragic deaths of George Floyd, Ahmaud Arbery, Breonna Taylor and too many others remind us that the fight against racism is as urgent as ever.

To that end, IBM would like to work with Congress in pursuit of justice and racial equity, focused initially in three key policy areas: police reform, responsible use of technology, and broadening skills and educational opportunities.
Why it matters: When it comes to discussions about racial justice, and diversity and inclusion in America, you have to walk the walk. That means reevaluating parts of your portfolio that run counter to your priorities and asking how your organization can make a difference. It can also be a powerful opportunity to demonstrate your organization's long-held core values.
---
MEASURED THOUGHTS
In a new poll, IPR and the Harris Poll asked employees about their expectations for returning to the office. What safety measures do they expect? What messages are they looking for?
One takeaway: Many workers want to abandon open office space for better social distancing.

The poll also showed the huge risk that organizations face if they don't demonstrate care and responsibility for returning employees. Regarding organizations that don't protect employees, respondents say they are more likely to favor legal liability and other measures.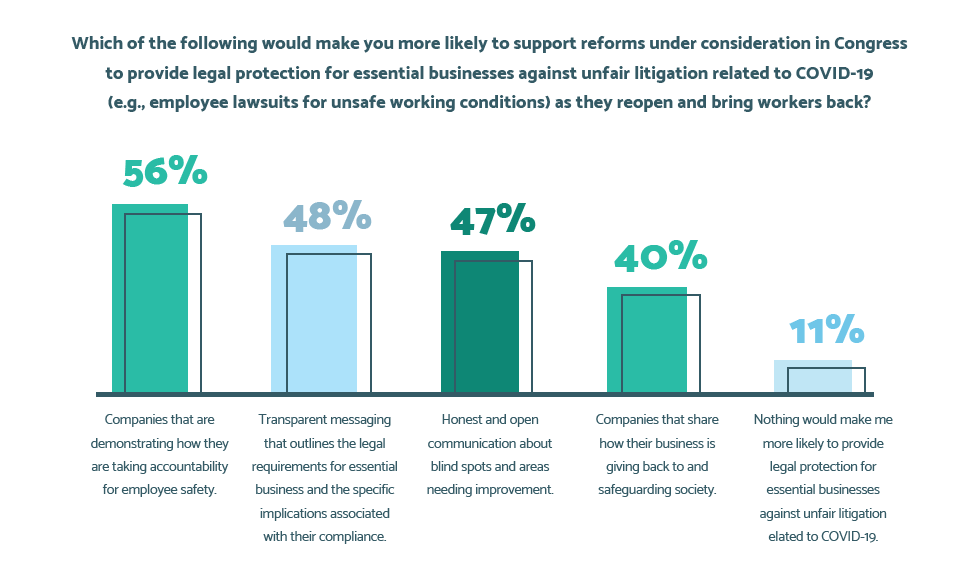 ---
CRISIS LEADERSHIP BOARD
Looking for more insight on how to address the current global crisis and lead your organization into a strong recovery?
Join Ragan's Crisis Leadership Board to network and brainstorm with peers, get the latest intelligence and research, and start to strategize for the future of your organization.
Learn more about this exclusive membership here.
Cosmetic brands quietly drop talc from products
The beauty industry is removing talc from its products as high-profile legal battles linking the powdery substance to cancer have made its inclusion risky.
Johnson & Johnson has faced thousands of lawsuits over the talc in its body powders, and the company has stopped selling products with talc as an ingredient.
The brands are hoping to avoid scrutiny, with spokespeople downplaying the decision to remove talc from their product lines.
Chanel told Reuters that it routinely updates its products "to ensure we continue to meet our customers' changing needs and expectations," a spokeswoman said in an email.

Chanel, which continues to use talc in other products including pressed powder, blush and eye shadow, said all the talc it uses is "selected according to strict purity criteria, fully complies with current global regulations, and is safe under standard conditions of cosmetic use."
Why it matters: When legal matters are involved, make sure you include your legal experts and do your research. Offer as much transparency as possible, and avoid statements that could come across as doublespeak. A good holding statement can come in handy; cultivate a solid relationship with your legal department, too.
---
REMOTE WORK
For workers planning to continue their operations from home, a top tip from experts is to invest in a microphone for your video meetings and presentations.
"If you want to come across being your best, audio is the single most important thing in video," says Larry Becker, the author of "Great on Camera." "If people can't hear you, they'll get frustrated and tune you out. Bad video, and they'll muddle through, just to listen to you. A microphone will make a big difference."
You can get a lavalier mic for under $20 or go with Yeti's USB products for options under $100.
What if you're committed to your Airpods? Experts warn that Bluetooth wireless can have connectivity problems and sound quality could suffer, especially when compared against a microphone setup.
However, your Airpods will definitely be better than the built-in mic on your webcam or laptop.
Google Meet rolls out noise-canceling features
Google's answer to Zoom meetings is now getting robust noise-canceling tech—all powered by artificial intelligence, so you don't have to do a thing.
Google isn't the first company to try to use artificial intelligence to reduce background noise on calls. However, unlike a solution such as Nvidia's RTX Voice software, Google's processing happens in the cloud, meaning it can work consistently on a much broader range of hardware. Eventually, this will include smartphones. Lachapelle emphasizes that the data is encrypted during transport, and it's never accessible outside of the de-noising process.
Why you should care: Picking the right video platform for meetings and pitches could change as the technology gets better and new features reduce noise pollution and other irksome facets of virtual interaction. Make sure you are comfortable with more than one of these platforms, as the industry standard could change. As we've seen in recent months, wholesale adoption of a new technology could happen overnight if the right pressures are applied.
---
RESEARCH SNAPSHOT
COVID-19 has drastically changed the landscape for PR pros and other communicators. More than ever, these practitioners must hone key skill sets and employ strategic communication and media relations strategies to boost their organizations' coverage, reputation and overall brand.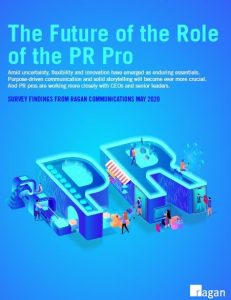 Learn what the 315 communicators we surveyed say about which PR functions are more important than ever, how to adjust for COVID-19, and more, by reading our free report revealing insights that can help you persevere during this uncertain time.
Download your copy of the report here.
Amazon gets pushback from activists over BLM posts
The tech company has been vocal on social media about racial injustice, including Instagram posts from CEO Jeff Bezos. However, some activists say that the company is talking out of both sides of its mouth.
"It is opportunistic of Amazon to use this moment to make empty and hypocritical statements when it is simultaneously building the backbone for many police departments across the country," said Jacinta Gonzalez of Mijente, a grassroots Latinx and Chicanx organizing group. "The company perpetuates policies and technologies that are clearly targeting and harming black and brown communities," she added.
The company has partnered with police and law enforcement agencies on things like facial recognition and video surveillance with its network of Ring doorbell monitoring devices. The company has also faced criticism over its treatment of employees of color.
The company's track record with non-white employee organizers has also proven to be in conflict with its public statements regarding racial equity, said Amazon Employees for Climate Justice, a group of employee activists at the company.

"Actions speak louder than words," the group said, citing Amazon's treatment of Chris Smalls, a black activist who was fired for organizing employees to protest against unsafe coronavirus-related conditions in Amazon warehouses.
What you should know: Authentic actions on racial injustice and inequity go beyond sound bites and social media soapboxes. For an organization to demonstrate a true commitment to these issues, it must go beyond a post on Instagram with white words from Dr. Martin Luther King on a black background. For contrast, consider IBM's move to cease developing facial recognition technology.
---
WHAT YOU SAID
We asked how you felt about the many brand messages shared over the last two weeks about racial inequality and injustice—and whether they felt authentic or opportunistic. For most of you, the words have rung hollow.
Have the majority of messages from organizations around racial justice and structural inequality seemed authentic or empty to you?

What are some examples of message that have resonated with you? Share your favorites by tweeting us with our hashtag #DailyScoop.

— PR Daily (@PRDaily) June 8, 2020
One communicator shared contrasting statements from Uber and the National Football League:
Authentic: those who detailed, urgent action and tangible deliverables to effect change @Uber's✅ for instance.

The @NFL commissioner's 🧐I only have the one question: where have you been all these years? Kudos to all the brave players. @49ers, @Kaepernick7 and his ball(s).

— ia (@mrsivyarias) June 8, 2020
---
SOUNDING BOARD
How important is it to donate to show your commitment to a cultural stance or statement? Is a donation the only valuable thing an organization can do, or is it just a starting point?
On topics where a brand or organization is taking a stand, how important is it to donate to the cause? Is that the most valuable thing you can do?

Share your thoughts about how brands can put their money where their mouth is by tweeting us with our hashtag #DailyScoop.

— PR Daily (@PRDaily) June 9, 2020
Share your thoughts with our hashtag #DailyScoop
COMMENT