Is a master's degree the right next step for your career as communicator?
The head of Temple University's Online M.S. in Communications Management shares his advice on when a graduate degree makes sense for emerging pros.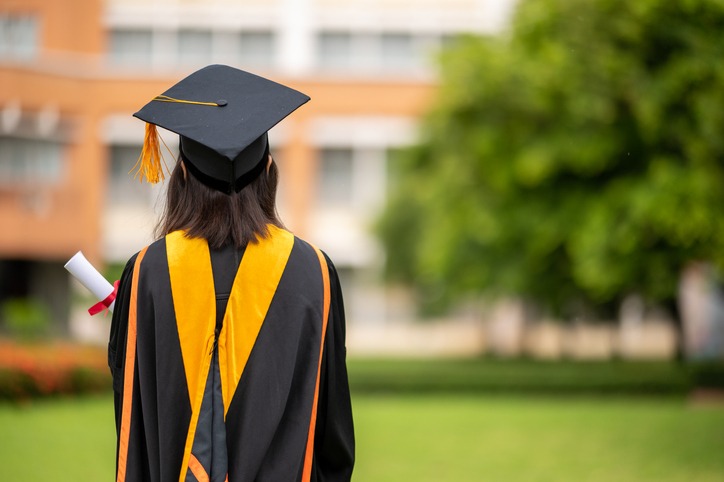 In some ways, it's never been easier to go back to get your degree.
With the increase in remote learning options and universities investing in remote technology and tools, you can receive top-level instruction from anywhere in the world with an internet connection. It's this flexibility that is at the forefront of the offering from Temple University, which is touting its online M.S. in Communications Management as a signature program to help communicators advance in their careers.
It's perhaps the biggest change to come to higher education in many years—mirrored by the way businesses everywhere have invested in remote connectivity technology during the pandemic when in-person gathering was limited.
"Universities—and Temple in particular—have put quite a bit of resources into the technology to make it function across different platforms and different locations," explains Quaiser Abdullah, Ph. D., assistant professor and head of the M.S. program in communications at Temple.
Its spent money to make sure that faculty know how to use the technology to engage students. Rather than just moving the learning experience that exists in a classroom online, Temple has thought carefully—and invested accordingly—to make the learning experience online more user-friendly and engaging for students.
Instructors take their own training program to make sure they understand the mechanics and pedagogy of teaching online, Abdullah explains.
However, that doesn't mean that the program doesn't have its rigor.
That's why Abdullah advises would-be students to take a full accounting of their support circle and life commitments before joining the M.S. program.
"Identify your network of support in your private and professional life," he says. It's important to ask what level of support you have available so that when you have classes, deadlines and scheduled programs, you can fully invest in the experience. Even if you participate in the course part-time, a class will have a regular synchronous meeting time, in some cases condensing a semester of meetings into two weeks of class every night of the week.
Abdullah stresses that understanding your commitments is crucial. For example, if you have job where you work nights and can't attend class, the program might not be the right fit.
The benefits of a degree
For those who do have the support and the ability to commit to the program, the rewards are plentiful.
Nicole Graves, an alumnus of Temple's M.S. program and employee of the university, says the program offered unique opportunities to work through real world problems. Graves is the communications and diversity, equity & inclusion coordinator.
In particular, a course on leading diverse teams was an opportunity to practice skills and work with people from different backgrounds. When the pandemic disrupted her course of study, it was a learning moment for everyone in the program to address the real-world consequences of a newly remote world and its implications for the future workplace.
That coursework, Graves says, is something she draws on in her current role with the university where she regularly works with senior university leaders—collaborating at a high level with people with different backgrounds and perspectives.
She says the program taught her how to seek out resources she needs to be successful, take ownership for her career and be her own advocate.
Pushing for learning
It's this self-advocacy that is Professor Abdullah's parting message for students looking to find a graduate program that fits their needs.
"Let us earn the privilege of having you join our programs," he says. Prospective students should push their potential mentors—and only by taking responsibility for their own learning and development will they get the full benefit of a graduate degree.
"You are competent and capable of being successful—show us that by holding us accountable," Abdullah says. It's this mutual respect of learner and teacher that defines the graduate education experience.
For students looking to choose a program, Abdullah suggest that students ask tough questions about the instruction program, access to professors and mentors, financial support and other facets of any graduate school offering. If the answers you get are "wishy-washy," he submits that this might not be a place where you will be safe and supported to meet your goals.
Graduate school isn't something to be taken lightly. Abdullah warns that, invariably, there will be a time when students will be frustrated—"feel the weight"—and that's when it is essential to have both personal and institutional support to push through.
"You have to be your best advocates," Abdullah says.
A unique program
For students considering Temple's M.S. in Communications Management, the unique curricula offers several learning opportunities. The Temple program's special sauce is how it marries communications and management best practices with an investigation of conflict management and resolution.
Students who enter the Temple program "see a shift" in how they see conflict, Abdullah says, as they learn research-based conflict resolution strategies that use the crucible of conflict to generate opportunity for the business. Students learn to harness conflict—rather than fear it as something that is unhealthy or toxic—to drive organizational change.
Another takeaway from the program for students is the ability to analyze data that comes from social media and other digital media sources to drive strategy and business decisions. It's the deep understanding of ROI, measurement best practices and business acumen that empowers communicators to earn a seat at the table with top business leaders.
And finally, Abdullah says the program offers students the chance to investigate how to engage with diversity in all its various ways. This is a lesson that Graves takes with her from her time in the program, learning to think about how different generations of employees can work together, how different work style and perspectives can complement each other.
Beyond being excellent communicators and business people, the Temple program prepares its students to be conflict resolution masters, seeing all sides and finding consensus to move things forward for colleagues and for their organizations.
This article has been written in partnership with Temple.
Klein College's Master of Science in Communication Management prepares students to create effective communication campaigns and handle conflict and crisis management in a variety of industries and workspaces, and is designed for entry- and mid-level professionals.
Klein College of Media and Communication's vision is to shape media and media-creators through a dynamic combination of academic rigor and practical training in the context of a diverse urban media market.
Temple University offers students a dynamic and nurturing learning environment with the support of a renowned faculty, dedicated academic advisors focused on setting a clear path to graduation and a broad curriculum of more than 500 academic programs.
COMMENT
One Response to "Is a master's degree the right next step for your career as communicator?"
Ronald N Levy

says:

If you take PR Daily courses, join PR Daily groups and get
letters recommending you from PR Daily and Ragan faculty members, that may swing a lot more weight with employers than letters from professors plus another college degree and student loans to pay.

PR Daily faculty members are a lot closer to the action, the real world, than are many professors. PR Daily faculty members are succeeding now–with today's PR problems plus today's PR strategies and techniques–while some professors may for many years have been doing not PR but teaching and writing stuff in the educational "publish or perish" world.

What students learn at PR Daily courses is not just how to pass tests and say things in class to impress teachers but how to plan and execute PR programs that meet urgent PR needs, making employers joyous and PR people affluent.

Also what PR Daily faculty members teach can guide students to apply at the right time to the right places so that the PR Daily classrooms are a confluence of affluence and influence. It could pay to BOTH take the PR Daily courses and also get a masters because Temple is a great university.

It's less work and tempting to do neither–no MS and no PR Daily courses–but moving one's tail may bring more career success than sitting on one's tail. When you're in a job interview that could change your life, mentioning the "principle of primacy" and the "peril of the alternative" may do more to get you hired than would mentioning historical figures in PR.